Today I came across a beautiful sideboard makeover, which inspired me to put together some glorious examples of how a few simple (or not so simple haha) DIY touches can turn old and mediocre-looking furniture into a stylish and stunning statement piece. I dug deep into Pinterest and selected 10 projects showcasing a variety of design styles from antique and provence to Nordic.
1.This vintage piece with its sliding doors painted in two different shades of blue green is one of my personal favourites, as it looks like quite an easy project to execute, but the result is simply smashing. Spotted here.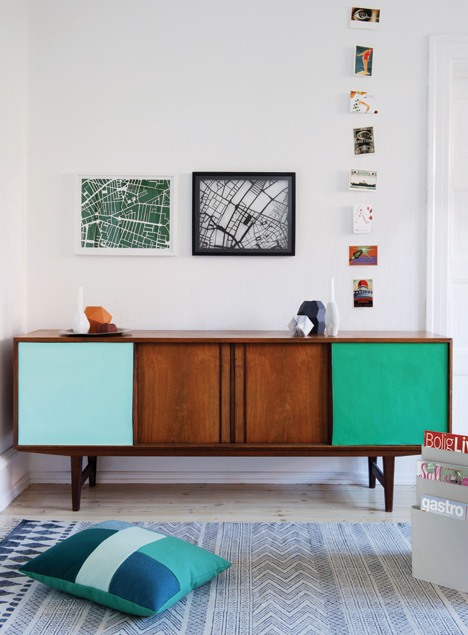 2. This rustic antique sideboard looks brand new and so exquisite. Very fine work, find a detailed tutorial here.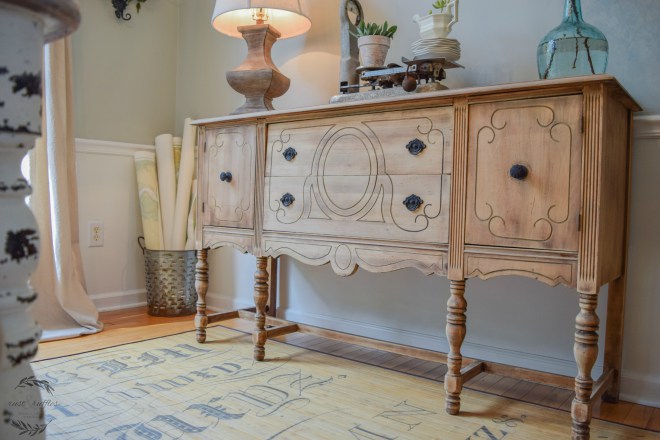 3. Chilean designer Emmanuel Gonzalez Guzman created a wooden sideboard inspired by ropes of a boxing ring. The design is called Cuerda (Spanish for string, rope), and though it's not what you'd call elegant and classy, nor is it an example of sideboard makeover as such, I think it's very creative and puts an ironic spin on the entire space. Spotted here.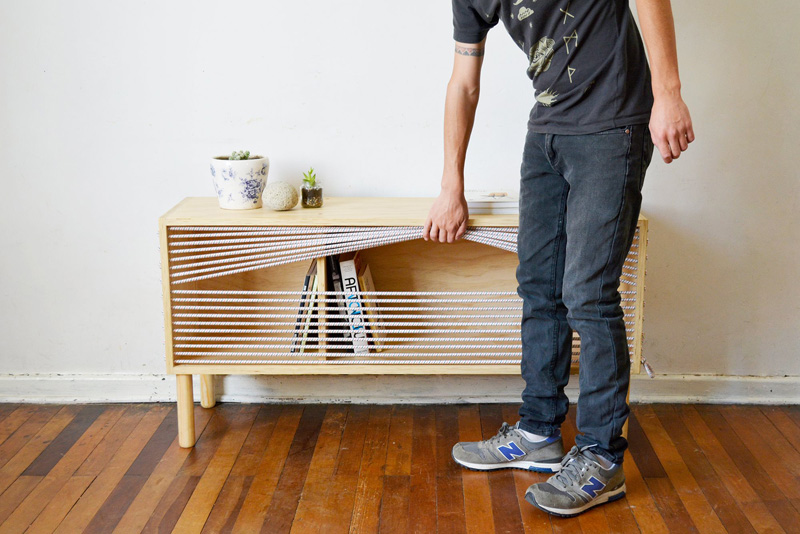 4. The author of this colourful geometry design invested a huge amount of time, effort, and painter's tape into it, but the result is beyond awesome. See very detailed tutorial here.
5. And another take on various shades of blue green. Not really sure that it was a DIY project, but you will probably agree, that it could be, and I just love the combination of colours and geometrical patterns in this room. Spotted here.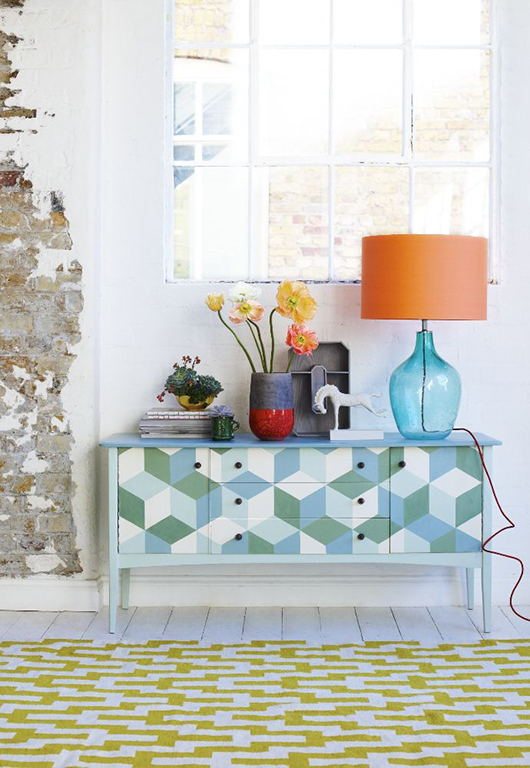 6. If the previous design looks too bold for you colourwise, how about a more classic combination of dark chestnut, grey and white? Spotted here.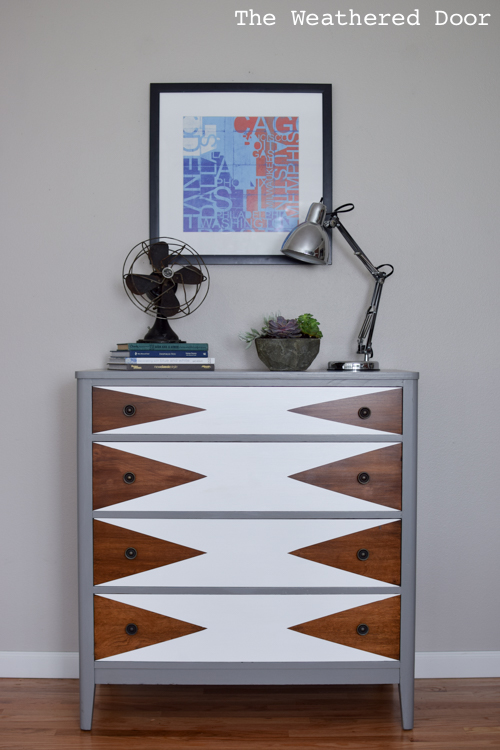 7.  Now this is a brilliant idea! A surprise bit of colour in an otherwise neutral and tranquil space – drawers decorated with fabric. Tutorial here.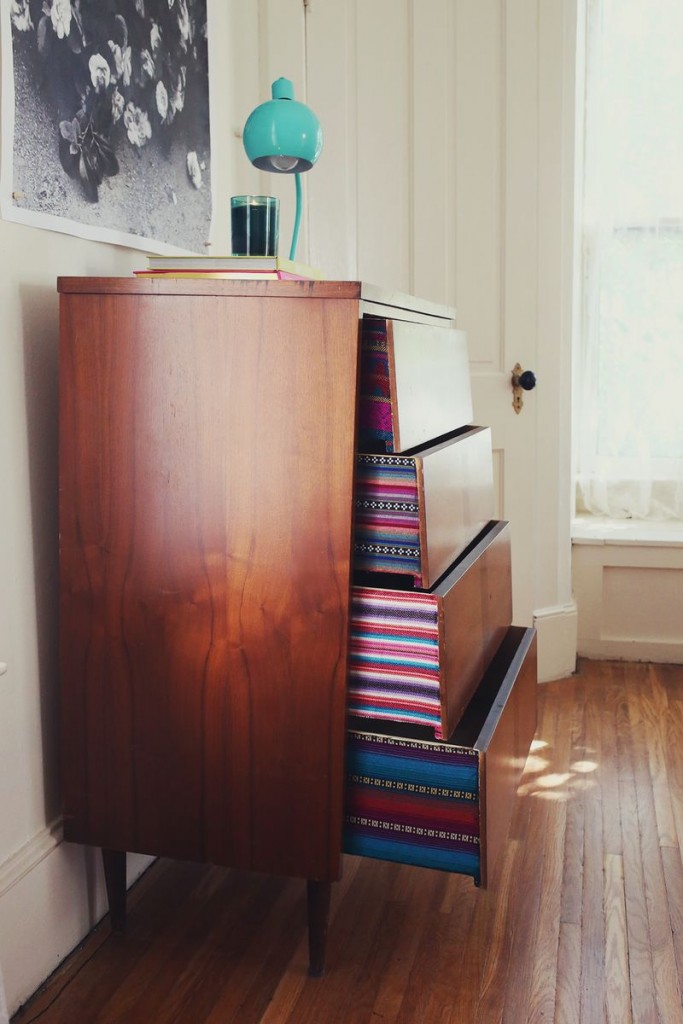 8. Another material which offers crazy customization opportunities is wallpaper. This very feminine floral design was made using Cath Kidston wallpaper. See more details here.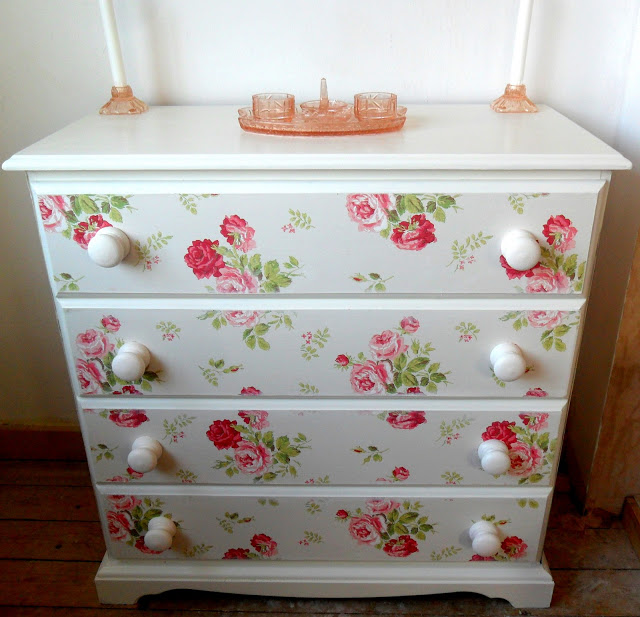 9. This mid-century sideboard underwent a makeover too: it was painted and got new glass doors and hardware. Love the colour choices, this subtle mint looks so refreshing! Find the tutorial here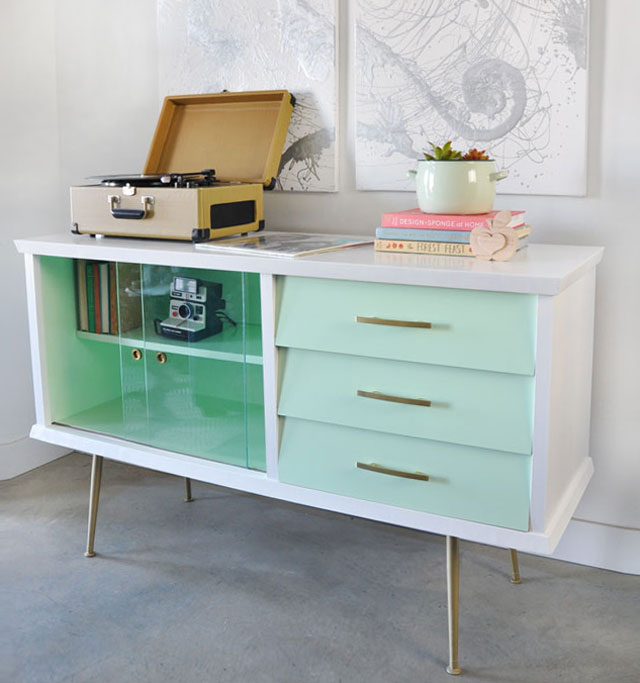 10. The easiest solution is to simply paint your old and outdated piece of furniture into one colour, check out this Jacobean style 1950s buffet, which got a new life with a blue chalkpaint. And there's a surprise: it's orange on the inside! See more photos here.