Is your bathroom in need of an update? Mine absolutely needs a complete remodel, just swapping fixtures won't really do the job. I need a new toilet, shower fixtures, cabinet, tiles, new everything! I've revisited the bathroom ideas from Casa Decor 2019, they do provide some very striking and inspiring designs, but I've been looking into the innovations in bathroom design in general, and here are five European bathroom trends to get your creative juices flowing.
Smart Fixtures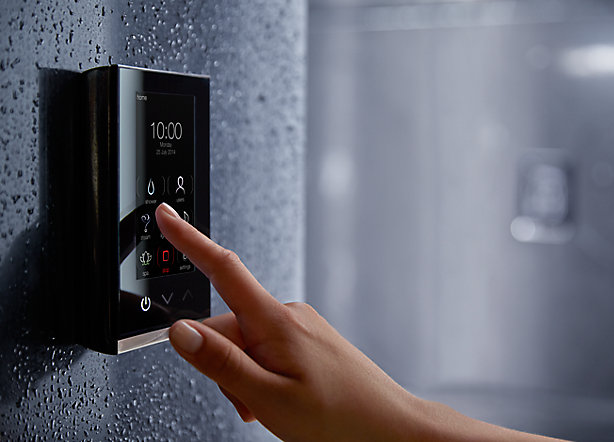 With smart technologies permeating the rest of the home, bathrooms are only just catching up. Paul Bailey, senior product manager at Grohe UK explains how Bluetooth enabled spa-showers and shower toilets are making smart bathrooms very popular right now. While these are certainly trendy and very appealing, prudent homeowners need to ensure that their current plumbing installation and boiler can deliver the right pressure (generally 3 bar), to help avoid low pressures and plumbing issues later down the line. UK plumbing and drainage company HomeServe explain how burst pipes and blocked drains can happen at unexpected times. This is why it pays to make sure that your current water system can handle the new installations and provide an adequate flow rate. By doing this, it will guarantee that the new smart fixtures you just splurged on will function as they are supposed to.
Eclectic Tile Designs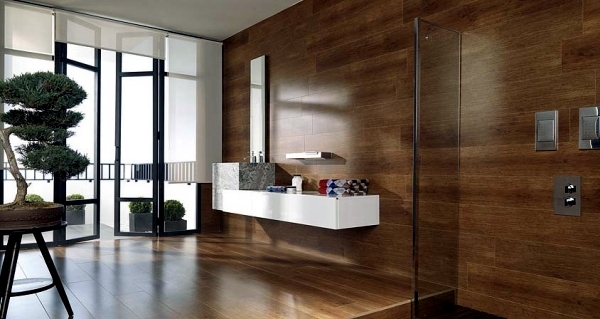 Spain is home to some of the trendiest tile designs in the world, and Spanish designers use tiles in very creative ways, often not seen in other countries. For example, tiles that emulate the look of bare concrete, or the classic hydraulic look, have recently been making a comeback. Used both for floors and walls, they lend a minimalist look to both traditional and contemporary spaces. While not really a new trend, tiles that mimic natural materials like wood, in glossy or matte, continue to be popular. Forbes' roundup of the latest in Spanish tile designs, explains how wood-inspired tiles look great in a full bathroom or on either side of a sliding glass wall. This elegant look particularly complements a spa-inspired bathroom.
Wall-hung Toilets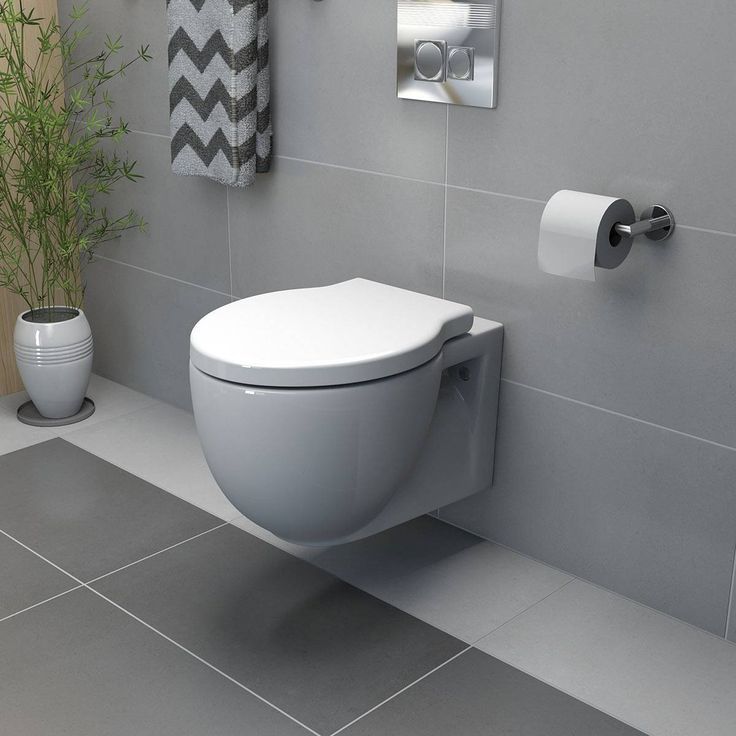 Continuing the trend of European minimalist designs, space-saving wall-mounted toilets and wash-basins are growing in popularity, especially when paired with new, state of the art technologies. Products like the Swiss Geberit AquaClean shower toilet is a purist, elegant design perfect for just about any bathroom. The Telegraph reveals in its bathroom trends for 2019, that the AquaClean's development follows years of groundbreaking product research and offers unprecedented levels of hygiene and comfort. These include an automatic lid, a heated seat, and automatic drying. Likewise, the use of wall-mounted wash basins with hidden integrated draining systems further enhance the minimalist style, making every bathroom appear more spacious and tidy.
Modern Monochrome in Marble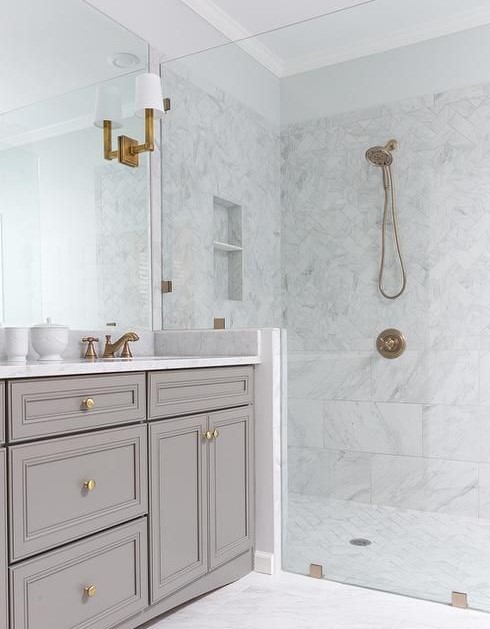 Although black and white bathroom designs are standard fare, French bathroom styles combine the old with the contemporary to create intrinsically, ultra-stylish designs. Much like black and white film, a monochrome bathroom can make a dramatic statement, that can be both edgy, or soothing in a way that colour can't replicate. The use of monochromatic styles with marble, in particular, for walls, flooring and sink cabinets creates a luxurious look. Marble manages to be both classic and contemporary and many French designs incorporate 19th-century styles with modern lines to make a glamorous statement. Designer Christopher Noto's Paris apartment is featured on Elle Decor, and his bathroom is a great example of classic and contemporary French and Asian style, incorporating lavish marble and brass faucets for accent.
Ultra Modern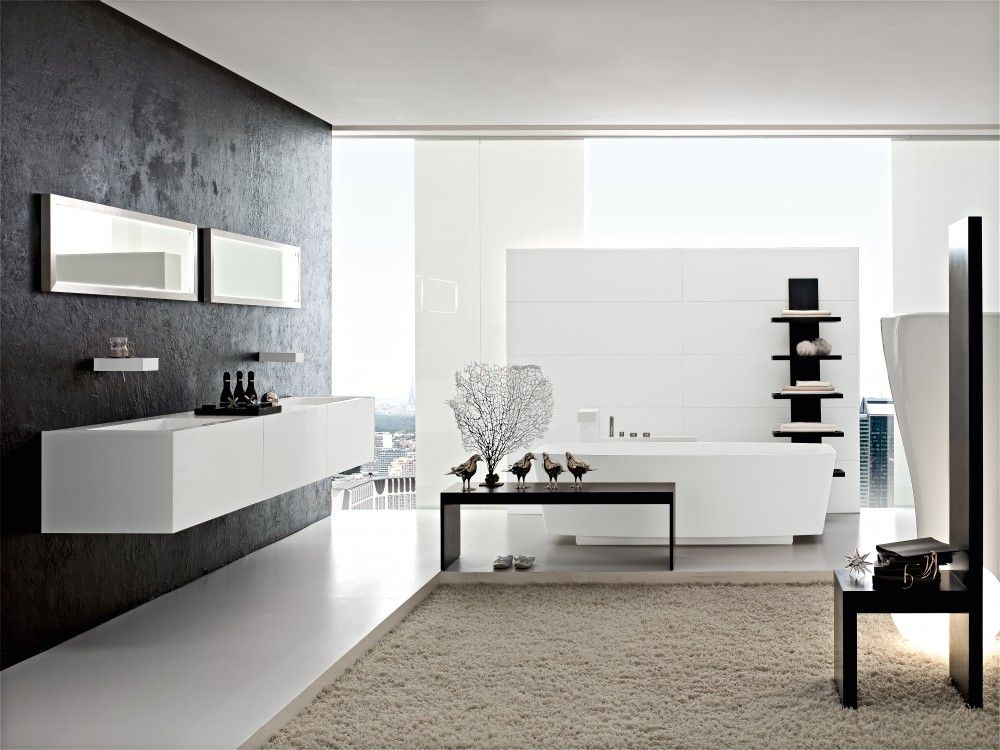 Italian style is renowned for being at the forefront of ultra-modern design, and modern Italian bathrooms are no exception. New and innovative approaches are used to build the bathroom with entirely integrated fixtures rather than to create objects to fill space. Trendir illustrates how instead of individual pieces, the Italian bathroom becomes a single functioning unit: Controls are removed from the fixtures and are conveniently integrated into the environment. The new Italian bathroom trends take form, function, and beauty to ultra-modern levels by freeing bathroom fixtures of their restrictions and applying that function to the entire bathroom. From bathtubs, basins and bathroom vanity, Italian bathroom design trends push the envelope of modern styling.