I'm a big enthusiast of furniture makeovers, although the DIY section on this blog is not exactly voluminous, and I really admire such true masters as Shenda, who take furniture upcycling to a whole new level, and I'm so excited that soon enough I will have something executed by her crafty hands in my home. Stay tuned to see what it is!
But today I wanted to share with you some amazing furniture makeovers that involved repurposing of the original pieces and giving them not only a new life, but a new function! It is just so inspiring, how inventive some people are.
IKEA dresser turned into malachite console table
Blogger and stylist Jewel Marlowe took one of those basic IKEA dressers, got rid of all, but the upper drawers and the hardware, and wrapped the new piece with malachite wallpaper. She used the conventional one, which needs to be soaked with water to activate the glue, but remember there is a big choice of self-adhesive wallpaper, I spoke about that in my shoe cabinet makeover.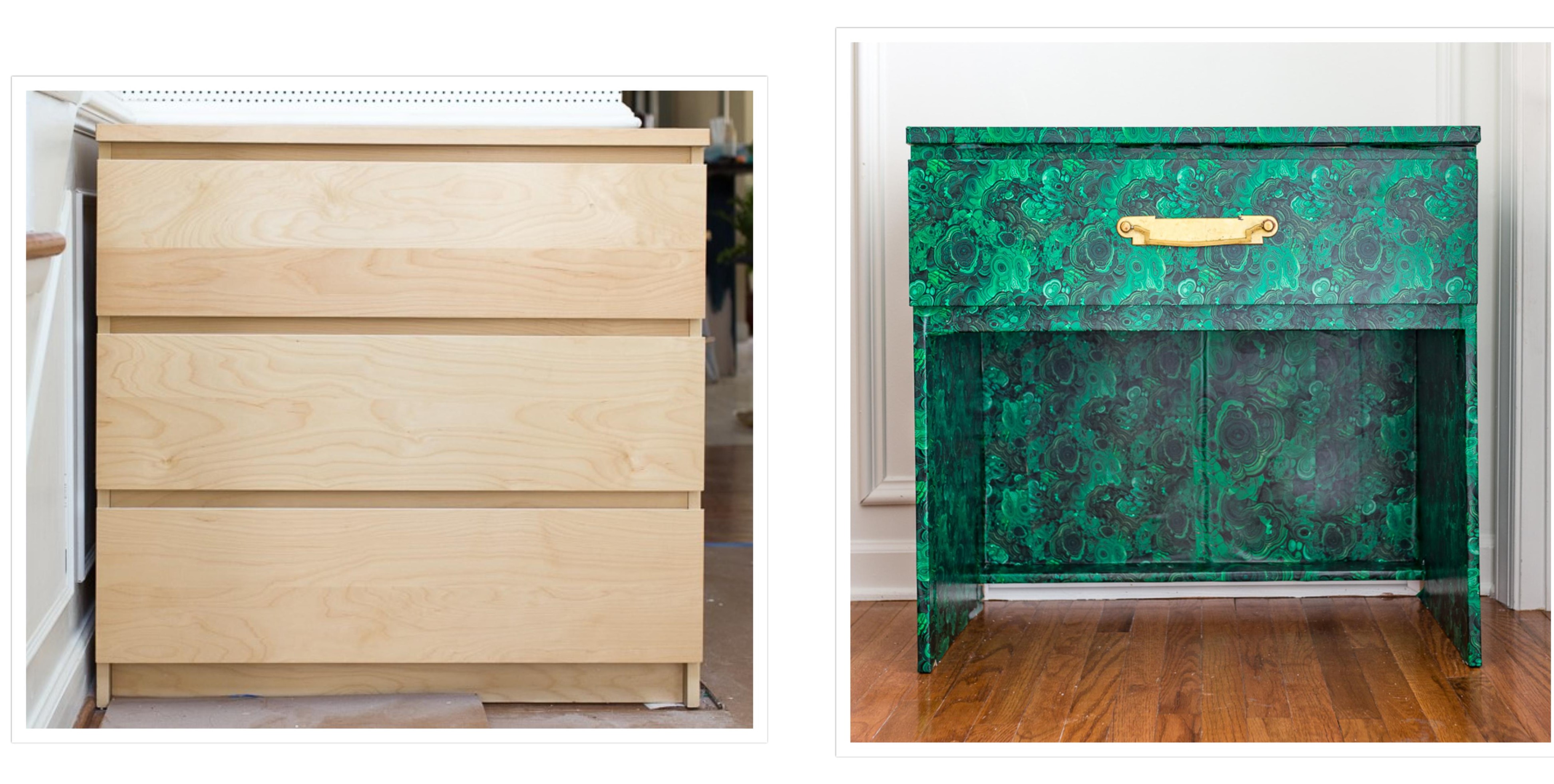 TV cabinet becomes a cat house
Finnish blogger Keltainen Kahvipannu used a retro cabinet with embedded Philips TV set to make a fun house for her two cats. She removed all the circuits and other hardware from the cabinet and wallpapered the insides of the cabinet with a beautiful floral print. She also kept the sliding doors, so the cats can enjoy more intimacy (or to be able to lock them up there, I'm not sure :D)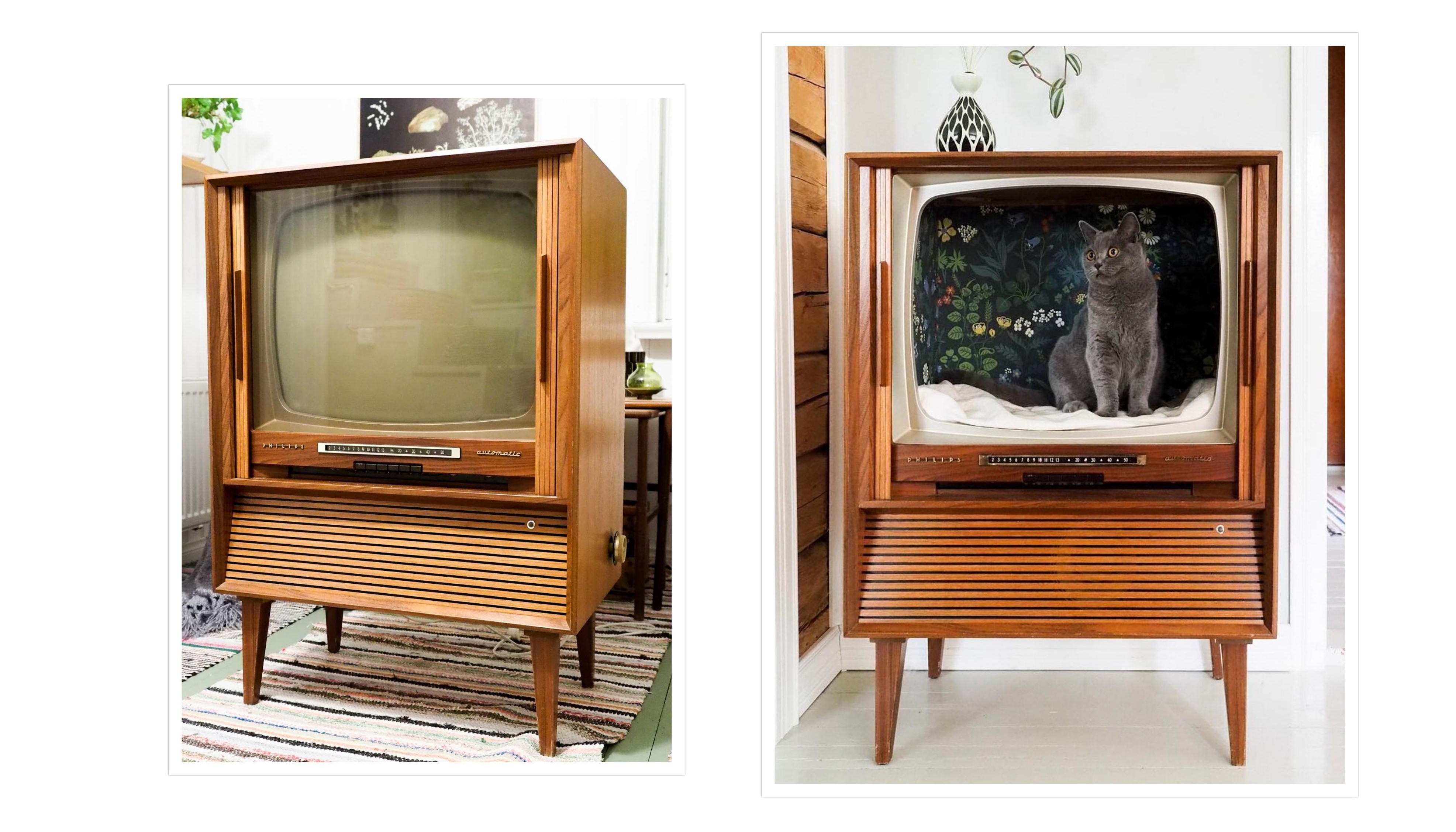 A sofa made of old telephone booth
With the arrival of mobile technology, phone booths have become a thing of the past in need of recycling, although in the UK many people bought one just as a memorable souvenir to keep in their garden, but some more inventive people took it further and transformed it into a statement chesterfield sofa!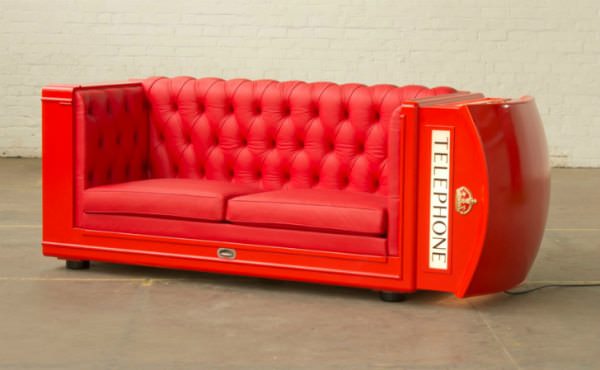 Hold the door!
Old wooden doors are another material, which can be repurposed in so many different ways – you can turn them into a table, a shelving unit, a hallway furniture, even a headboard, but I wanted to show you this beautiful mirror created from a door by Dreamy Whites! For my Barcelona readers, if you suddenly feel the urge to have an upcycled vintage door in your life, head straight to Otranto, I mentioned them in my last post as a source of vintage tiles, but they also have a zillion of old doors on sale!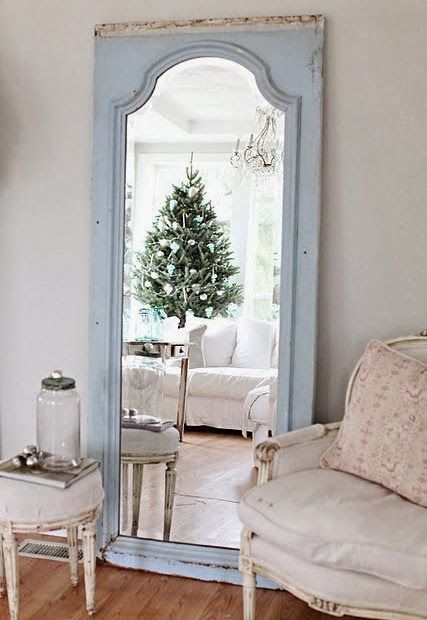 From bedroom into bathroom
Finally, there was a DIY project in a Home Tour I published last year, which I was absolutely swoon over, – a  vintage vanity with mirror, which was picked up from Wallapop (Spanish virtual flea market app) and turned into a gorgeous bathroom cabinet. I love seeing such statement pieces get a new life in a 21-century home!