Today I invite you to dive into deep green colours in interior design, and more specifically, emerald greens. It's not exactly THE colour of the moment, although it keeps popping every now and then because it is undoubtedly gorgeous! Looking a few years back, emerald green had its peak in 2013, when it was named 'colour of the year' by Pantone. By the way, this year the global colour authority has picked not one, but two hues – Rose Quartz and Blue Serenity.
Anyways, the more I came across emerald green interiors on blogs and Pinterest, the more stunning they seemed to me. This colour is so vibrant and natural, yet it's kind of noble and luxurious, even a drop of it lifts up any space, and the remarkable thing is that when used abundantly, it never gets to the point of annoyingly overwhelming, as it often happens with red, for instance.
I pulled together a few images from Pinterest to illustrate how emerald green can be worked into different rooms in your house, and at the end of this post you'll find a round-up of emerald green furniture and decor currently available in Spanish online stores. This deep and rich colour is a frequent guest on autumn-winter decor palettes, but then it's also anything but dull, which means that you won't be tempted to swap it out in the summer for more cheerful and vibrant hues, because that's exactly what it is! Also, it's a 100% gender neutral. There are literally no downsides to it!
Emerald green bedrooms
1. This image has already been featured in my bedheads post, and I promise I'll use it again whenever I have another excuse, because everything about this bedroom design is perfect. There is so much going on – upholstered bedhead, gold-plated lights and bedside table, traditional rug, wooden floor, black-and-white cushion, blue gray wall, and more details, yet the result looks refined and not that busy at all. Perfection!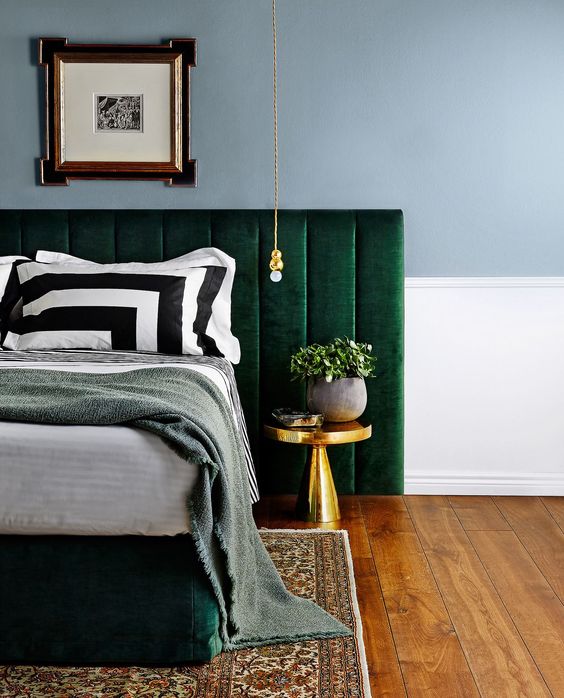 2.  This eclectic bedroom marries posh decor items, such as the sunburst mirror and golden deer figurine with vintage and cozy-feeling bed as such. Emerald greens, blush pink and gold is a winning combination!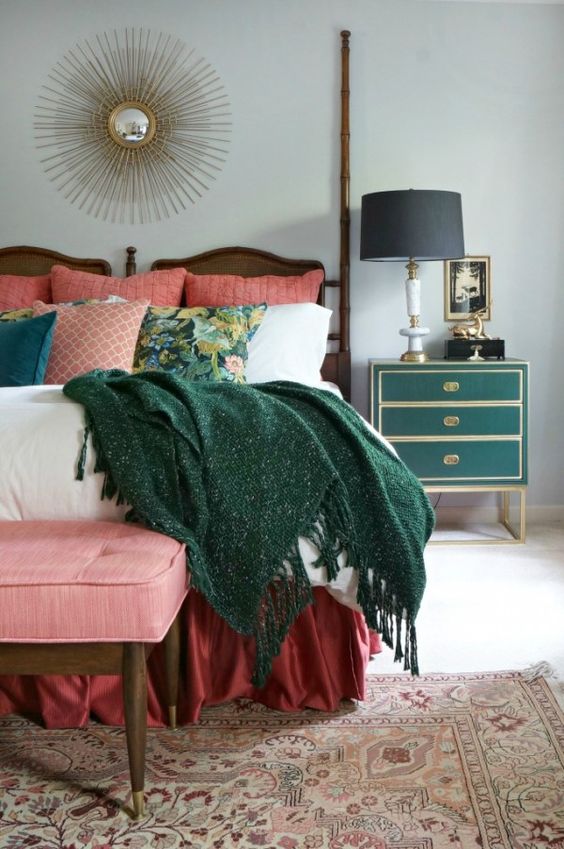 3. Emerald green also works great in more low-key and down-to-earth interiors as an accent colour surrounded by neutrals.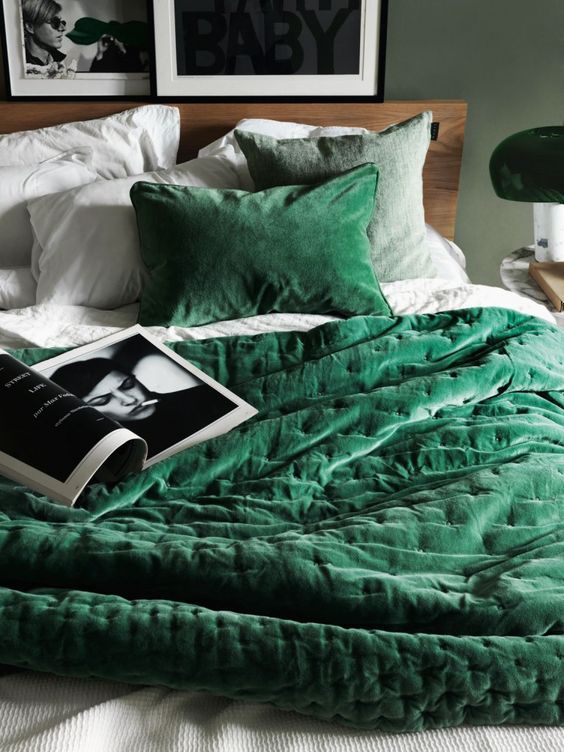 4. Curtains and rugs are another great way to introduce a more punchy colour into the room design.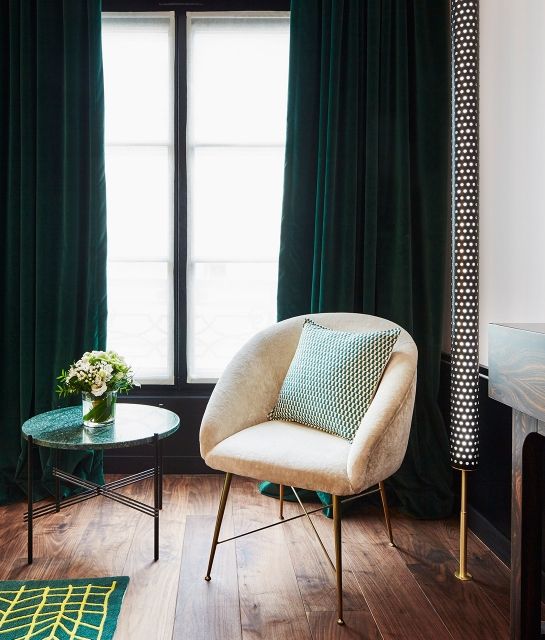 Stunning emerald green living rooms
5. This living room from a Mexican house split into a sitting and dining areas, with emerald green as the main accent colour is to die for! And the main protagonist here is the never-ending sofa!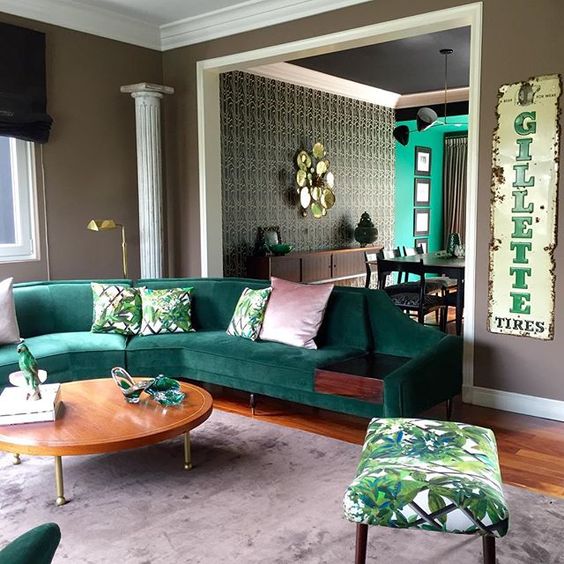 6. Here is another example of a statement sofa in emerald green colour, with a few other quirky detailed mixed in, such as a feather lamp, the painting and the polka dot black and white.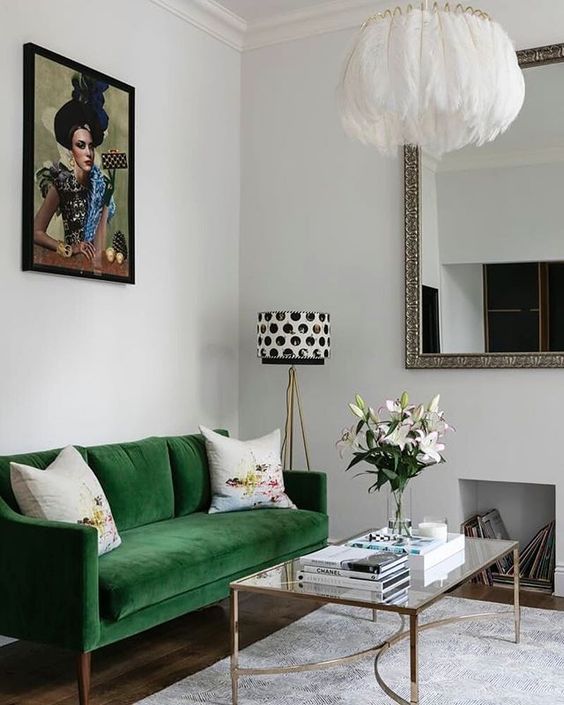 7. Go green all the way! An emerald sofa, different kinds of plants and floral-themed wall art create a more natural feeling space. Don't forget that natural greens are still trending!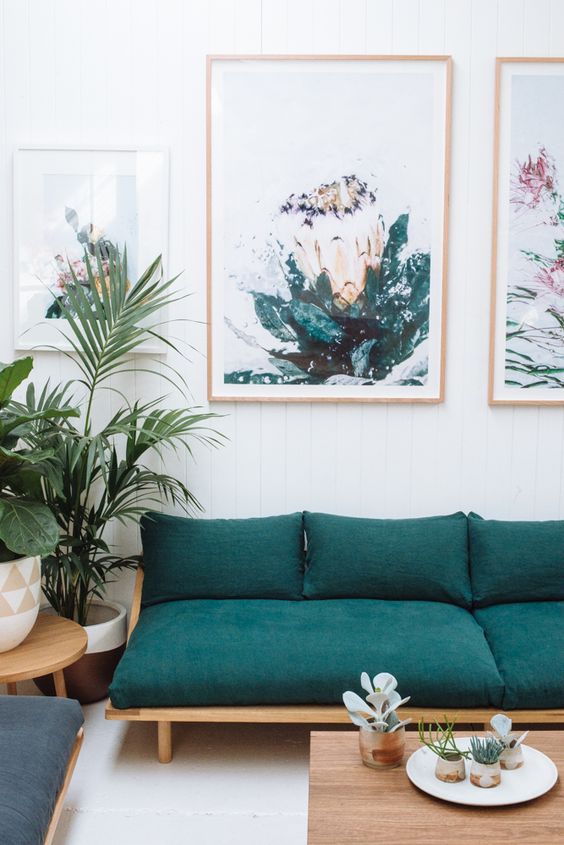 8. So can there be too much emerald greens? Based on this photo I´d say NO! Love the patterned rug and the quirky painting!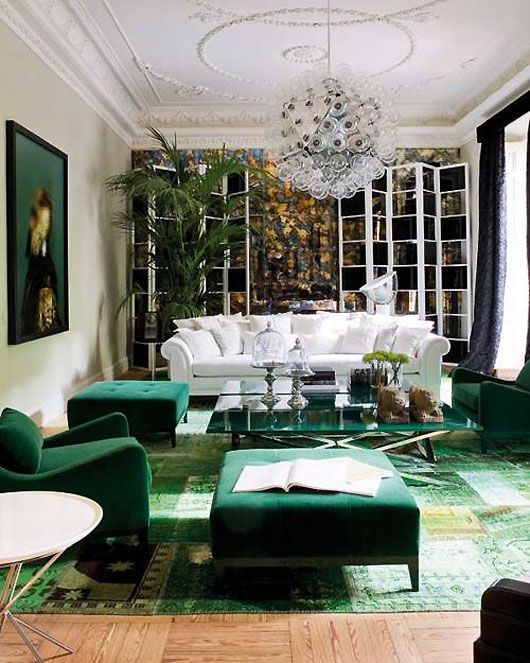 Cooking surrounded by emerald green
Winding up I want to show you a couple of kitchens. Which one do you prefer – modern classics or the bohemian one? I honestly can't choose.
9.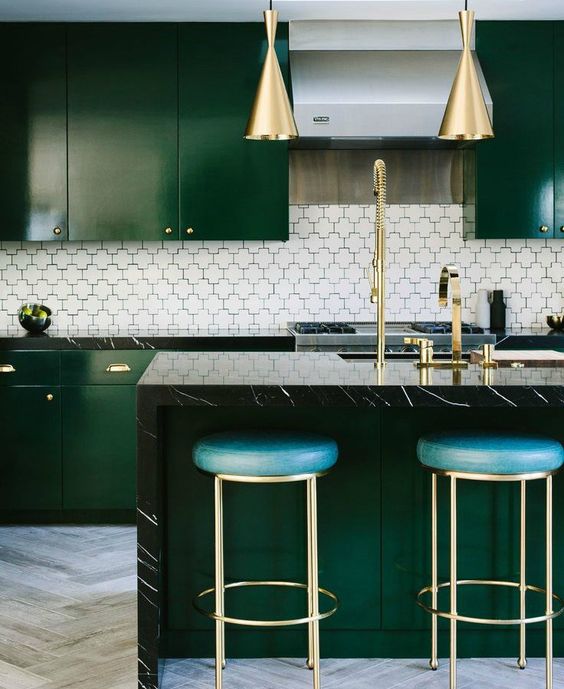 10.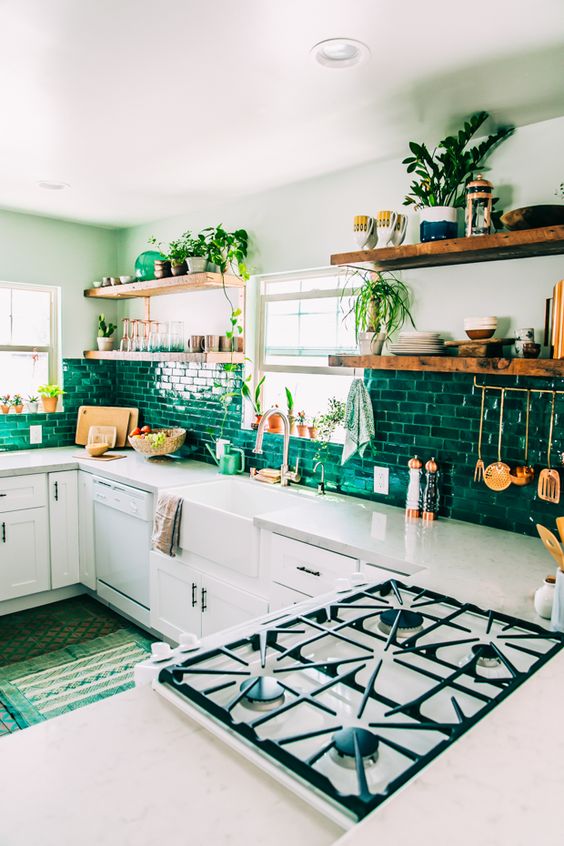 Photo credits: 1, 2, 3, 4, 5, 6, 7, 8, 9, 10
Shopping emerald greens in Spain
Finally, I put together a small round up of some very nice items currently available in Spanish online stores, and to be honest it took me quite some time, you really can't find this colour so easily, which is a shame.
I didn't include it into this round-up, but you can also find some emerald green home decor and textiles in the new Home collection from H&M, I recently told you about. And another tip: you can find emerald green LED string  and ceiling lamps (such as the one I have in my Barcelona bedroom) in La case de cousin Paul, in Barcelona they have a physical store in barrio Gótico.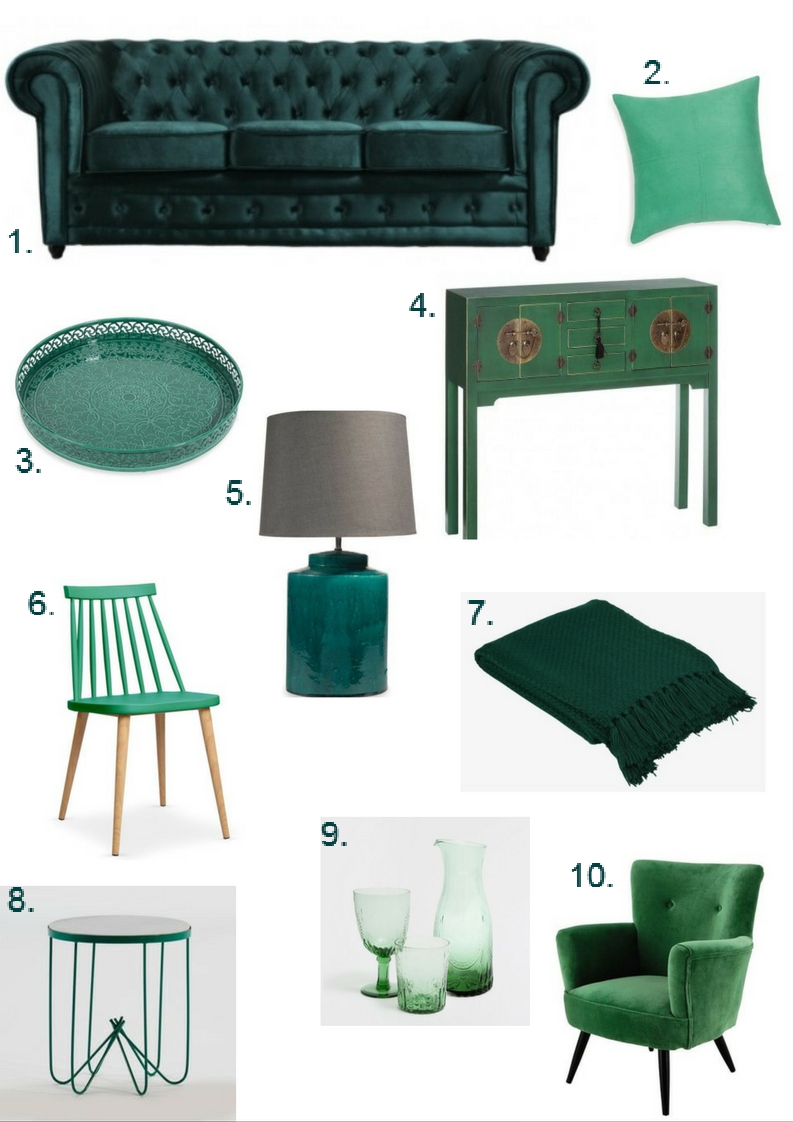 Velvet sofa, 519

,99

€
Cushion, 10

,99

€
Metal dish, 19

,99

€
Entryway console, 198,00 €
Ceramic lamp, 69,99 €
Nordic chair, 44,

50

€
Plaid, Habitat, 45€
Marble auxiliary table, 258,00 €
Green glassware,

2,99 € 

 – 

9,99 € 
Velvet armchair, 399,90 €
I really hope that by now you are as much in love with this colour as me, and very much tempted to add it to your home. If you're not ready to go green all the way, you can start with some artwork and pillow, it's the perfect way to try out new colours and trends. If you're not sure about the colour combinations check out my Pinterest board, I pinned some interesting palettes featuring deep greens.
May the colour be with you! 🙂