I decided to celebrate summer with a must-visit list of places in Barcelona for home decor shopping. When the idea occurred to me, I was thinking about the tourists that flood Barcelona in these hot months. Many are interested in local clothes and accessories brands, but I'm confident that when it comes to home decor this city has a lot to offer too. Are you ready for some shopping in Barcelona?
Must-Go Places
Anthropologie
As of early 2019, the American clothing and home furnishings giant had only two brick-and-mortar stores in continental Europe, and Barcelona was one of them. A magnificent modernist building on Paseo de Gracia, 27 houses an incredibly beautiful selection of colorful, eclectic and bohemian decor.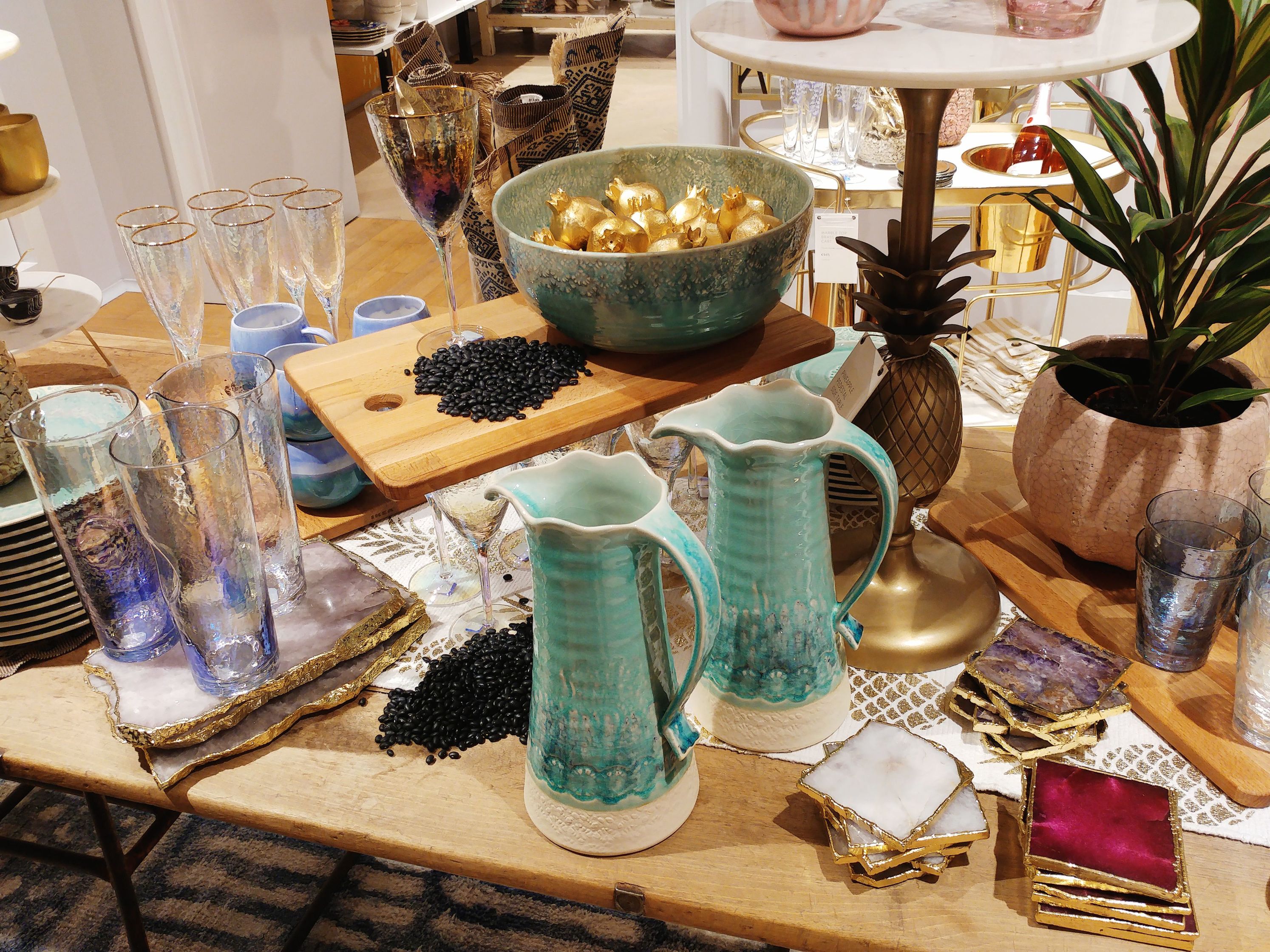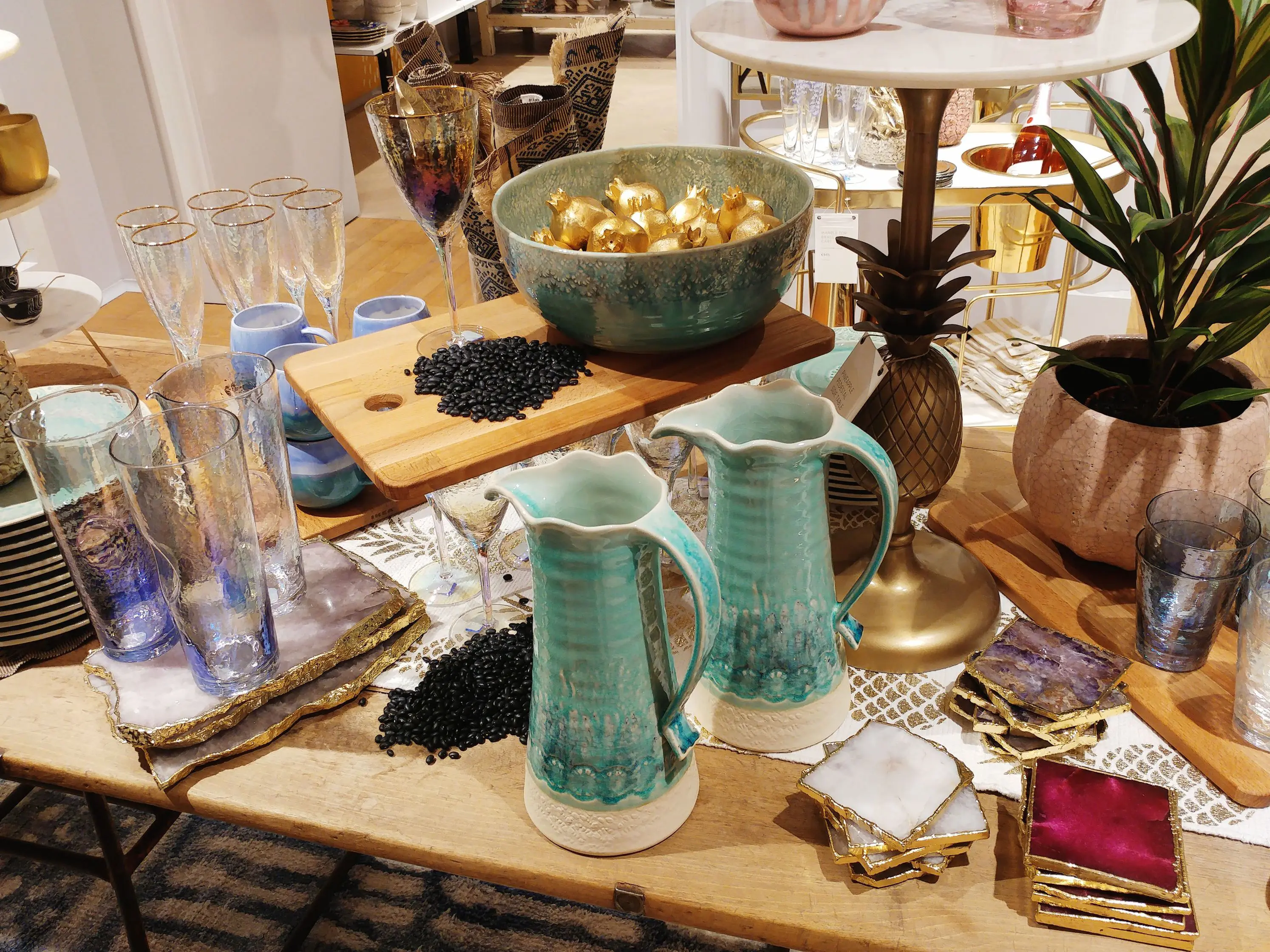 Maisons du Monde
Technically, it's a mass-market chain, even though it's not exactly cheap, but it just happens to be my favorite store, because the choice of styles and colours in Maisons du Monde is just MIND-BLOWING, and everything is very pretty, 'Made in France' says it all. There is a bigger shop in the suburbs, but the one on Avinguda Diagonal, 405 won't leave you unmoved either.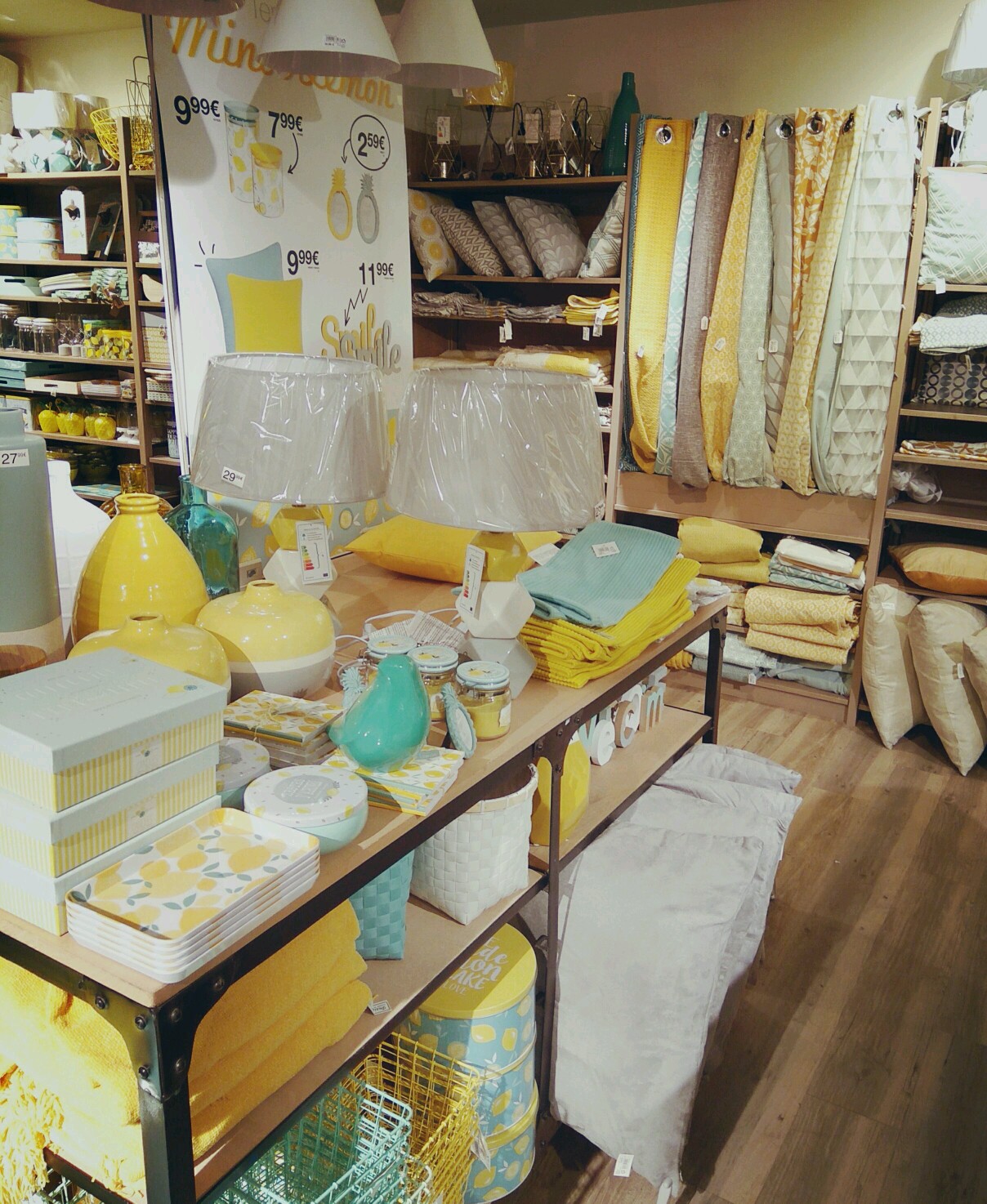 Zara Home
The flagship Spanish mass-market retailer is famous for its sophisticated and elegant style with a focus on high-quality bedding and tableware collections. The biggest shop is at Passeig de Gràcia, 30.
Kare Design
The famous German brand is targeted at those with less classical tastes. If you're looking for unorthodox decor with an animalistic twist, go straight to Carrer del Consell de Cent, 294, it's in the very center, just a few steps from the metro Passeig de Gracia. NOTE: you will find the similar style products in two small shops in Gracia – Gallina de Piel and Fulanitu i menganita, that were featured on my recent post about this neighborhood – one of the best for decor shopping in Barcelona.


Gallina de Piel shop in Gracia.
NordicThink
A huge space at Carrer de Casanova, 214  dedicated to contemporary Nordic designs, including such brands as Hay, Muuto, &Tradition and Ferm Living. Also, if you're a fan of this style, take a walk to a nearby Kenay Home – the Spanish version of «Nórdico».
Art Montfalcon
A two-floor gift-shopper's paradise in the heart of Barrio Gótico. Prints, posters, signs, ceramics, and a variety of other cool items related and non-related to Barcelona. If you need to buy souvenirs or simply some cool and quality home decor that will remind you of this beautiful city, this is the place. Carrer Dels Boters, 4.
UPDATE: this one was closed in early 2018. Such a shame.
Mass Market Chains
Desigual
The Barcelona-born brand is famous for its crazy prints and patchwork. Their Home textiles collection is just as vibrant and cheerful, although not very easy to find offline. You can find it at  Plaça de Catalunya, 9.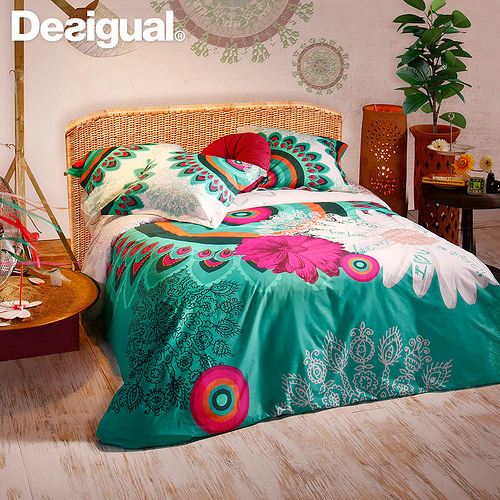 H&M Home
The Swedish giant has recently opened its biggest store in Spain yet. The 3-floor flagship at Passeig de Gràcia, 11 features a gastronomy space, an outdoor chill-out and a big Home section, which always a cool tropical vibe about it. Otherwise, you can also find H&M Home in Glòries shopping mall.
Muy Mucho
This retailer specializing in accessories and small furniture in white and grey tones has a wide footprint across the city, on Rambla de Catalunya alone you will find two stors. If you're allergic to bright colors, this is your place.
Tiger
If you're looking for fun, quirky and cheap (!) homewares, stationery and gifts don't miss this Danish retailer, which has 10 places in Barcelona. Check my last year's post to get an idea of what you may find in Tiger.
A Loja do Gato Preto
The Portuguese chain offers a very wide range of home decor and accessories, from cookware to rugs. Not very sophisticated, but fun and colourful.  Personally, I'm a big fan of their patchwork bedspreads, the one in my bedroom came from this shop. La Maquinista mall, Carrer de Potosí, 2.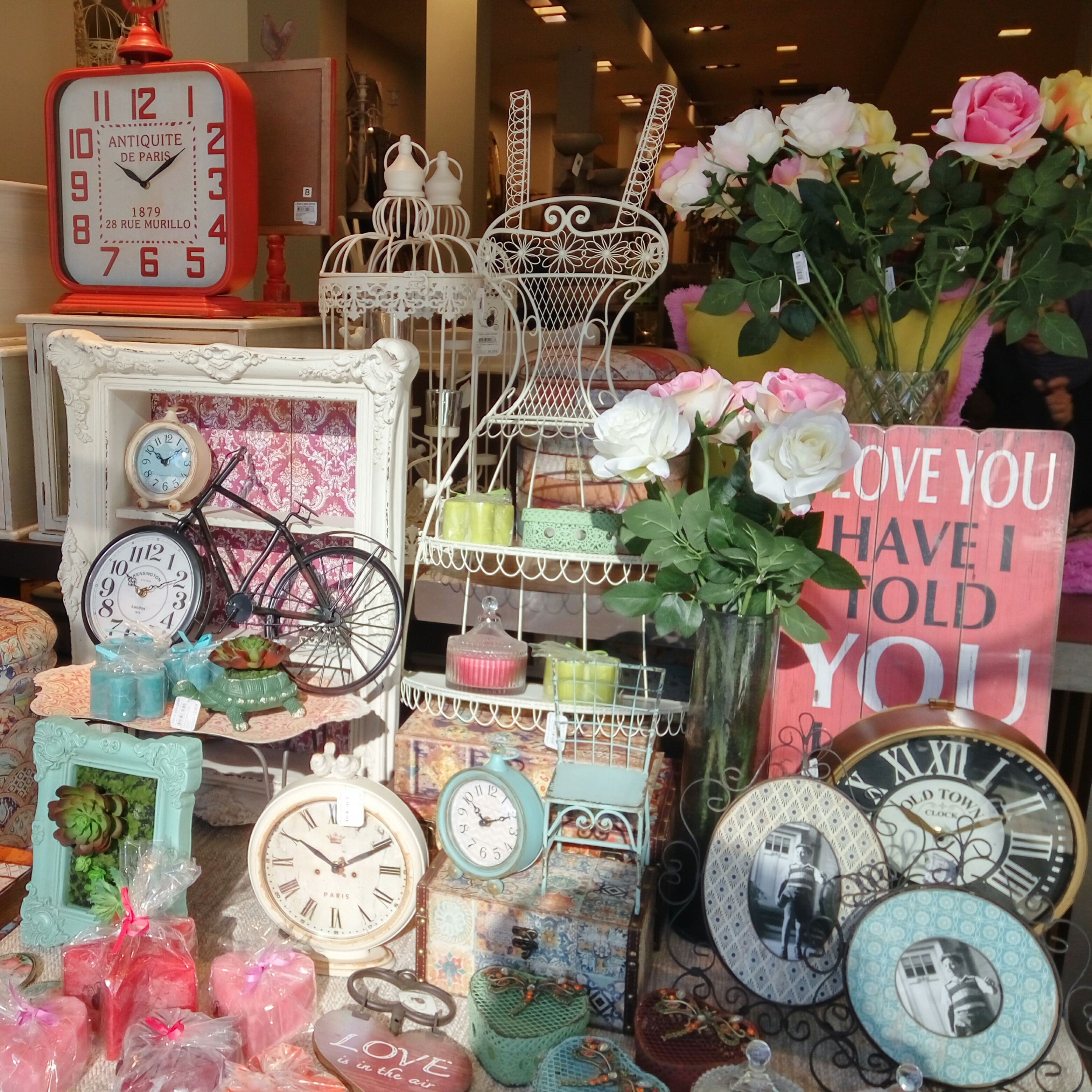 ---
Small Gems in Barrio Gótico
The narrow lanes of the Gothic quarter hide a lot of cool shops, it is impossible not to get lost at some point, so the best idea is just dive in and explore, but here are a few addresses that are not to miss.
La Nostra Ciutat Barcelona
This space is a showcase for local designers: from prints, illustrations and stationery to ceramics, handmade cacti and other quirky staff you can often see at local pop-up design events and Palo Alto Market.  Carrer del Pi, 11.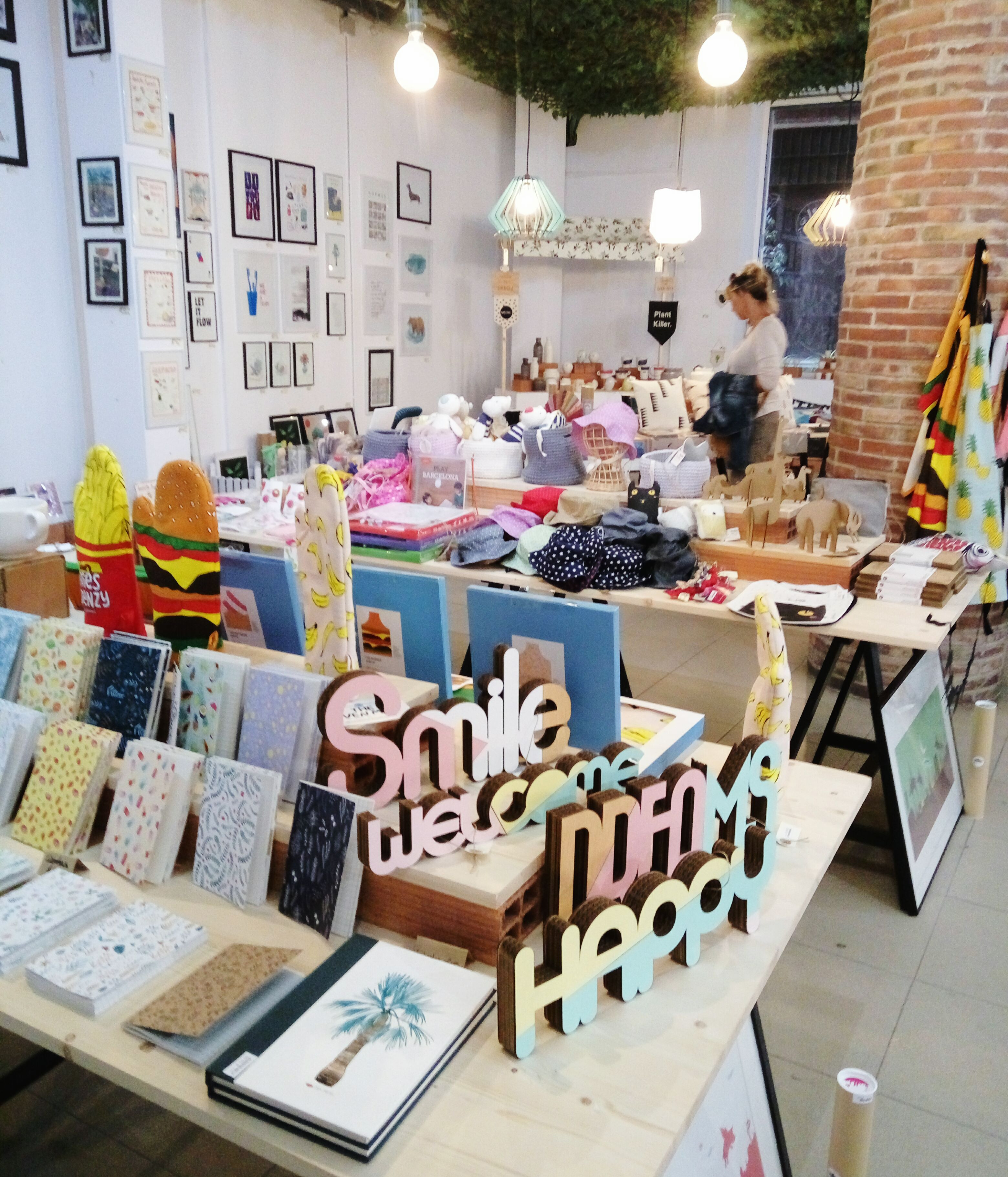 Bot de Llum
Just a few steps from the place above you will find Bot de Llum, where it's all about the sea. Marine style clothing and home decor from the Basque brand Batela. Carrer del Pi, 6.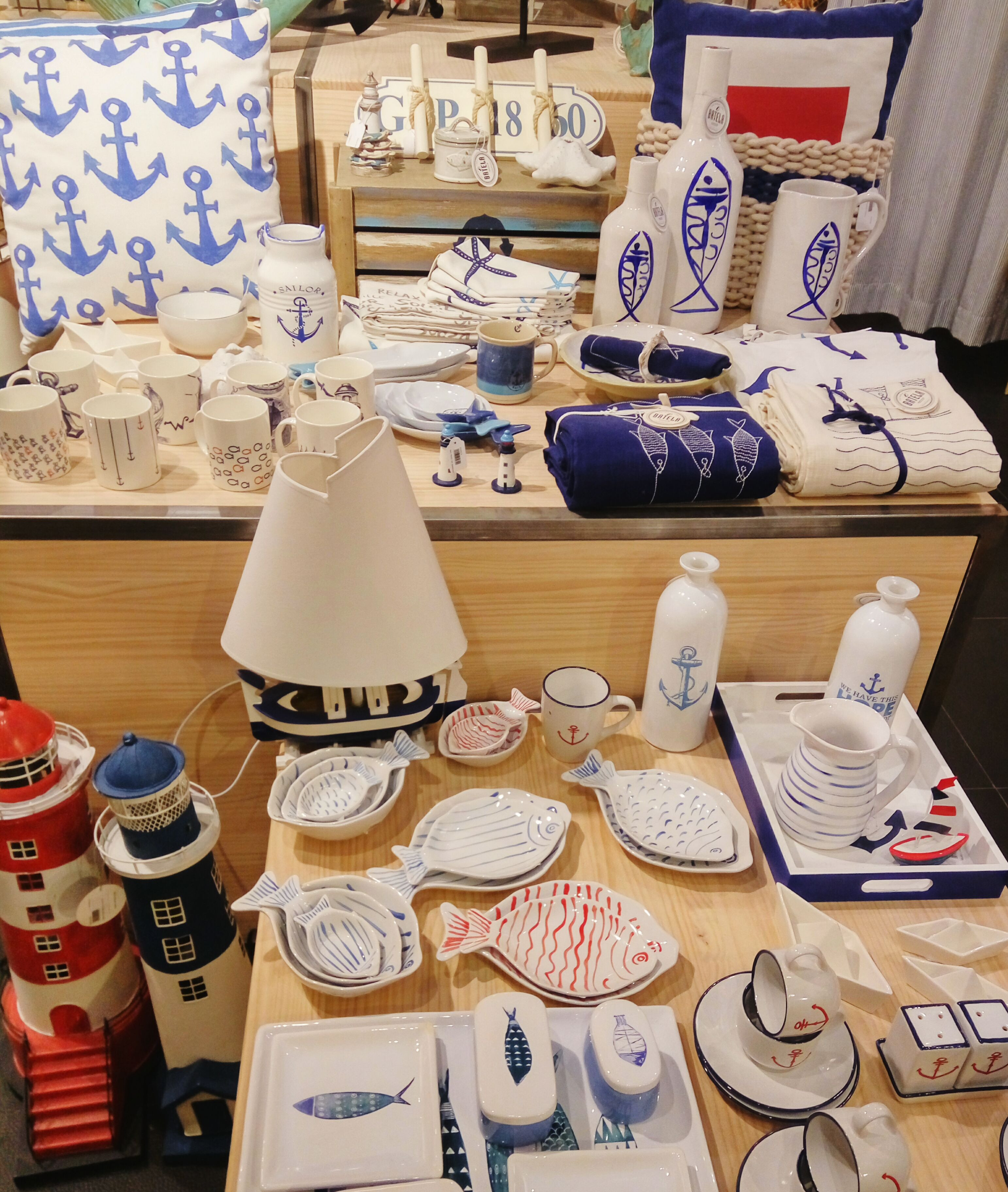 Pylones
Colourful and quirky cooking, home and fashion accessories from the famous French brand. Carrer de la Cucurulla, 4.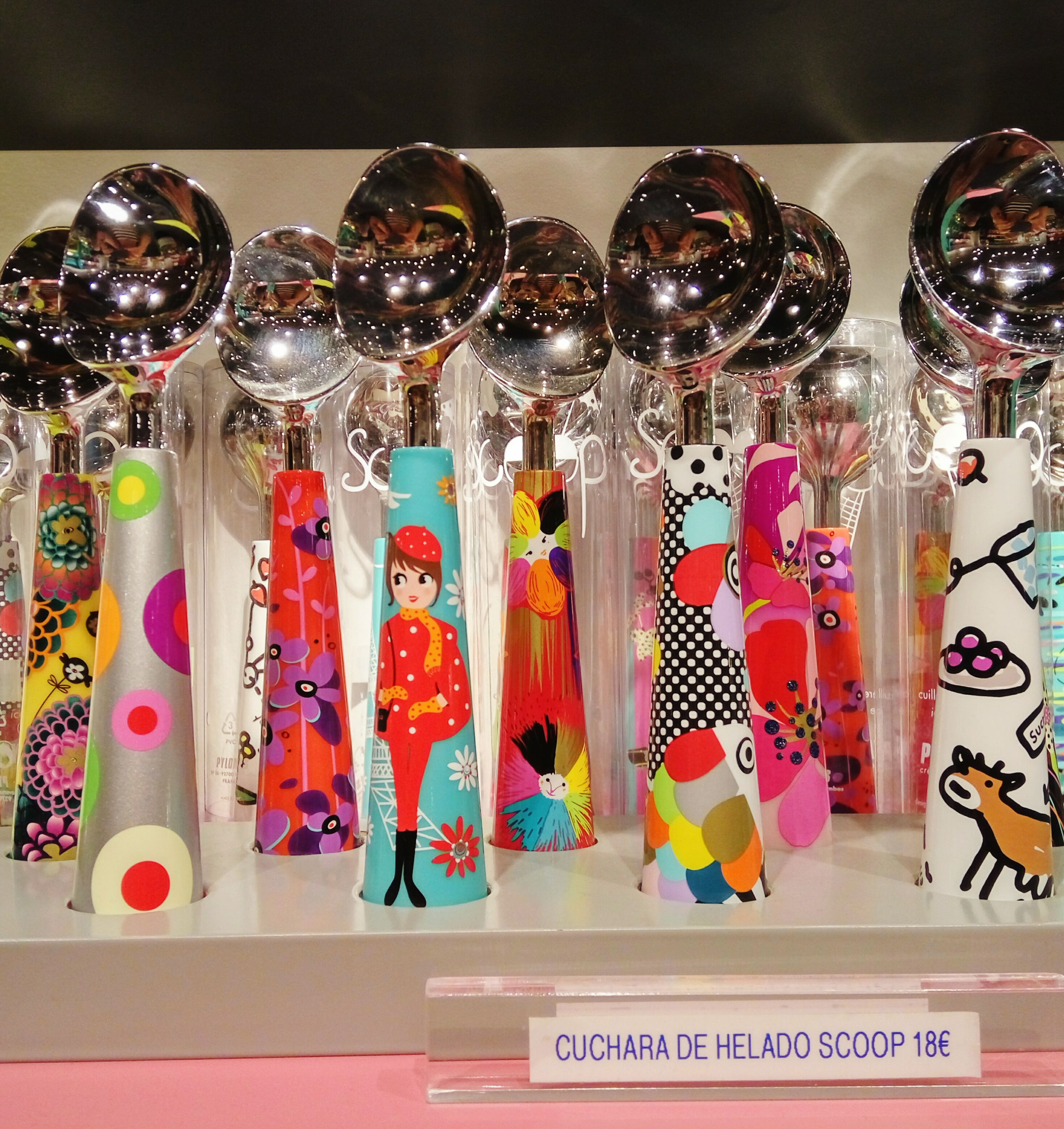 Cereria Abella
In this candle shop with 150 years of history you will find a great selection of candle shapes, designs, scents and colors! Carrer dels Boters, 5.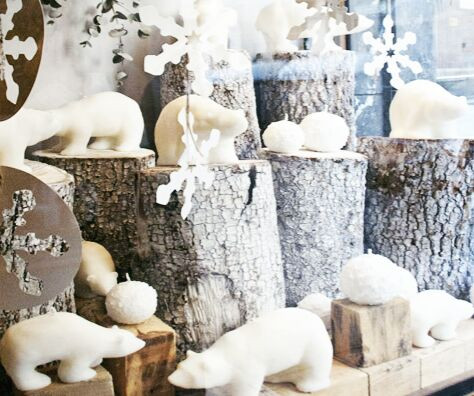 Bon Vent
This shop is technically in el Born, not Gótico, but it's real close and I absolutely love its concept – Mediterranean living – cheerful, full of sunlight and blue-sea colours. Also, they sell ceramic dishware from Silbando Bajito,  how can you not love it?! Carrer de l'Argenteria, 41.

For a Design shopping map of El Born y la Ribera check out THIS POST.
---
Design Icons
Let's be honest, decor shopping in Barcelona can seem somewhat underwhelming compared with places like Milano, for example, but if you're looking for iconic pieces you will absolutely find them. And let us not forget that Catalonia was home to a bunch of world-famous designers and architects from Antonio Gaudí to Ricardo Bofill. Also, now that we're on it, Barcelona Design Museum is very interesting, besides, this summer it is hosting 'David Bowie is' exhibition from the Victoria and Albert Museum (London).
Vitra
The iconic Swiss furniture brand has a showroom in Born neighborhood, which I haven't been to yet, but if it's anything like the one in Madrid, then it is like a design museum, and worth a visit even if you can't afford to purchase! Carrer d'Àvila, 32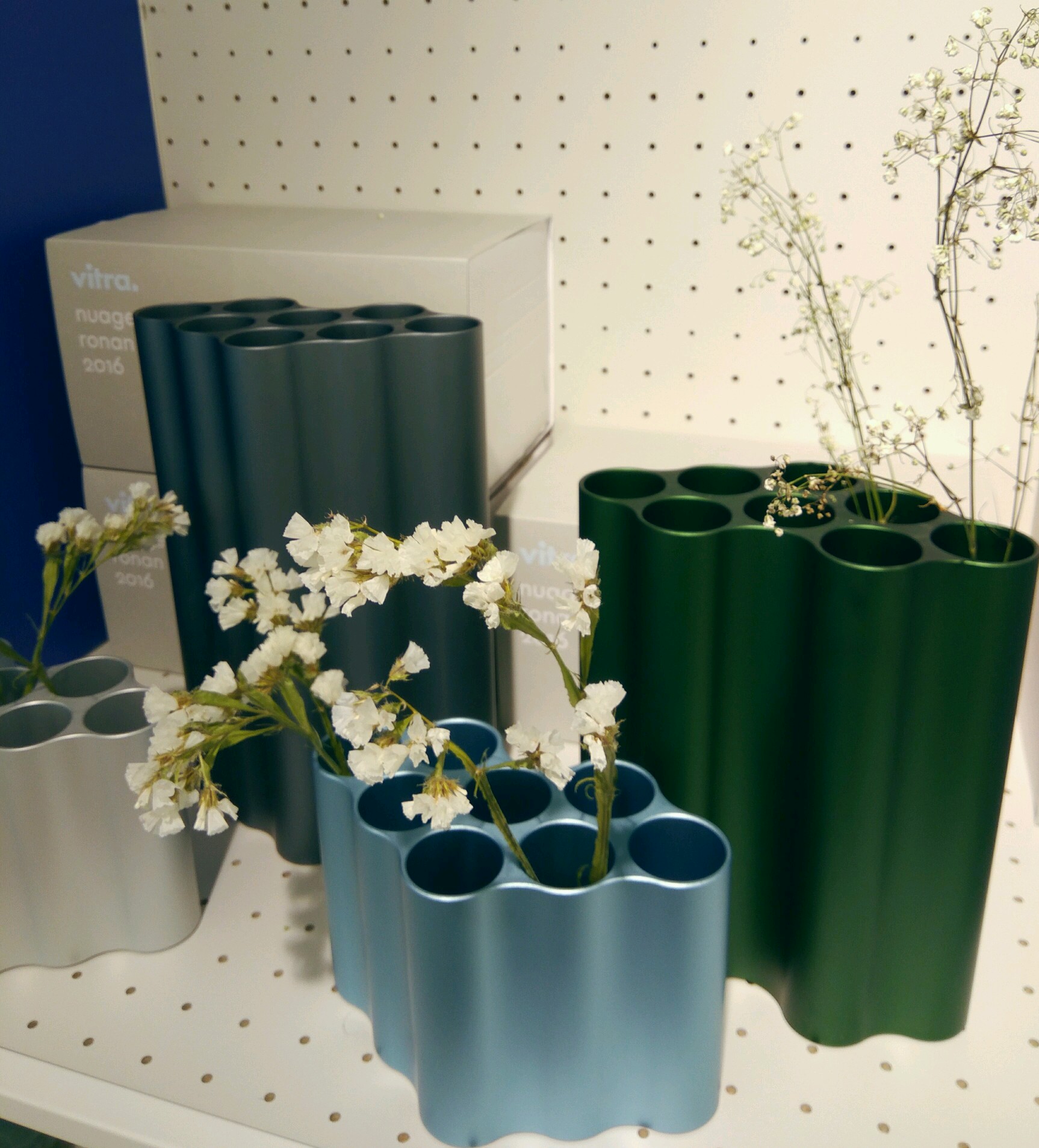 DomésticoShop
A huge multi-brand store dedicated to contemporary design featuring an array of iconic brands: Muuto, Thonet, Ferm Living, Tom Dixon, Moooi, Alessi, Fritz Hansen, Trecu, Cole & Son, Foscarini, Kartell, Knoll. Carrer dels Almogàvers, 100.
Jaime Beriestain
The Chilean-born interior designer Jaime Beriestain opened this 500 sq. meter multipurpose space, which combines a café-restaurant and a concept store. Art, music, interior design, books and aromas blend together to create a magnificent experience. Carrer de Pau Claris, 167.
Vista Alegre
The two-floor store on Rambla Catalunya is dedicated to upscale tableware from Portugal: «Vista Alegre» porcelain and Bordallo Pinheiro ceramics. Avinguda Diagonal, 467.
NaniMarquina
The world-famous Catalan company is a leader in contemporary rug design. Very pretty, very expensive. Carrer del Rosselló, 256.
---
Antique-shopping in Barcelona
Antiques are trending these days, and Barcelona is no exception.
If you're a true hoarder, check out the city's main flea market Els Encants just a few meters away from the metro Glòries. The market opens on Monday, Wednesday, Friday and Sunday, 9AM till 8PM. And if you also happen to be a geek, go upstairs (because the flea market is on the ground floor) and find Fantastica Store.Trust me, if Sheldon Cooper lived in Barcelona, he'd be a regular!
You will also find a few interesting antique shops in  Gràcia. This bustling bohemian neighborhood is packed with cool places and is worth a visit even if you aren't looking for anything in particular. Other then the ones in Gràcia, I'm also a fan of Déjà Vu Concept, they have an amazing selection of vintage lamps, which get a makeover and new shades in the hands of shop owner Diana.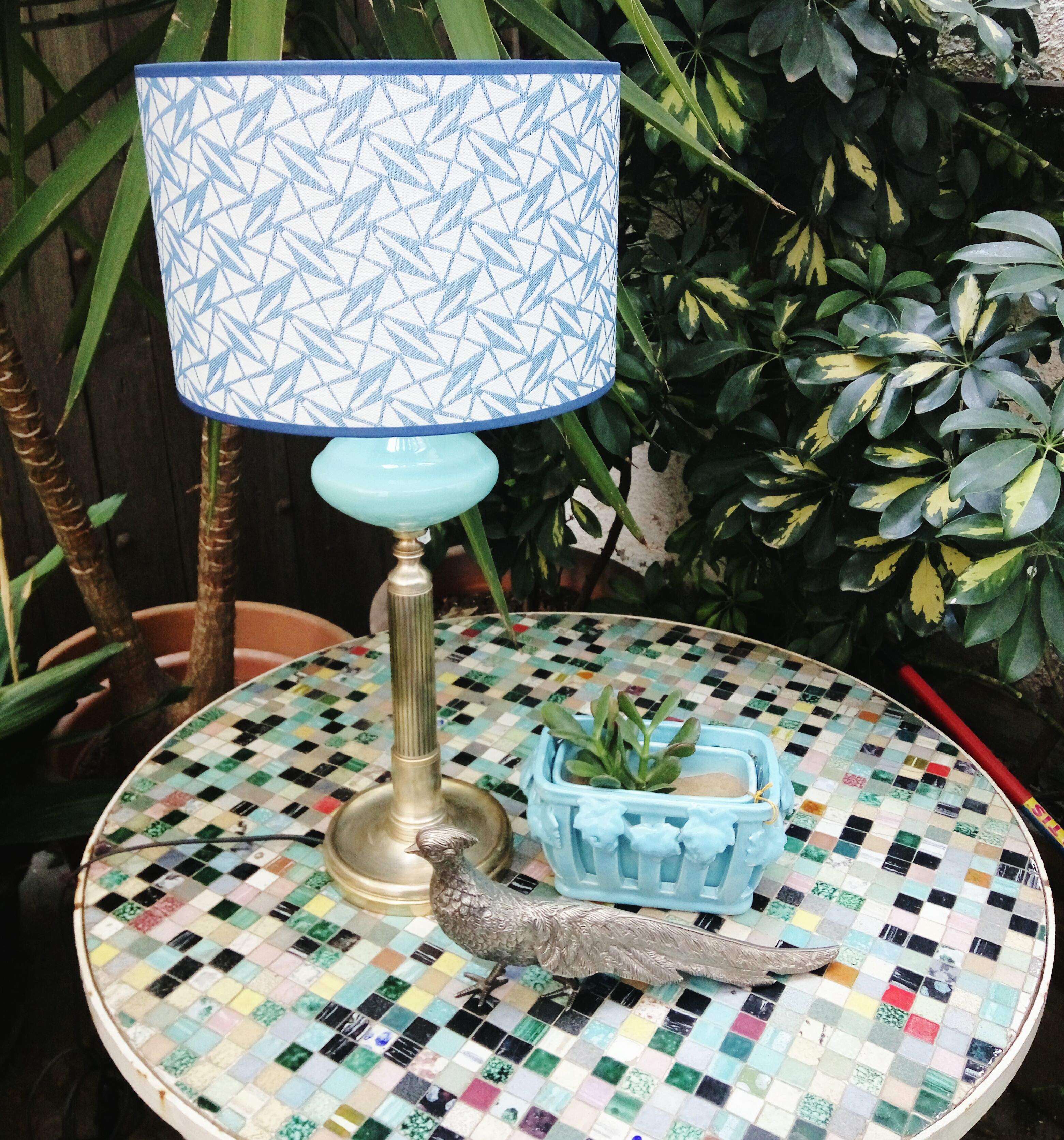 Finally, if you find yourself tired of the beach, and all the shops are closed because it's Sunday, I strongly recommend that you go to Mercantic – a lovely vintage market in Sant Cugat.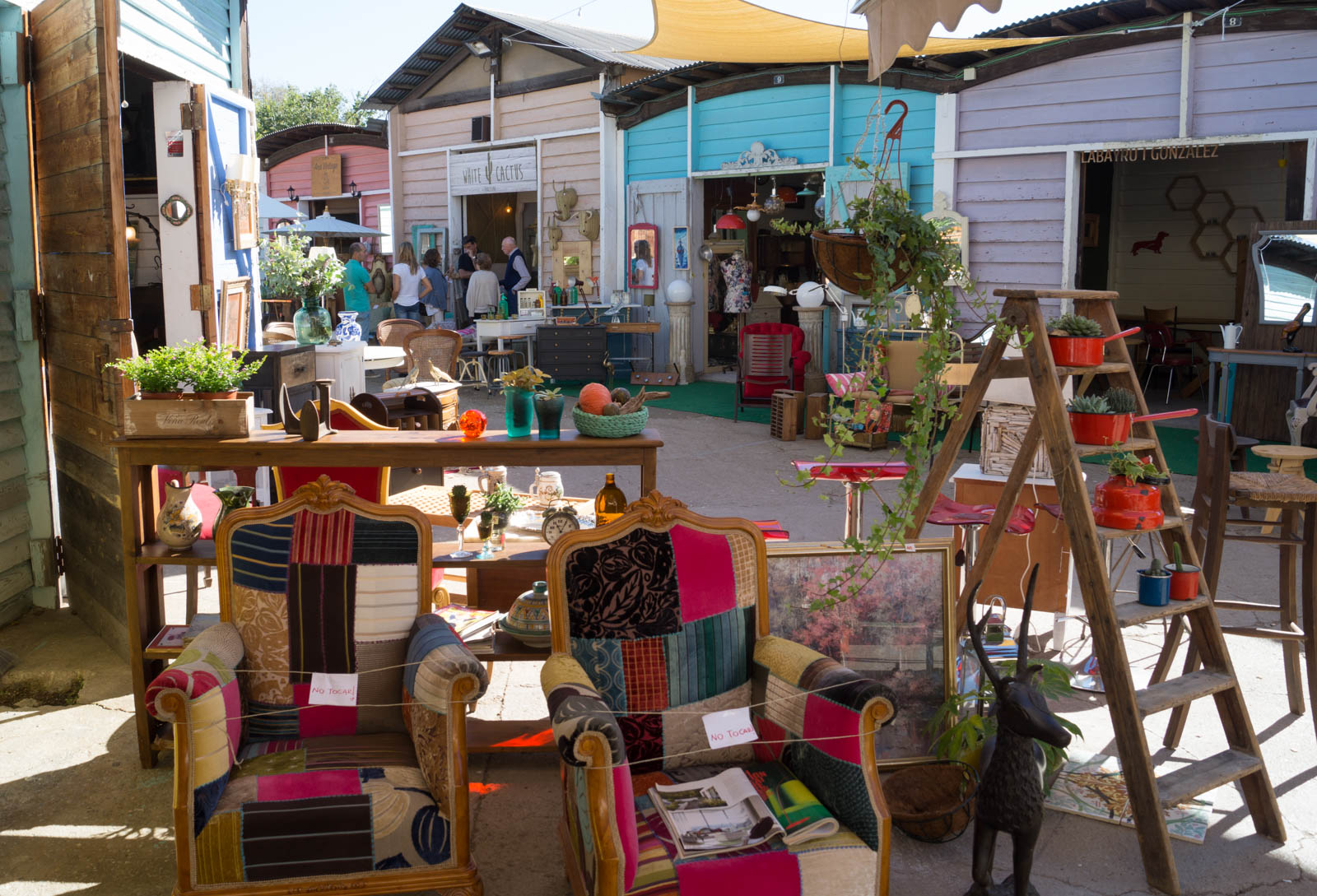 Hope you found this article about shopping in Barcelona useful, and will carry home some beautiful gifts and home furnishings.