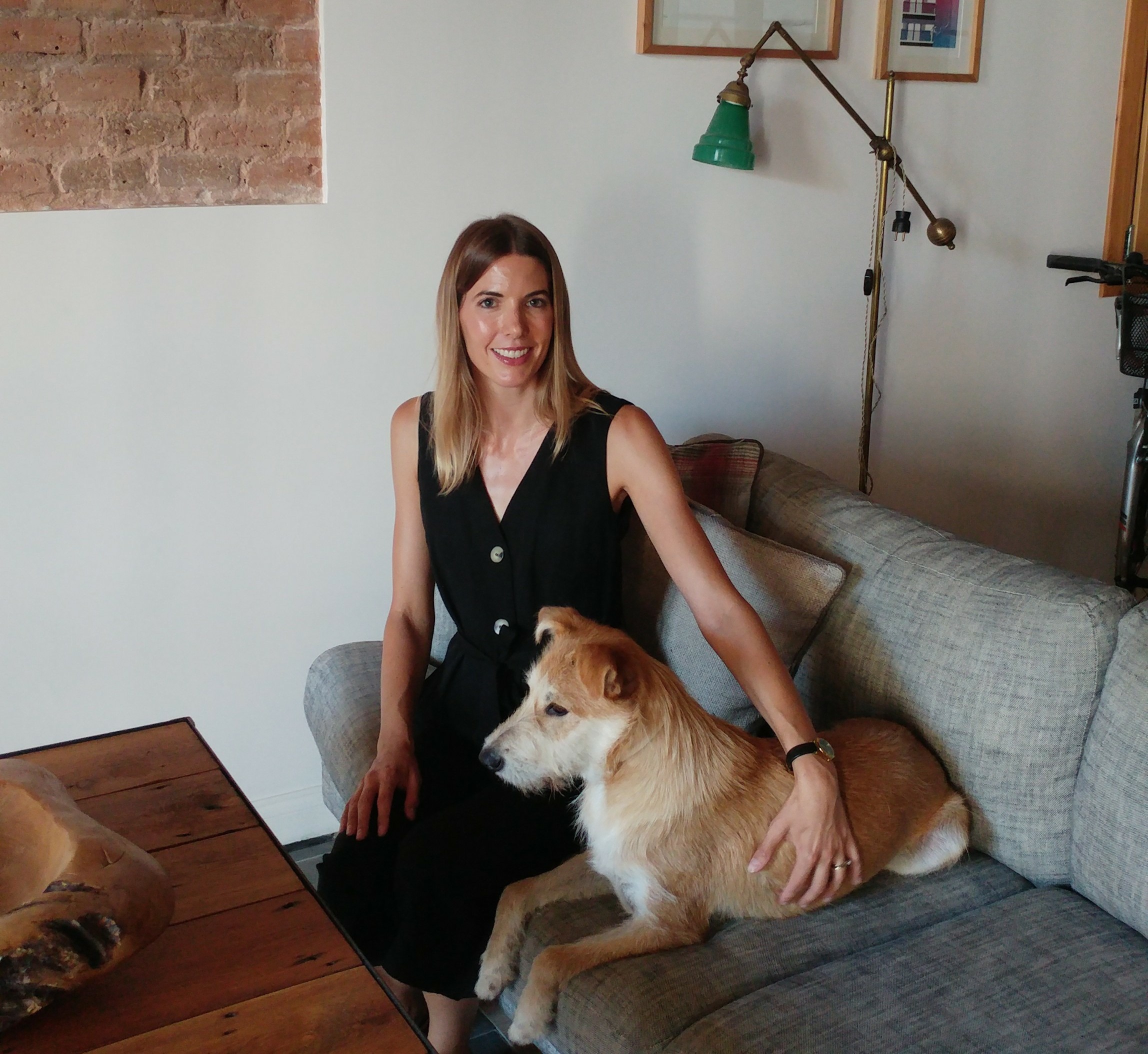 Today I want to share with you a stunner apartment in Barcelona's Eixample Dreta neighborhood – a centric yet rather quiet location, not overrun by tourists, just a block away from  the  charming flower market on c/Valencia.  Gemma, a freelance travel journalist from England and her husband Jordi – half Swedish, half Catalan, met in London, spent some time living in Australia, but 2 years ago, the couple made a decision to settle down in Barcelona. Their family has since expanded with Diego, a playful ball of fire of a puppy.
Gemma and Jordi always wanted to live in the center, and having gone with a modernist building, from 1910s, it turned out that their new property was hiding many of the recognizable design elements of that era, which the new owners were delighted to embrace. Thus, the original cement tiles recovered from under the parquet floor, tall vaulted ceilings and also original woodwork (doors and windows) became the protagonists of the new design. When it came to areas of the floor that were missing tiles, Gemma and Jordi resorted to Otranto, a warehouse packed with vintage tiles, 3-meter tall doors, ironwork and other survivors of renovation and rehabilitation projects in Barcelona's numerous modernist buildings.
Tired of the tiny London flats, Gemma wanted her 125 sq. m. Barcelona apartment to feel airy and spacious. And so, what used to be a 5-bedroom property was remodeled into a 2-bedroom with a big open space hall, integrating an open kitchen with dining table, a sitting area and Gemma's work station. The renovation was carried out by architects from Eixample Singular.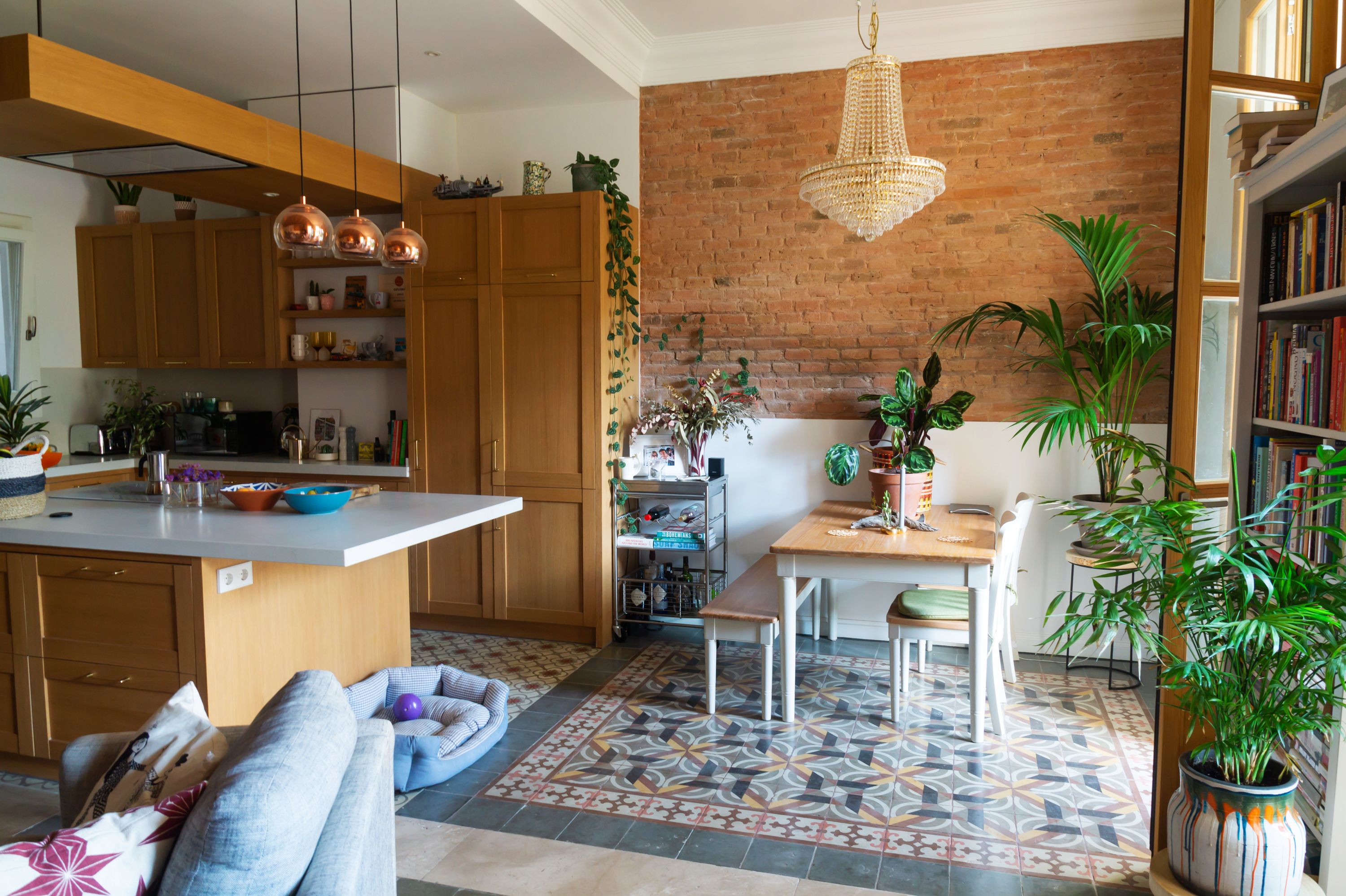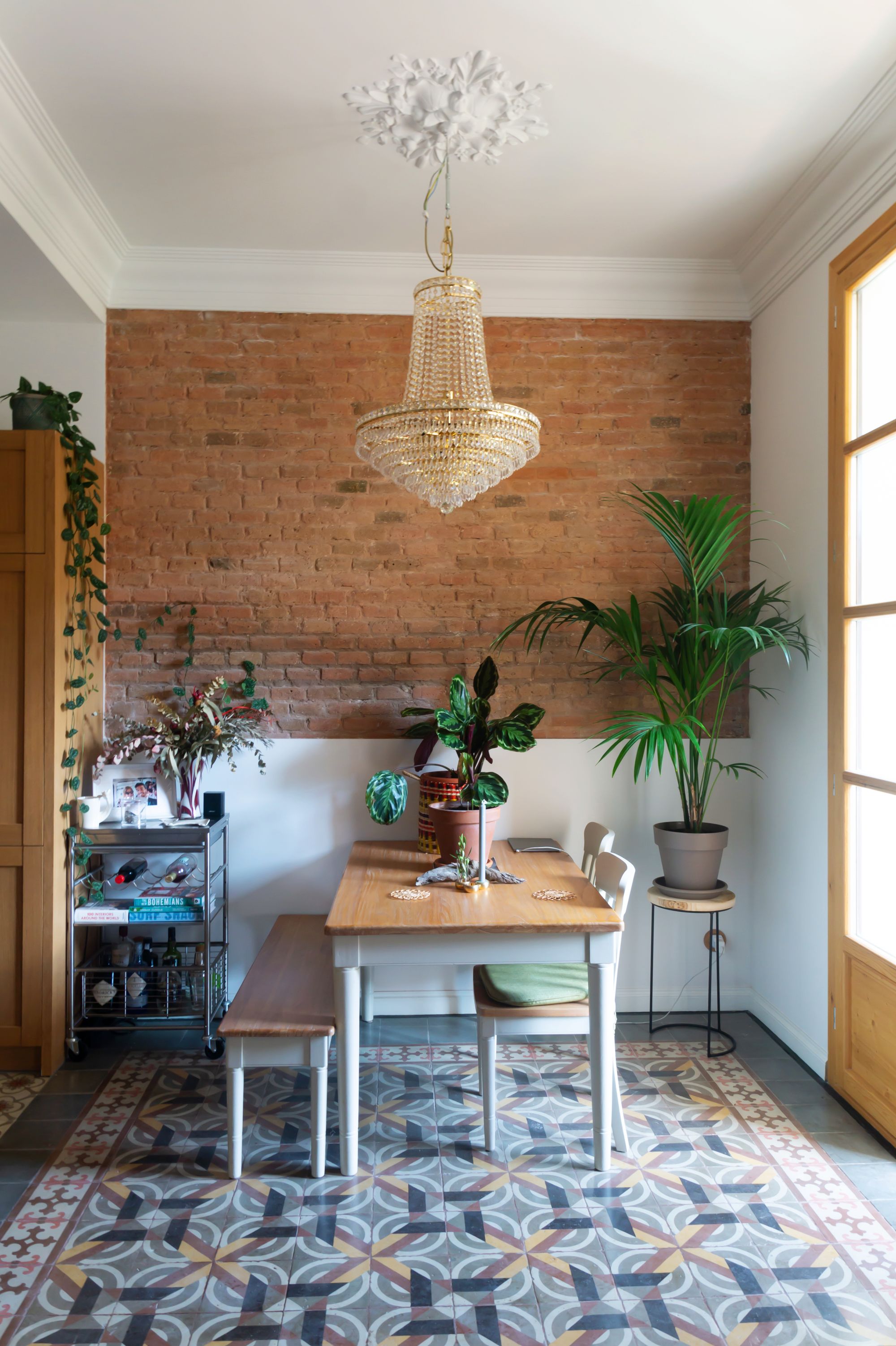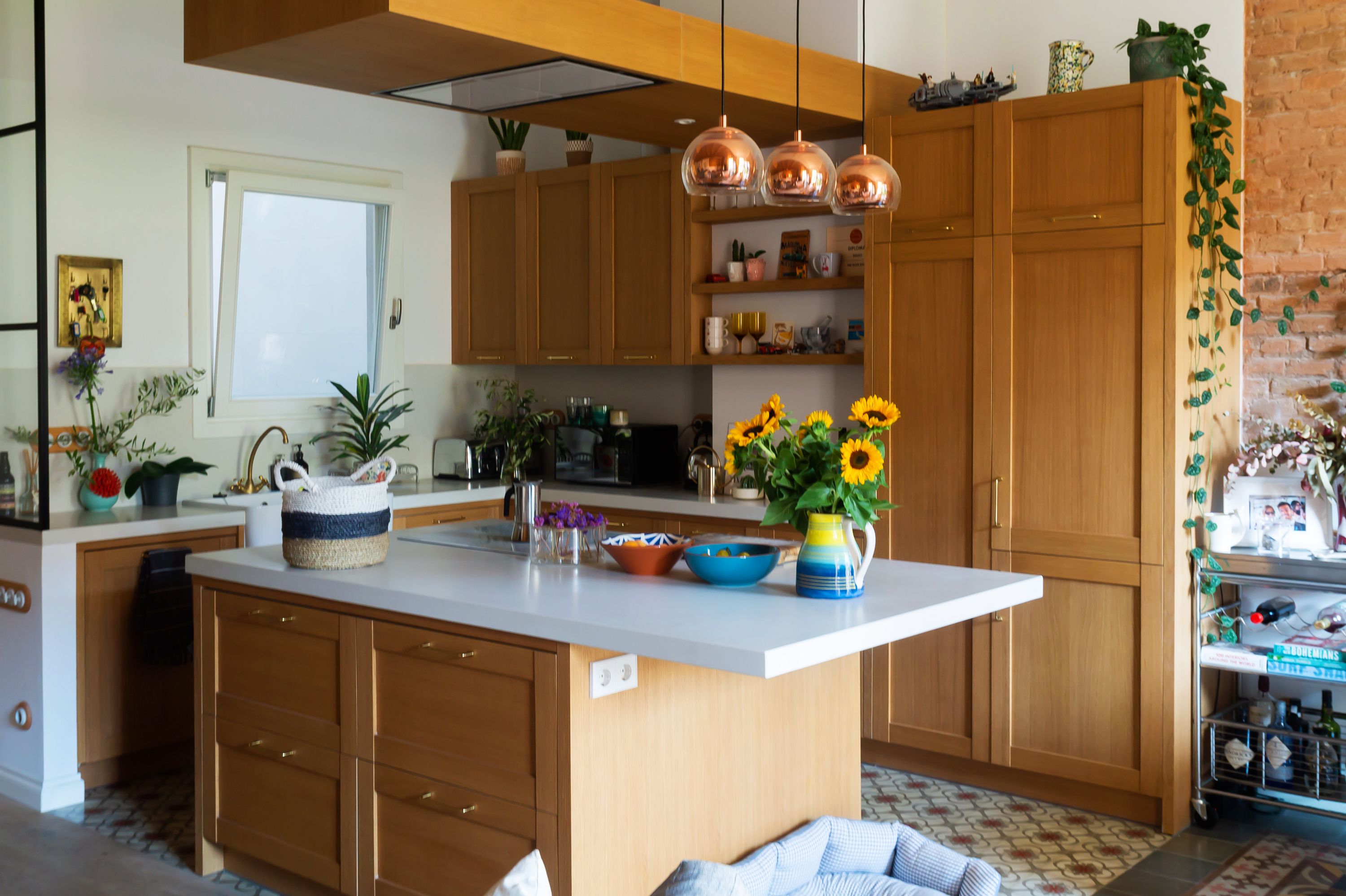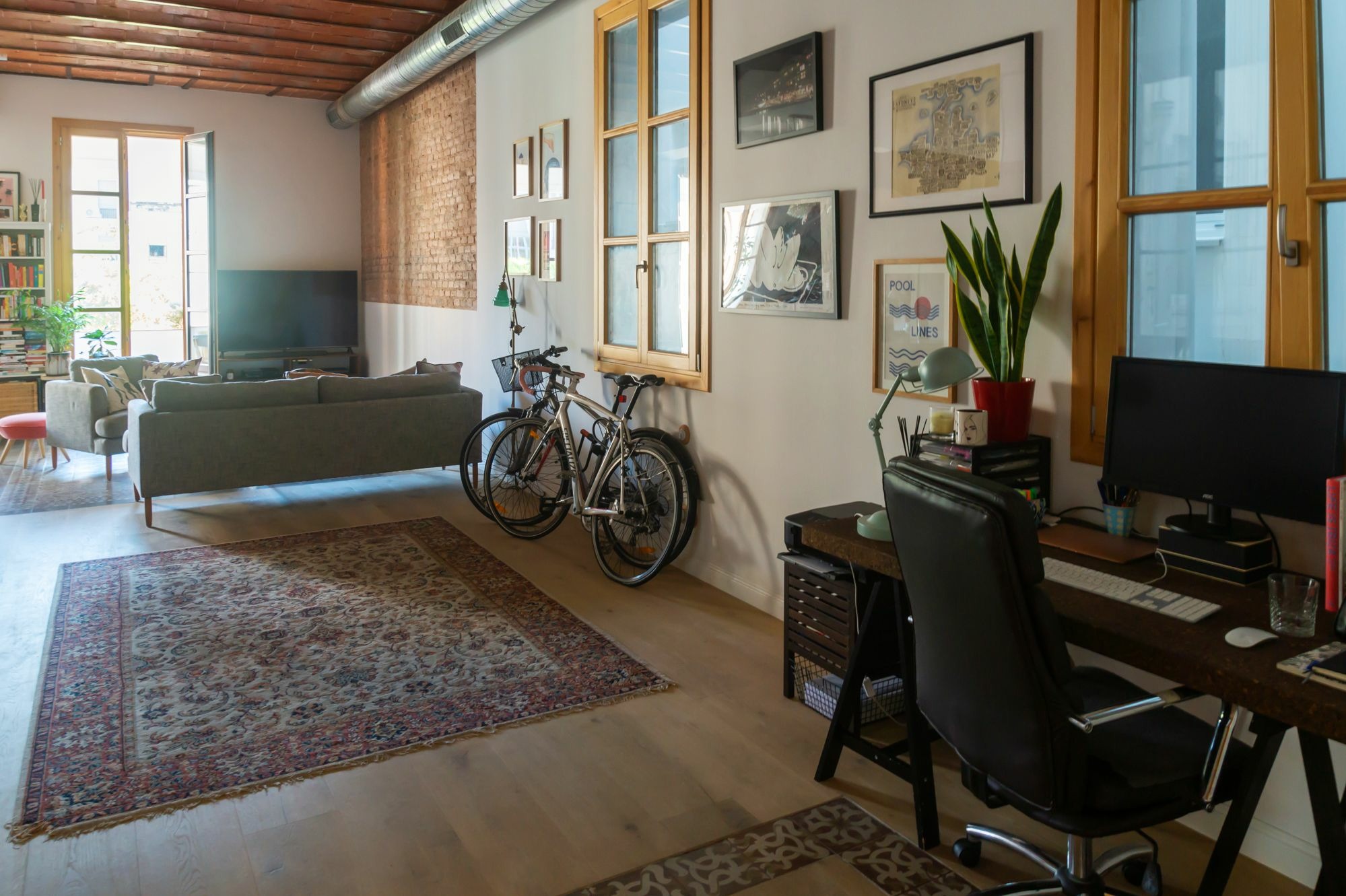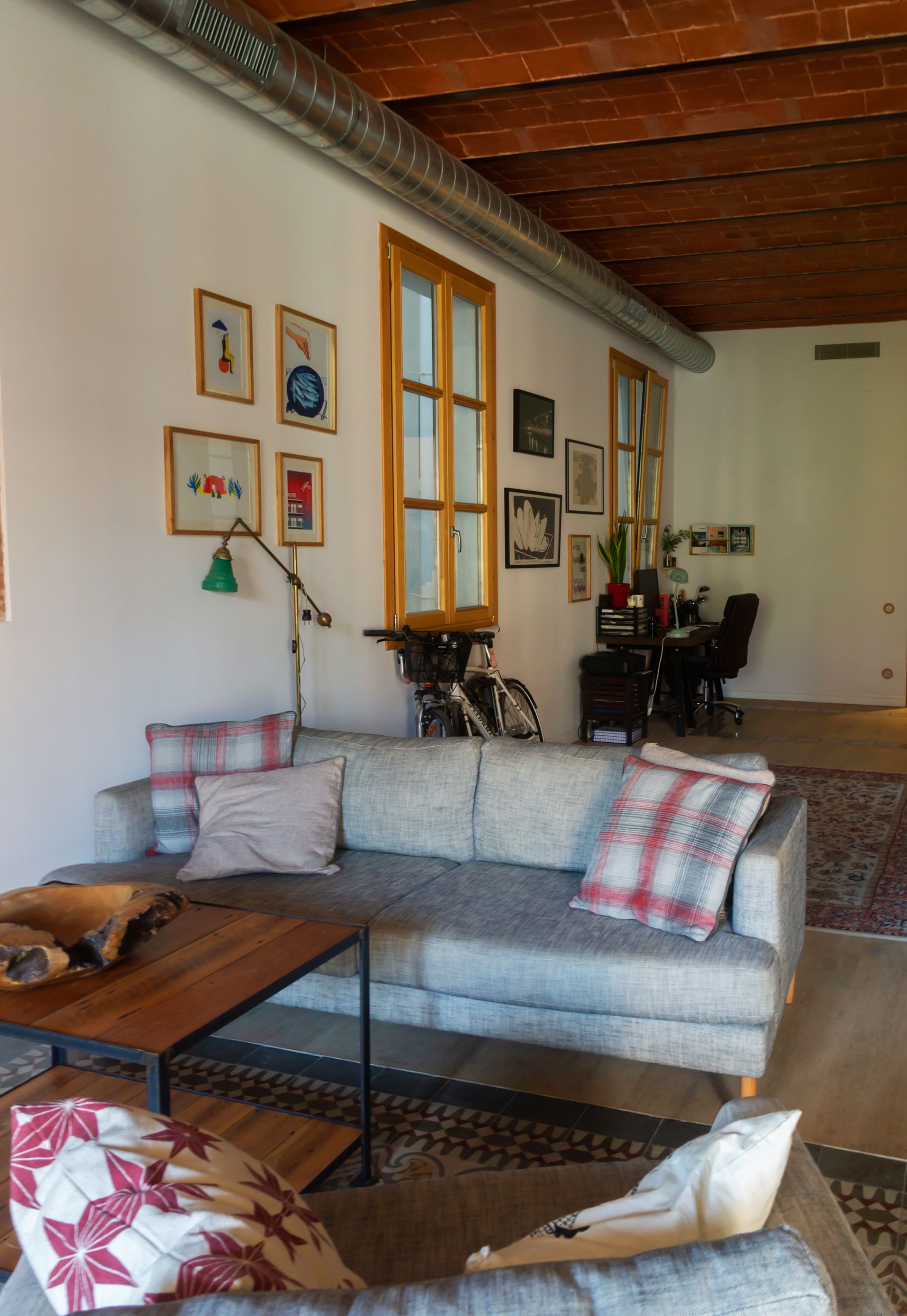 I just find it so inspiring how Gemma embraced the traditional Catalan design in her new place, rather than bringing the English style along, with its classical elegancy, intense colours and floral patterns. I would define the style of Gemma and Jordi's place as sober, but eclectic. An exuberant chandelier lamp with a moulded ceiling piece is paired with an open brick wall, there are plants everywhere, make-you-smile ceramic pieces, quirky wall art from Miscelanea, but overall the design transmits timeless tranquility.
Most of the furnishings were newly bought in a bunch of different shops, although Gemma did bring some furniture and family heritage along from London, such as the big rug in the hall, which had survived several generations of dogs unharmed, until Diego treated himself to one of its fibery corners. The floor-lamp is from Mercantic, it is one of the few locally procured vintage pieces – Gemma says she's curious about flea markets, but her bargaining skills are definitely lacking at this point. Here and there, a sharp eye will also spot colourful items from Anthropologie and crockery and baskets from Natura Casa. Many of the plant pots came from Mar de Cava (RIP the shop on c/Valencia, but they still sell online!)
The apartment has two bathrooms, one of them en-suite. They were designed in a similar style, the couple just decided to play a little with tile orientation. But the dominating metal is always gold, that is something Gemma had no doubts about.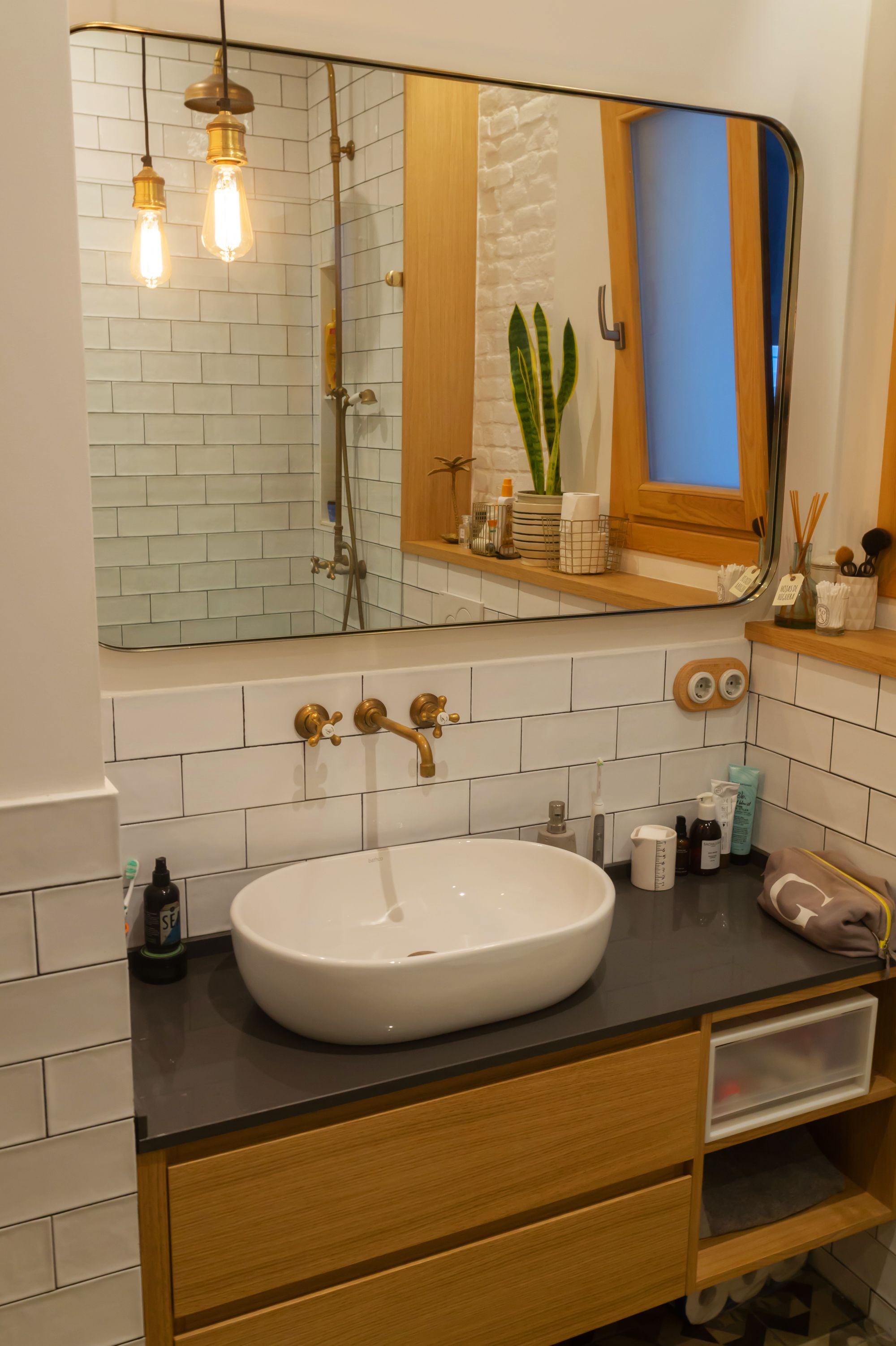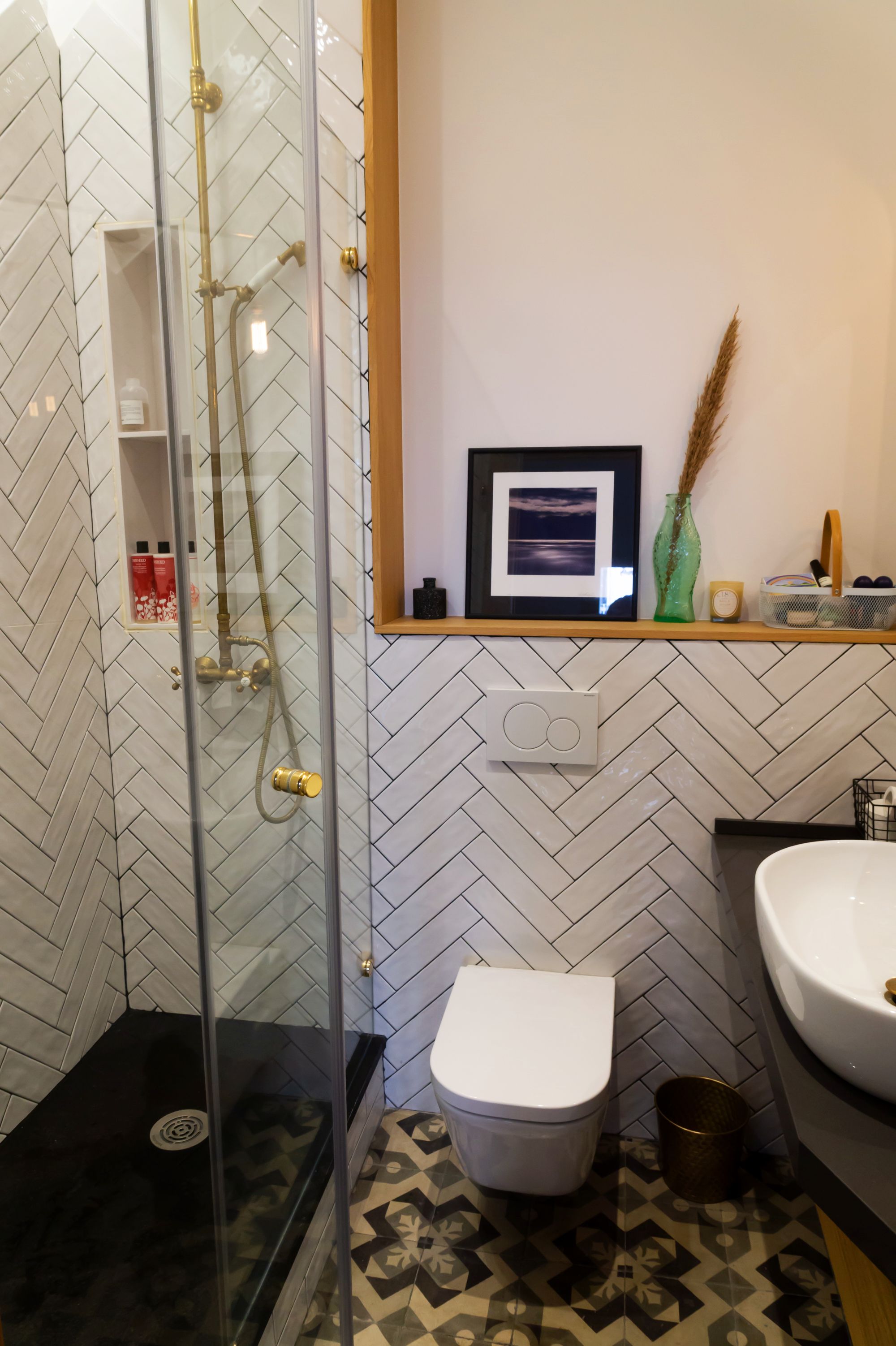 The master bedroom – visually less busy and more minimalist – is a continuation of the living room and the adjacent areas, with exposed brick wall, tiled floor and  woodwork. The young couple also made sure that they have a lot of storage space with ceiling-high wardrobes. The palm trees blueprint is from Kind of Cyan.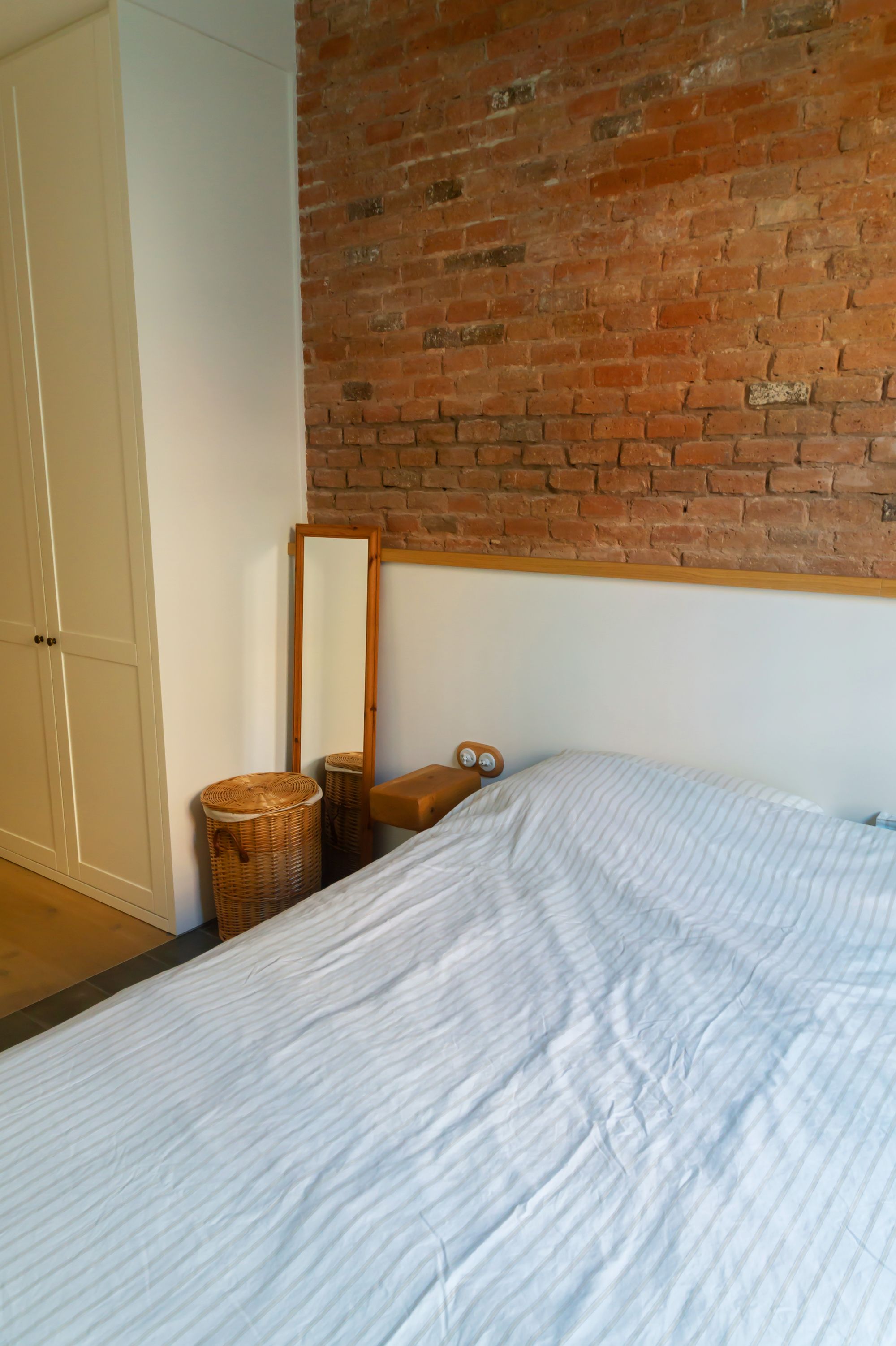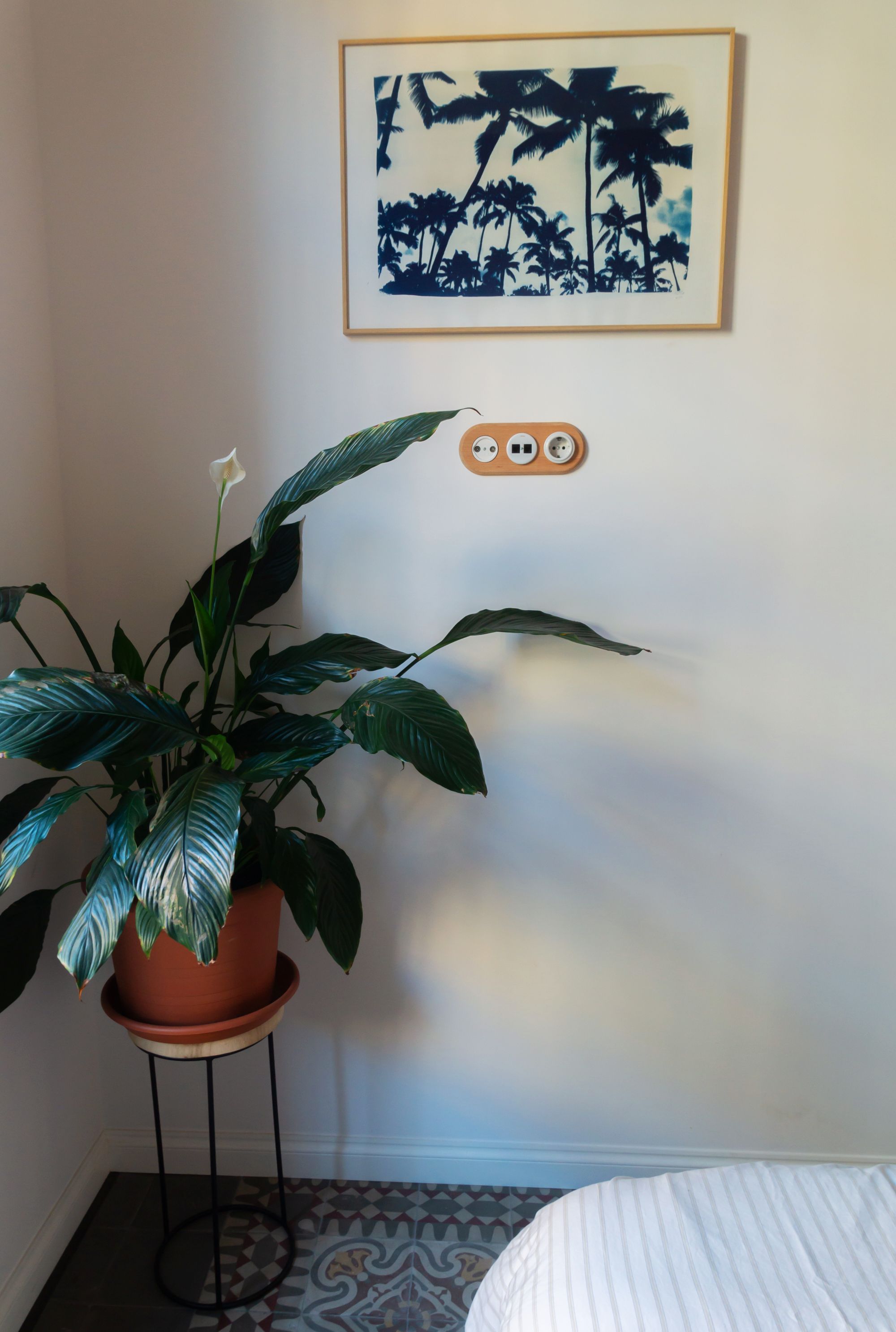 The guest room copies the style of the master bedroom, and is a favorite of Diego, the dog, who apparently believes this room is his.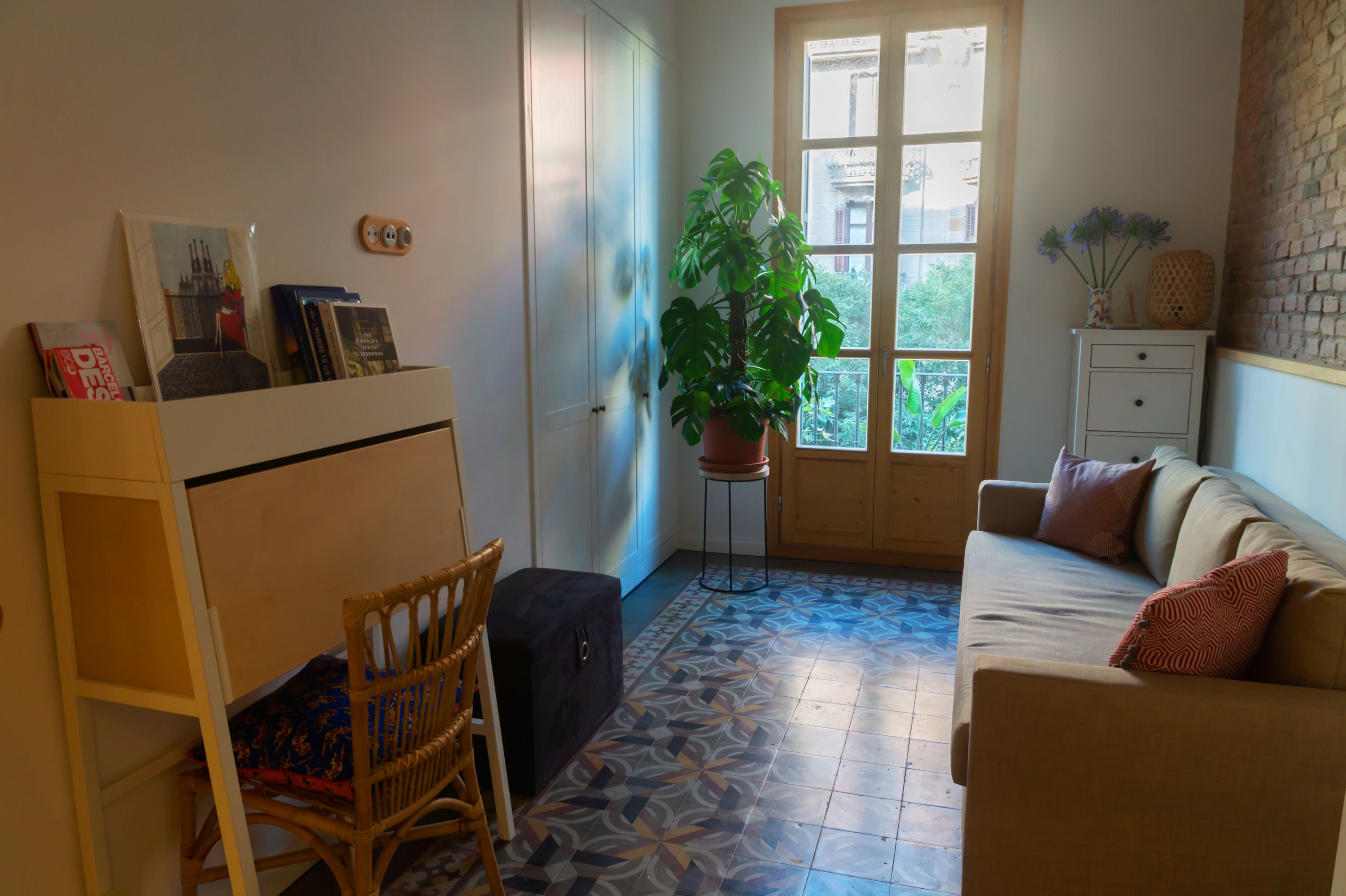 The balcony, previously glassed, was transformed into a cozy and pretty space to enjoy the surprisingly quiet surroundings, you can even hear the birds sing there!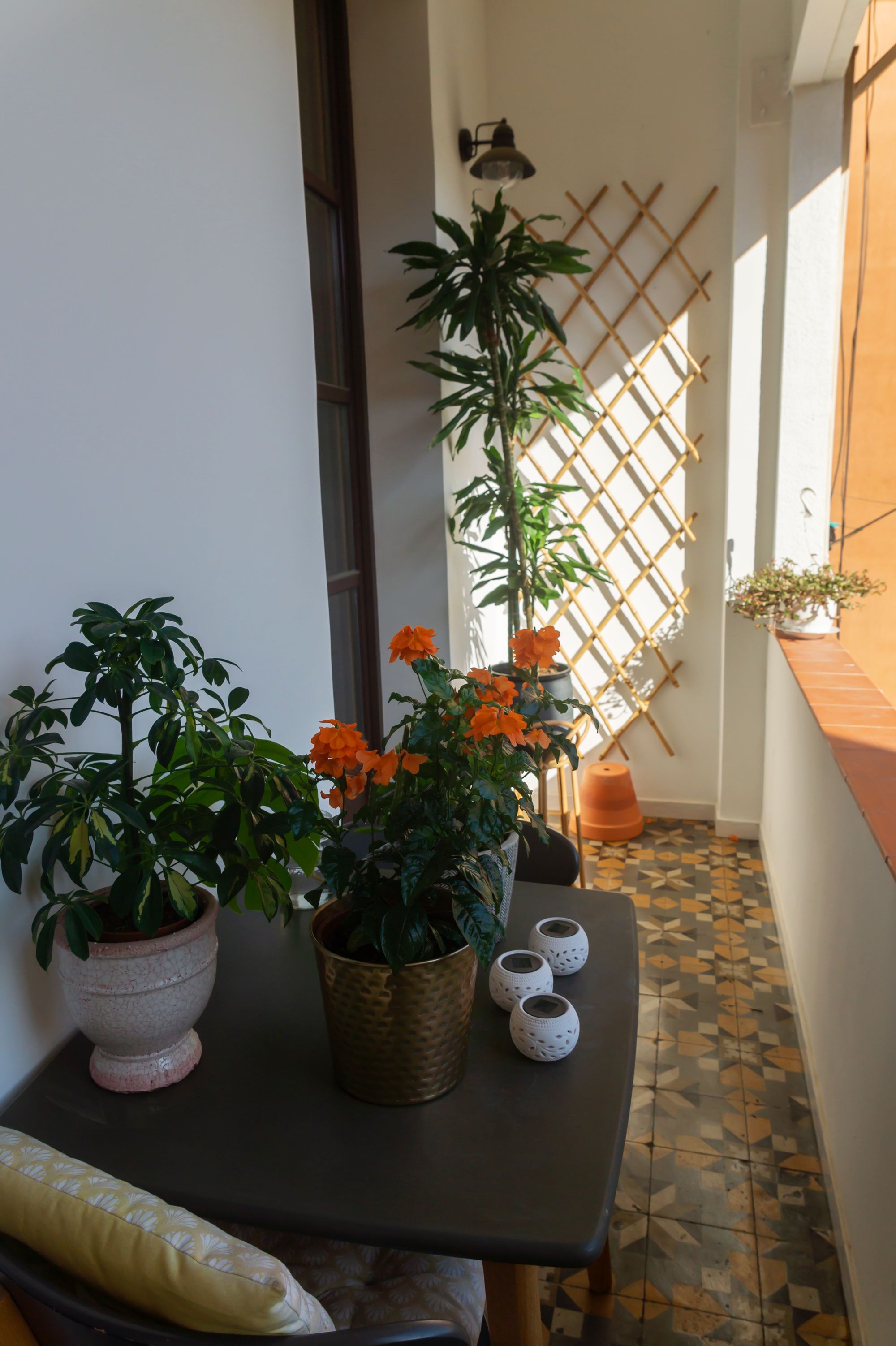 And a few more details…
The floral molding is an absolute stunner. I'm seriously considering copying the idea and getting one for my own bedroom.