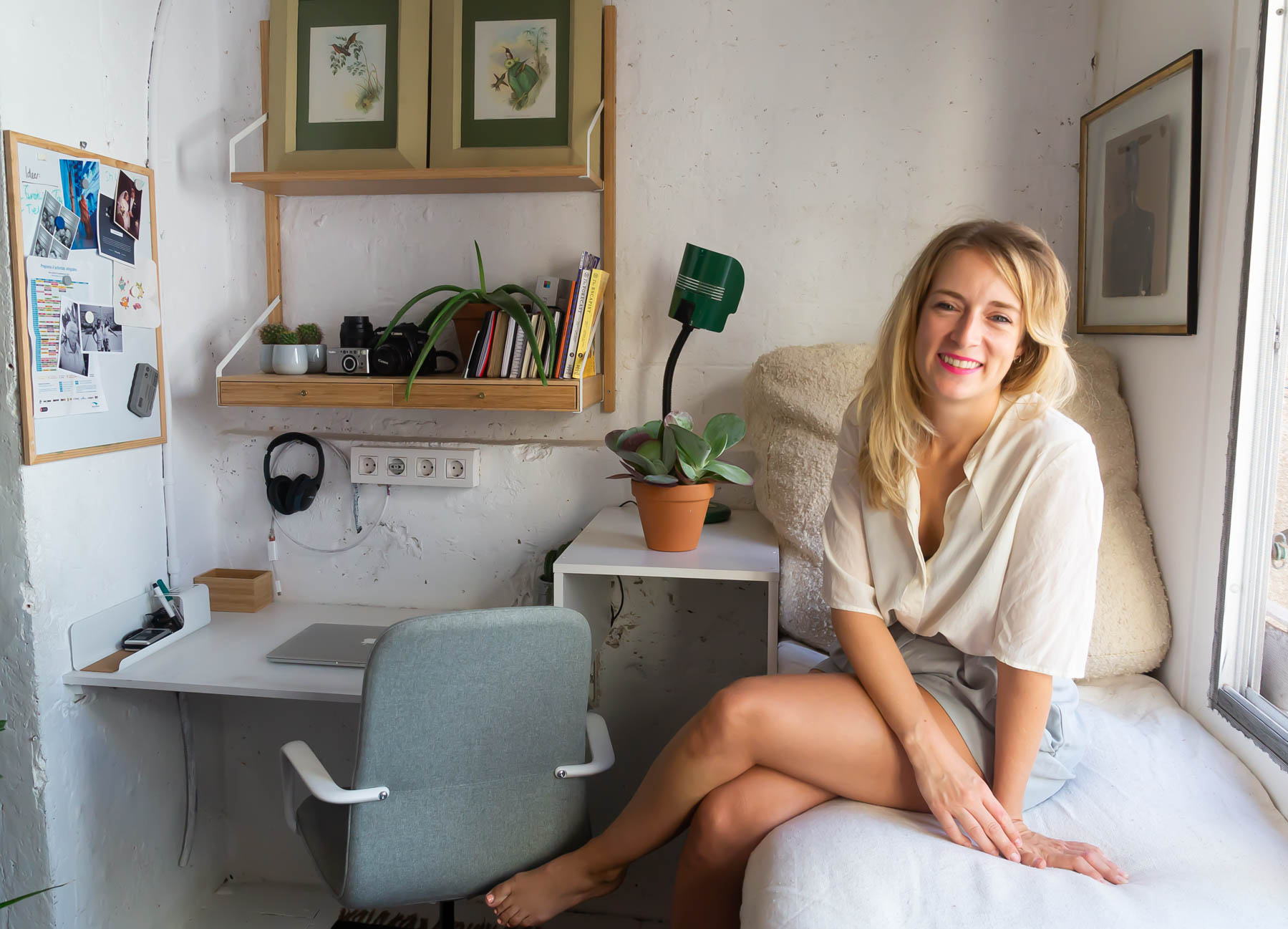 Meet Line Tiller. A Norwegian-born freelance journalist, Line had been living for 5 years in the bustling New York until she realized she needed a change of scenery, and the sunny and relaxed Barcelona seemed perfect to settle down for a while (or indefinitely). She also felt like it was time to buy a home of her own, and rocketing rental prices in the capital of Catalonia were another factor that reaffirmed her decision to buy. And so, two years ago she became a proud owner of an 80 sq.meter property in El Clot, a very traditional and tranquil neighbourhood, yet not far from the beach and city center. The apartment, located on the top floor of an old building, had elements of traditional Catalan design, such as matted-glass room dividers or vaulted ceilings in some spaces, and wooden beams in the others. They added a lot of charm to the place, so she chose to keep them intact, but other than, she completely remodeled the apartment, taking down numerous walls and repurposing literally every room and space there was. She did have an architect help her with paperwork, licenses, builders and so on, but the new layout was her own design.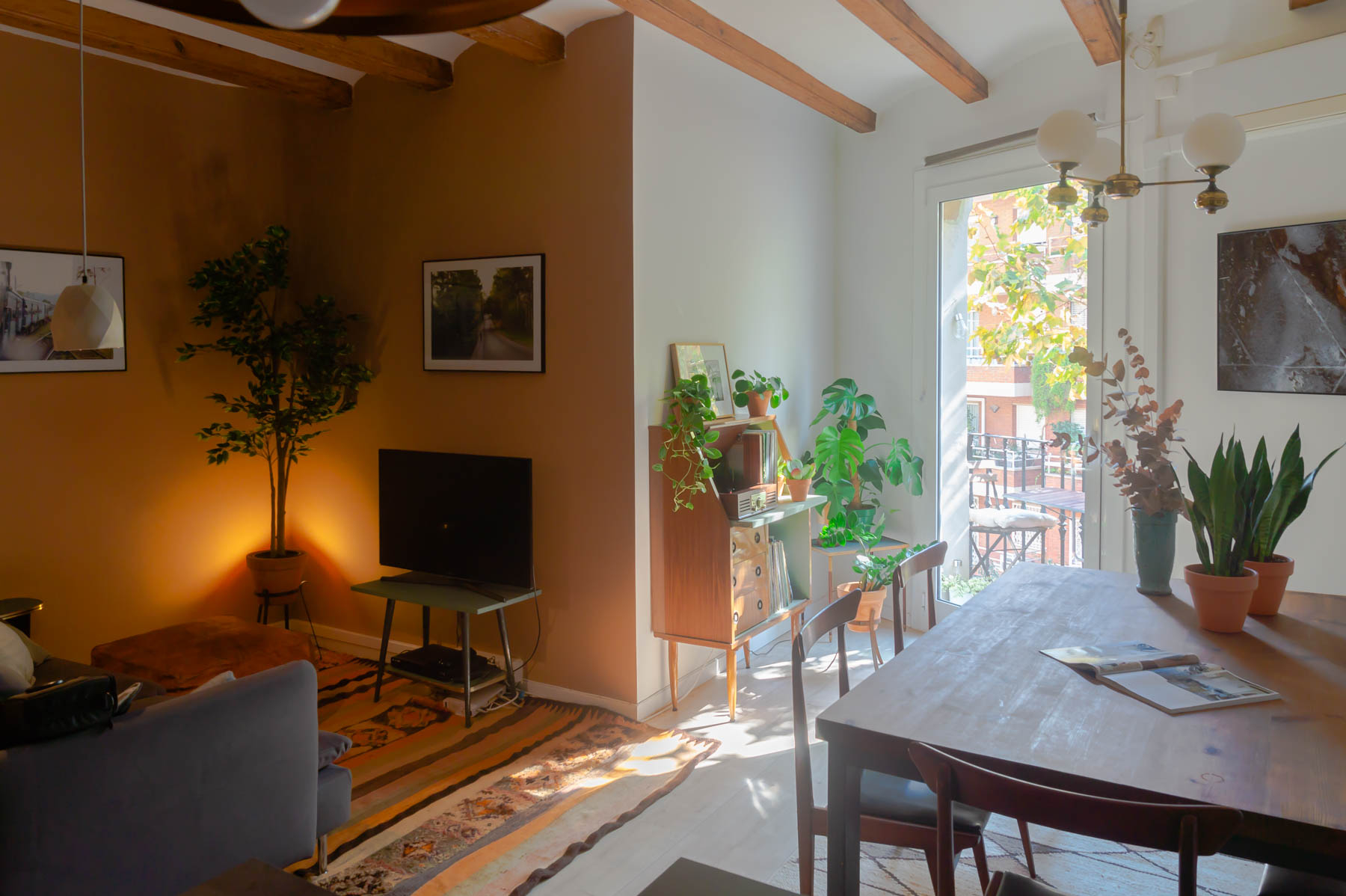 Line reinvented her place as a perfect mix of vintage and modern. The New York style (exposed brick) open kitchen from IKEA overlooks a sun-lit living room with most of the furniture procured from Wallapop, flea markets and Mercantic. The walls are decorated with the photos Line took on her numerous journeys, among other, she is a travel writer. But overall, the apartment has this nostalgic retro vibe, which, personally, I dig a lot. I also love how there are so many plants around the house, paired with the earthy and natural tones in wall paint and textiles, they create a beautiful low-key bohemian charm. What I especially admire is the attention to detail. You can tell that every corner in this apartment was very carefully curated. Take the metals, for example, every space has one distinct metal. In the bathroom, it is copper, in the bedroom it is gold, and there are so many of these tiny pieces of the puzzle, which make the place feel both cozy and very pretty.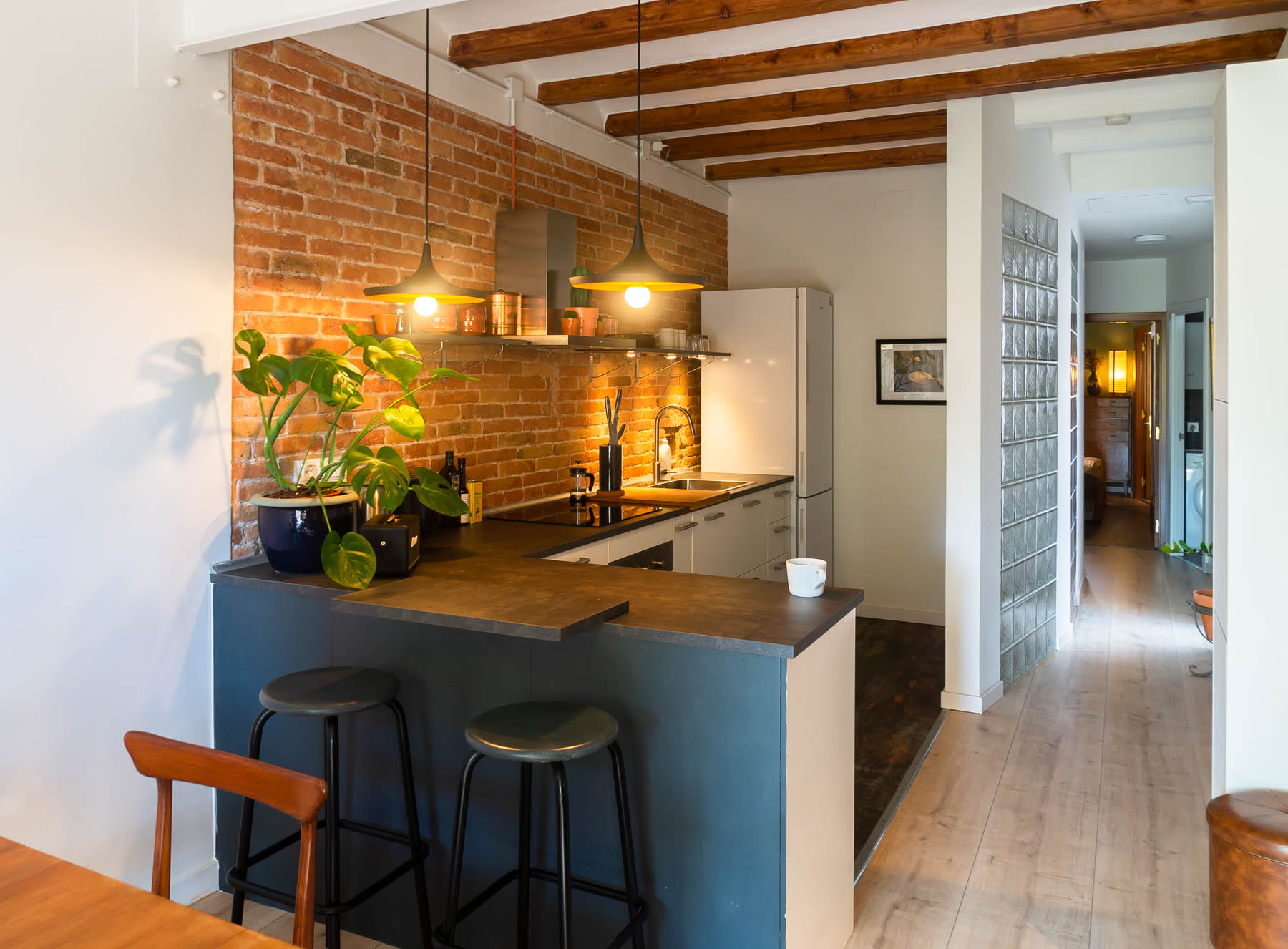 New-York style open kitchen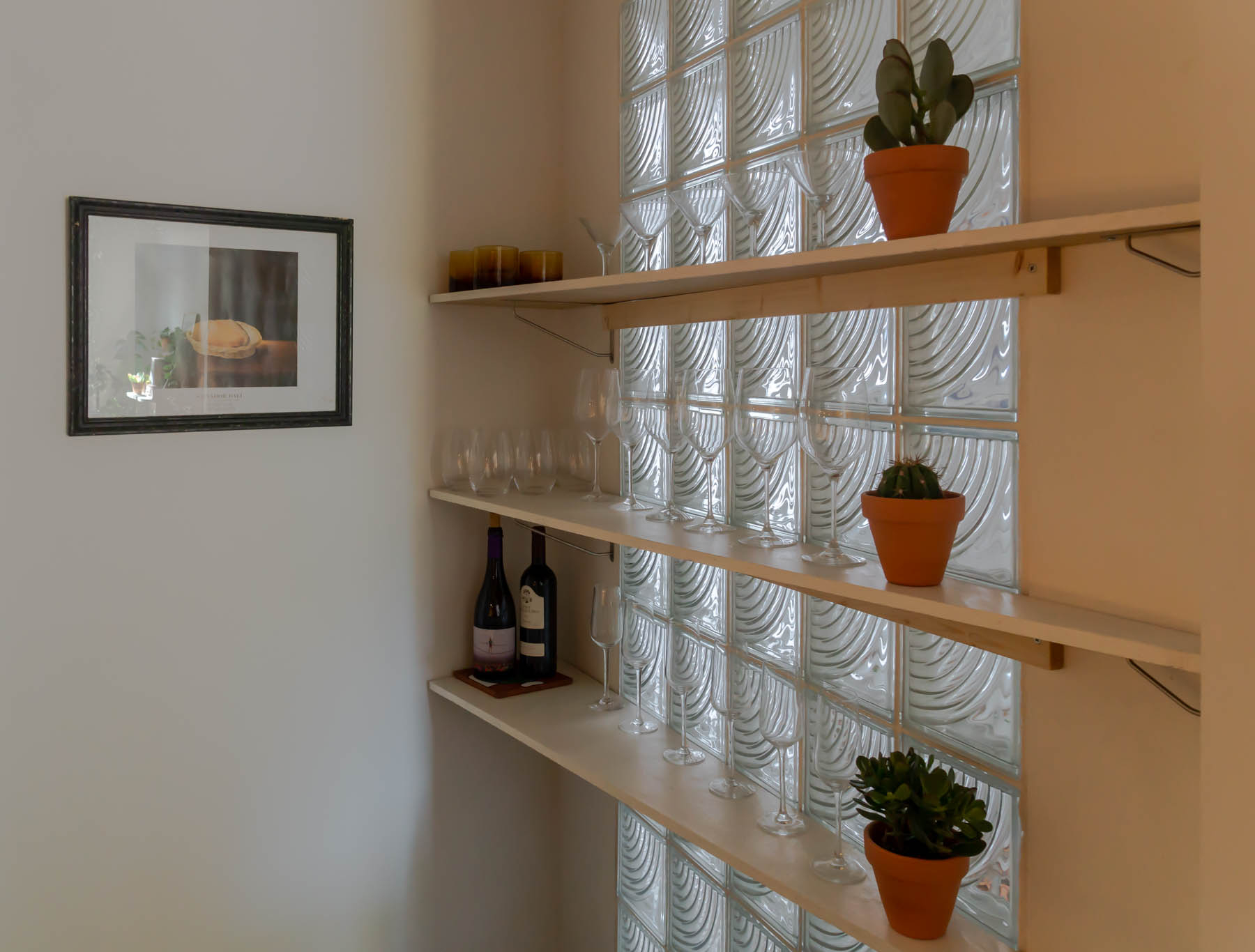 Glass shelves hidden in the corner of the kitchen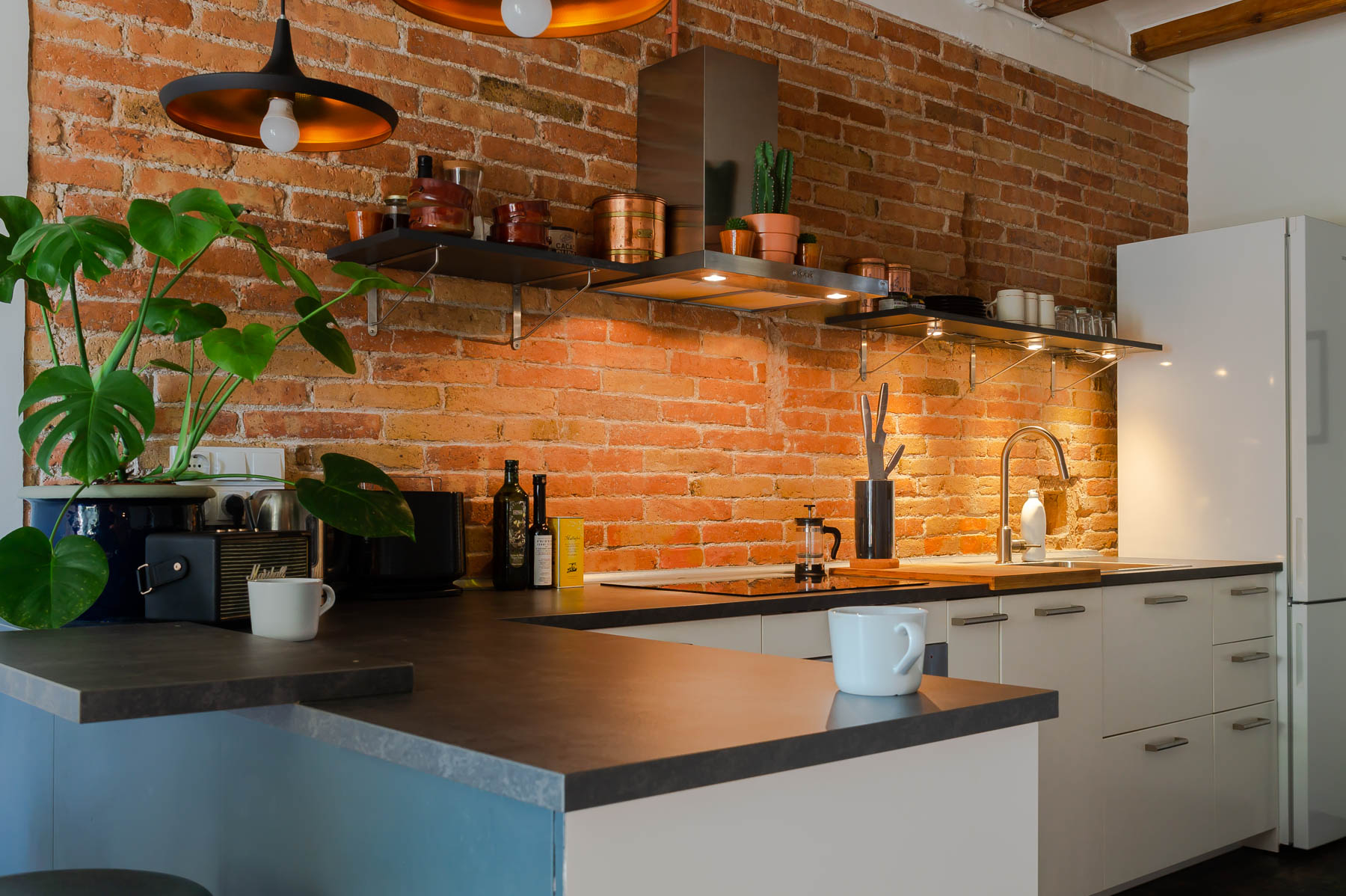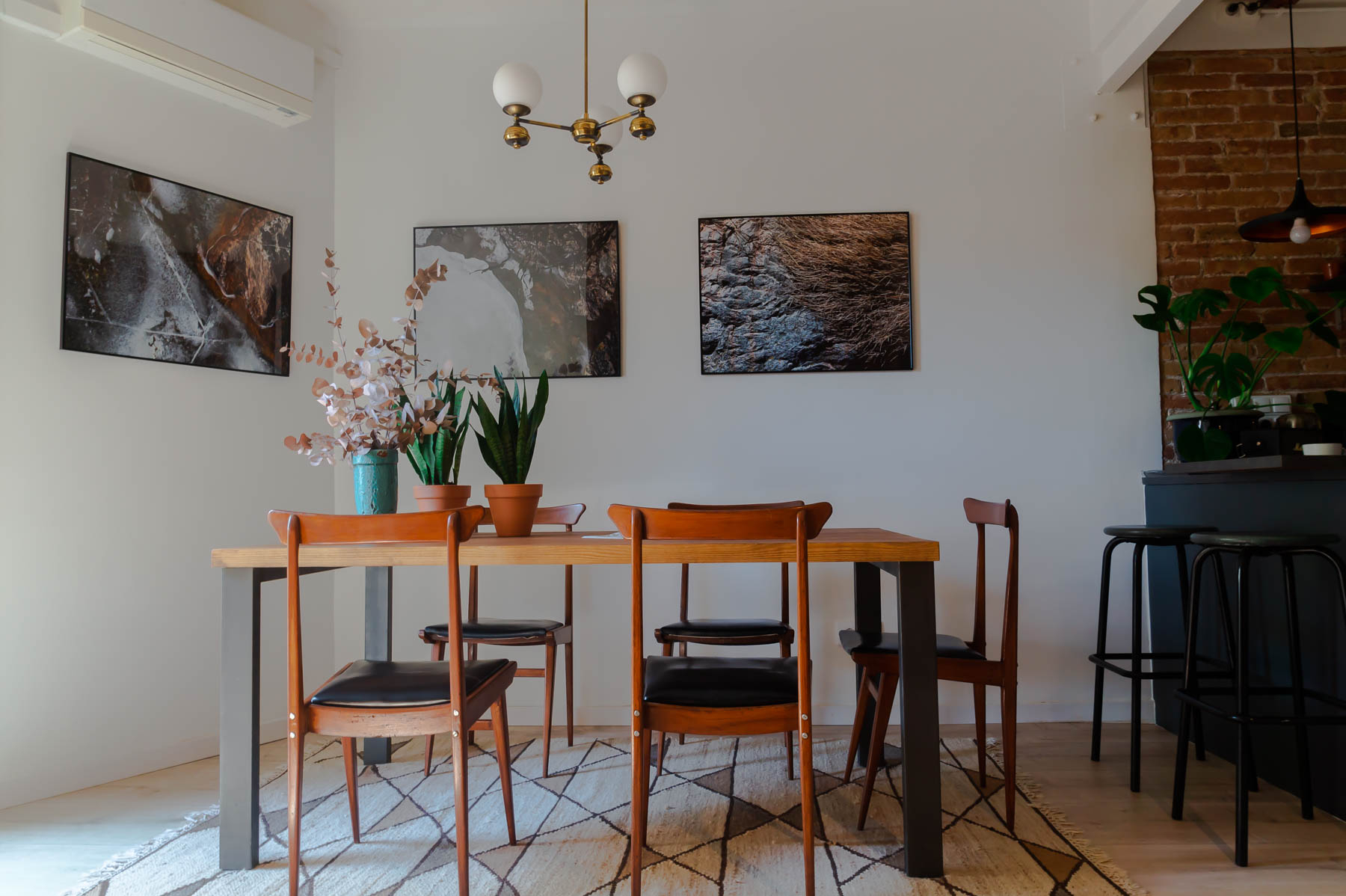 Dining space with mid-century chairs and lamp from Wallapop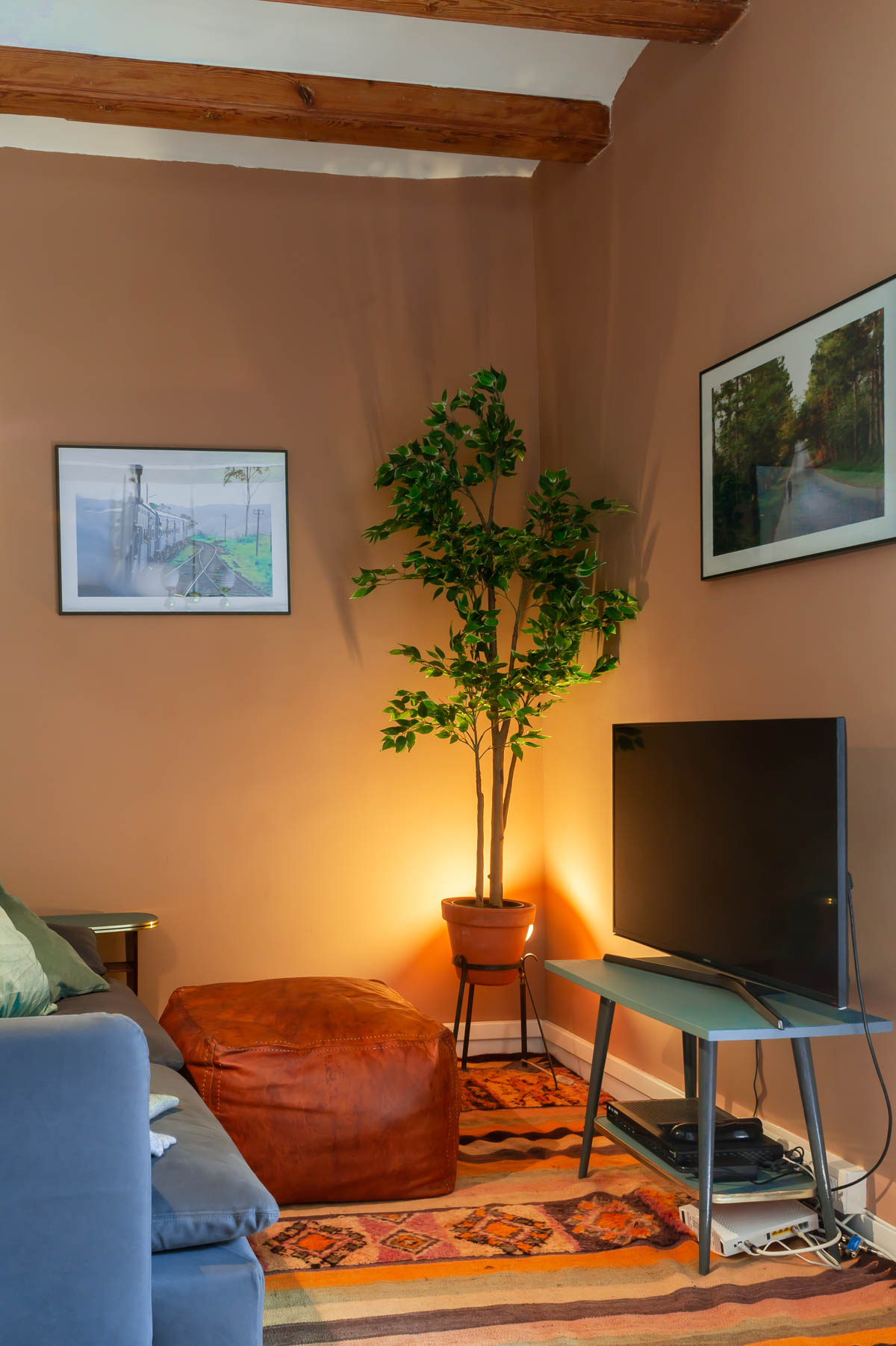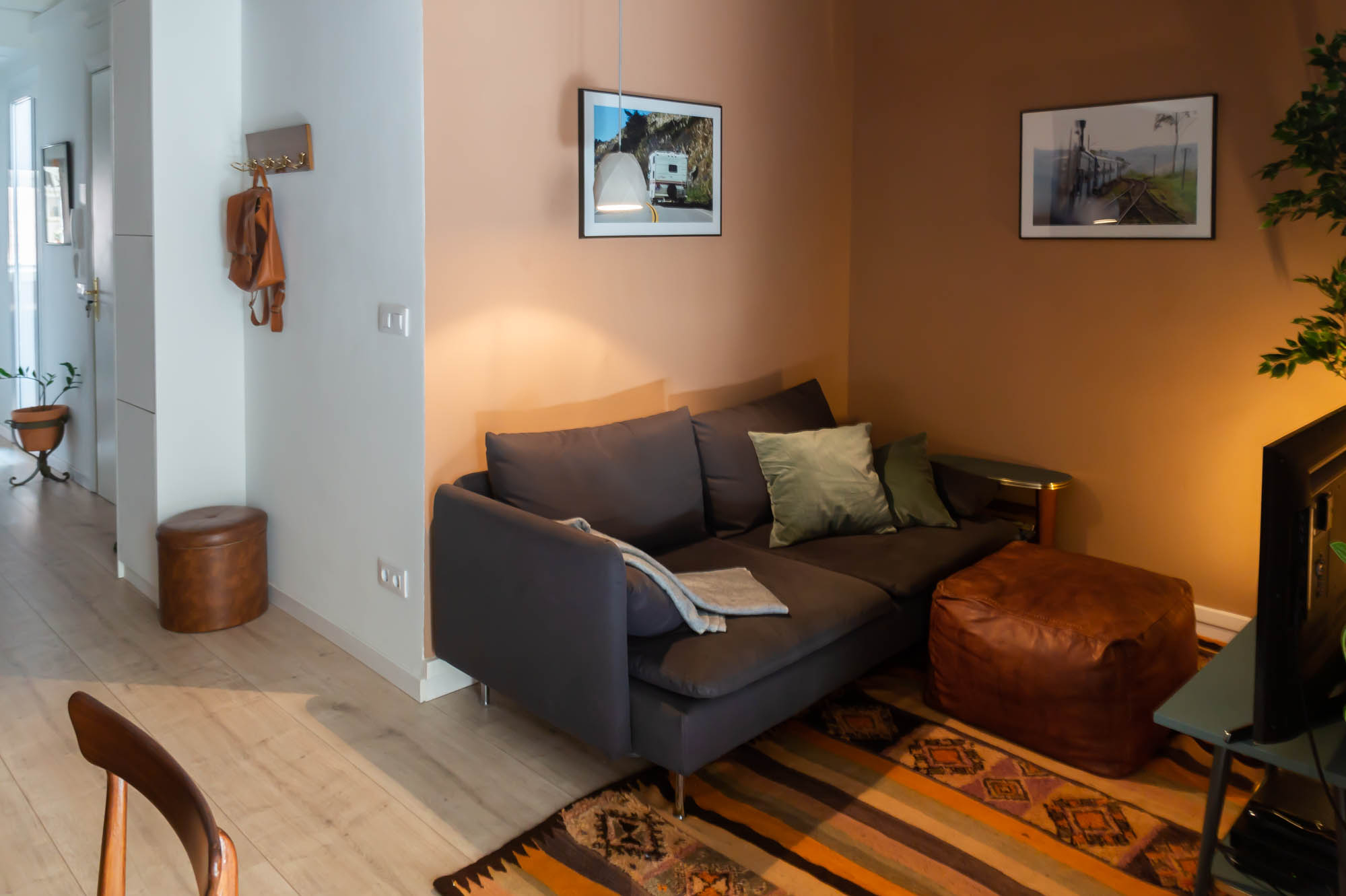 Sitting area with vintage woolen carpet and pouf from Morocco and photographs taken by Line 
With every corner carefully thought through, furnishing the place took a lot of time and effort. Line spent months hunting down the small furniture, lamps, pottery on Wallapop, flea markets and Mercantic, and most of it cost her next to nothing, although some items required restoration and refinishing by a carpenter. Thus, the beautiful vanity in the ensuite bathroom came from Wallapop for only 60€. Line just had it painted, added a worktop, and used an old dishpan from Norway as a sink. So cool, right?!  She also kept some of the things left behind by the previous owners, such as this gorgeous record player cabinet in the dining room.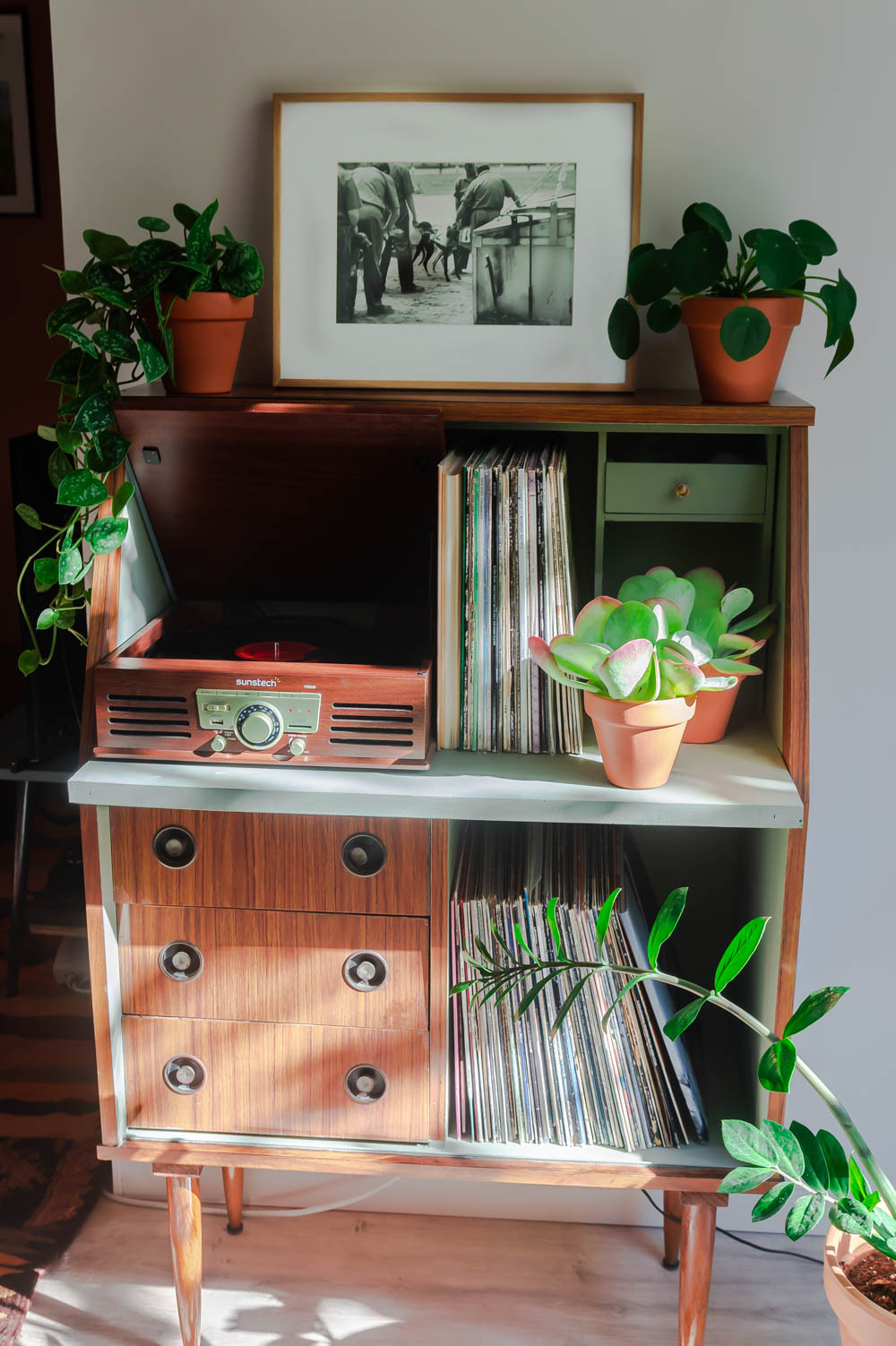 When asked Line about the most expensive décor items in the house, Line points at the vintage carpet from Morocco in the sitting area. It all started when she was looking through plane ticket offers, and 39€ for a return trip to Marrakech was too tempting to say no to. Upon investigation, she decided to bring a couple of empty suitcases over, because she needed a bunch of rugs and Marrakech is a perfect place to buy artisanal rugs, both vintage and new. The terracotta carpet cost her around 100 € and a couple hours of bargaining. And she ended up making a story out of her Moroccan shopping experience, a journalist is always a journalist!
She also brought things from other travels. The Hermès bed throw, an exact copy of what they sell for 2000 € in official stores, came from India, where it cost just 150€. Another highlight of the bedroom is the chandelier lamp, which Line had bought even before she had the apartment, and so the entire bedroom was designed around this lamp. Initially, she painted the room in a darker red hue, but it just felt too vigorous, so Line repainted the walls in the sage green.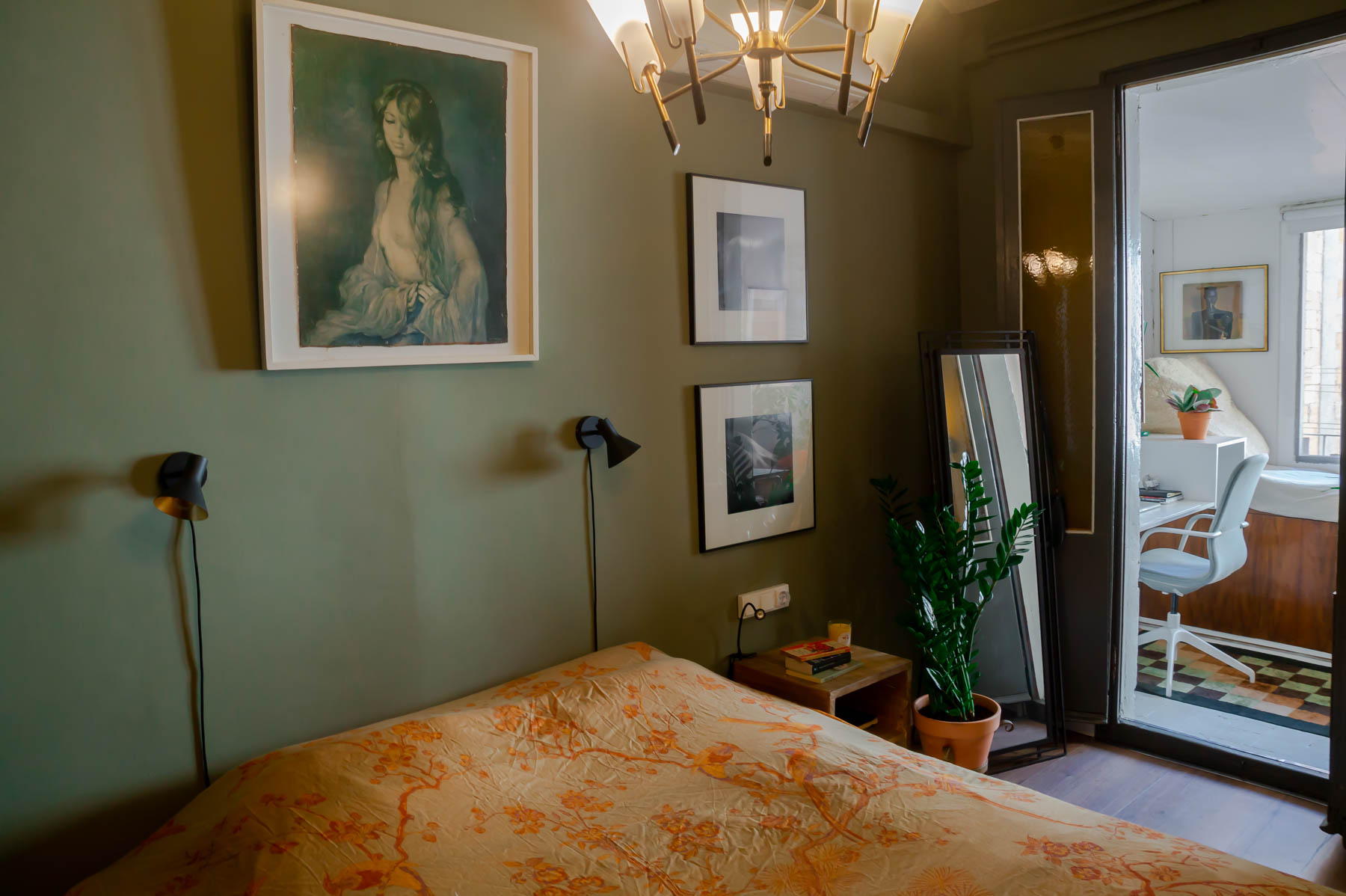 Master bedroom extending into a sun-light study with a daybed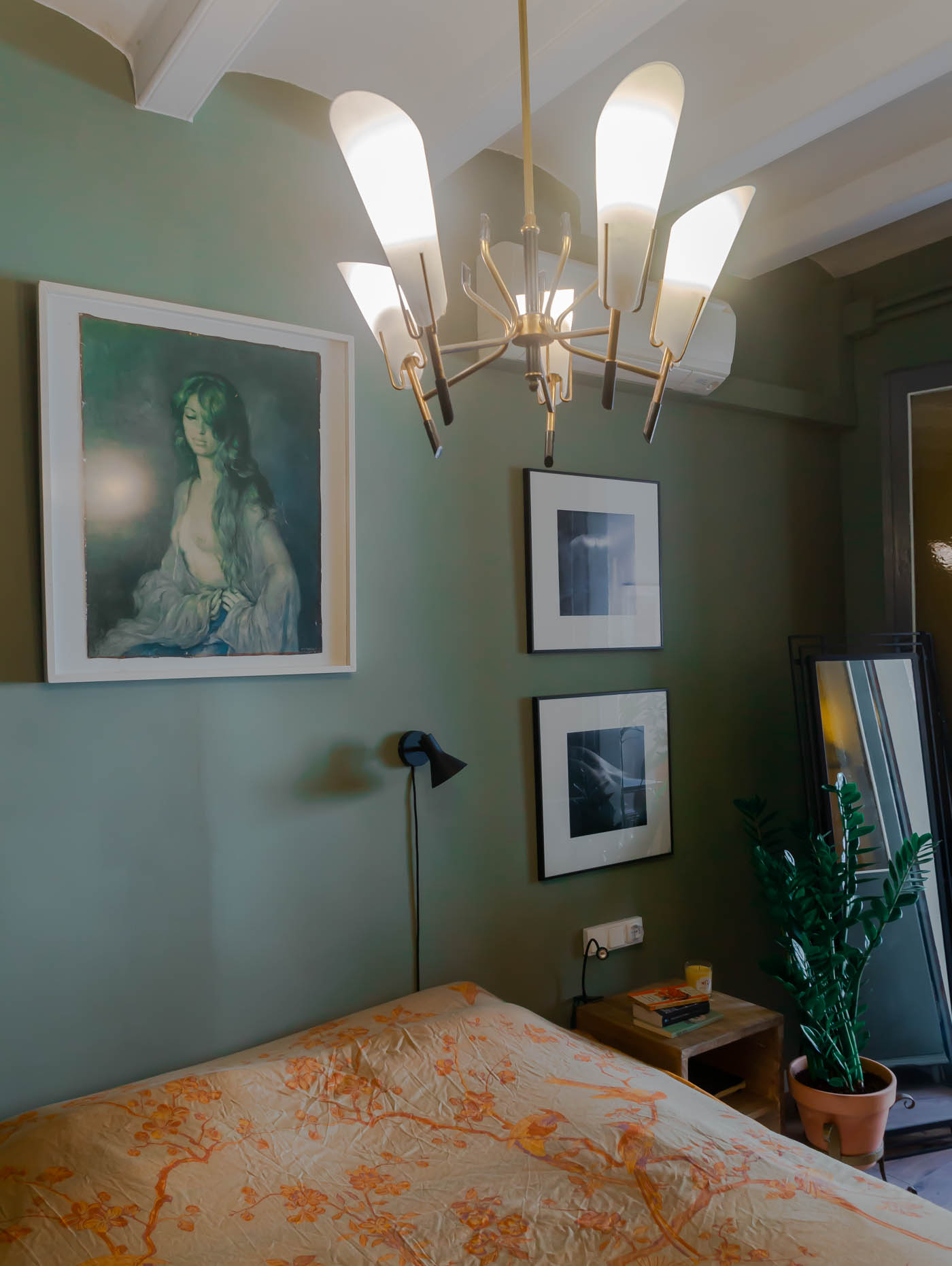 Vaulted ceiling in the master bedroom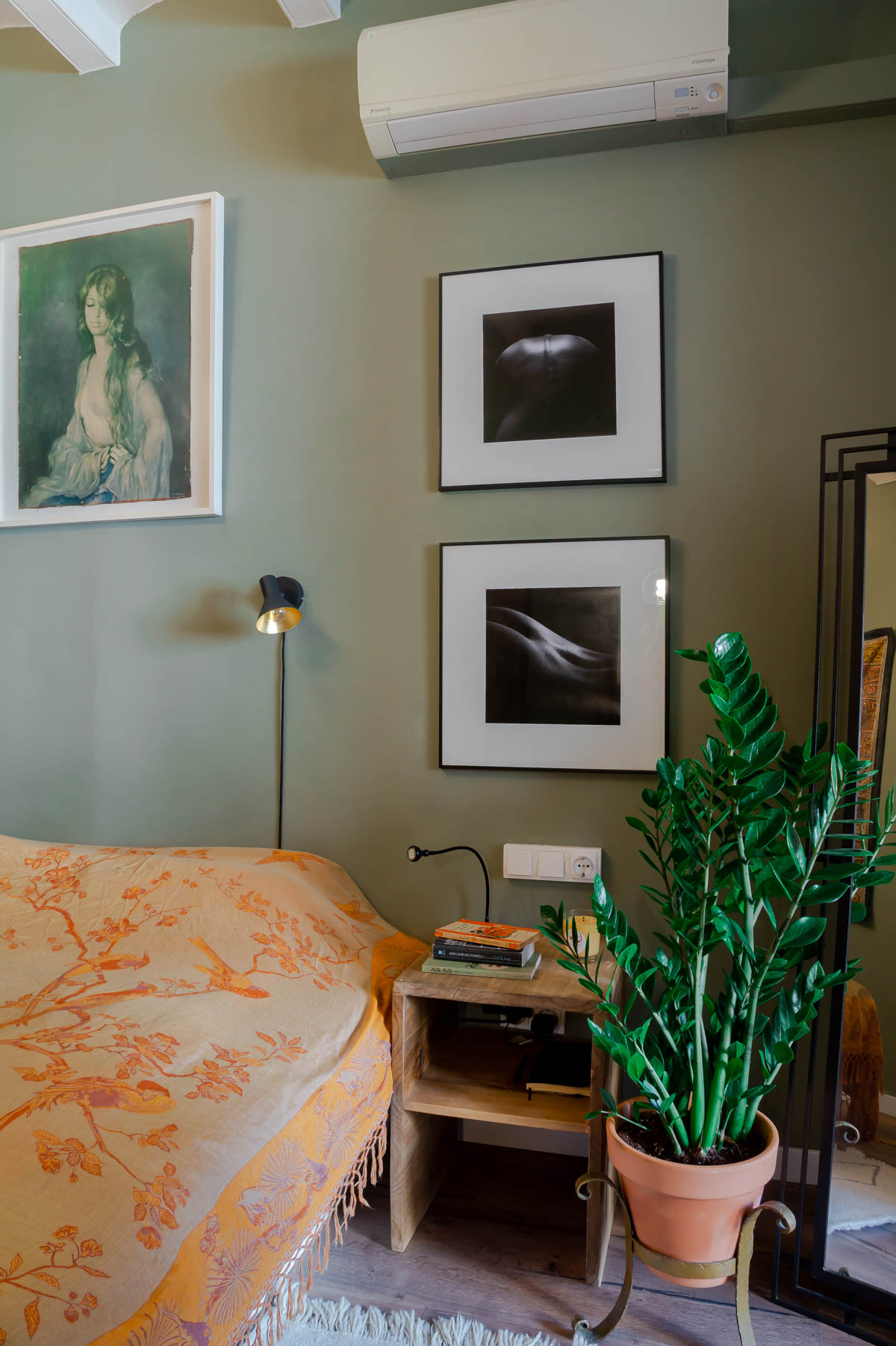 Wall art in the master bedroom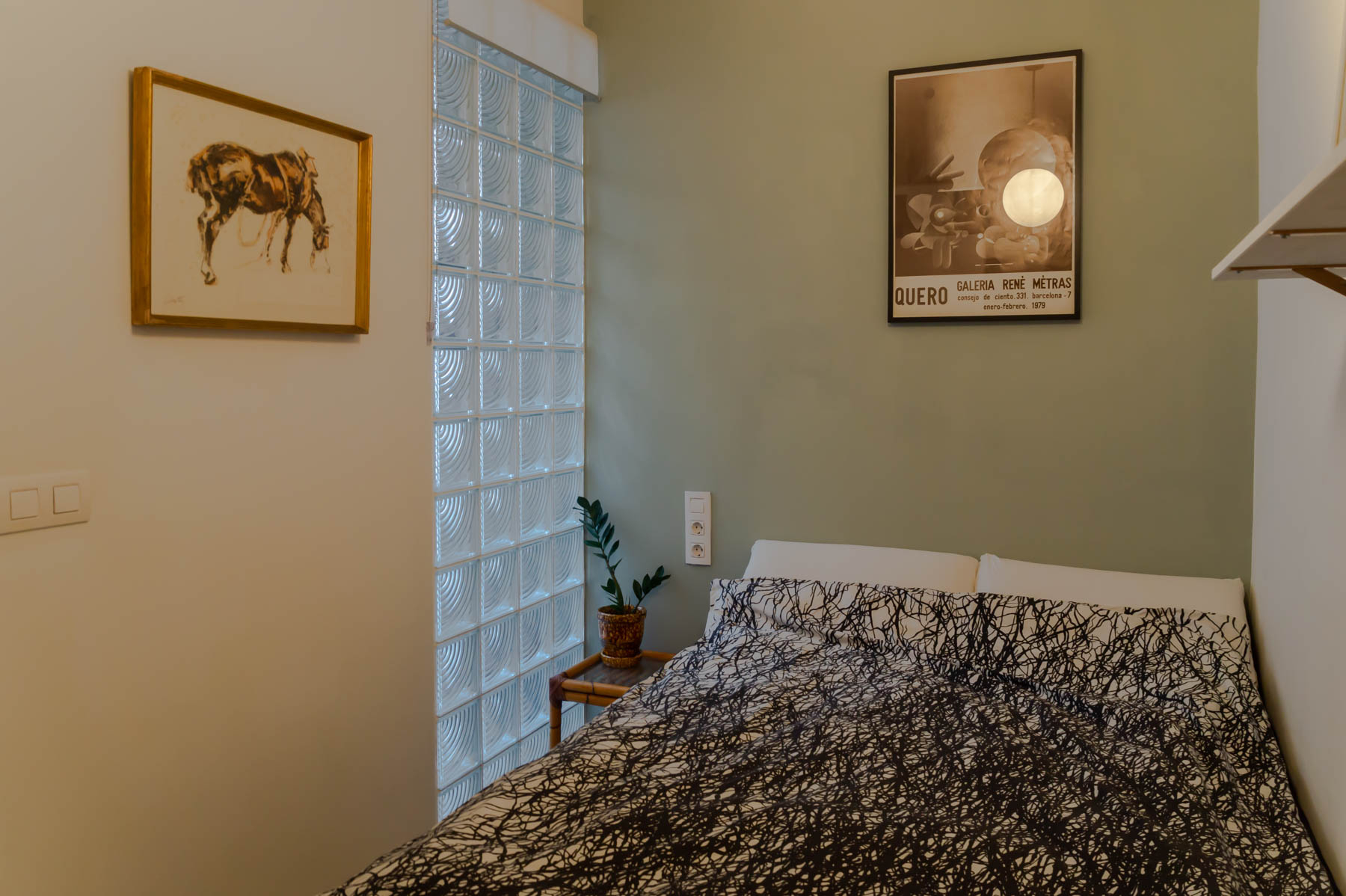 Guest bedroom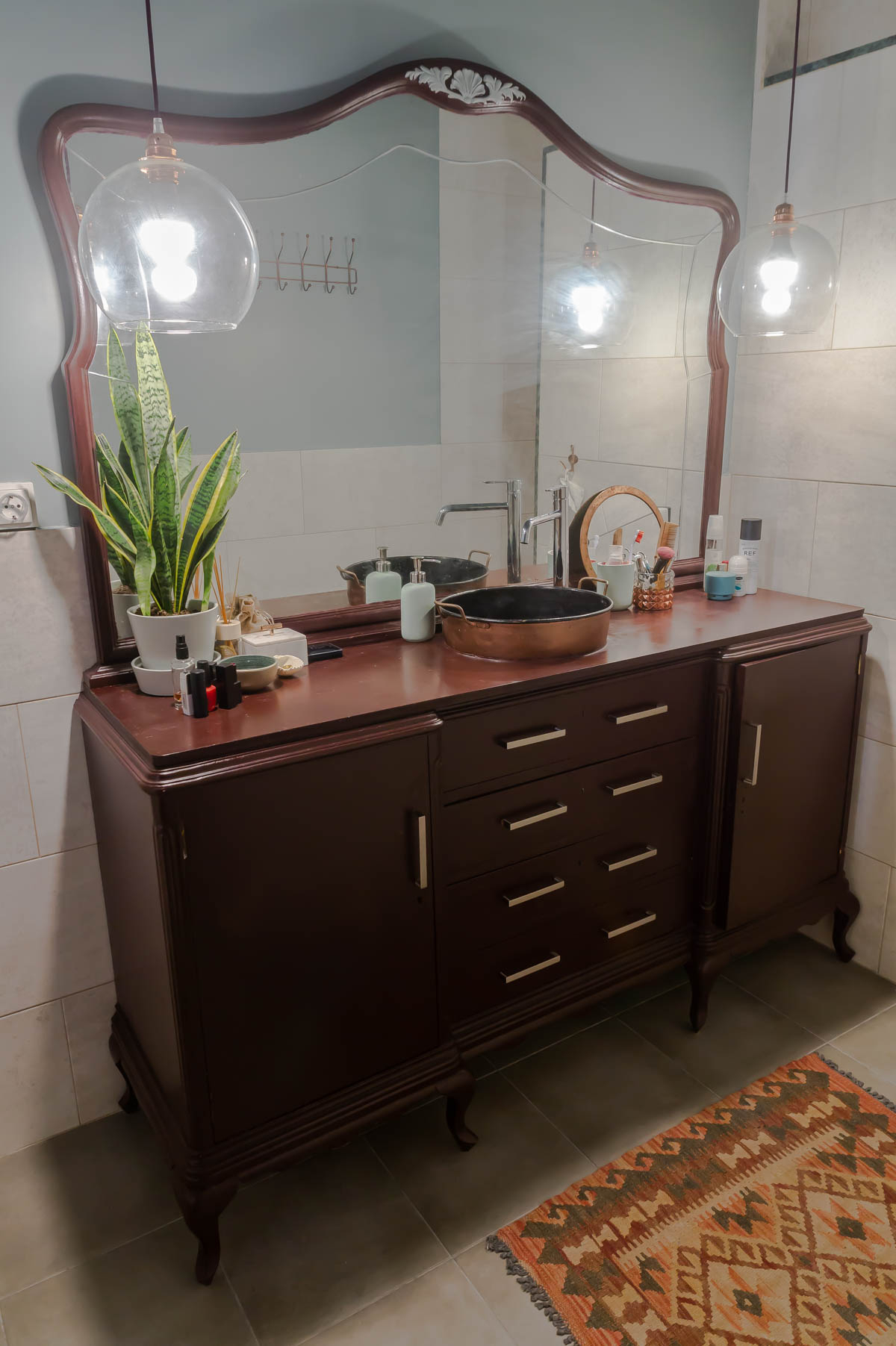 Recycled vanity in the ensuite bathroom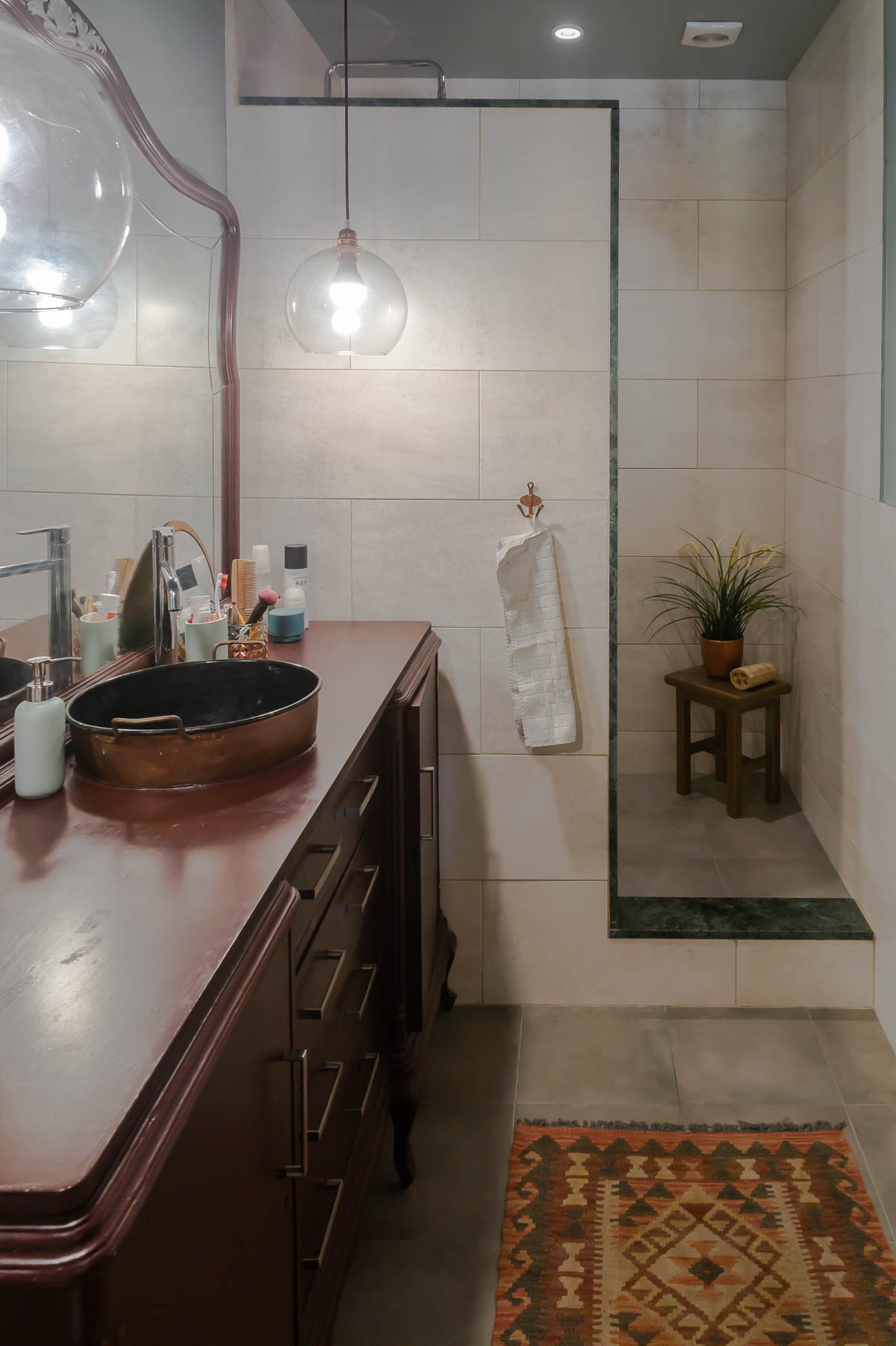 Ensuite bathroom
The master bedroom extends into a former storeroom Line transformed into a cosy study with a daybed. Line built the bed herself using the drawers left by the previous owners, one of the many DIY projects she did in the apartment helped by her dad.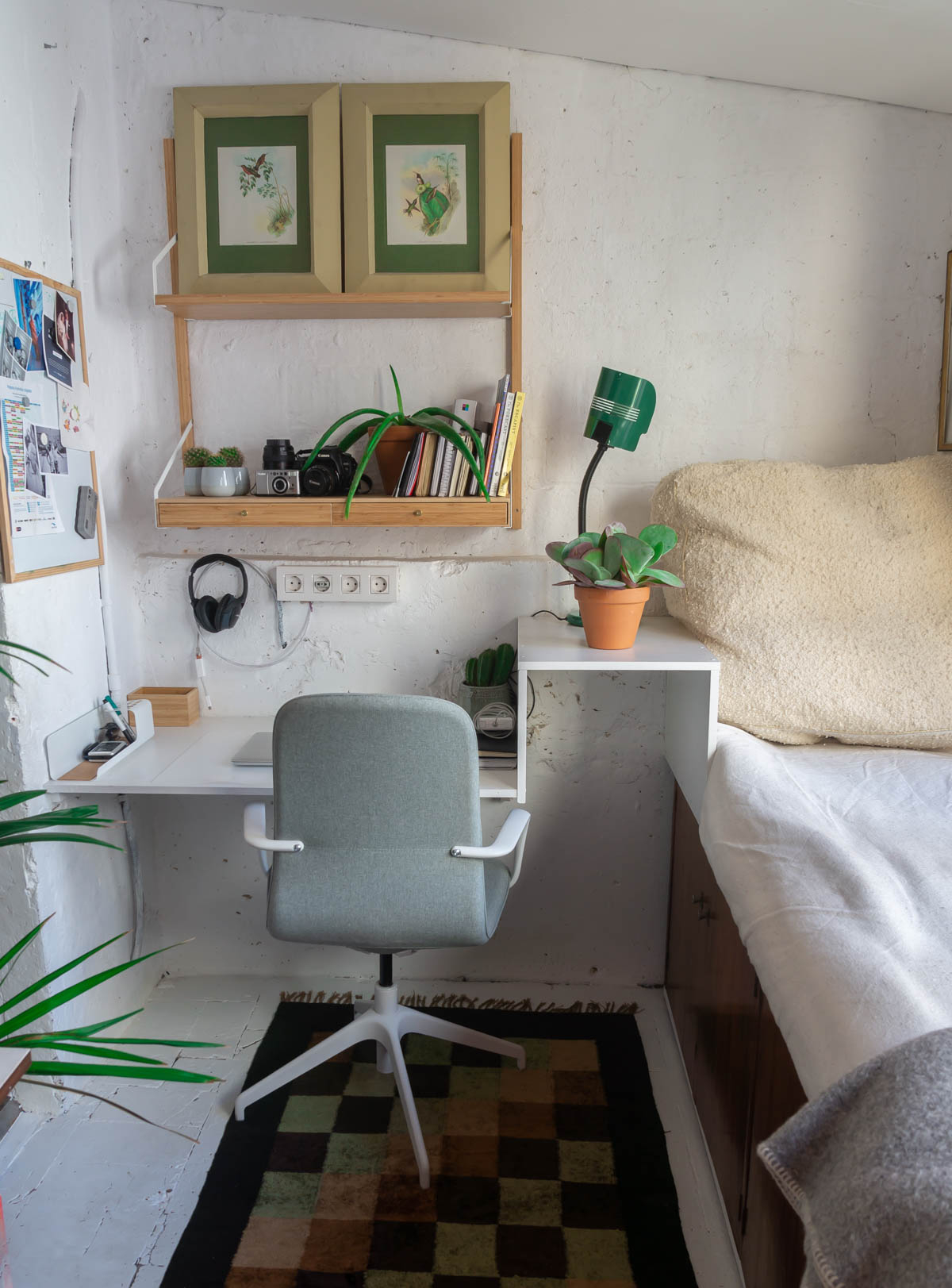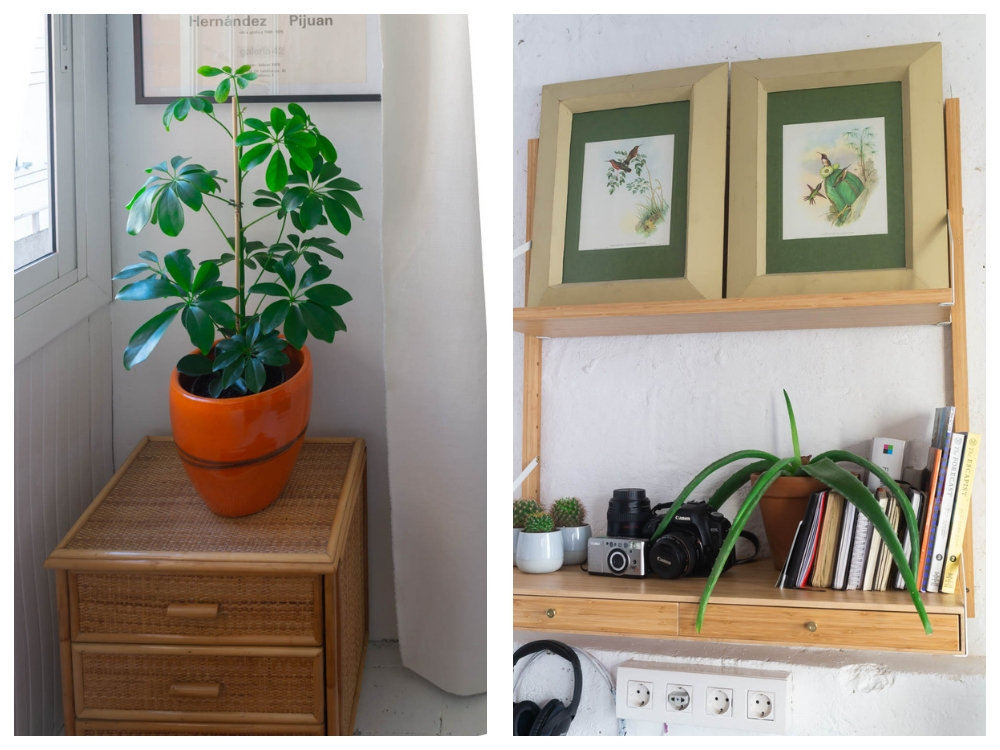 For me, meeting Line and being able to show her apartment was a very inspiring experience. It is yet another proof that you don't need a crazy lot of money to create a beautiful home. Will it take you a lot of time as well as creative and physical effort? Certainly it will, but it is so worth it.