Today I want to share with you some Spanish online stores with REALLY low prices on home decor and, most importantly, furniture! Sadly, don't expect me to give you access to a secret online outlet for cool and ultra expensive brands like Roche Bobois. This time we will look at e-commerces where you won't find any designer stuff with 90% off its normal price, but what you will find is basic contemporary house furnishings for someone with a very limited budget. You've been waiting for this post, right? So let's get on with it. Here are a few poplar on- and offline outlets where you shop cheap furniture in Spain!
Atrapamuebles.com
Atrapamuebles is an online outlet which has a limited product range on display, and limited stock, but the prices are very good. Styles are very basic mainstream, don't expect to find any particular style that is trending this days, so if you're looking for Nordic or French province, for example, don't even bother, but if you are on a very limited budget and you need to furnish a room or two asap and don't have more than let's say 800€ to do it, this is the place for you! New items are introduced every week, and you can find both completes sets, like living living room furniture or children room sets, and separate items, such as tables, sideboards, and, they have some nice tufted bedheads for a double bed (155cm) under 150€. You remember why every bed needs a head, right?
Just to give you an example, you can get this living room furniture for 399€.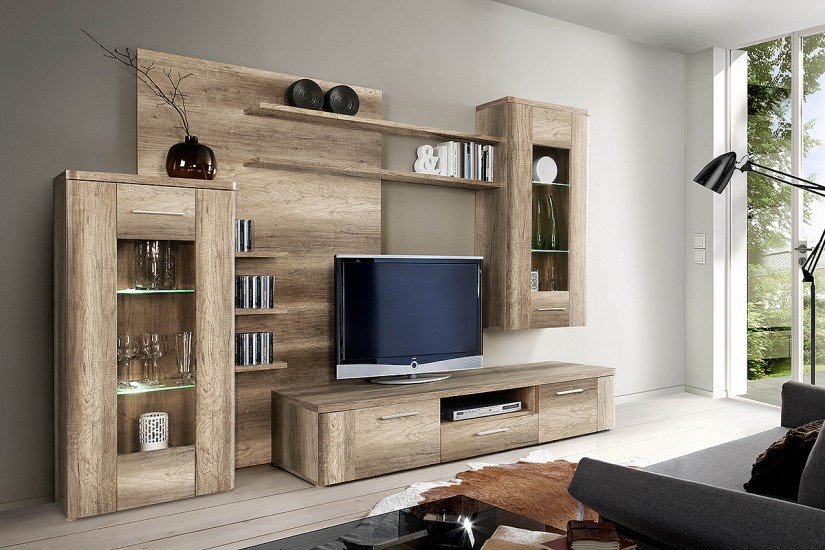 Ahorrototal.com
Unlike Atrapalo, this online store has more than 5,000 products on offer. Technically, it's not an outlet, it's simply a store, but many items come up to 70% off: the name speaks for itself – "Ahorro total" means Total Saving. This chain has numerous stores selling cheap furniture in Spain, especially in the center and South of the country (none around Barcelona though, not cool!), so you can look up on their web if there is one  close to where you live.
Price reference: the sofa now comes for 265,90€ and the dining room set made of 4 chairs and a table can be yours for 249,90€.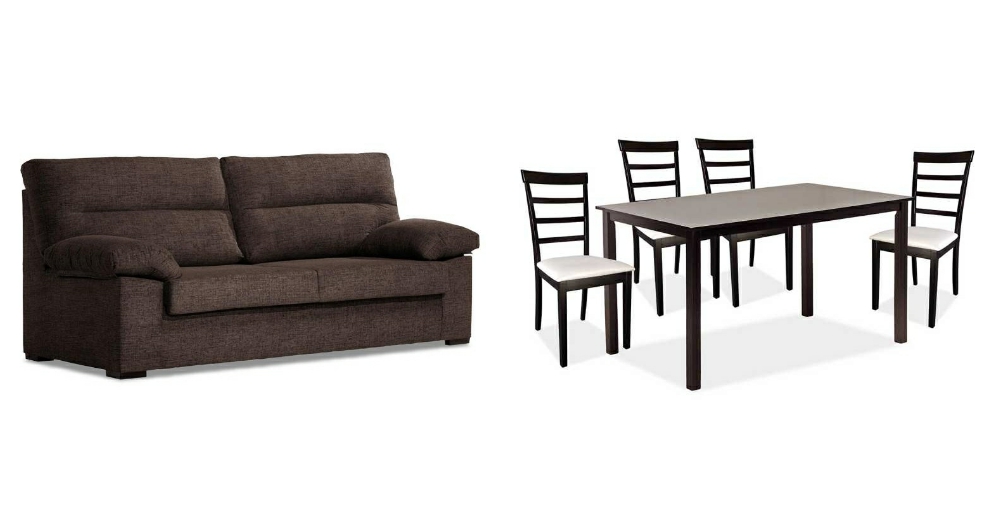 Mueblesboom.com
Mueblesboom is another popular low-cost chain, which became popular as a result of its aggressive marketing policy, and campaigns such as "Furniture for 1 Euro". Mueblesboom has more than 30 physical stores, and here you will find a slightly wider selection of styles, such as Nordic and colonial. Also, there are all sorts of "ofertas" – offers of the day, of the month, and simply discounted items.
This Nordic sideboard, for example is currently on special offer and is priced at 171 € instead of 342€.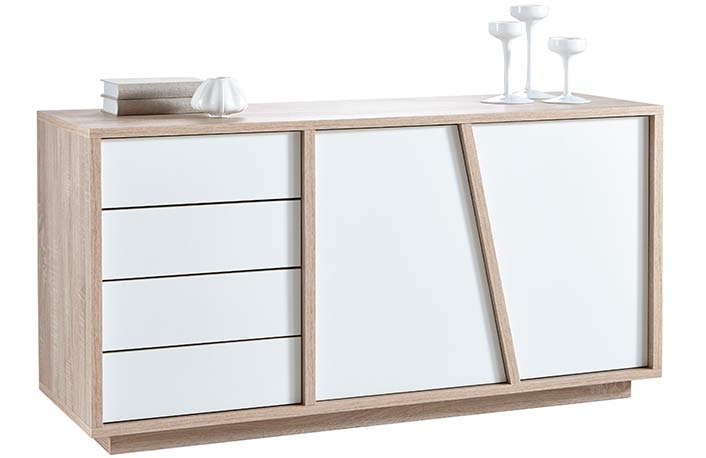 Mobimarket.es
Another Spanish ultra low-price store, Mobimarket only sells online. If you're willing to introduce some bolder colours into your living room or bedroom, make sure you check out the "Estanterías" section – the selection of shelving is pretty impressive, and  colours  include marine blue, olive green, purple and even red. In Mobimarket you can also buy mattresses.  Don't miss the flash sale ("Muebles de oferta") and Outlet sections.
*Bonus tip for IKEA fans
These are the top places to shop cheap furniture in Spain, and if you are on a tight budget, you probably will find everything you need to furnish an empty room or even a whole flat there. As a bonus, since even those of us who hate IKEA usually end up buying A LOT there, here's a popular online platform, where you can buy and sell second hand IKEA furniture and accessories. It's Pikeando.com, and good news – it's got English version!
Happy shopping everyone! And as we are entering November, I personally already am excited about the Black Friday. Stay tuned, I promise to put together an overview of the best Black Friday deals and campaigns!