Design paradise in Milan
A few weeks ago I went to Milan to see a ballet in La Scala. That was a magnificent experience, but another highlight of the trip was the Home section of Rinascente – upscale department store, which has its flagship concept store in Milan. The Design Supermarket occupies the entire basement floor and offers home furnishings, tableware, lightening, gadgets and small electronic appliances, and other lifestyle and home accessories. The number of amazing brands from all around the world is absolutely astounding, I felt myself like a little girl in a candy shop! But what stood out for me the most were the designs by Tom Dixon, and I hadn't heard this name before. So I decided to look it up, and turns out that despite my ignorance, I've actually seen a lot of his designs before, and so have you, trust me!, because this self-taught British designer, who set up his own design company in 2002, has produced some iconic items, which you will instantly recognize – Mirror Ball, Copper Shade, and Beat light. But we'll get back to them later.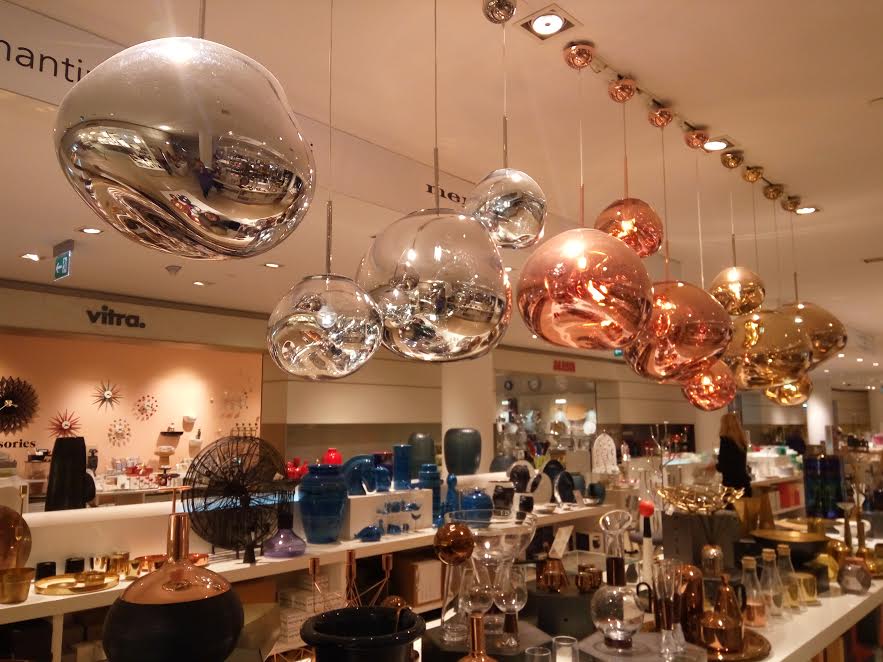 Tom Dixon Melt Pendant Lamps
The lamps that caught my attention in the first place for their spectacular fluid form are called the Melt pendant light. They were created by Tom Dixon in collaboration with Swedish design trio FRONT and are a relatively recent addition to the brand's lighting portfolio. The slightly warped, seemingly melting ball of light is a technological advance in the field of vacuum metallization. Check out how the lamps look different when the light is on and off. When switched off you see the high-gloss finish, but in the on state, the melt is translucent and thus changes the lamps' entire appearance. It's available in two sizes and several colours – chrome, gold and copper. Oh and they are expensive, around 500€ and up, depending on the size.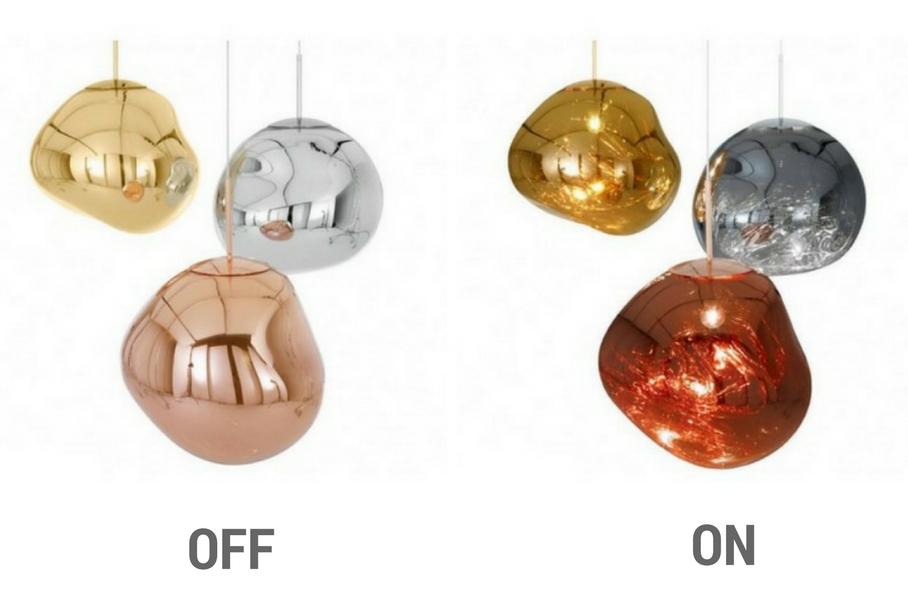 Did you know these iconic lamps were from Tom Dixon too?
And now a few images of other iconic Tom Dixon pendant lights.
Copper Shade
Available in copper and bronze, these best-selling pendants are one of Tom Dixon's signature items. Look how great they work in low-key white interiors, putting a sharp and modern twist on them.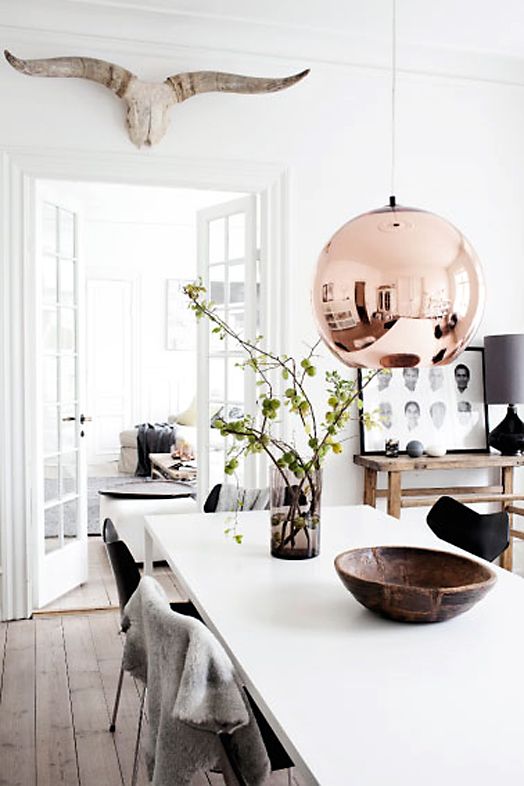 Source: Cush&Nooks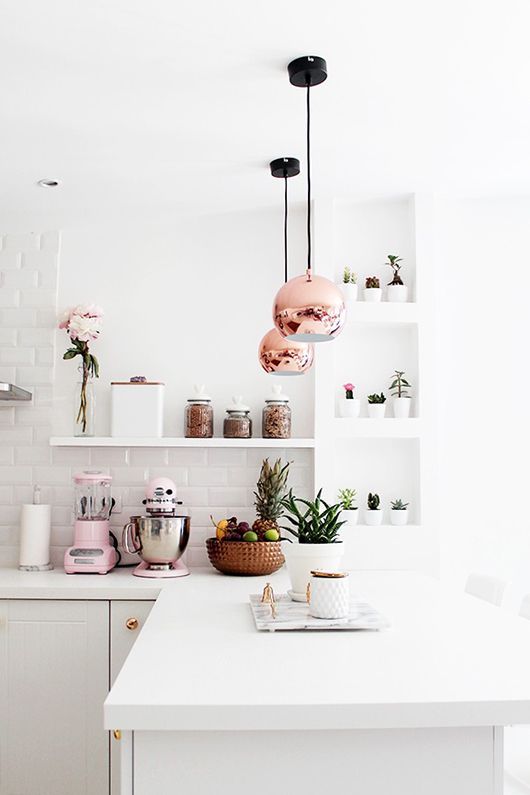 Source: L'Appartement Living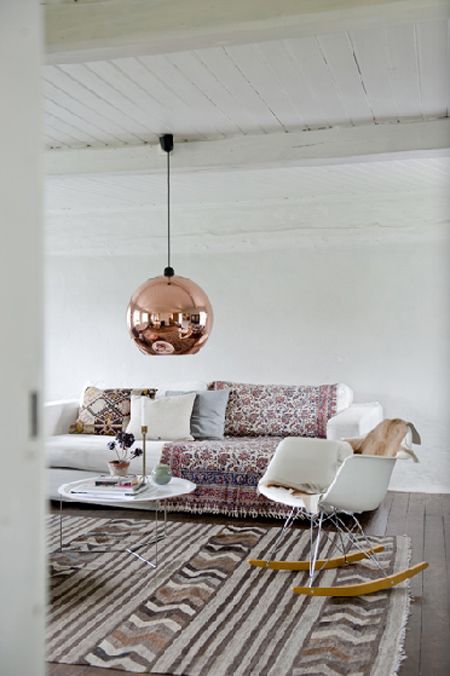 Source: Desire to inspire
And then something different: a bold and eclectic living room, where classic and retro pieces serve as a background for a Tom Dixon shade and a Nani Marquina rug, which was also featured on my post where I confessed my love for rugs.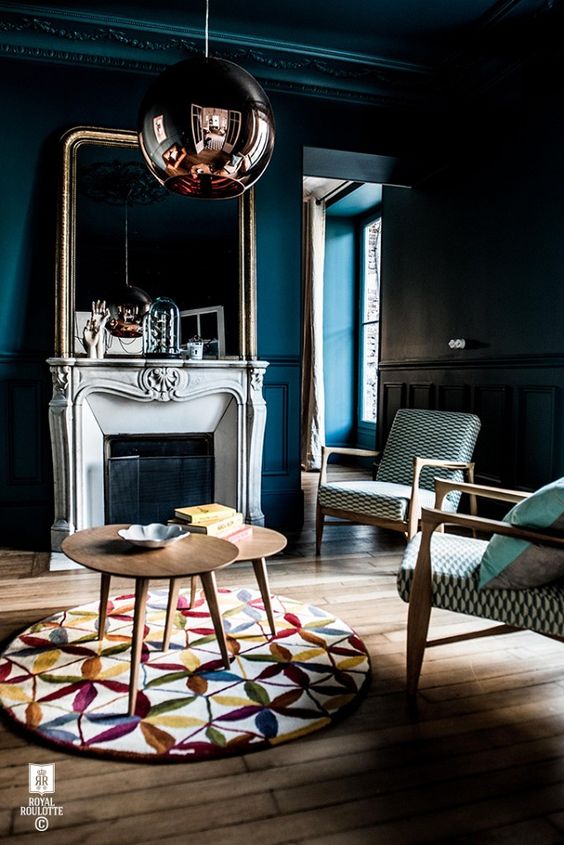 Source: Royal Roulotte
Beat
Beat is another iconic collection from Tom Dixon. Inspired by the "sculptural simplicity of brass cooking pots and traditional water vessels on the subcontinent" it includes Tall, Fat' Wide and Stout shapes and comes in black' white,  grey and brass.
Their simplistic design works great in gender-neutral or pronouncedly masculine interiors, such as on the photo below.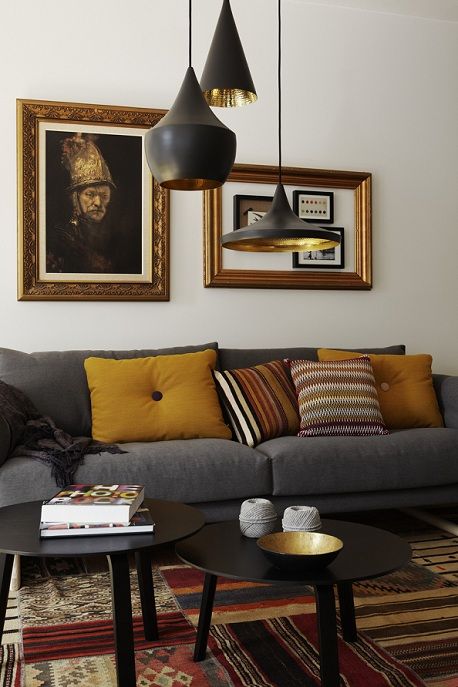 Source: Carla Aston
And this gorgeous kitchen was featured on my recent post about emerald green interiors. The Tall Brass Beat pendant lights look expensive and opulent and lift the entire kitchen up. When I wrote that colour-inspired post, I didn't even know about Tom Dixon. This is what blogging is about: you find something you're passionate about, and you go exploring it, learning new things, and at the same time you want to share your findings with other people, who share your interest and passion.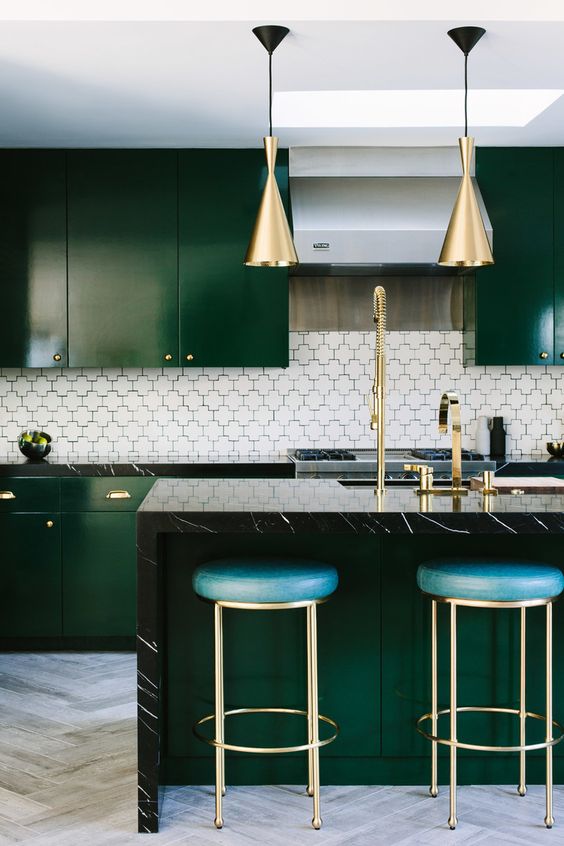 Source: Black Lacquer Design
Mirror Ball
Mirror Ball is a highly reflective shade inspired by the space helmet. If Beat collection feels industrial, this globes look very futuristic, and can add an eclectic spin to any room.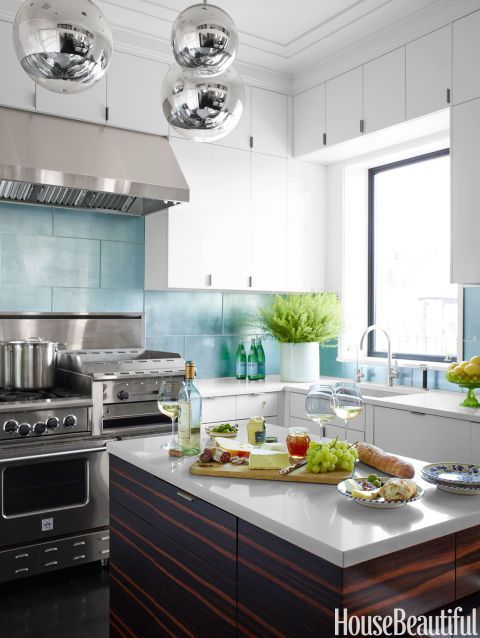 Source: House Beautiful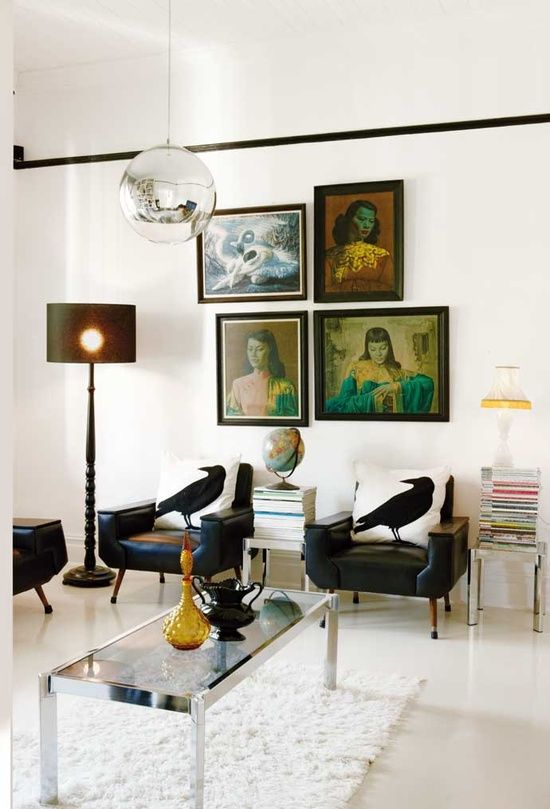 Source: Dust Jacket Attic
Etch 
Another original pendant lamps which represents geodesic structures made up of sections of 0.4mm etched metal sheets inspired by "the logic of pure mathematics". Etch pendants are available in several colours – copper, brass, black and steel.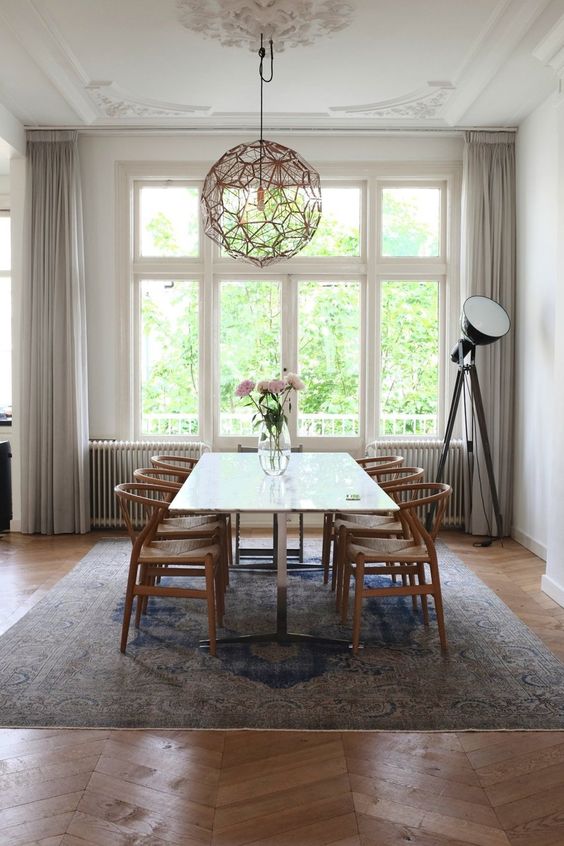 Source: Apartment Therapy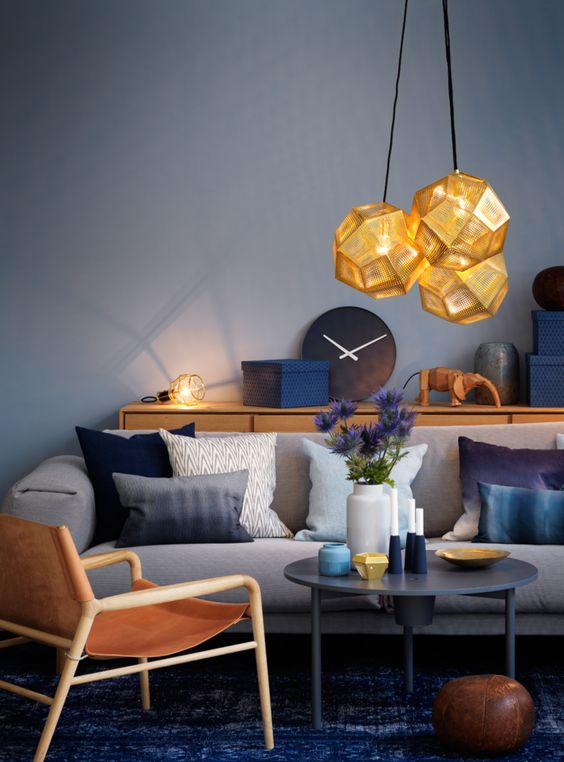 Where to buy
Tom Dixon designs are sold in various Spanish stores, but the widest selection of lighting and furniture is available in domésticoShop, which also has physical stores in Madrid, Barcelona and Jerez.