Today I invite you on a journey across some of my favorite  museum shops. I love fine arts, I'm an ardent museum goer, and I never skip the museum shop – it's a place which allows you to take a piece of the art you just saw back home with you. Even the trivial objects like a cleaning cloth for the eyeglasses or mouse pad can become special if they carry a reproduction of a stunning masterpiece that made you catch your breath just minutes ago. And these days leading museums are coming up with very sophisticated items representing and inspired in the artworks they showcase. I selected some of the pieces from each shop to give you a general idea about what you can find there, and maybe some gift ideas! The holiday season is literally around the corner!
Victoria & Albert Museum (London)
V&A is the world's leading museum of decorative arts and design. It's permanent collection spans 5,000 years of art from ancient times till present day, from ceramics, glass, textiles, ironwork and jewelry to furniture, drawings and photographs.  V&A is also famous for their blockbuster exhibitions and bold choice of themes ranging from Winnie-the-Pooh and David Bowie to international fashion icons and theater. Their shop features a wide selection of jewelry (very pretty!), clothing, homewares, books and prints, along with gift items dedicated to the temporary exhibitions. Currently, the exhibition ranges include: Balenciaga, Opera, Plywood, Pink Floyd and David Bowie Is.
Here is what I picked, and my absolute favorite is the William Morris inspired garden set! Anyone would take up home gardening if they had such pretty tools!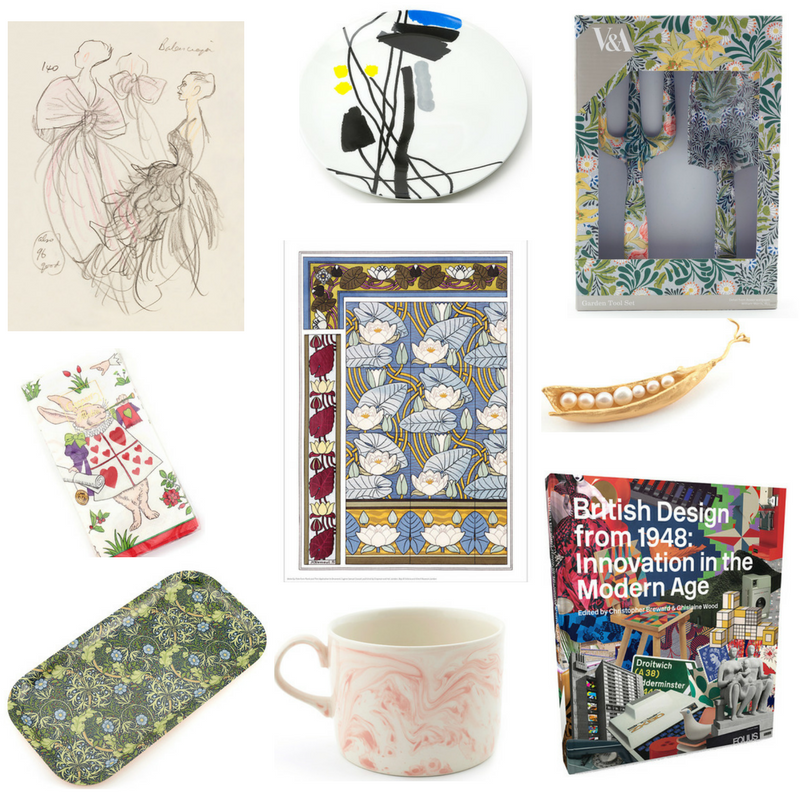 Thyssen-Bornemisza (Madrid)
Thyssen-Bornemisza is  a museum originated from a private collection of the Thyssen family, which personally I like better than Prado for its variety of art movements: from medieval to pop art, from Titian, El Greco and Rubens to French impressionists, Van Gogh, Picasso, Munch and Kandinsky. They even have American painters in the collection, one of my great discoveries was Martin Johnson Heade and his exotic landscapes, one of which you can see in my selection below. And this poster reproduction of Heade's painting "Orchid and Hummingbird near a Waterfall" is something I took back home after visiting the museum this May. Another highlight of the shop collection is a set of bathroom accessories inspired in Roy Lichtenstein's "Woman in Bath", and also they have some very lovely cushions.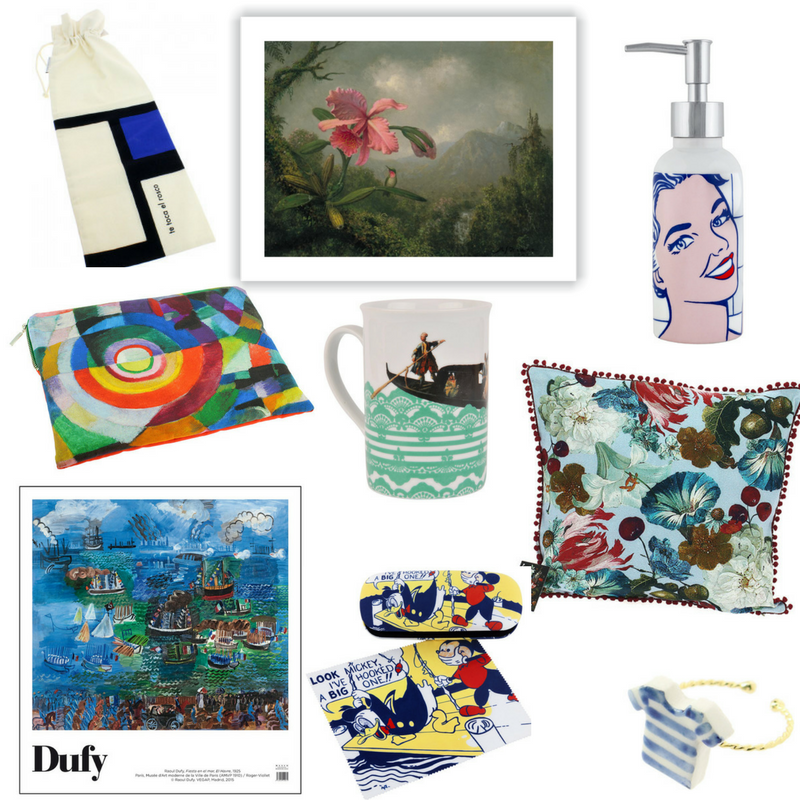 Louvre and other French museums
Louvre, the world's largest and most visited art museum, dedicated to antiquities, sculpture, decorative and fine art from Ancient times up until the mid-19th century, actually doesn't have an online shop of its own, sharing virtual space with other prominent museums of Paris and the surrounding area, including Musée d'Orsay and Château de Versailles. The choice is HUGE. Apart from trivial art souvenirs and a great bunch of French art and history materials for adults and children, you have a selection of designer items, like paper vases or Qeeboo Rabbit chair, and some really nice tableware. Finally, my personal favorite is this Venus of Milo available in several colors and sizes. What a great and bold way to throw in some color into your home.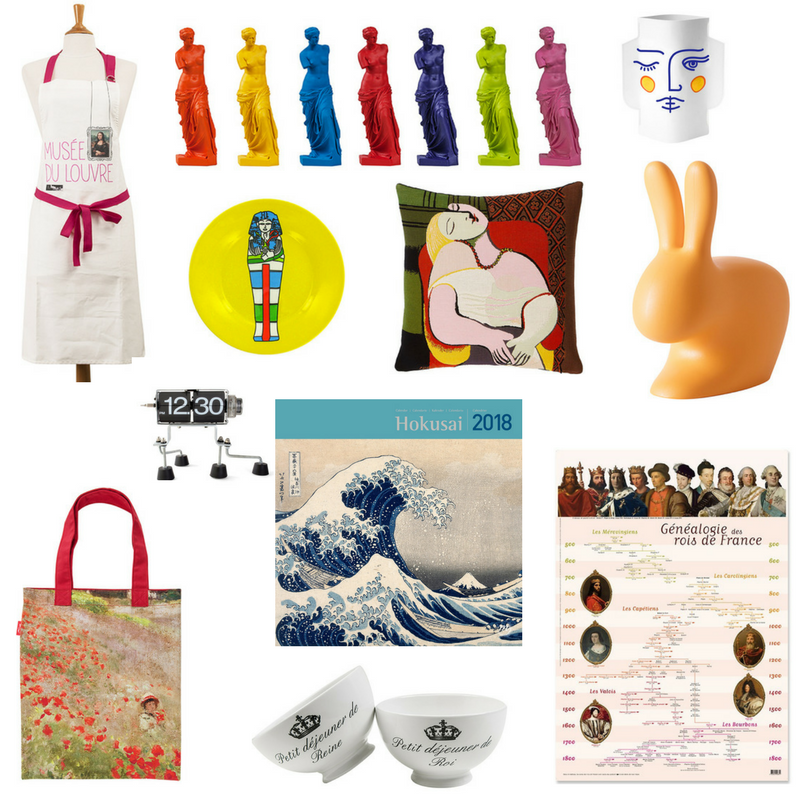 Shop boutiquesdemusee.fr
Tate London
Tate is a family of several museums, including Tate Modern and Tate Britain in London. The online shop showcases all the richness of British art from Turner and Pre-Raphaelites to David Hockney, whom personally I discovered a while ago at his personal exhibition in Pompidou, Paris. The exhibition traveled to Paris from Tate Modern, and now it's on display in the Metropolitan Museum of Art in New York. A wide range of exhibition products is available in Tate's online shop, including this beautiful tray inspired by Hockney's "A Bigger Splash Painting". Another highlight of the shop is a nice selection of art materials, and pastel and watercolour are currently offered with a 55% discount. Also, here you can find a wide choice of art books in English.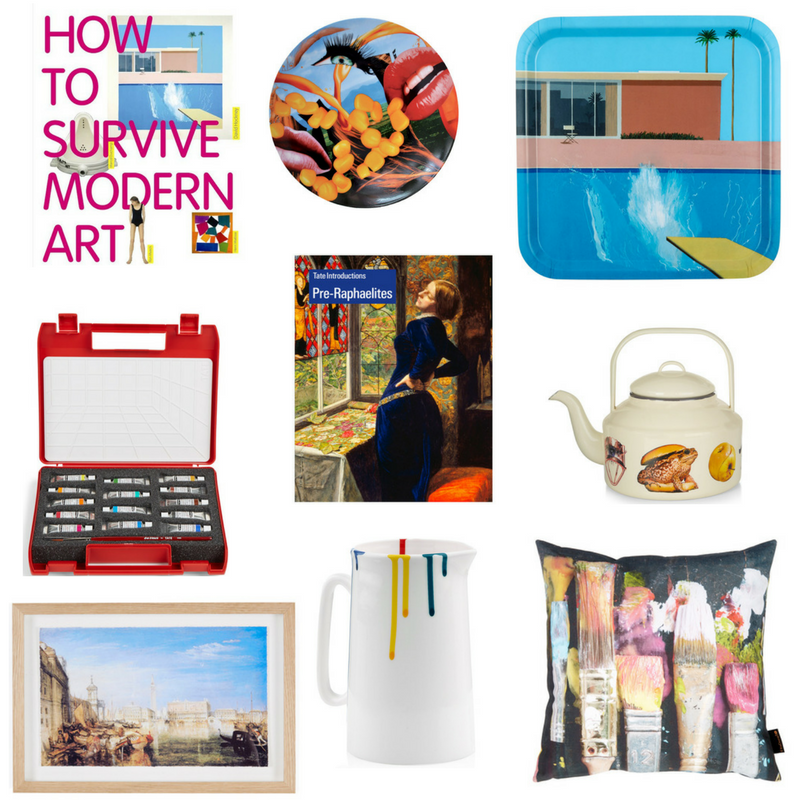 La Pedrera (Barcelona)
Finally, as a resident and big lover of Barcelona, I just had to share with you a place where you can get home accessories and gifts inspired in the works of Antoni Gaudí and other masterminds of Catalan modernisme – the local version of Art Nouveau. La Pedrera is an iconic house on Barcelona's Passeig de Gracia designed by Antoni Gaudí. This summer it was possible to visit it half-price, along with other landmarks of Catalan modernisme. I really hope the city hall will repeat this campaign next year.
La Pedrera's online shop is strongly focused on Gaudí and not exactly very big, yet it has some nice Art Nouveau items, fashion accessories, and home decor. Also, this is a place to shop for art books in English. And I wish they offered this iconic Gaudí chairs not only in miniature, but also in real size. But the furniture from Catalan modernisme era is a whole different story, I should write a post about it one of these days. The pieces you can see in Casa Amatller, National Museum of Catalan Art and Barcelona Museum of Modernisme will absolutely blow your mind.