When I was pondering over the idea of this blog, rugs was actually the second topic I decided to explore after the story of how I redesigned my flat. I was browsing home design and DIY portals for inspiration and came across a flat in Turkey, which belongs to a married couple, owners of a lovely online rug store. And it hit me, hey, but YOU love rugs!  And how could I not, being born in USSR essentially meant you'd be seeing rugs all over your place, in every room! Soviet people had a thing for rugs, it was a symbol of prosperity, so whenever they could, people would hang their best rugs, usually woven terracotta red patterned designs from the Soviet Central Asian republics such as Turkmenia or Tajikistan, on the walls behind the sofa, or bed. And if you wanted to make a statement and show how really well connected you were, the living room floor could never miss a big rug either. The rug-on-the-wall fashion has long been outdated, and is scoffed at real hard these days, especially among younger folk, but the snug and cozy sensation of soft wool under your feet rather than a slippery and cold floor is something you don't want to give up as easily.
Nevertheless, until I moved to Barcelona I considered rugs to be a purely decorative item, and it wasn't until my first winter in the South of Europe that I made a surprising discovery: they also help keep you warm in winter. You might think I'm crazy, coming from Russia, where everyone knows winter temperatures can be extremely low, but guess what? In Russia, most city dwellers have central heating, making their apartments really warm, sometimes even too warm, whereas in Barcelona, as pretty much everywhere in Europe (please, correct me if I'm wrong!) it costs a real fortune to keep your house cold-free in winter. So imagine my surprise, when I realized that my beautiful tiled floor (original, from 1930s) felt freezing to my feet, even when they were wrapped into a pair of very warm woolen socks I brought from Moscow beside the slippers, and even a simple cotton rug made a huge difference!
When it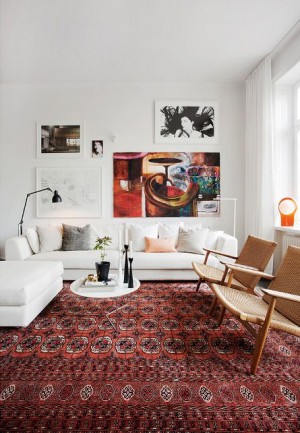 comes to carpets, I'm absolutely in love with Persian and other oriental patterned styles. They are very impactful and a perfect fit for clean and subdued contemporary interiors as well as classic ones, if you want to throw in some color and add character to the space. If you have a room to furnish from scratch and want a big eye-catching rug as an anchor, I suggest that you choose it first and then source all the textiles and curtains, otherwise you might have to wait for months before the rug of your dream comes round.
I can never walk past a heap of oriental rugs without stopping and feeling them in admiration at least for a few seconds, but the dominant Mediterranean style and colors in my flat don't leave room for my favorite terracotta red pieces. However, I still have one bedroom left to furnish, and I'm taking my time and really considering to unleash my infatuation with oriental designs on this rather small space. Also, at some point I'm going to bring from Moscow a lovely pastel colors silk rug I bought in Mauritius a few years ago. I'm still not even sure about its provenance, I just couldn't find anything like that online. It won me over the moment I saw it with its lovely texture and the subtlety of the colors. I'd love to know if there is an online outlet offering similar items. Please, drop me a line if you know of any.
---
Finally, here is my selection of some really nice rugs I have recently seen in stores.
Barcelona-based brand NaniMarquina offers a variety of stylish and colourful designer rugs. If your budget allows a few thousand € for a funky contemporary rug, this is a store you can't miss.
The cheerful and vibrant Kala rug created by the brand founder Nani Marquina as part of the charitable initiative in India, where the company manufactures its rugs, is priced between 622 and 2,392€ depending on the size and shape of the rug.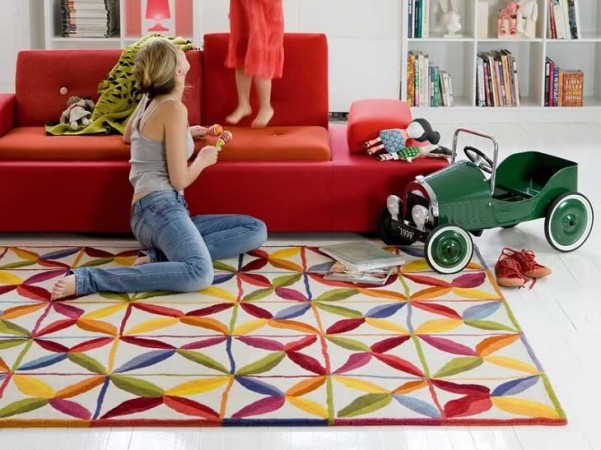 Digit collection explores decomposition of colour through pixels, creating mesmerizing optical effects in the viewer. Prices for Digit rugs start from 3,157€.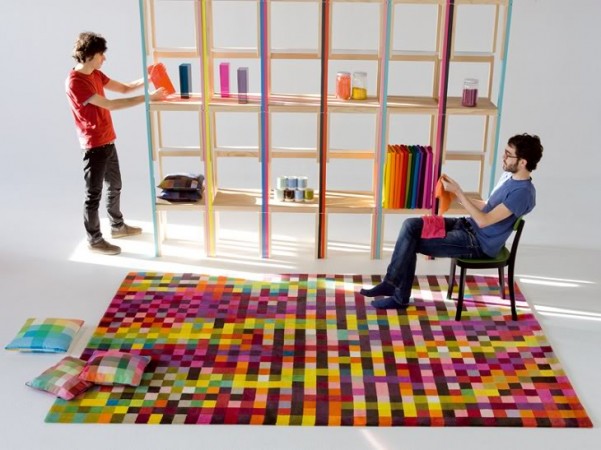 And finally, another favorite of mine – Mélange rug. Geometrical patterns and a paired colour palette create the contemporary version of the Kilim (which essentially is an oriental  flat tapestry-woven carpet produced from the Balkans to Pakistan). The one on the photo costs 1,676€.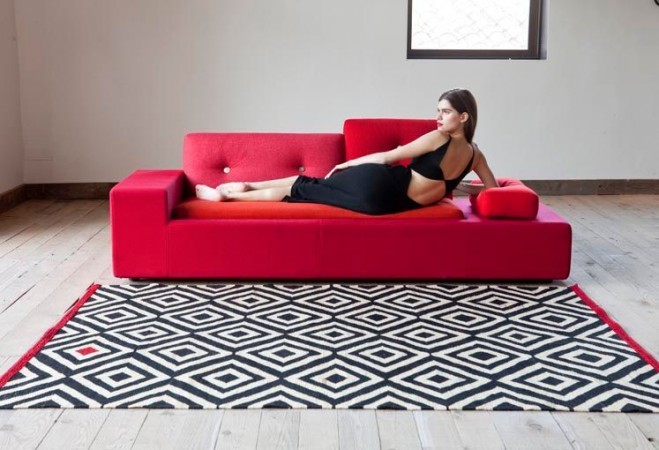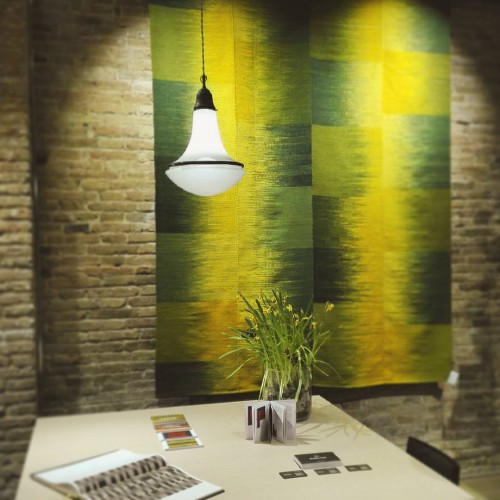 The abstract design of Banneh Kiasar carpet I found in Turkestan, a Barcelona-based high-end oriental carpet retailer, which has been in the business for almost 100 years, is inspired by the landscapes of the fertile and green Mazandaran region in the north of Iran. This piece measures 252×198 cm.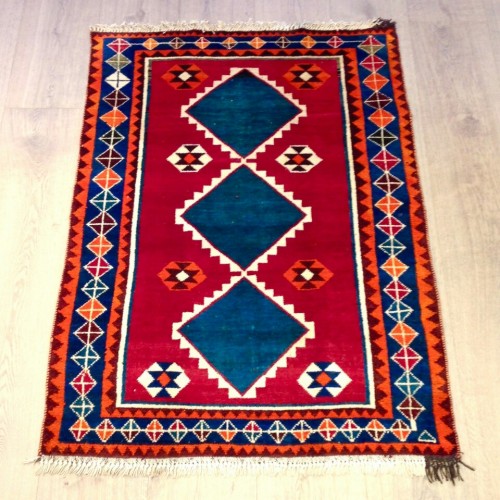 Another rug that caught my attention in Turquestan is a small, 123 x 183 cm tribal-patterned rug Gabbeh, which will be a perfect fit for bohemian and eclectic spaces. Prices for Turquestan rugs are available upon request.
Some more affordable oriental styles can be found in Alfombras Forghani, another local carpet shop with an impressive history, which currently offers a 20% discount on a wide range of kilims and rugs sourced from Iran, Afghanistan, and Pakistan. I'm absolutely in love with the delicate floral pattern of this Afghan carpet. Its current price with discount is 2,104€, but it's  really big – 294 x 213 cm, so I call it a bargain!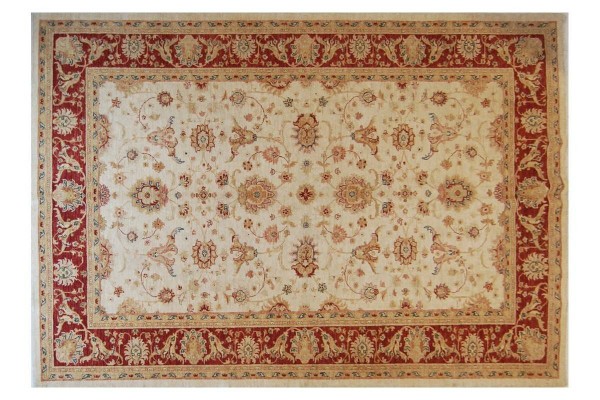 I'm also a fan of this cheerful vegetable dyed zig zag kilim (233 x 164 cm, 273€), I can see myself smiling every time my eye finds it if I had it in my home.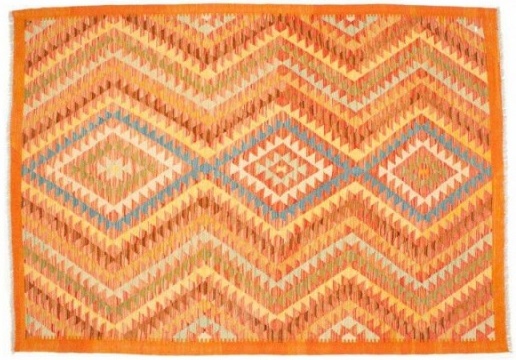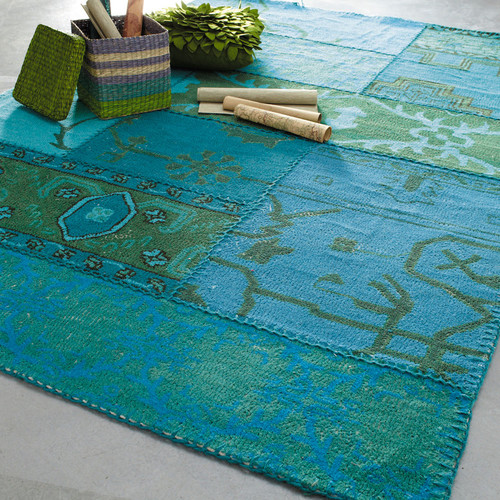 Another eye-catching style which deserves a place on this list is oriental patchwork. A beautiful Turquoise patchwork rug from the Exotic collection available in Maisons du Monde, Izmir looks like a perfect choice to spice up your room, or splash in some colour in a subdued monochrome interior, but it will stand out in more colourful and ethnic spaces just the same. I absolutely love the variety of patterns mixed in this 140 x 200 cm  rug, priced at 349,90 €. I was actually surprised to find a rug very similar to this one in IKEA, although they are slightly bigger and more expensive there, probably because according to the description, they are made of pieces of vintage Turkish handmade rugs.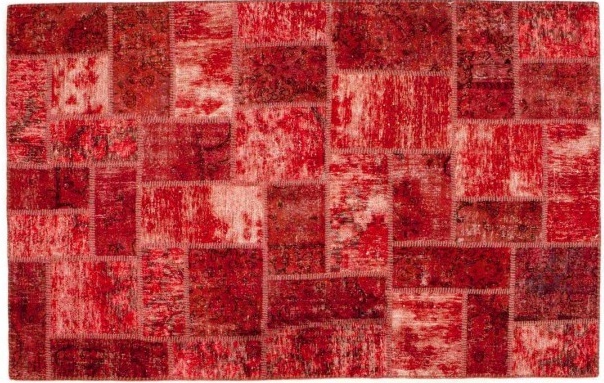 Patchwork rugs can be also found in other colors, for example this  red Persian beauty (193 x 122 cm) from Alfombras Forghani  is currently on sale and costs 445€. Check out the retailer's web for more patchwork styles, including some dashing multi-colour items.
In conclusion, a high-quality rug is never cheap. But don't forget that you can always check out Ebay or Wallapop (for those residing in Spain). I've seen some gorgeous second-hand items which look nearly as good as new, and the price is always very tempting. And then again, even a 20€ rug can often make a difference, creating for a much cozier and prettier living space.