Hello guys, today I want to introduce you to Shenda Cregan from La Shenda Deco. I met her at Palo Alto Market in February, I was instantly smitten with her fun and bold designs and I just had to make the acquaintance of the creative soul behind them. It turned out that this London-born and now resident of Sabadell, a small industrial town off Barcelona, has had an exciting, if not a somewhat nomadic life, where design and creativity have always been a part of. And all her life experiences, all the years and techniques have led her to vintage furniture luxcycling.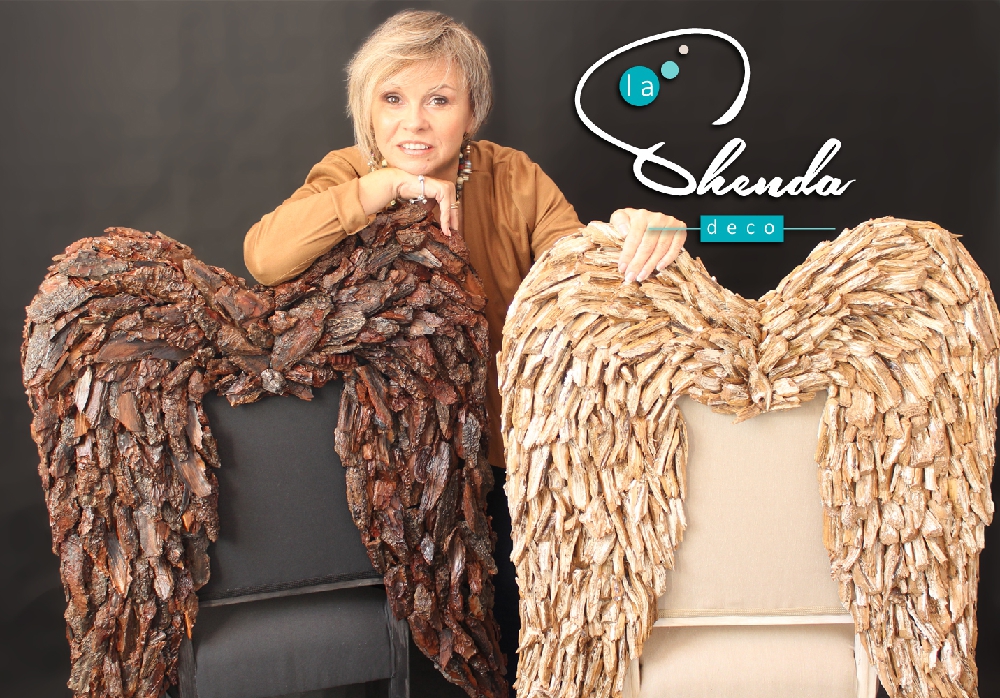 – Shenda, what is your story? What brought you to Barcelona and into furniture design?
"I first came to Spain back in 1980s, and the idea was to stay for a year and then go back to the UK, but the Mediterranean lifestyle took hold, and 30 years later I'm still here. I was always a creative kid making my own clothes, sculpture, painting. Back in London I used to work as a milliner, we made hats for Ascot, Harrods, Christian Dior and Lady Di's wedding. Then when I arrived in Spain, I did the normal summer jobs like tending bar until someone asked me if I could draw, and before I knew it I started doing T-shirt designs for a screen printing company. Then I left T-shirt design to progress into signage and promotional graphics until 2010, when I moved to Mexico with my husband, a colourful country that I fell in love with and where I started making my own jewelry from the wonderful stones available there. After coming back to Alicante in 2012 I took up furniture as a new hobby, but in fact I've always loved wood, it comes from my Father and my mentor who has spent his life as a carpenter before his retirement."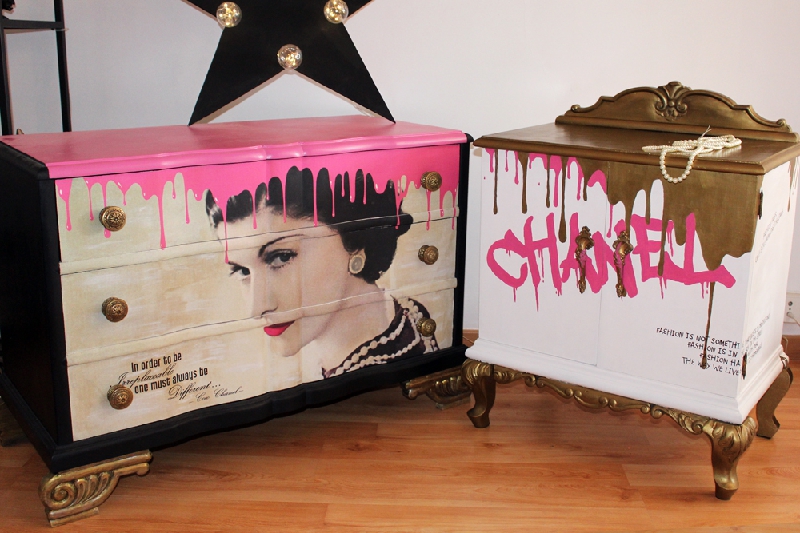 Coco Chanel inspired cabinets by La Shenda Deco
– How would you define your style?
"It's pop-eclectic! I like to add surprise to my work whether it's by a Rock chic hot colour, unusual form, or in the texture of the wood, rust or patina. I must admit I admire interior designers who are not afraid to experiment in their work like Anoushka Lancaster, Patricia Bustos or Ornella Carrillo to name but a few. I tend to draw inspiration from art rather than design styles as I have a love of surreal and pop-art artists which I think shows in my work. Also I feel you can reinvent bygone furniture styles to become up to date in vogue pieces for the decoration of your home. "Useful Art" is what I like to call my pieces; they can add impact to any area the same way a painting can, making a statement to create an accent to the balance of your home's decoration."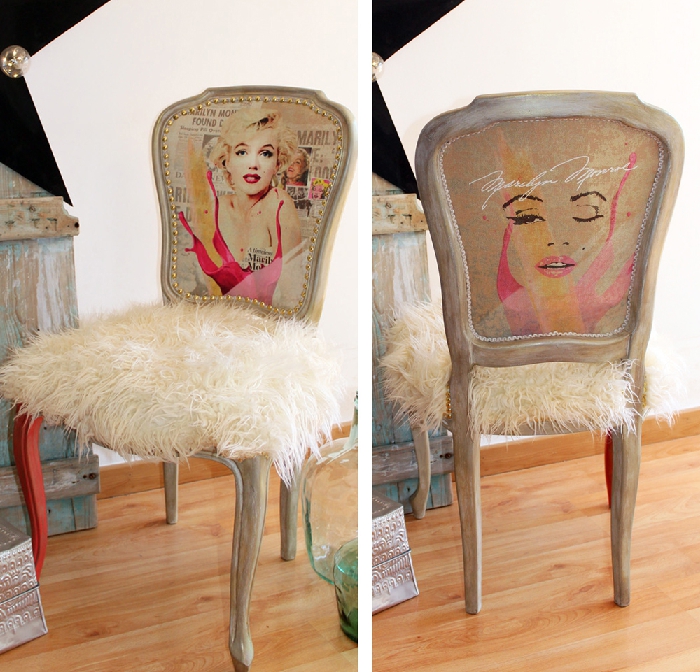 Marilyn Monroe inspired fluffy chair by La Shenda Deco
– Who are your customers?
"My customers tend to be people looking for something original with a bit of an edge and just a little bit out of the box. Also I enjoy making bespoke pieces, sometimes using the clients existing furniture or something based on an idea that the client has and that we can create together. At the moment I am creating a naughty girl chair for Montse Iserte and her adult toy shop "Vibracions" in Poblenou, Barcelona."
–  What do you like and hate the most about your creative process and DIY in general?
"I love all aspect of the creation of my pieces, from the initial idea to the feeling that there's a light at the end of the tunnel when it's almost finished. The worst jobs are the dirty preparation ones, like stripping off the old upholstery and getting rid of hundreds and hundreds of staples [oh I really can relate to that! Olga] but sometimes even then you may find an old label or the pencil marks of its maker which remind you that you are saving something and giving it new life for years to come. For me the best pieces are the ones where you're not exactly sure how to make it work but you just know it will all just fall into place towards the end."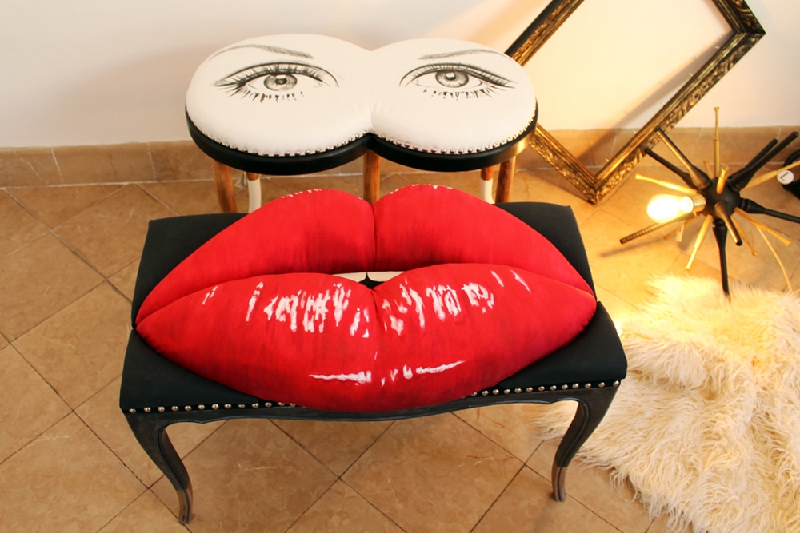 Lips kiss and Twiggy eyes stools by La Shenda Deco
–  What are your inspirations?
"Vintage glamour, old Hollywood, 60s pop art, sometimes even retro music, … I have a habit that if I'm working on a 1940s cabinet I will add some big band sounds like Benny Goodman just to help things along. Real inspiration is everywhere you just have to train your senses to feel it. For me it's the piece that inspires me as if it tells me what it wants to be, and I find myself in constant evolution! Often when I'm asked about the inspiration for my hybrid pieces where I have fused various parts of furniture together sometimes the inspiration can come merely from objects piled together in my work shop or on a sleepless night, you know that classic lightbulb moment! Pablo Picasso once said; everything you can imagine is real…"
– Finally, those of us who live in Barcelona would definitely like to know where you find the furniture and expendables for your creations!
"I have various places where I like to go hunting for secondhand furniture; El Mercantic in Sant Cugat, Cardedeu has a very good flea market once a month, Els Encants in Sabadell, and my good friends Ana and Pere from El Petit Traster in Banyoles who have a large stock from oak beems to retro lighting. If I'm looking for upholstery material, Ribes & Casals in Barcelona always have a very good selection and online La Tapicera from Madrid have wonderful designs on offer too. I use a wide range of paints some artistic and others from places like Leroy Merlin. Mostly I like to mix my own colours and some finished may have up to 5 different tones just to get the desired result. 
---
What's more to add? I've always admired handy people, but the difference between a designer and a craftsman is thinking out of the box and being bold enough to go wherever your imagination takes you.  And Shenda is definitely that kind of person, which makes me super excited to see what her creative mind will come up with next time.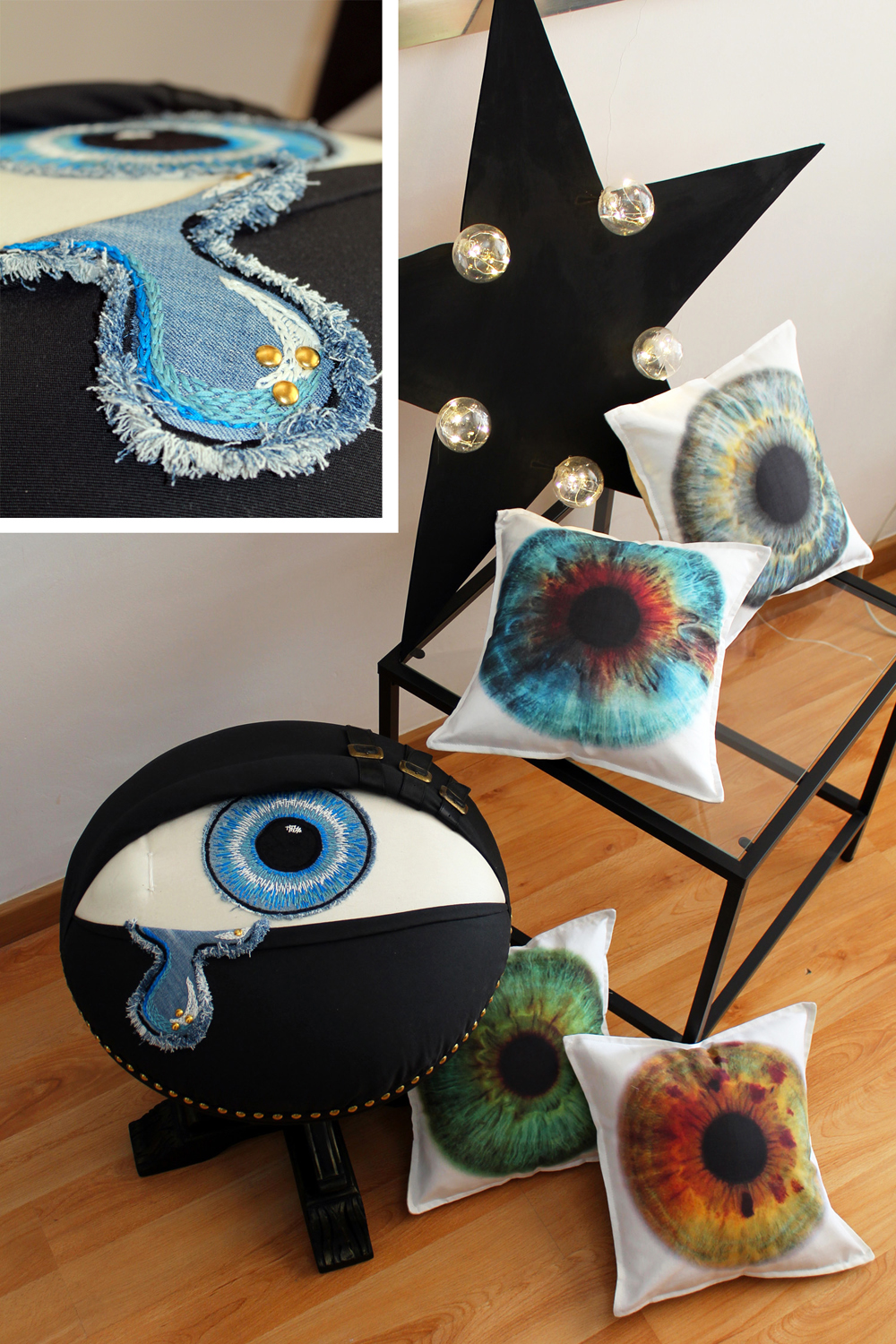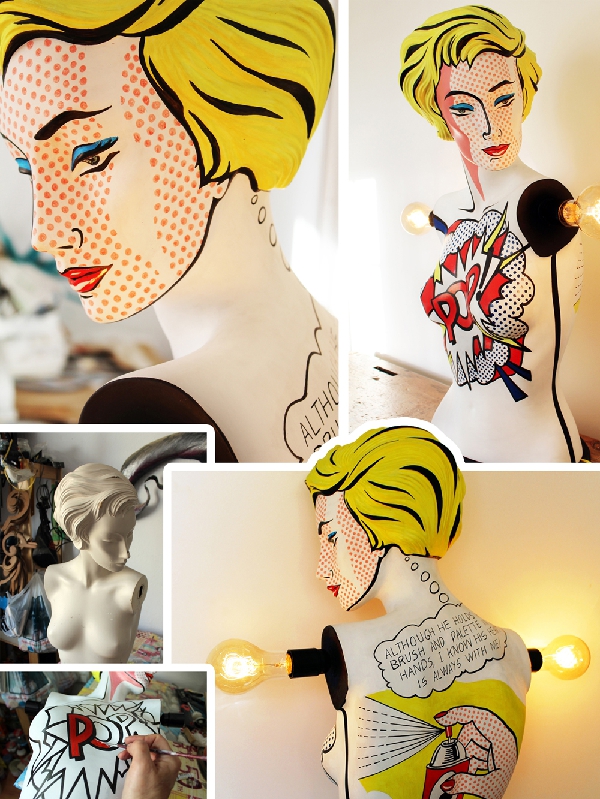 All photos are property of La Shenda Deco.