This week I decided to skip the selection of sales and special offers in Spanish furniture and home décor shops. I browsed a number of shops, but there simply weren't enough interesting bargains and 'ofertas' to put together a worthwile post, so instead I thought I'd share with you my favorite home décor shopping site in the center of Barcelona, which is in a few minute walk from Diagonal metro station, where Avenida Diagonal crosses Passeig de Gracia. Seven of them are located on Avenida Diagonal as such within 350 meters from each other, and the last one is just a few blocks away. For my readers who happen to live in other cities, don't rush to close this page, because most of these furniture and home accessories shops (7 out of 8) are quite big chains and have an online shop, so you may still find this post useful 🙂
So I suggest we take a virtual stroll on la Diagonal, and visit the following shops which cater to pretty much any taste in home design.
Habitat, Av. Diagonal, 514
Zara Home, Av. Diagonal, 490
A Loja do Gato Preto, Av. Diagonal 484
Natura Casa, Av. Diagonal 472
Deko Palace, Av. Diagonal 458
Maisons du Monde, Av. Diagonal, 405
 Pilma, Av. Diagonal, 403
Banak Importa, c/ Rosellón, 207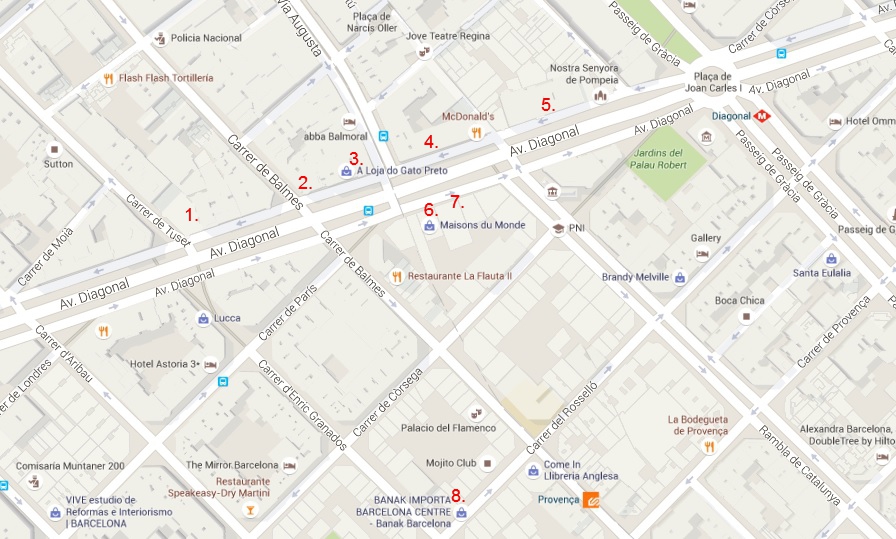 Habitat is an iconic and pricey British retailer with more than 50 years of history in the homewares business and one of the pioneers of the marketplace as we know it offering sharp and contemporary designs.
Zara Home: If you live in Spain you probably need no introduction to this one: Zara Home belongs to the man who has claimed the title of the richest man in the world  from Bill Gates, is part of Inditex, the biggest fashion group in the world, and has 9  shops in Barcelona alone.  The shop on Av. Diagonal is my favorite because it's spacious and not nearly as crowded as the one on Passeig de Gracia. Designs range from subdued whites and greys to more vibrant and highly-coloured collections, such as the new Spring-Summer line 'Miami'.
A Loja do Gato Preto is a Portuguese retailer and one of my favorites. The brand name means "A black cat's shop", and they offer a variety of playful cat-themed designs, especially in dishware, along with a great deal of other beautiful and colourful home decor and furnishings. That's where I bought my gorgeous bedcover, for example.  In Barcelona A Loja do Gato Preto has another shop in La Maquinista, but it seems smaller to me, and again, more crowded because this mall is usually packed with people. 
Natura Casa is a Spanish retailer, which promotes a more eco-friendly mentality and natural-feeling interiors, wooden furniture, lots of houseplants, and very relaxed and tranquil ambience.
Deko Palace is a German chain of affordable furniture and home accessories. This shop is an enormous space packed with cool stuff, and what I like the most about them is the amount of coloured furniture! And it's also customizable in colour and size. The only downpoint is that they don't have an online shop, but apparently they are working on that.
Maisons du Monde is my favorite home decor brand, and if you check out my previous post, you will understand why. The shop on av. Diagonal mainly showcases home accessories: textiles, dishware, wall art, and smaller objects to give visitor an idea of the variety of styles available. To see more of Maisons du Monde furniture you'll have to go to Badalona where they have a much bigger space. 
Pilma is a designer multi-brand shop offering its own furniture along with renowned Italian brands such as Zeus and Kartell. The latter is the highlight of the shop for me, this colourful plastic furniture is to die for!  You can do a virtual visit to the shop on their website.
Banak Importa is a Spanish furniture outlet chain, and I'd label their style as contemporary romantic. I first found them online and loved how they were different from the majority of local online shops, which are overrun by Nordic styles, and I featured some of their products in the 'Ofertas', and then went to pop into this shop on Rosellón str., and it turned out so cozy and inviting and packed with cool items. So make sure you divert from Av. Diagonal at the end of your furniture shopping hunt and go a few blocks down to check out Banak.
UPDATED June 2016: A recent addition to this list would be Kenay Home. The popular Spanish online store has recently opened its first store in Barcelona at Carrer de Balmes, 200. If you like Nordic style furniture and home accessories, that's a place for you.