Back to Madrid after 13 years
On the first days of June, I traveled to Madrid to visit Casa Decor, the biggest interior design exhibition in Spain. Known to be changing venue every year, Casa Decor 2016 was housed in Casa Palacio Atocha 34, a big mansion built in 1857. Its 4.000 m2 area was divided between brands, interior designers and sponsors to create a variety of spaces from lofts and luxurious suites to small cozy corners. Styles featured range from rustic and green 'boho' to posh eclectic and new baroque. I actually thought the exhibition was really cool. So many beautiful spaces, I just hope the photos I made do them enough justice. And I had a chat with several exhibitors, they told me that this year the organizers really stepped up their game and delivered compared with the past few years when the general level of the exposition wasn't very high. This was my first Casa Decor, and I'm looking forward to going back next year.
I want to share with you a few of the 60 spaces which made up Casa Decor 2016 and were the highlights of the exhibition for me.
My 10 favorite projects at Casa Decor 2016
In this concept, a colourful and cheerful ambience of a tropical island meets the cosmopolitan feel of an urban restaurant in the 21st century. Love the colour combinations used by the designer, and the textiles – those striped stools and emerald green chair are to die for! And the flamingo themed wallpaper is so bold and cute!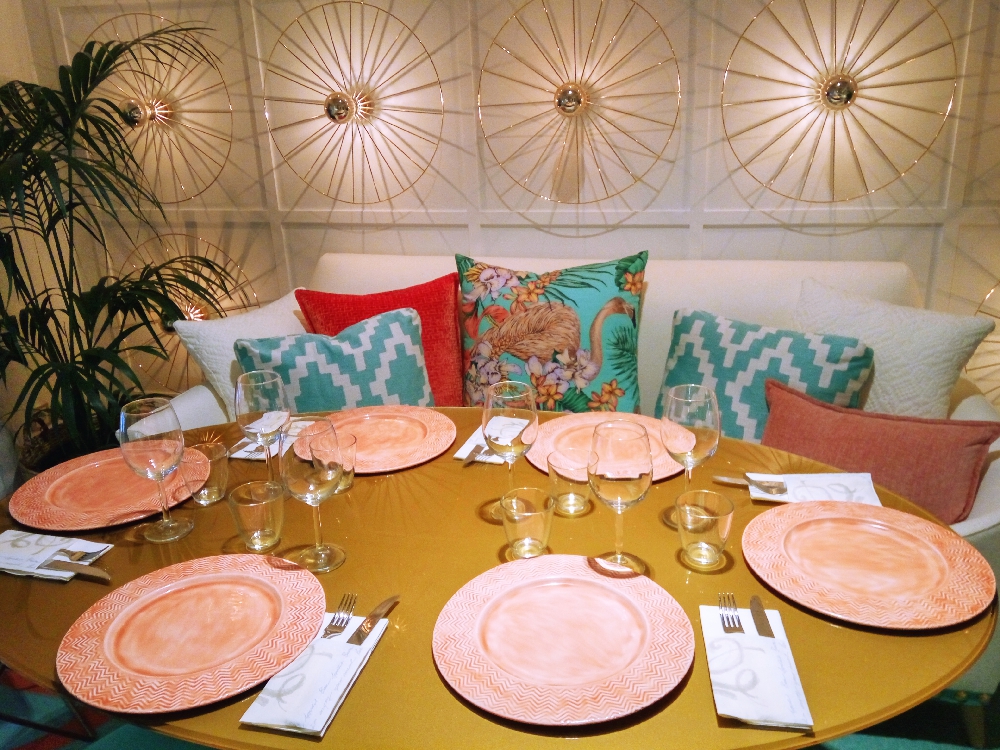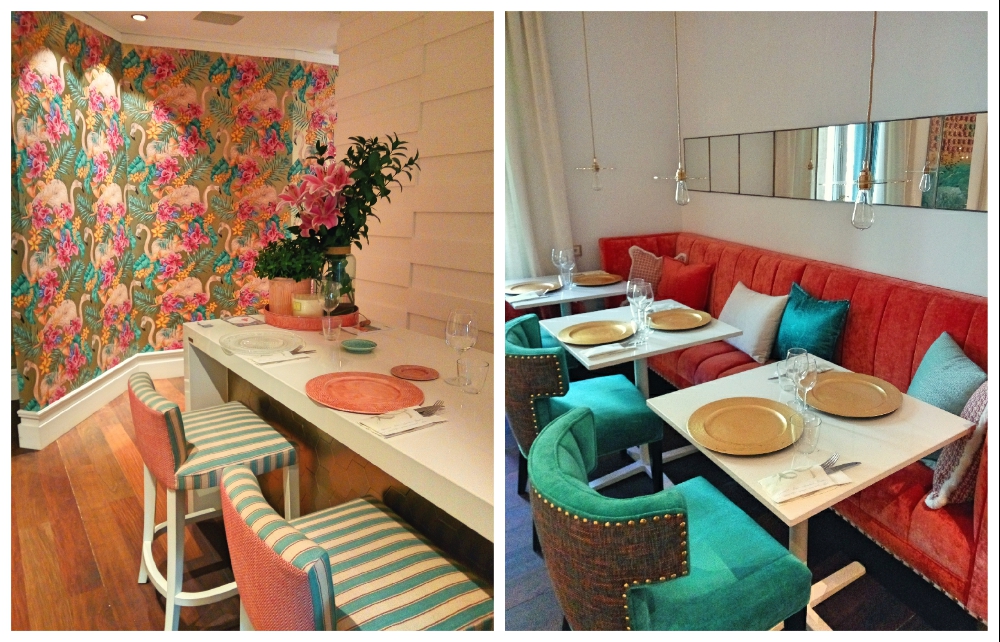 Beatriz Silveira created a complete suite: a living room, bedroom and bathroom. The center piece of this elegant living room is the organic-shaped table. And the blue curtains work really well as the main colour accent in the room. Bedroom is eclectic and chic with lots of gold, including the canopy bed designed by Beatriz Silveira, and a fur bedspread. Bathroom is dominated by a spectacular rounded shape bathtub from Villeroy & Boch and distressed wood sink cabinet. Such a cool combination!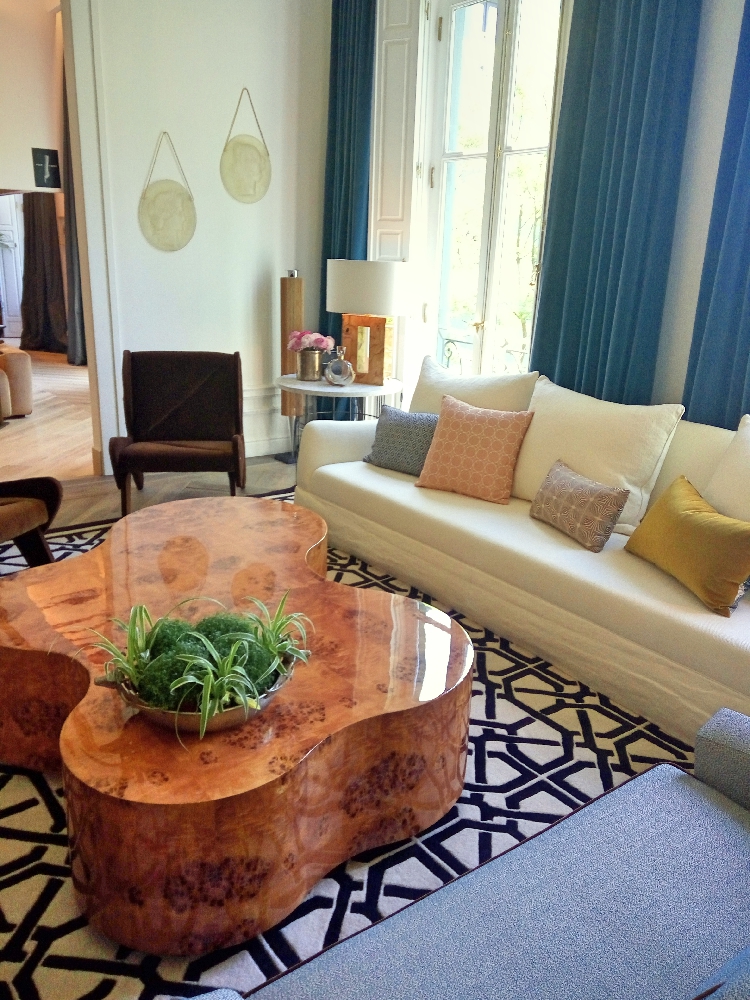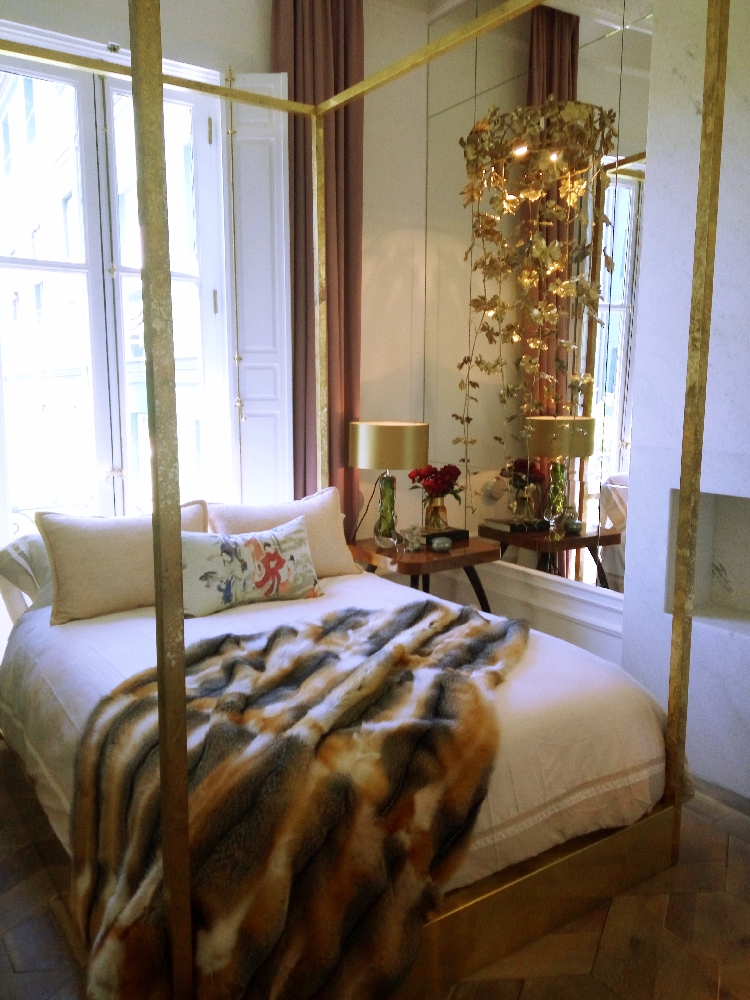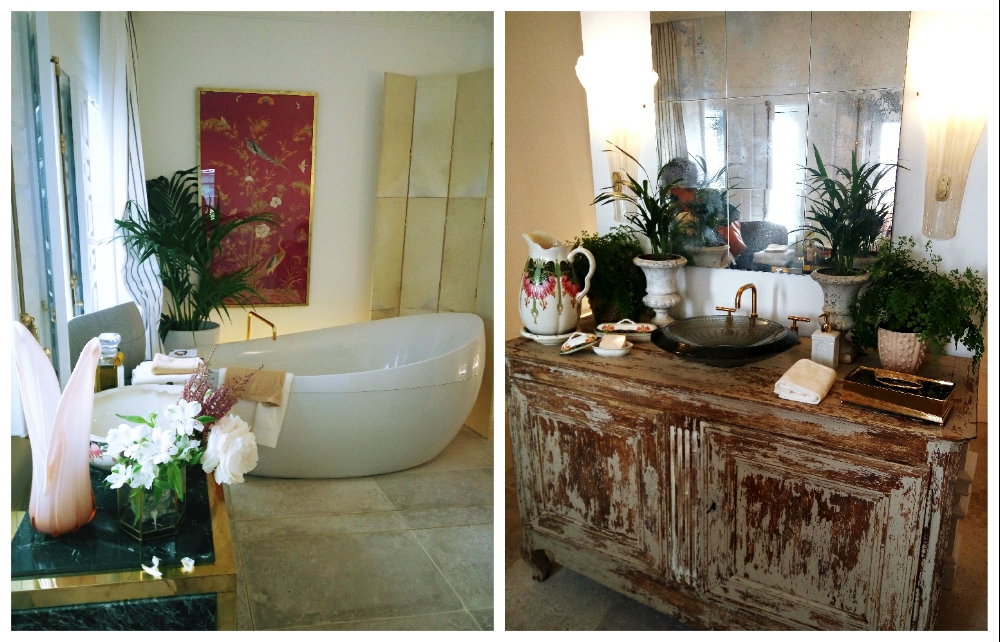 3. Telva. La vie en couleurs by Ana Pardo from Santayana, Ana Riestra y Rocío Riestra
This is a beautiful country style dining room, with natural elements as the main protagonists. The "rural" look of the forge table and numerous plants is complemented by cushions in different hues and prints, and other details, such as colourful lampshades and curtain fabric, to add a more contemporary touch to the space.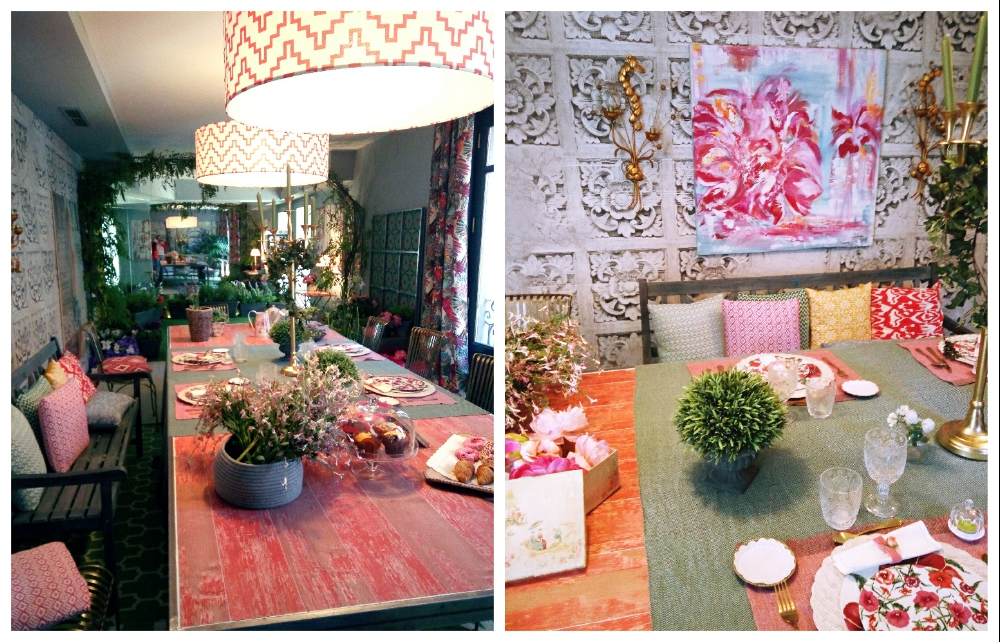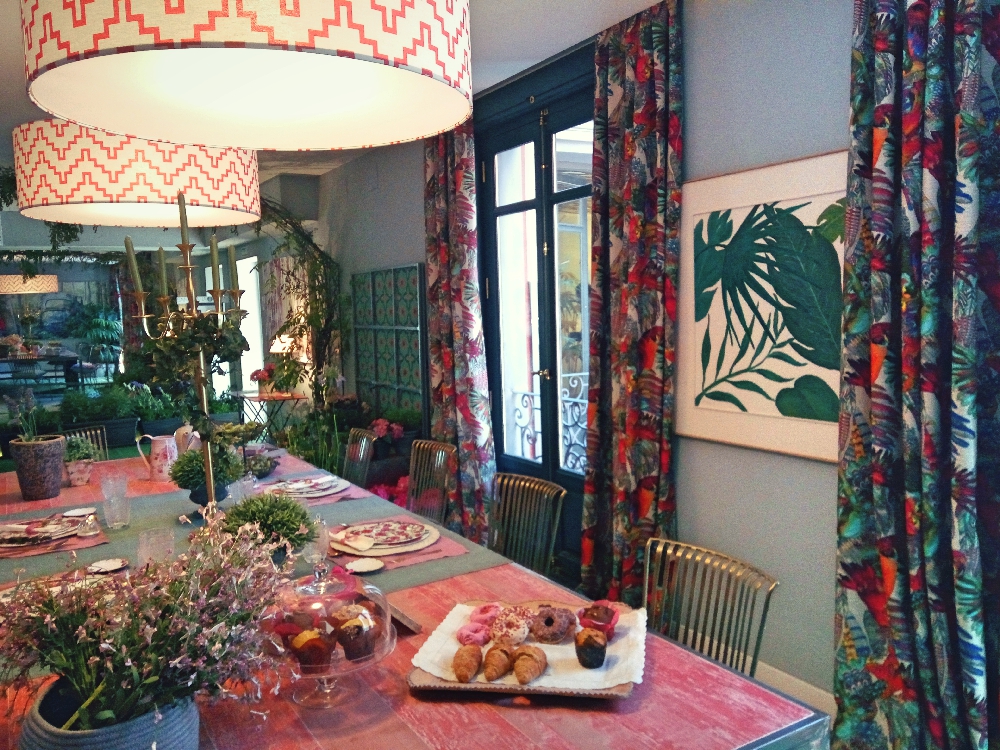 4. Pepe Leal for the Embassy of Portugal
This year, the Portuguese embassy in Spain decided to participate in Casa Decor for the first time in history. The concept created for them by Pepe Leal became a major success, winning the title of the best project from the professional jury. Leal's project is playing with traditional materials and artisanal techniques, such as azulejo (Spanish and Portuguese painted tin-glazed ceramic tilework), cork or pink marble, to showcase the products of 28 Portuguese companies. And the result is original, luxurious and very contemporary.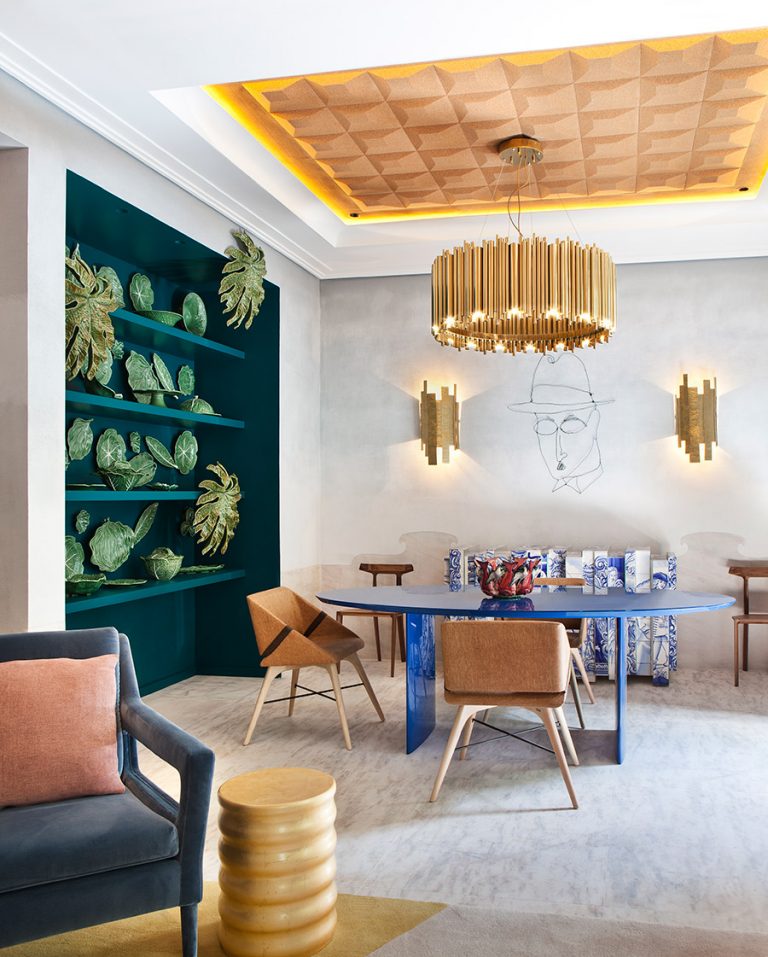 5. Espacio Westwing by Erico Navazo
Erico Navazo created a very eclectic yet cozy space using a selection of items from different styles and historical periods available in Westwing, online outlet of designer furniture and home accessories. Feminine colours and floral patterns along with smooth velvet of the sofa soften the sharp angles of the pronounced geometrical focus in this living room. And there are so many cool details!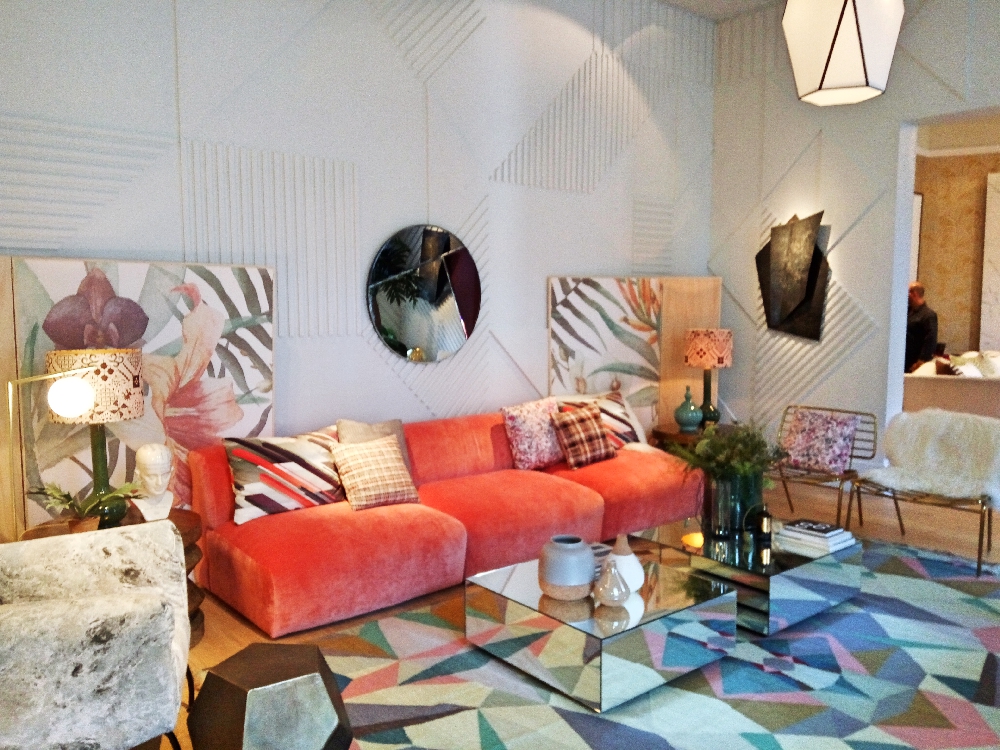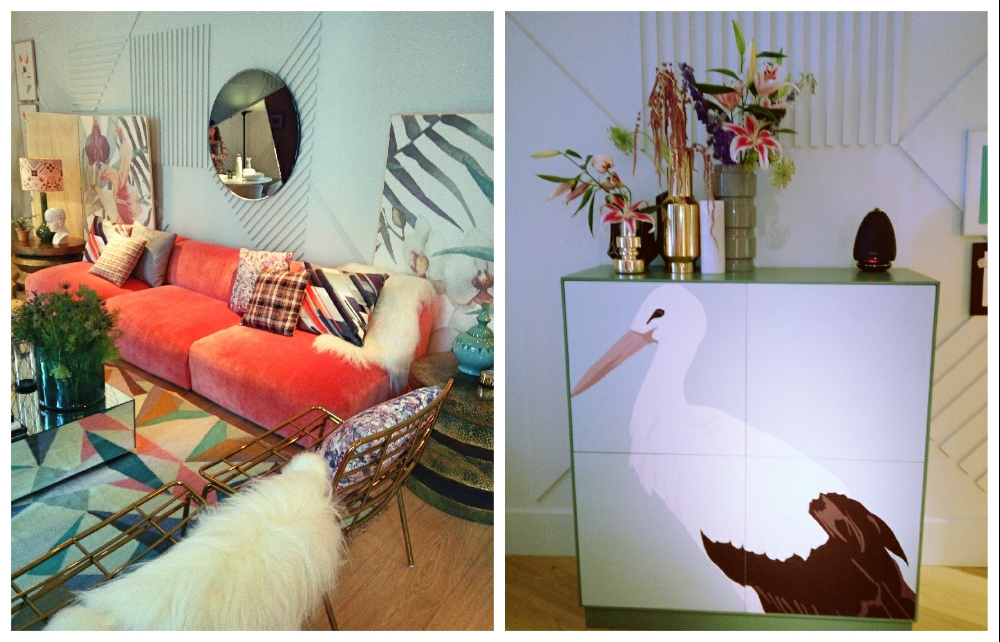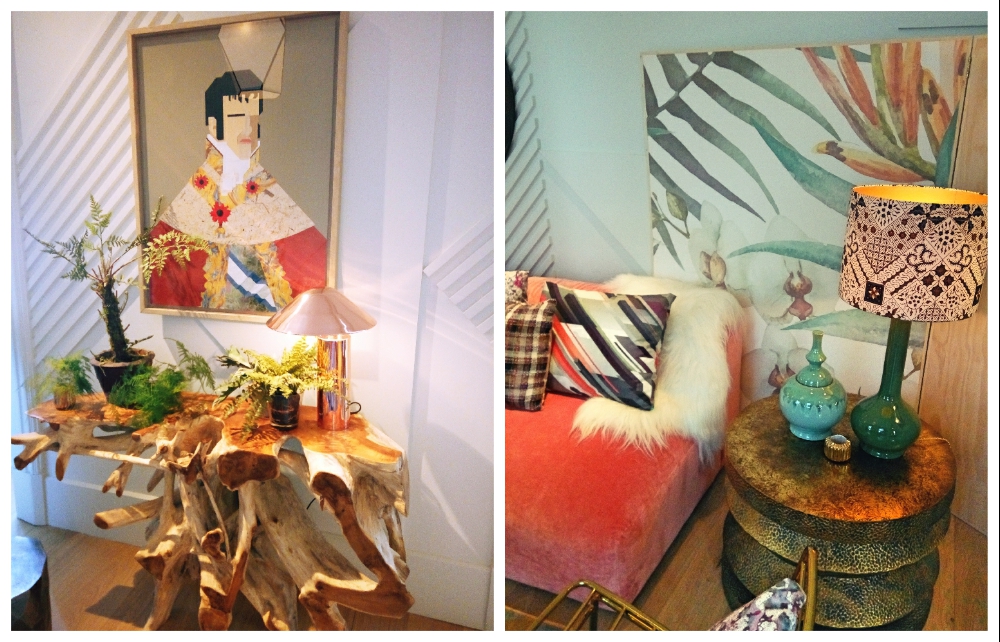 6. Voyage to Parnassus by Aitor Viteri and Elena Lapeña
Inspired in French palaces of the 18th century, where artists used to express their creativity, this project from the Viteri/Lapeña studio is playing with Rococo style through colours, textures, and richness of the materials. A very sofisticated space, they organized piano concerts here during the exhibition.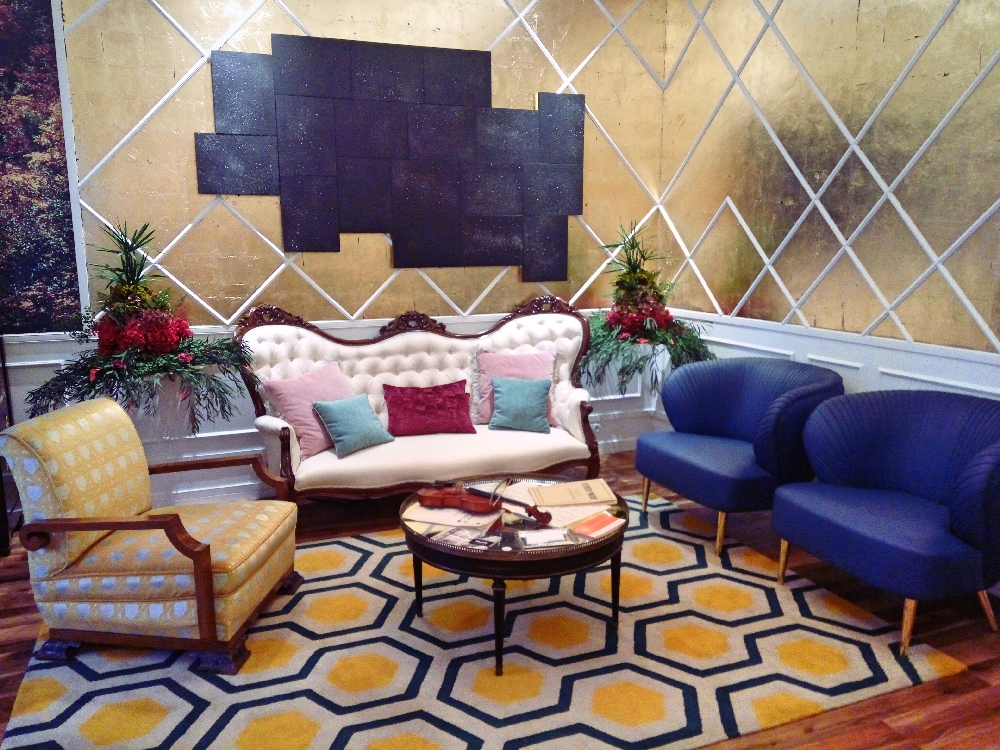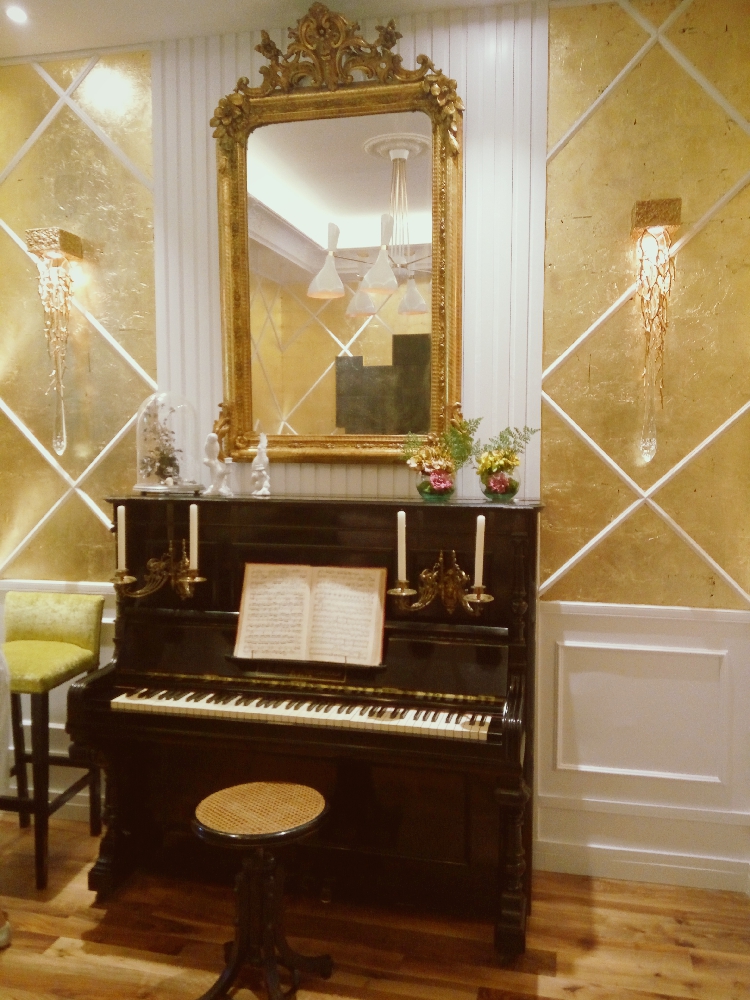 7. Ethnic boho sitting room by Nélida Сedrés
This is the most cheerful the bohemian style got at Casa Decor! A tiny room, but full of sunlight and artisanal pieces from Africa and South America. Very green and very natural, cozy and inviting. I had a great chat with lovely Joko from Kreol, who contributed their designs, including stools and wall decor for this project. Very refreshing and really different from all other spaces.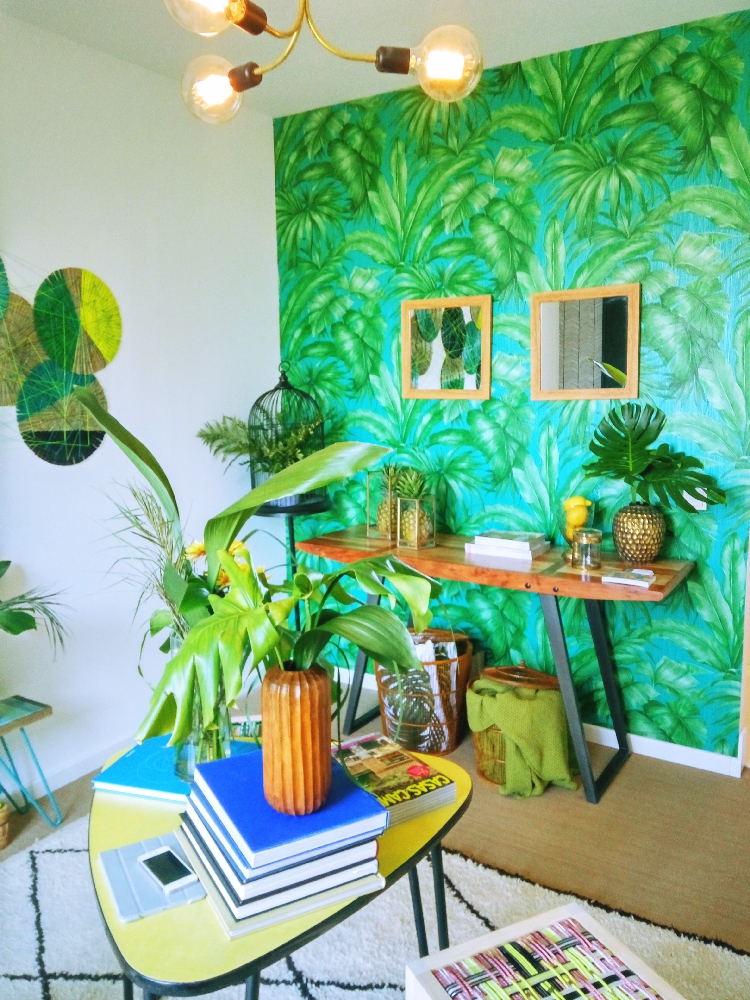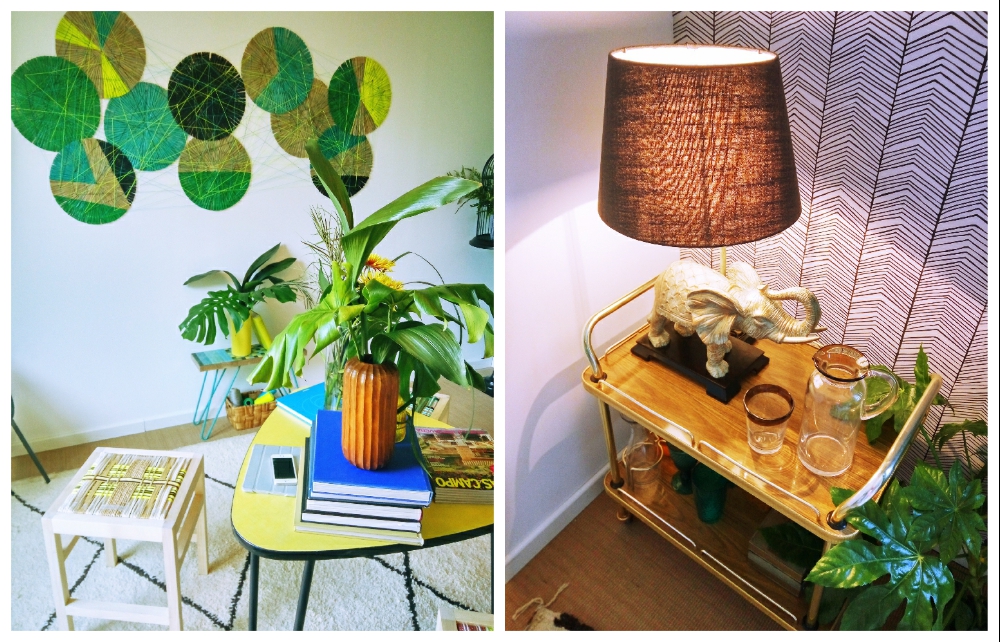 8. Wardrobe Room by Miriam Alía Mateo
This gorgeous wardrobe room is simply to die for! A bit pop artsy and girlie, but very creative and original, if not surreal! room is packed with coolest stuff ever – blue sequin armchairs, curtains made of Christian Lacroix fabrics, gem-patterned wallpaper, neon lights, and check out the glorious ceiling lamp, created by the designer, Miriam Alía herself.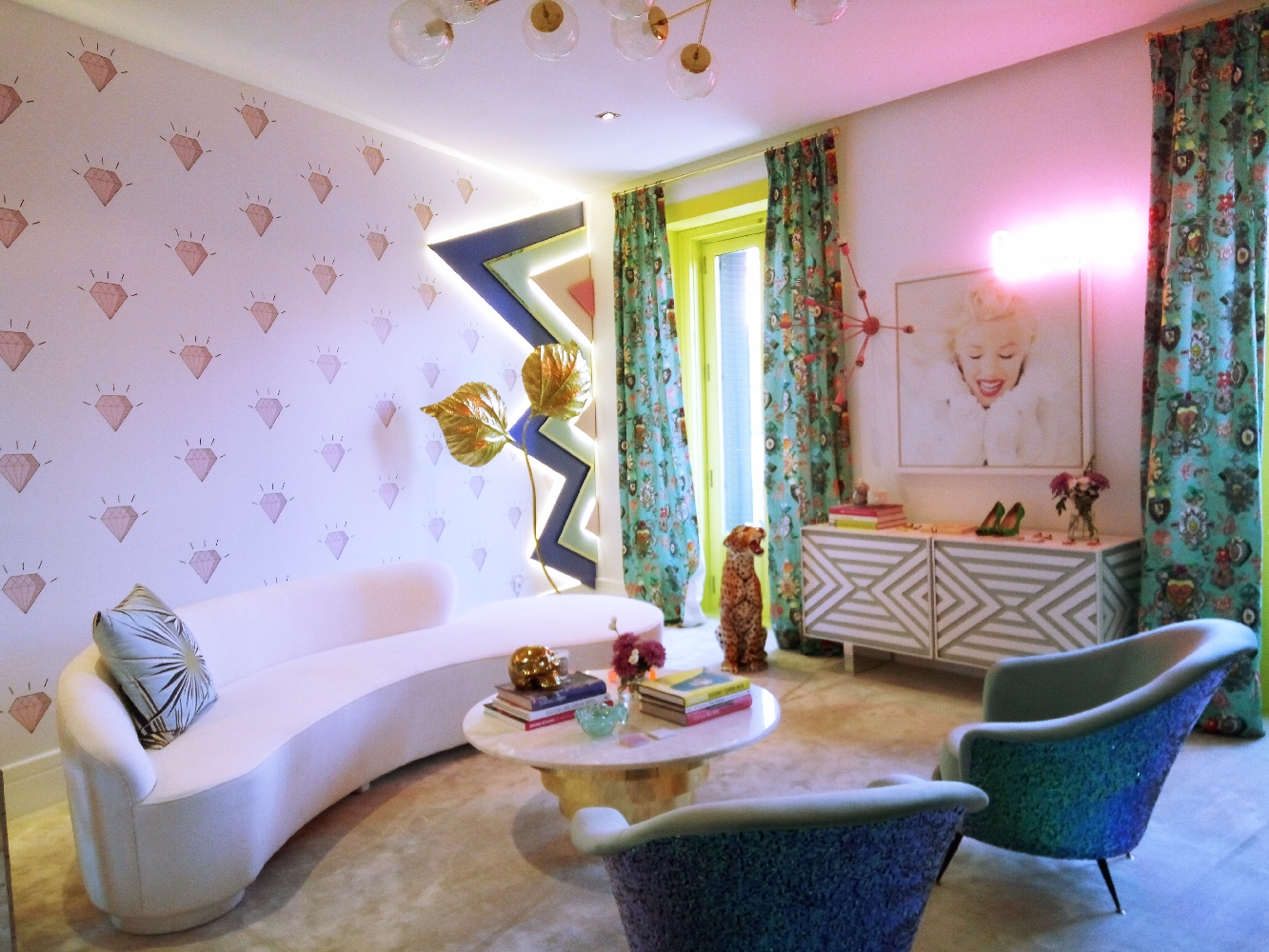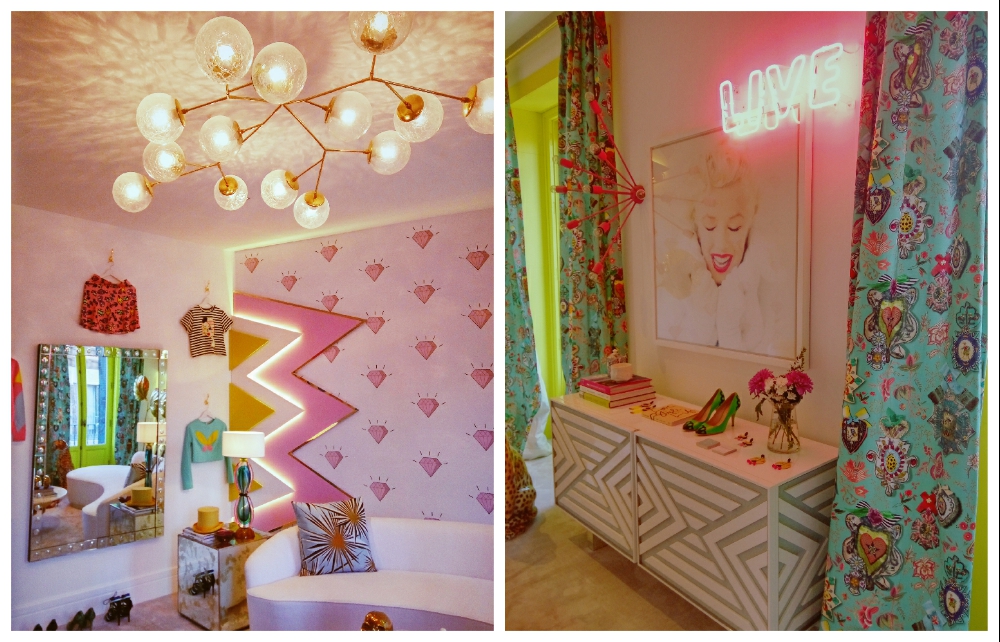 9. Clandestine Bar by Claudia Urvois, Leticia Cano, and Clara Arnús
This small speakeasy is such a gem. The photo doesn't really do it justice, because the best thing about it is the claret colour wallpaper with hawaiian cuties, and then the same pattern is repeated on lampshades and stools. Very sassy and fun! When I got in, it instantly reminded me of a Wes Anderson movie, and I was spot on, the official brochure for the exhibition says that this design was inspired by the "aesthetics of Kubrick, Lynch y Wes Anderson"(c).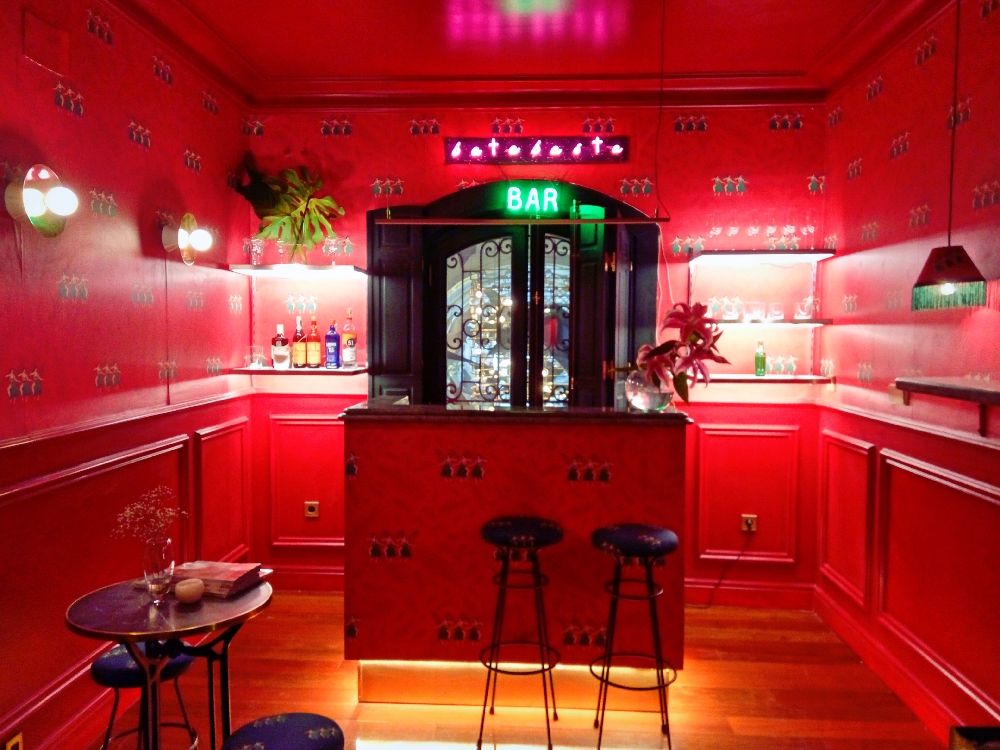 In order to showcase ultra modern domestic devices, the designer chose to use the Japanese principle Wabi-sabi, which means rustiс simplicity. The contrast between straight and pure lines of the new fridges and washing machines and the beautiful imperfection of antique and rustic furniture and accessories creates a very impactful space.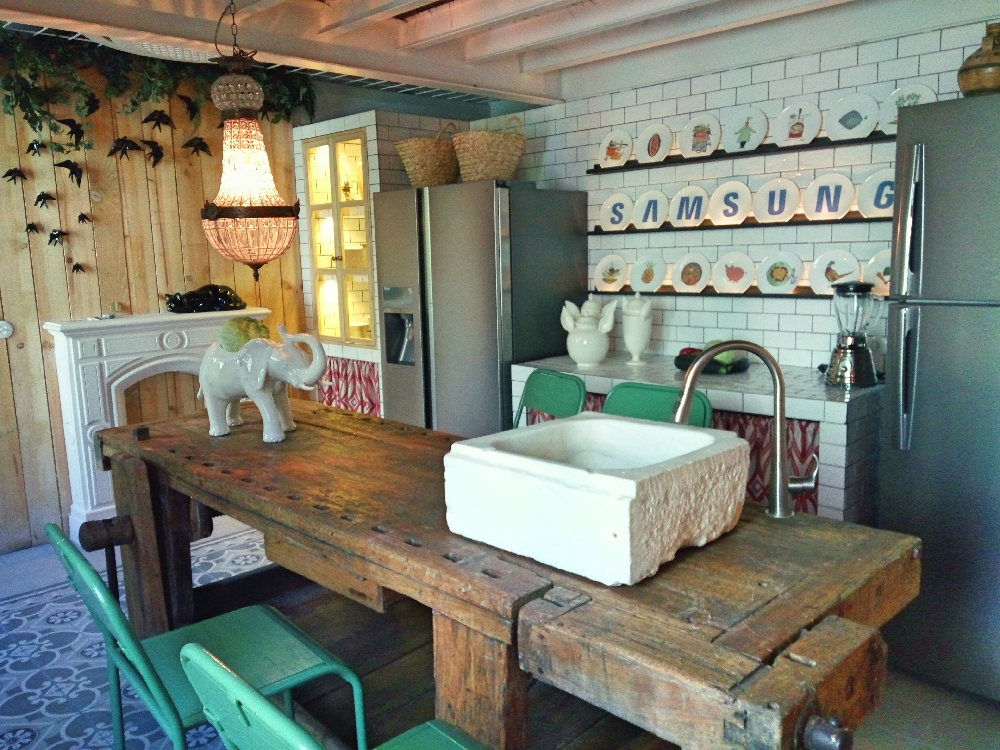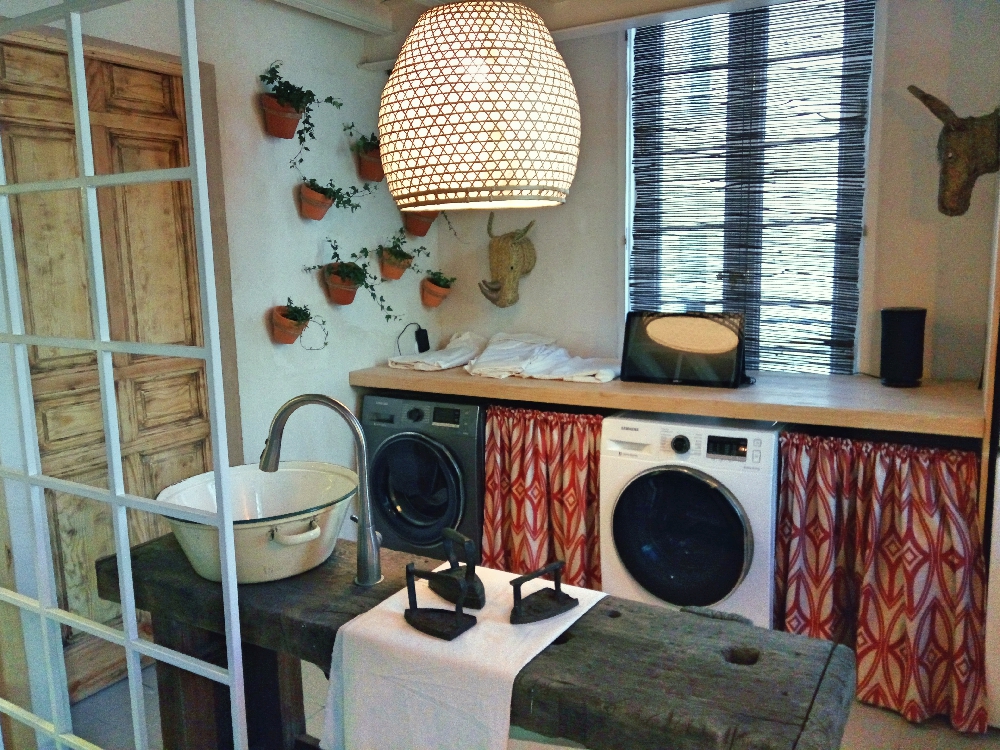 For more information about Casa Decor 2016 visit the website of the exhibition http://casadecor.es