I've been blogging (and taking a keen interest in interior design) for 3 years now, but I'm still kind of on the fence about my favourite style. I usually say that my style is eclectic, and, honestly, the spaces that wow me the most are the ones mixing antiques with mid-century furniture, classic ceiling mouldings, and a prominent colour statement, whether it is an emerald green or fuchsia sofa or a painted or wallpapered wall, but somehow such spaces seem pure art to me, but not necessarily cosy. What I find really cosy, relaxing and heart-warming is vintage bohemian style. Let me show you what I mean and share with you some of my favorite bloggers/instagrammers, who have made a vintage bohemian paradise from their home.
What does Bohemian even mean?
The word 'bohemian' originates from French, where it was a term for the gypsy, as the French mistakenly believed that they came to France from the Czech region of Bohemia. The word then evolved to describe an unconventional, eccentric and artistic lifestyle. Dreamy, romantic and mystical pre-Raphaelite movement blended the Bohemian style with medieval folklore. Their contemporary from the late 19th century William Morris, founder of arts and crafts movement, still has a very strong influence on bohemian interiors with the furniture, wallpaper and fabrics he designed.
In 1960s, bohemian fashion icon Talitha Getty's big crush on Marrakesh is the likeliest explanation of why half a century later we can often spot the Moroccan influence in bohemian interiors – the rugs, the pottery, colourful tiles and hanging lanterns…The hippies put their own twist on the bohemian style, and extended its cultural references with even more non-Western motifs from Africa, Latin America, Asia. One of the biggest influencers  of bohemian style today has to be Justina Blakeney from The Jungalow, whose infatuation with fresh and colourful bohemian vibes made her a successful blogger turned businesswoman.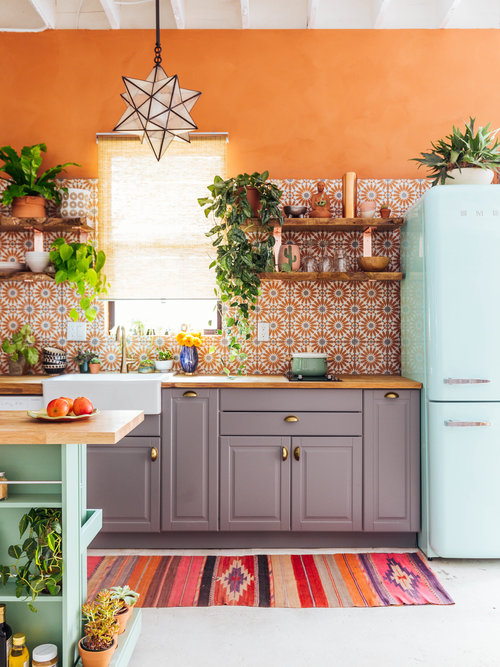 Kitchen designed by Justina Blakeney. Source.
Today, the bohemian style is an eclectic mix of global influences, where every person can choose which of its numerous elements – from Victorian England to Native American culture – appeal to them the most. As I mentioned in the beginning, I personally love it when a bohemian interior has a very vintage vibe about it, when the furniture screams antiques, and the patterns immediately take you back to the 'disco' era of the 1970s, for instance.
When you think of a bohemian interior, the colours that instantly spring to mind are warm earthy tones between yellow and red, but there is absolutely no crime in mixing them with more vibrant hues, such as fuchsia pink or azure blue. No two bohemian style rooms are ever completely alike. Bohemian style is about feeling absolutely relaxed and free to express yourself through a personal and always unique mix of plants, patterns, colours and decor objects from all around the world. This means that the Bohemian style can be more or less luxurious, colourful, ethnic, and even restrained, there is what they call the New Bohemian style – a fusion between bohemian maximalism and pure and minimal Scandinavian backdrop. Such interiors are certainly less cluttered, but still visually quite over-the-top. But, going back to the purpose of this post…here are a few IG names with a very inspiring approach to vintage bohemian style!
So who is rocking the vintage bohemian style on IG?
@agie_at_59
Agi's Hampshire home is full of vintage furniture, quirky details, deep colours, natural fiber and plants hanging all around the place. Some of the spaces look more restrained in style, while others showcase the unleashed power of bohemian style.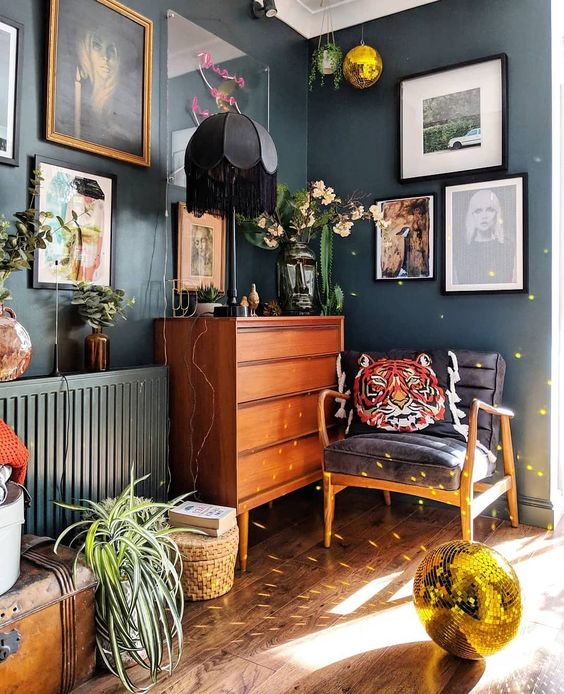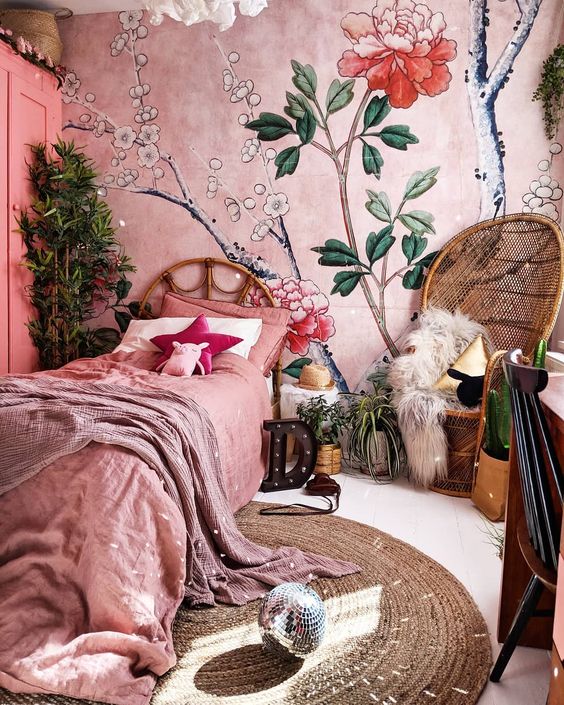 @lorriecos
Lorraine Costello lives in a Victorian terrace house somewhere in England, and has an obsession with the green colour. Her place is gorgeous, and she also one of the hosts of #WallToWallStyle contest, through which I discovered a whole bunch of super cool accounts.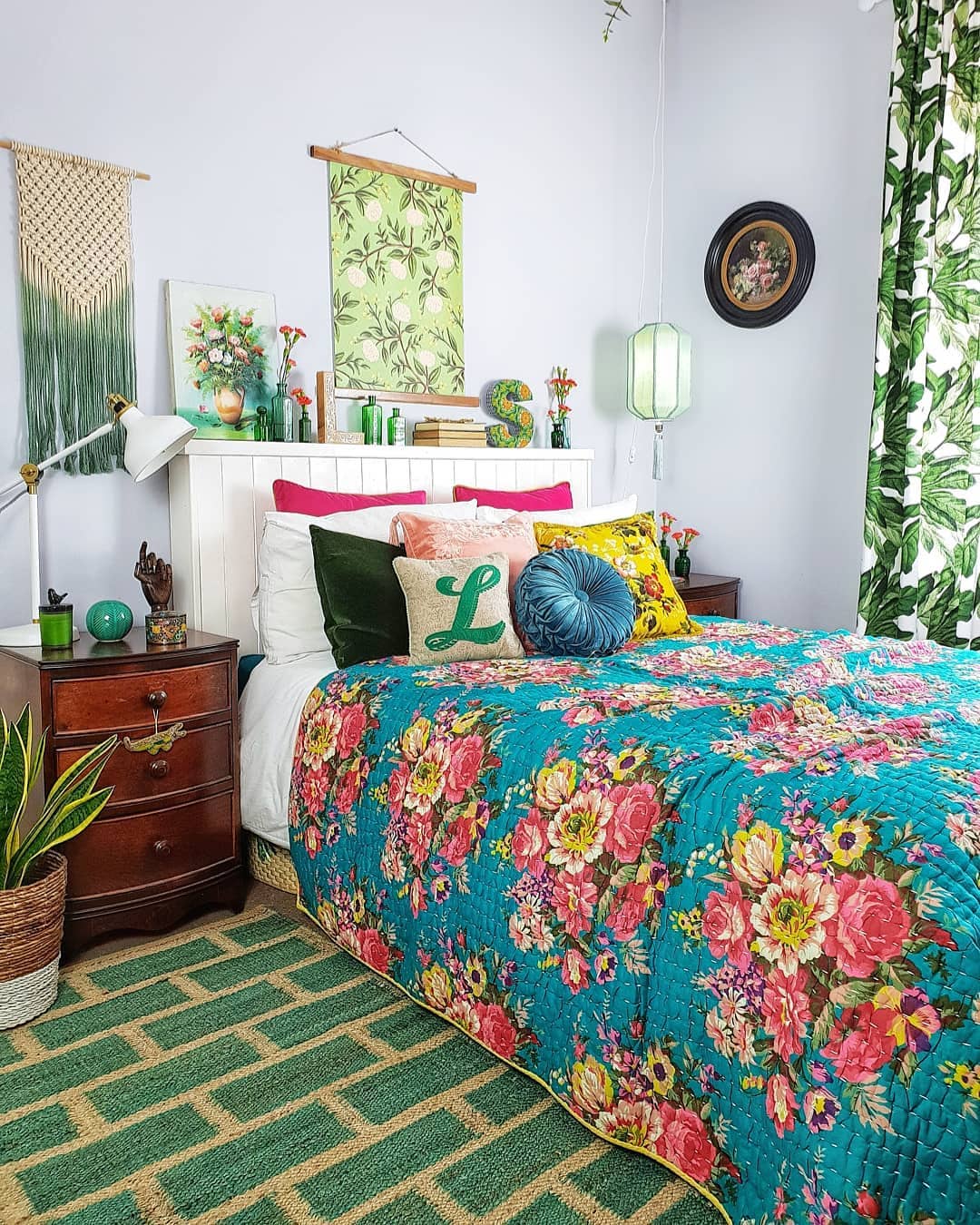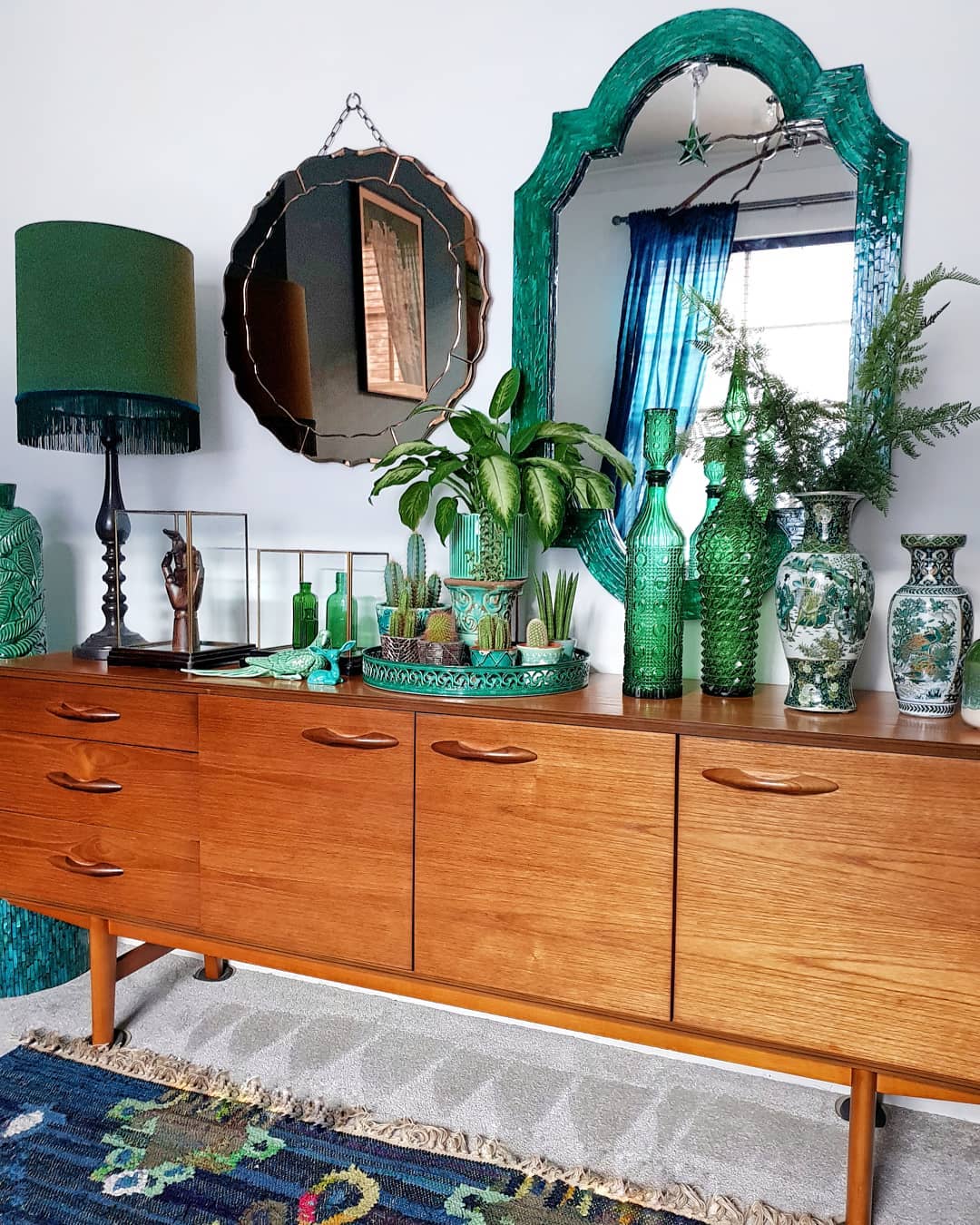 @candycoloredhome
The name of the blog unmistakably gives you an idea about the colour palette you will find on the feed of Katie Mack, who defines her style retro boho, but what makes it really special is a very strong (and beautiful!) art-déco vibe.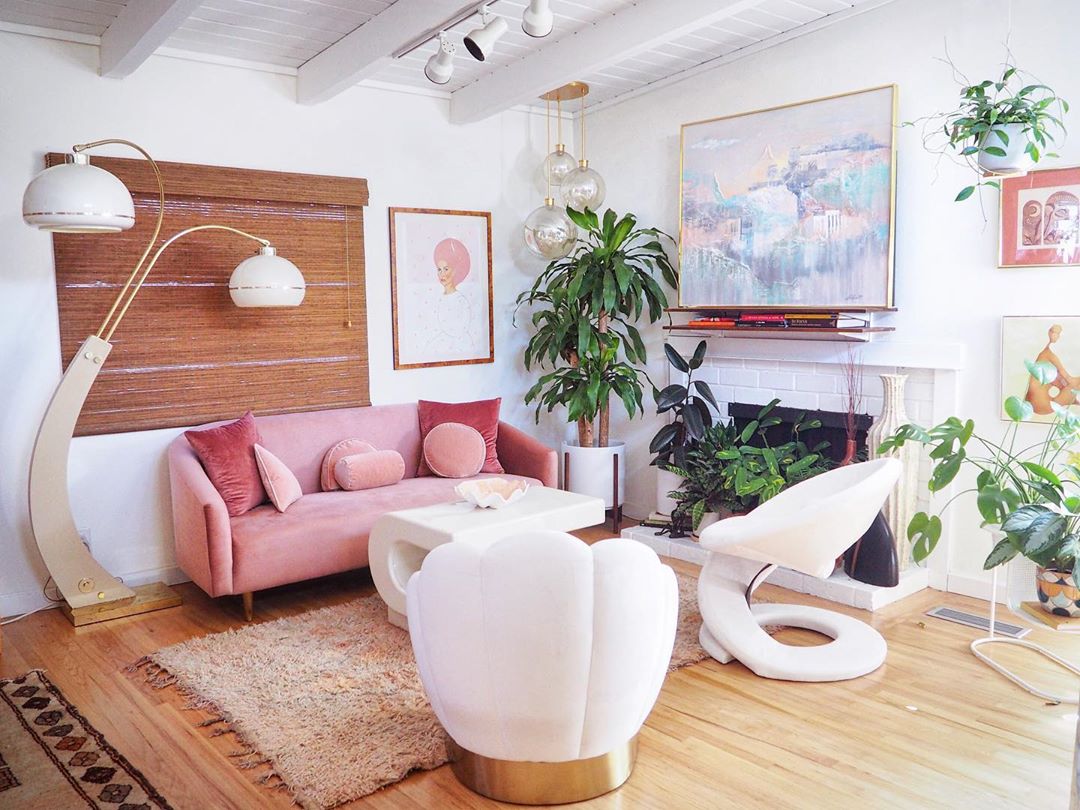 @restyleart
Graphic artist from Czech Republic Jan Skacelik has an absolutely gorgeous bohemian style home, which is all about plants, colourful rugs, but, most importantly Jan's own artwork! And don't get me even started on this collection of mid-century furniture…ENVY!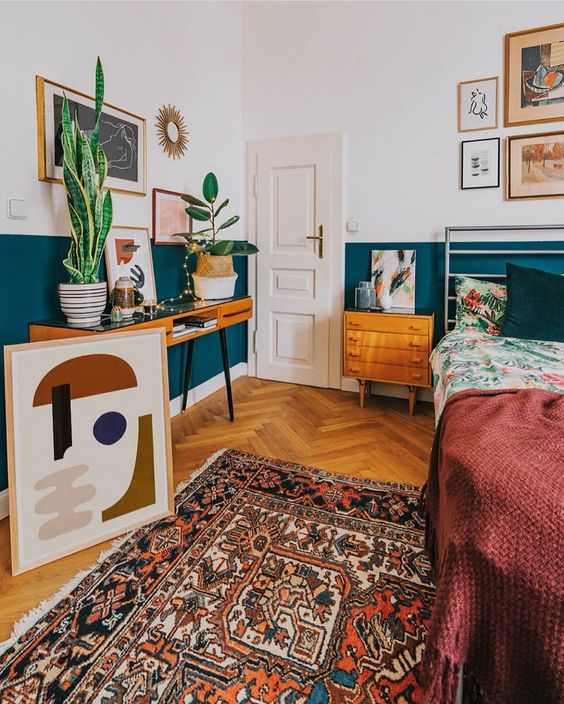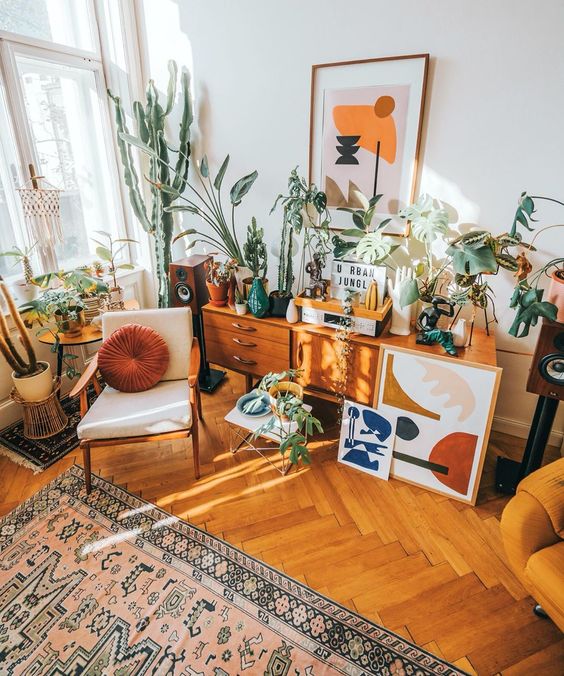 @vintageinteriorxx
Pauliina from Finland has a colourful and very retro feeling home. I featured her in my post about repurposed furniture – I am still swooning over her cat bed made of an old TV cabinet, but there are so many more gorgeous details in her home – pastel walls, mid-century furniture and prints, and a couple of very camera-friendly cats!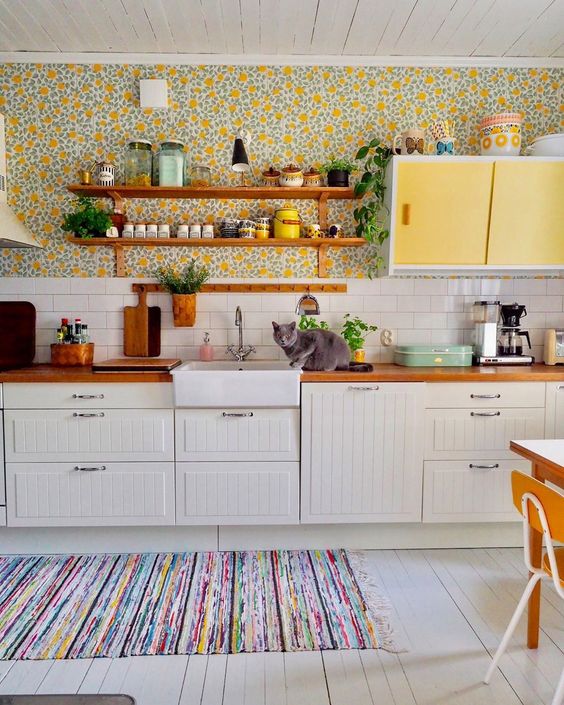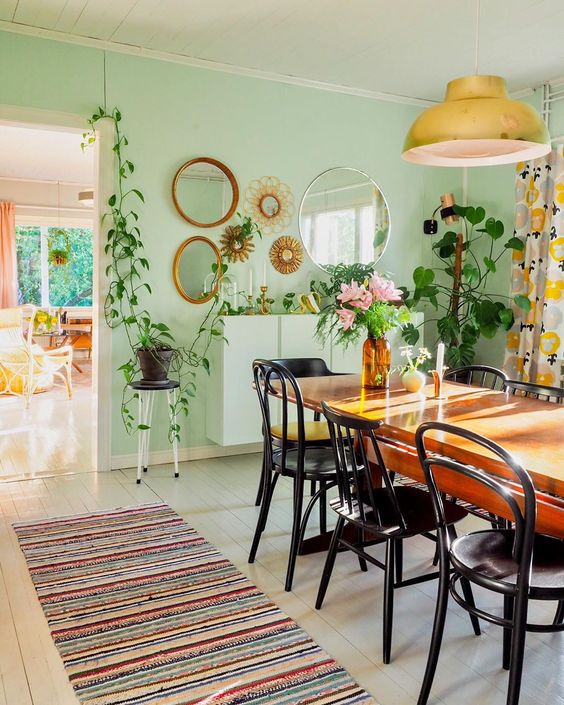 @polkadotingrid
Ingrid is from Norway, and her home feels very vintage and very bohemian with its painted wooden walls and a crazy mix of prints and colors. The final result may seem a bit chaotic, but it looks so cheerful and cosy!