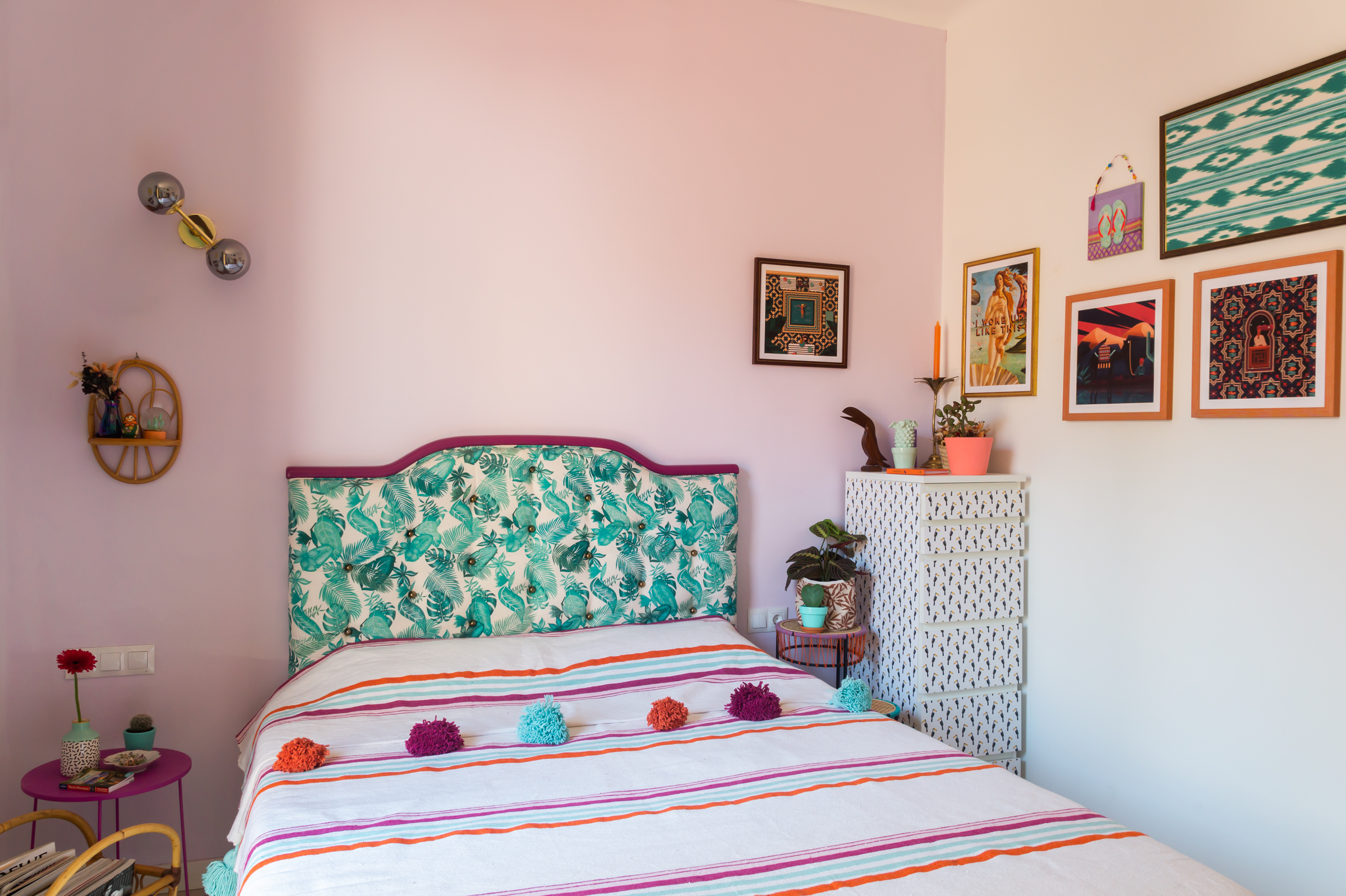 This story begins last May, when I spotted this cushion in Maisons du Monde, and though it absolutely did not fit in with the colour palette of my bedroom, my inner snake of temptation whispered into my ear: «Why don't you make it all over?" I loved my bedroom, it had a very cheerful combo of yellow and melon green, but after 4 years, the idea of a change seemed quite tempting.
I bought the cushion, you won't find it on the photos though, because I ended up getting a self-sufficing Moroccan bed throw! How do you like the irony of that?!
The whole process took me so long, that the final result is a lot more eclectic than what I had in mind a year ago. I was thinking Miami chic with a touch of tropical boho, hence the rattan decor and the lush greens of the headboard upholstery, but somewhere along the way I got too carried away grabbing the things I liked – the cheeky 'Venus' print (I have always been a huge fan of Botticelli, so this was love at first sight!), the whimsical oriental artwork by Adrián Balastegui …also the original colour palette got a major injection of orange, when sometime in winter, while I was having a scaffold and a construction mesh outside my balcony for several months, I just felt like I needed a much warmer hue to balance off the "cool" combo of lavender and turquoise green.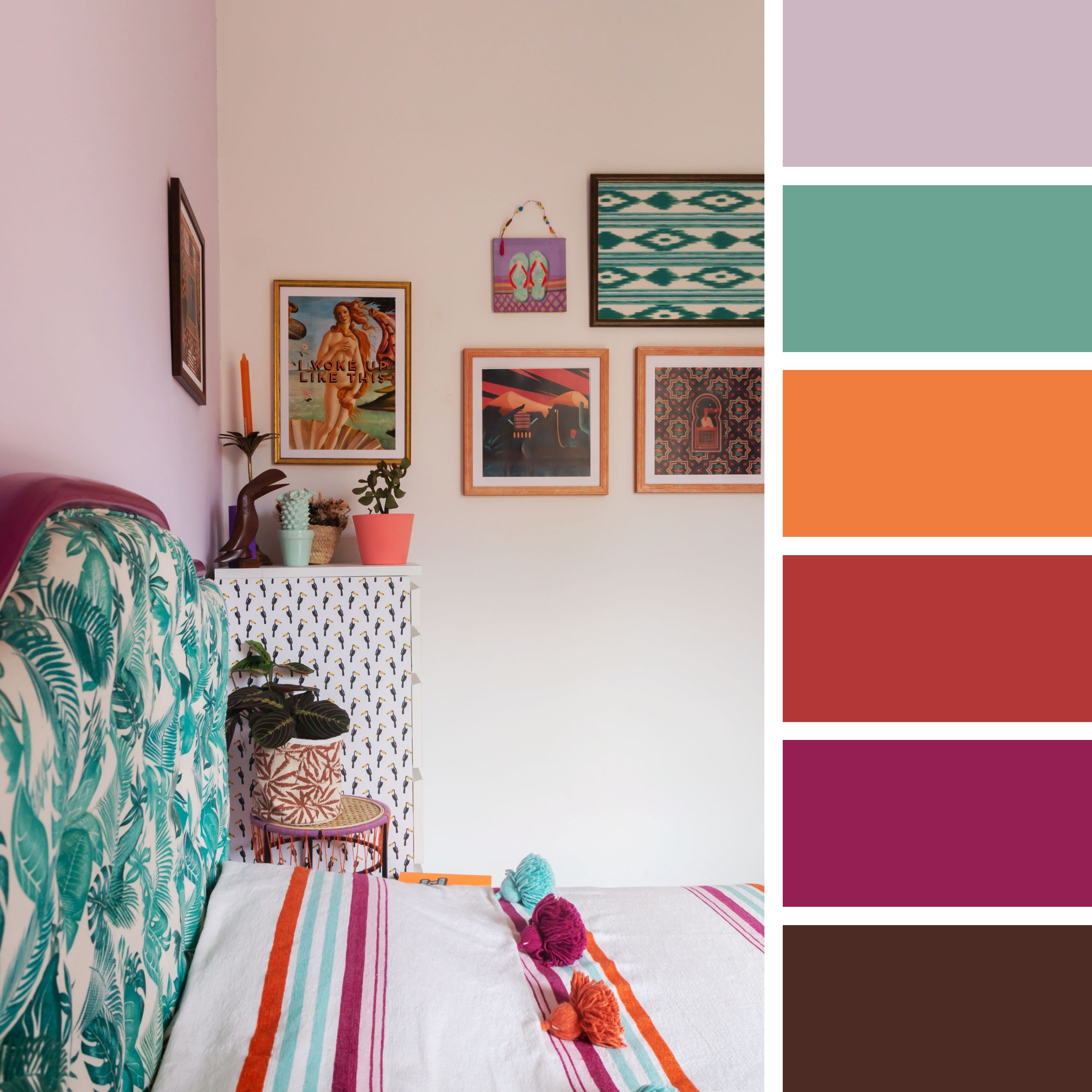 I'm actually thrilled with how different my bedroom looks, while all the big furnishings are still the same, I just gave them a revamp! This is what the room looked like before. I'm not going to pretend that I'm obsessed with recycling and sustainability, but it actually feels good to have created something new with relatively little money and without sending any big items to the landfills.
I dressed the white IKEA chest of drawers with peel and stick toucan wallpaper, painted the open storage wardrobe into a rich chocolatey colour and turned to LaShendaDeco for help to revamp by old headboard and the stool. I also added a couple of new planter-tables, which I revamped with coloured strings.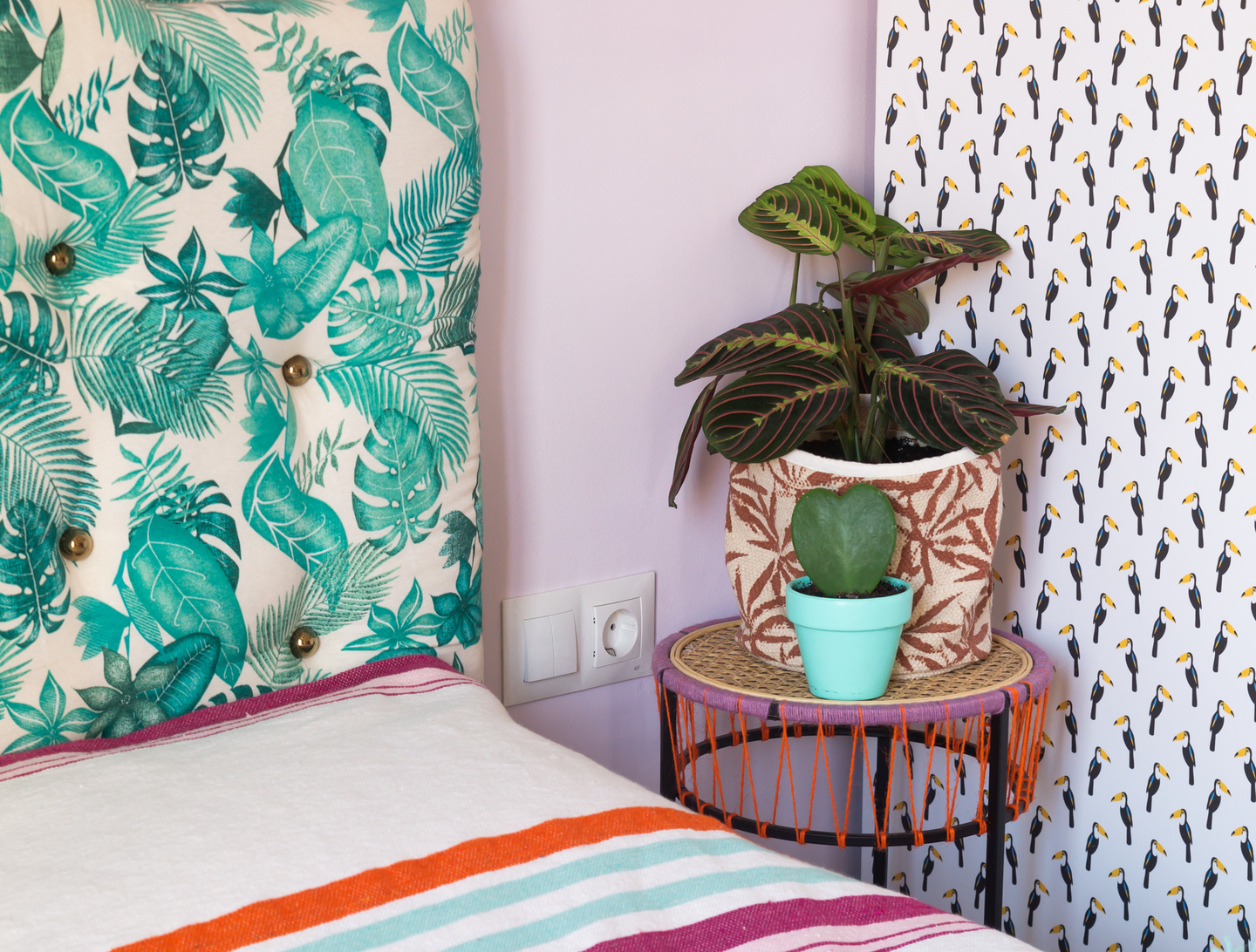 The headboard was plain wood, painted in bright yellow. I spent some time browsing the online shops looking for a new upholstered one, but we all know that tufted headboards tend to come in rather conservative colours. And then it occurred to me, that I could simply upholster the one I already had! The fabric only cost me 4 euros at the Encants market, unbelievable, right?! And there was enough for the stool too!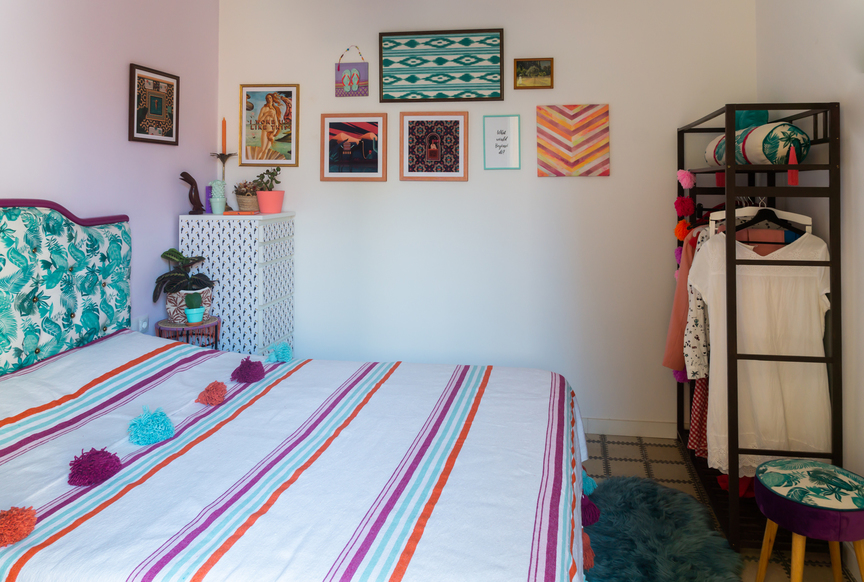 The bed throw was one of the latest additions. I initially got one in ivory colour complemented with a bunch of cushions, but it didn't quite work. I needed something that would pull the whole room together, so I found some Moroccan artisans on Etsy who made me a custom blanket with the colours I needed. I had my doubts on whether the colours on the photos were true to life, but luckily they absolutely were!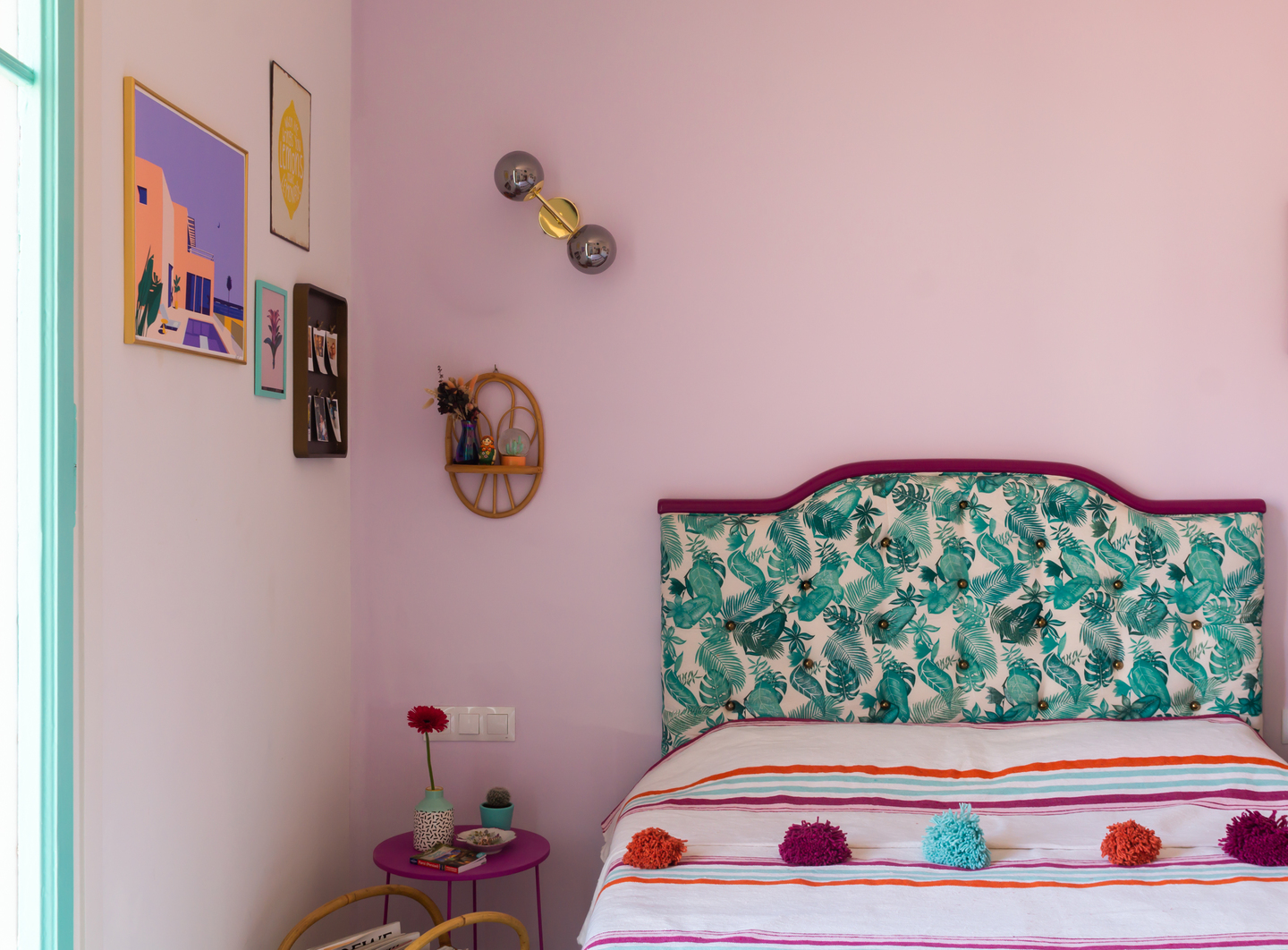 While redecorating, I also tried out a couple of new DIYs. My gallery wall isn't all graphic, the central element on top is actually a framed piece of a fabric, which is traditional to the Spanish isle of Mallorca ('Lenguas mallorquinas'). And I also made my first ever pom-poms, which was a lot of fun, and painted the balcony doors turquoise, which, frankly speaking, was more dusty, than fun, but it was absolutely worth it!
So that is it, after 14 months, my bedroom makeover is over. Here is a bunch of other photos, hope you like my new bohemian bedroom as much as I do, and feel free to drop me a line if you have any questions or comments.