Today's post is a confession of my love for colourful statement sofas. And at the end you will also find my roundup of 10 cool sofas now available in the Spanish stores, which are anything but black, grey or beige.
One thing I realized is that you can use pretty much any furniture or decor piece to introduce a brighter colour in your space, you just need to be bold enough. I'd avoid painting an entire wall red or another violent colour, because it's very unlikely NOT to drive you crazy quite soon. Other than that, louder hues can absolutely work even on big furniture, such as a sofa. A sofa is a focal point of living room, which often is the heart of your home, and a colourful or wacky patterned sofa can make a huge design statement.
In my Barcelona place I  opted for accent colour walls, and kept most of the furniture safe colourwise. My sofa is grey and comes from IKEA. But to be honest, I already can't wait for the moment to replace it with something cooler, and in a more vibrant colour, like navy blue.
I came up with the idea for this post as I was browsing Pinterest and caught myself pinning living rooms with these colourful statement sofas, because they make such a difference, don't they?! You can stick to neutrals in the accessories and other furniture, but a bold sofa always takes the space to a new level, just take a look at the images below.
Blue is the only accent colour in this room, and this blue sofa is allowed to really shine against the neutral background, nothing takes the spotlight from it. Photo credit.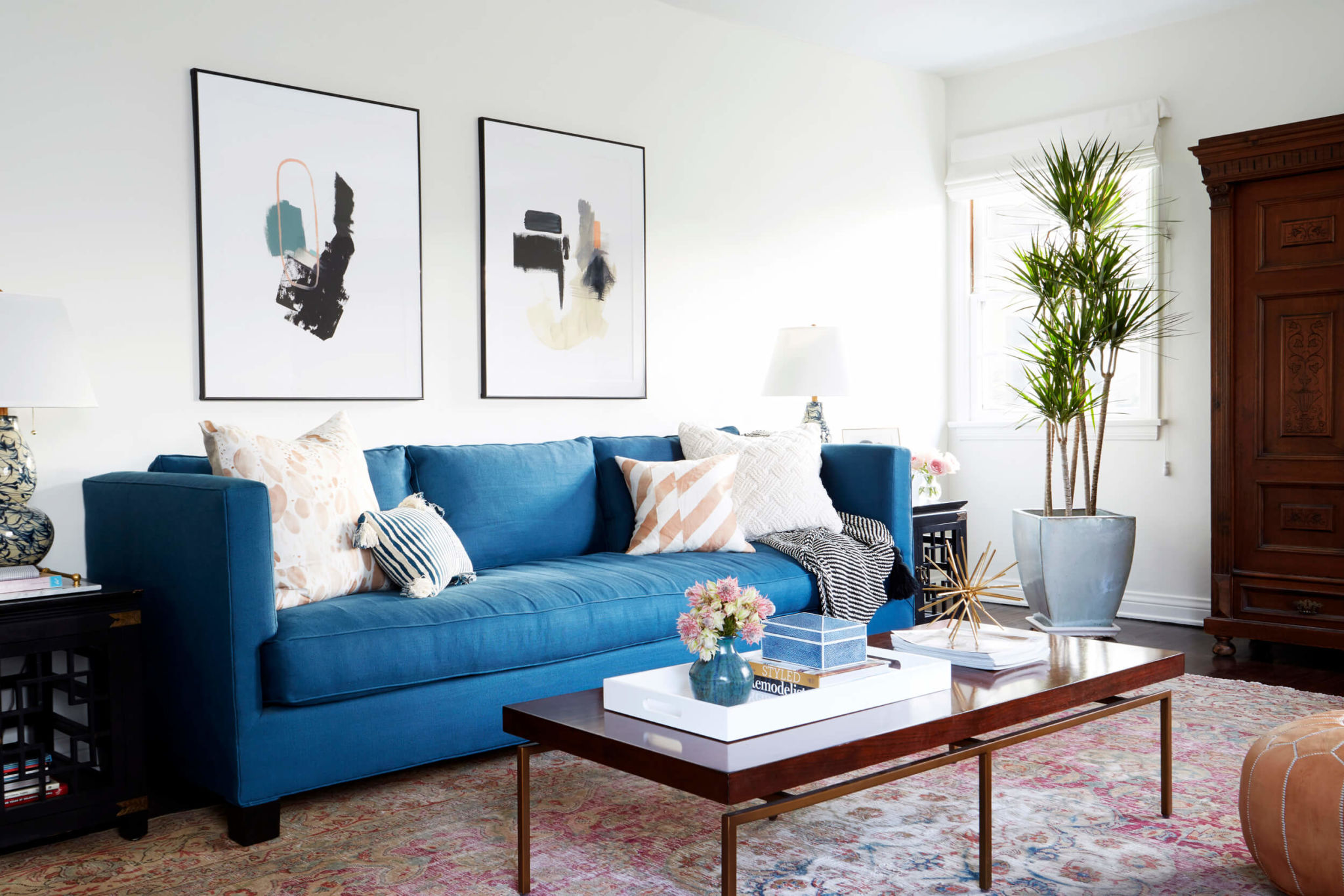 And another blue sofa: similar approach, but applied to a classic interior. Photo credit.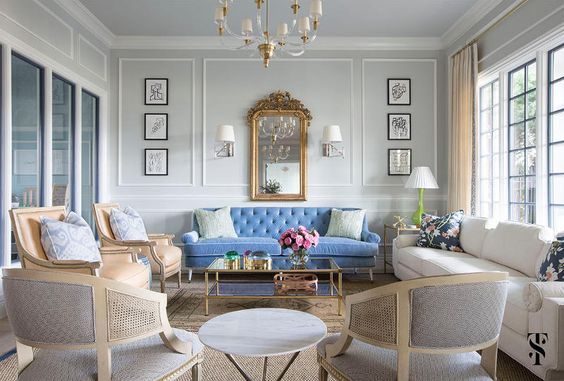 Going on to pinks. Such a delicate and feminine space on the first photo vs the bold eclectic space dominated by the neon pink sofa paired up with black and white geometry cushions on the second. (Photo credits: 1, 2)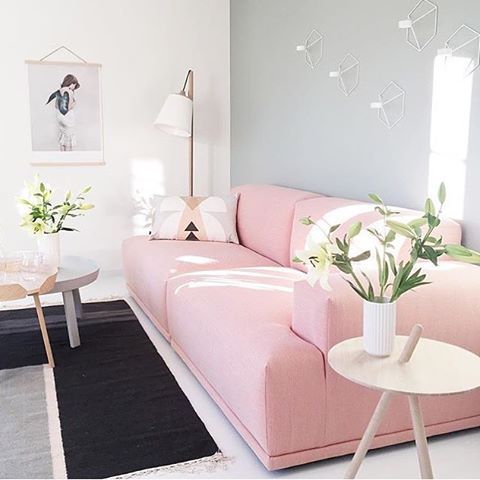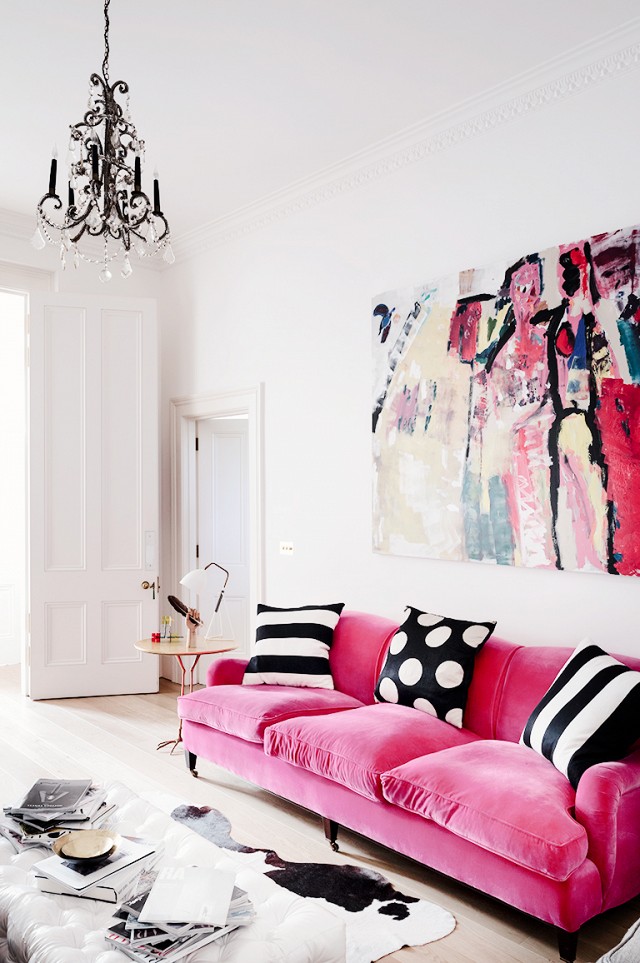 Another colour which is cheerful and works great on statement sofas is yellow. Which one do you like more – the busier looking quirky living room from the first image or the low-key retro from the second? (Photo credits: 1, 2)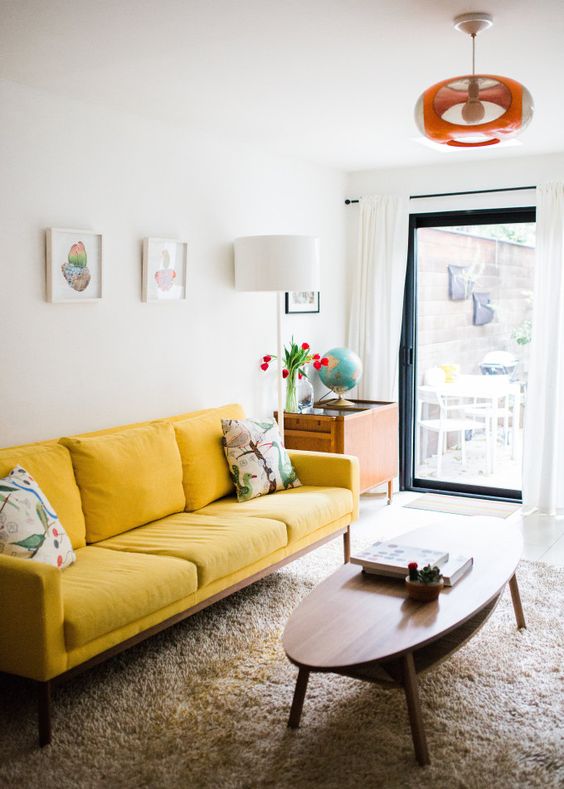 Green statement sofas are actually a favorite of mine. In my Moscow place I have a not so comfy, but absolutely stunning emerald green sofa, and emerald green is rocks, right?
This room is full of colour and patterns, but the vibrant green sofa still catches the eye, doesn't it? Photo credit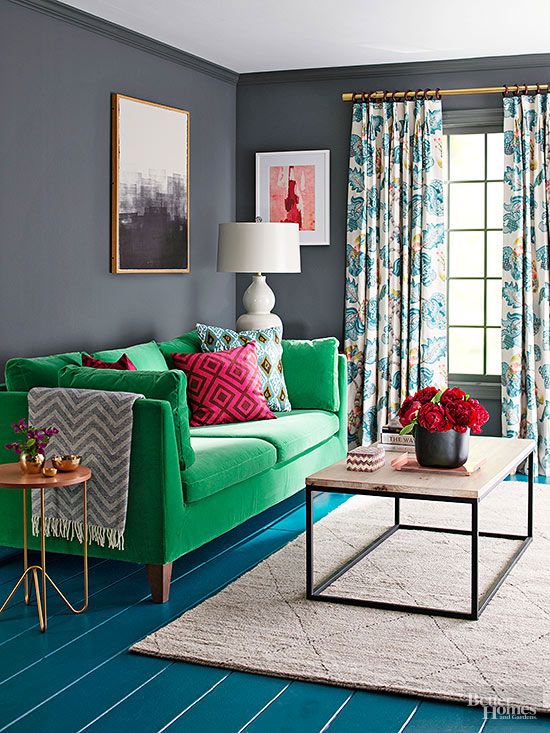 If you prefer a more low-key and earthy tone palette you might want to opt for terracotta. Photo credit.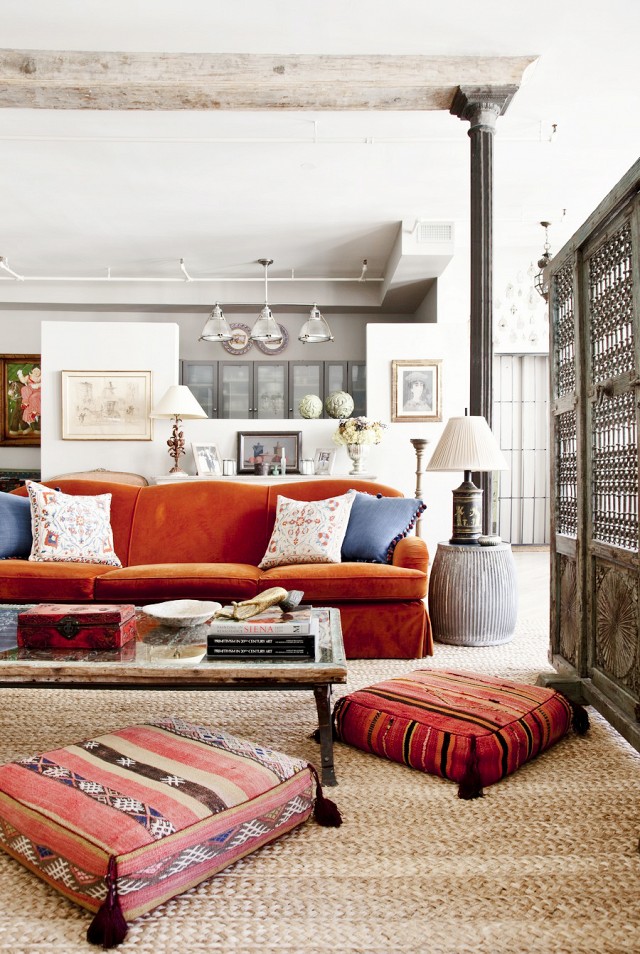 And don't forget about patterns. A piece of cake, anyone?! Photo credit.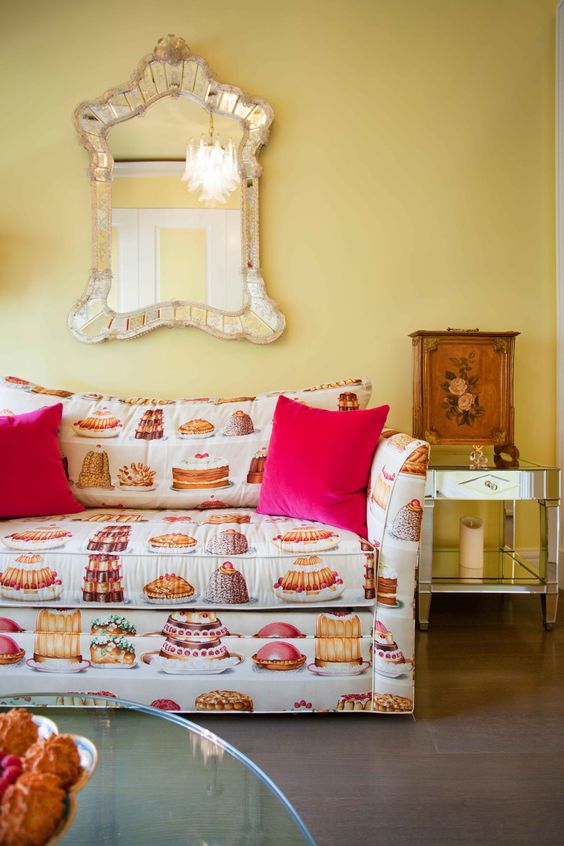 Finally comes my round up of colourful sofas that can make a huge and beautiful design statement in your living room! For those of you living in Spain, although some of the stores such as Habitat or Maisons du Monde are international.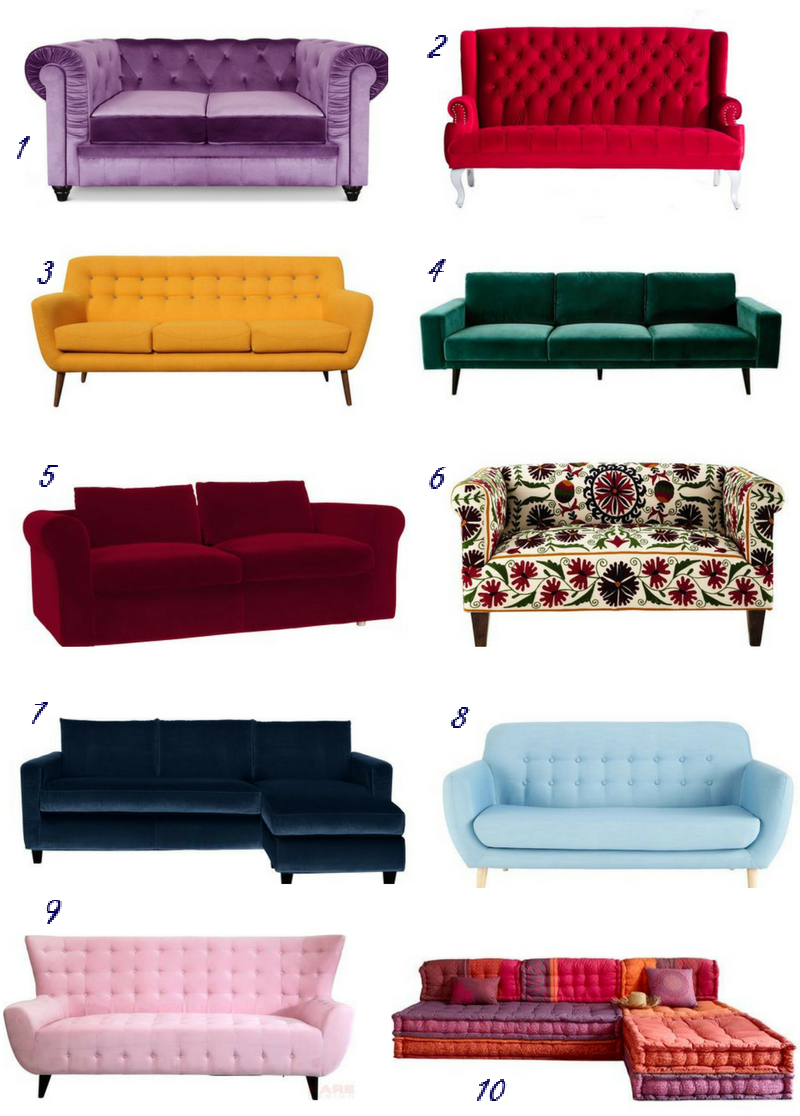 Purple velvet Chester-style sofa, Menzzo, 429 €
Red barocco sofa, La Oca, 1.299€
Larsson sofa, La Oca, 1.041€
Blue-green velvet sofa, Maisons du Monde, 999,90 €
Dark-red velvet sofabed, Habitat,  2.600 €
Floral-patterned sofa, Maisons du Monde, 599,90 €
Dark blue velvet chaise longue sofa, Habitat, 2.350 €
Nordic-inspired blue sofa, Maisons du Monde, 369,90 €
 Candyshop vintage sofa, PortobelloStreet, 1.539 €
Modular cornered daybed, Maisons du Monde, 799,90 €