Today I want to talk about wallpaper. Some say that wallpaper is outdated, that it is a thing of the past. Such belief is especially popular among my fellow Russians. If you were born somewhere in USSR, chances are that you grew up surrounded by these hideous Empire-style wallpapers, as did I. That particular style is very much outdated, I agree. But luckily, these days we have so many other wallpaper patterns and styles, that look both pretty and current with the times. I spent some time on Pinterest and put together a post which is meant to make you reconsider your disdain for wallpapers.
A very  popular design choice these days is accent wallpaper on one wall, that what instantly catch the eye and make a statement. Sometimes you fall in love with a pattern, but you just know that it is too busy and intense to cover the whole room, and eventually you will grow tired of it. Well, the solution is simple – just pick one wall, where your eyepopping wallpaper will shine.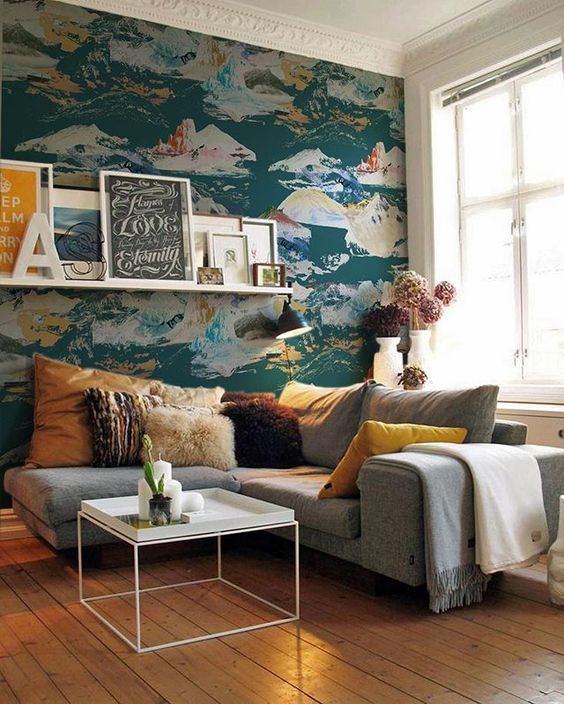 Image source
And you don't even need to use a lot of different colours – check out this dashing black & white colour combo! Glamorous yet conservative, and the striped statement wallpaper on this one wall really ties the room together.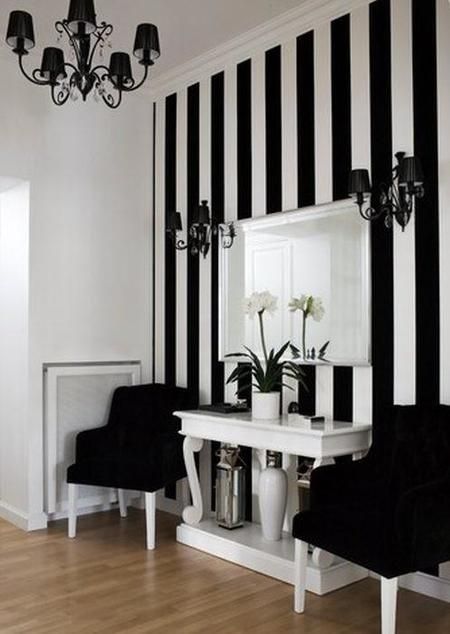 Image source
Floral motifs have always been in fashion, just think of English garden styles or Chinoiserie. These days you can find literally thousands of different styles – from small- and large-patterned, wild and exotic flowers, and don't forget that the botanical trend in interior design is only growing strong, with live plants and botanical-themed designs finding way into pretty much any interiors – from Oriental and Scandi minimalism to eclectic boho and loft-style spaces – plants are literally everywhere, and wallpaper is no exception.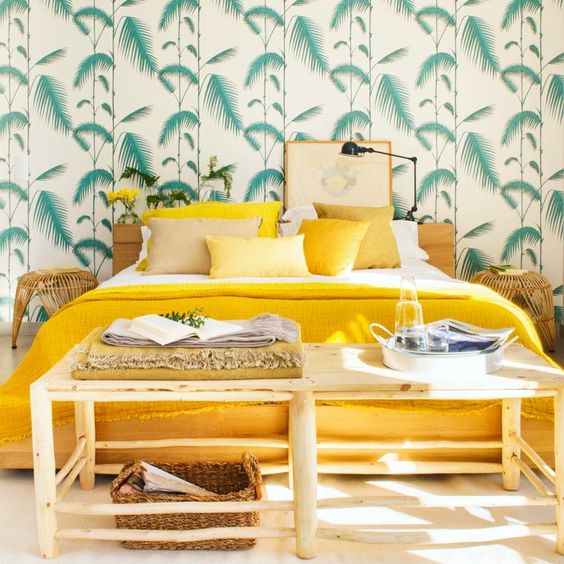 Image source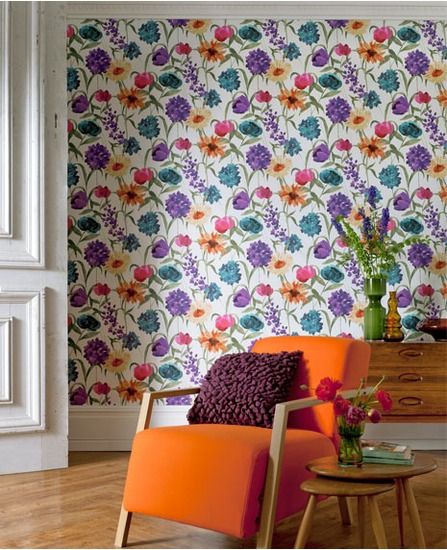 Image source
One trend in floral wallpapers deserves a special mention. Dark and large scale floral prints can create a very dramatic and evocative effect. Though I'd say they work the best when you have a lot of natural light in the space, otherwise they can wind up too moody and depressing, but maybe someone not as obsessed with cheerful colours won't agree with me. Anyways, if you're smitten with this style,  you should take a closer look at Ellie Cashman, a Netherlands-based designer behind it.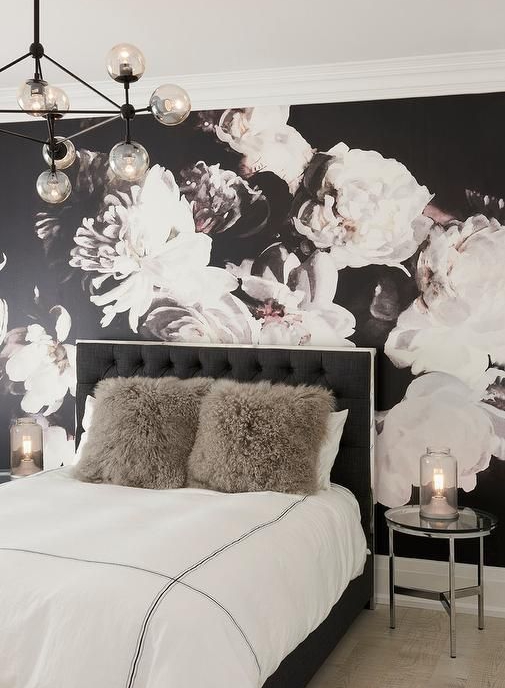 Image source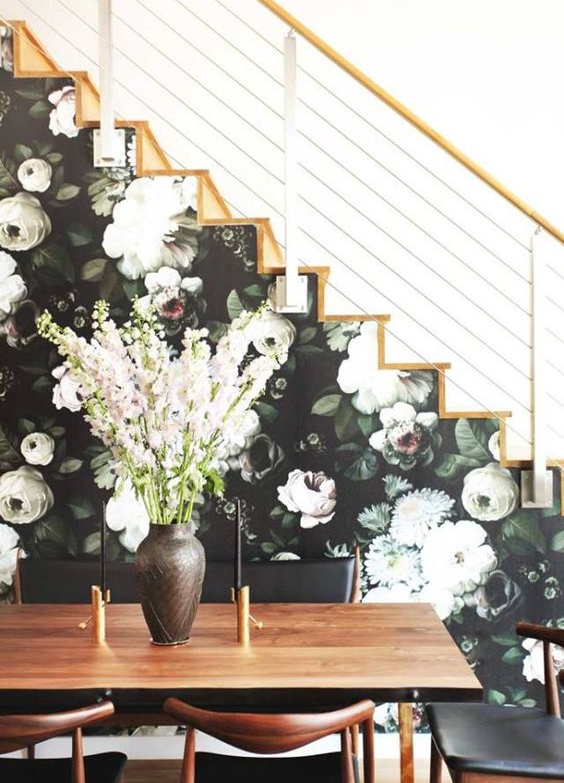 Image source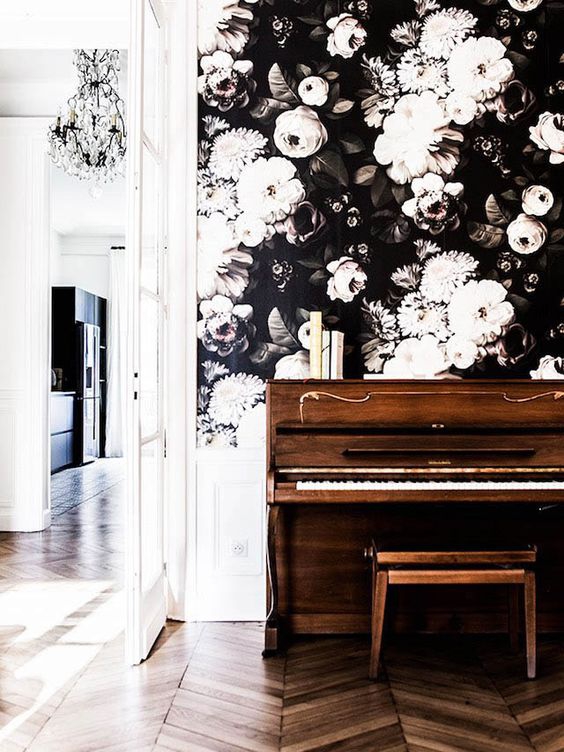 Image source
Bathroom may seem like the least fitting space to use statement wallpaper, because of humidity, poor ventilation and the fact that most wallpapers are not water-resistant. However, if you give it some proper consideration and make sure that your wallpaper will be mostly safe from water splashes and other threats, you can create an incredibly beautiful bathroom / powder room, just take a look at the pics I found the most inspiring.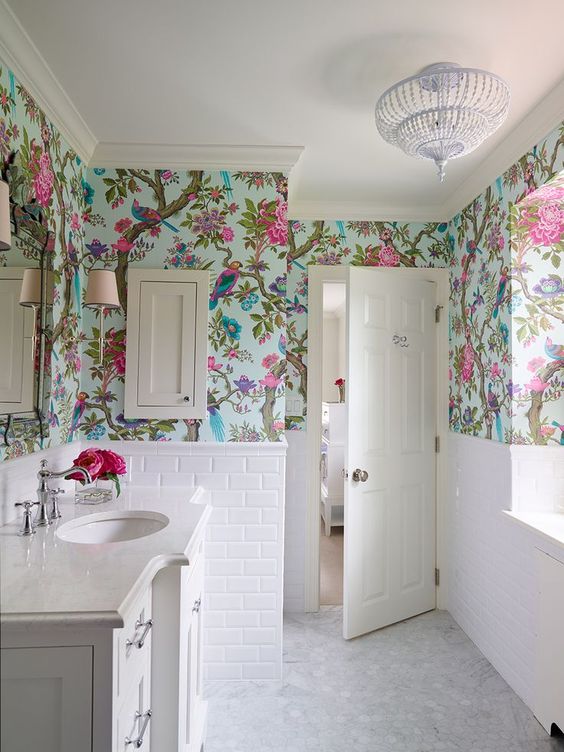 Image source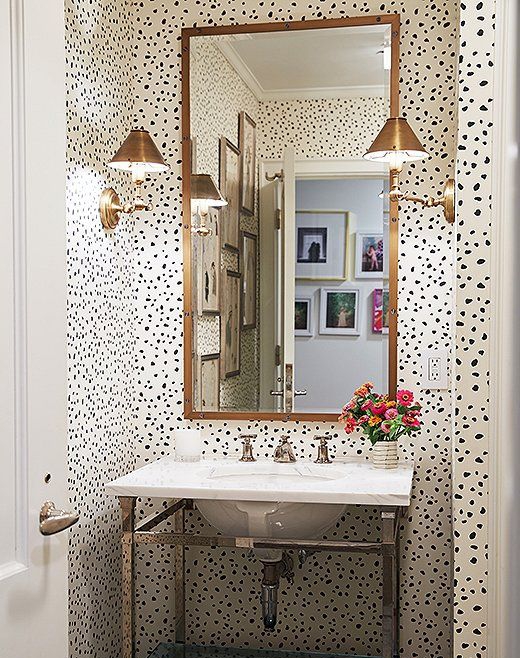 Image source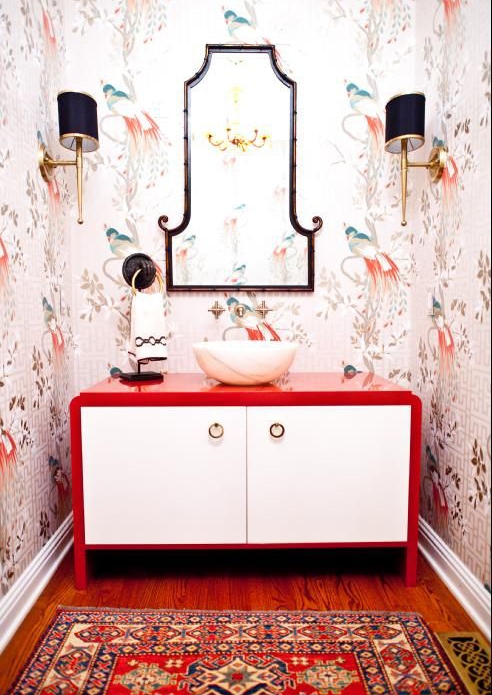 Image source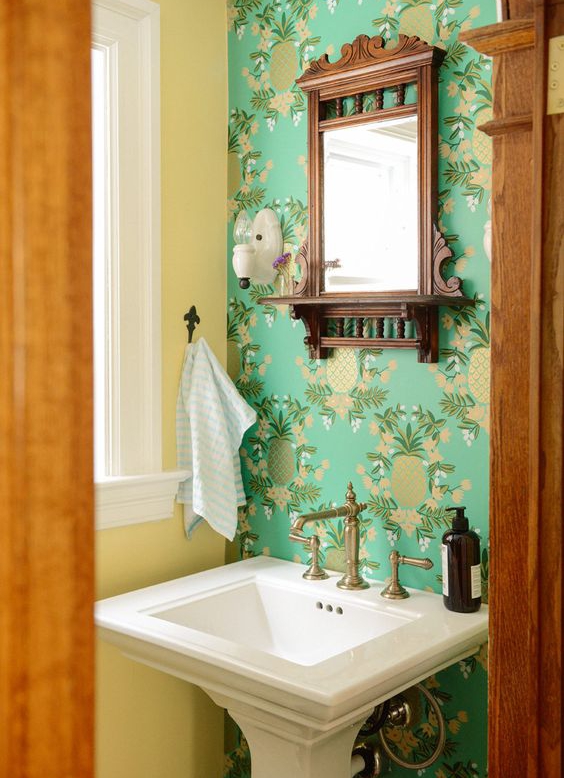 Image source
Basically, you can work wallpaper into pretty much any space in your house. This blue entryway with a pronounced retro feel about it, isn't it absolutely gorgeous?!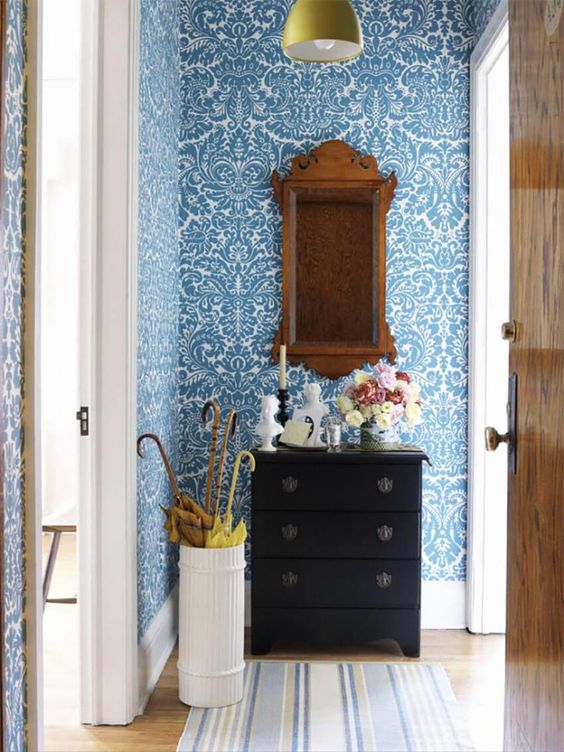 Image source
And how about using some beautiful wallpaper in the kitchen? Go bold and wild like authors of this bohemian kitchen did, or make a piece of statement wallpaper the highlight of your white kitchen. Or come up with a different solution, what need is there to tame your imagination?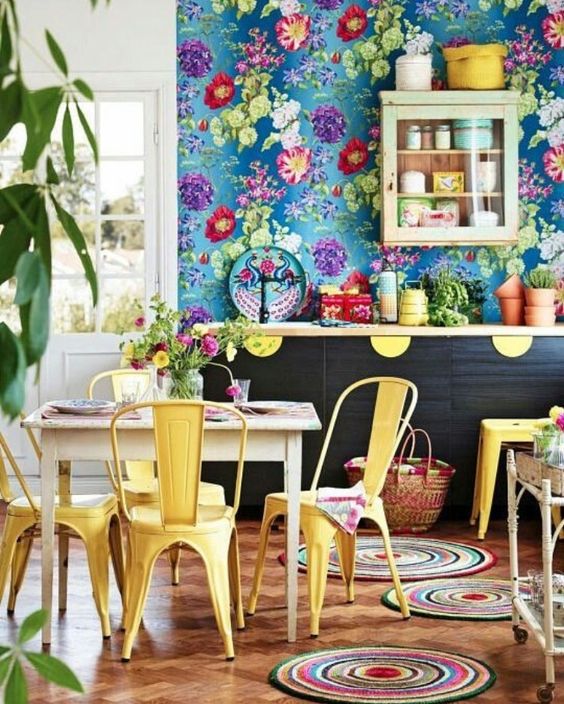 Image source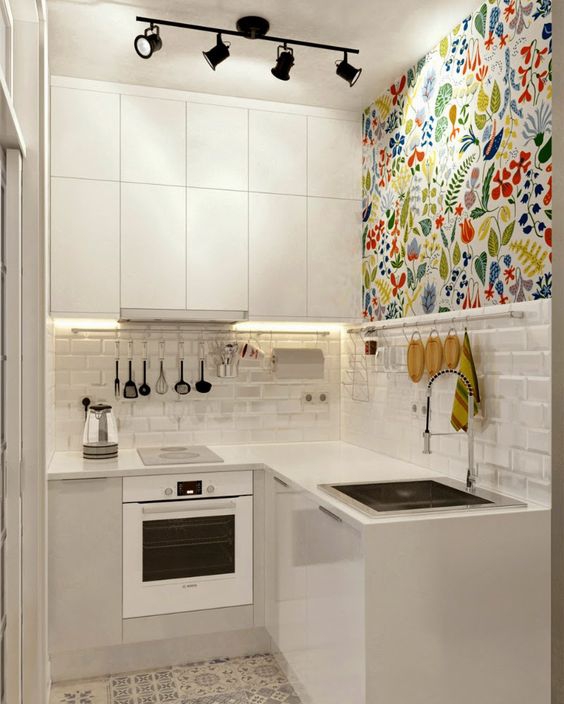 Image source
Also, just look how beautiful this lush floral wallpaper looks in a nursery, turning it into a heavenly garden.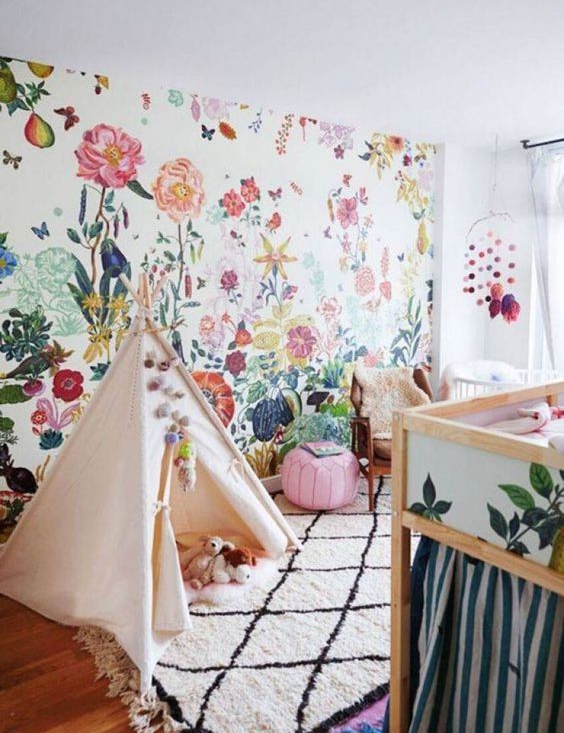 Image source
If you are not afraid of hot trends,  cactus pattern is cool option too. It looks playful, but more low-key and gender-neutral.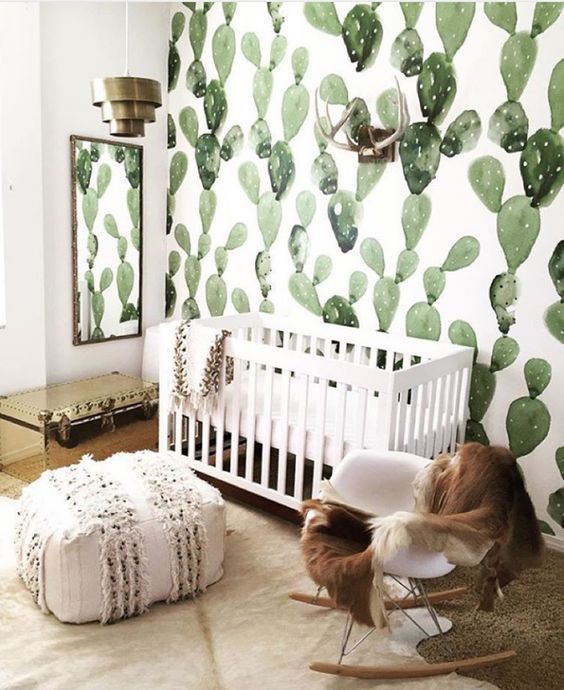 Image source
Finally, beautiful statement wallpaper has more use than just to be put on the walls. If you're into DIY, you can create unique furnishing by upcycling old stuff. Closets, cupboards, sideboards, I've even seen tables made over with wallpaper. Personally, I'm now looking to upcycle a shoe cabinet from Conforama, found a lot of cool choices on Etsy, so if all goes well, pretty soon I'll share with you my new attempt at DIY and will also talk about the most prominent local wallpaper brands. Because even if you had doubts, I have just convinced you that wallpaper is anything but outdated and old-fashioned element of interior design, right? 🙂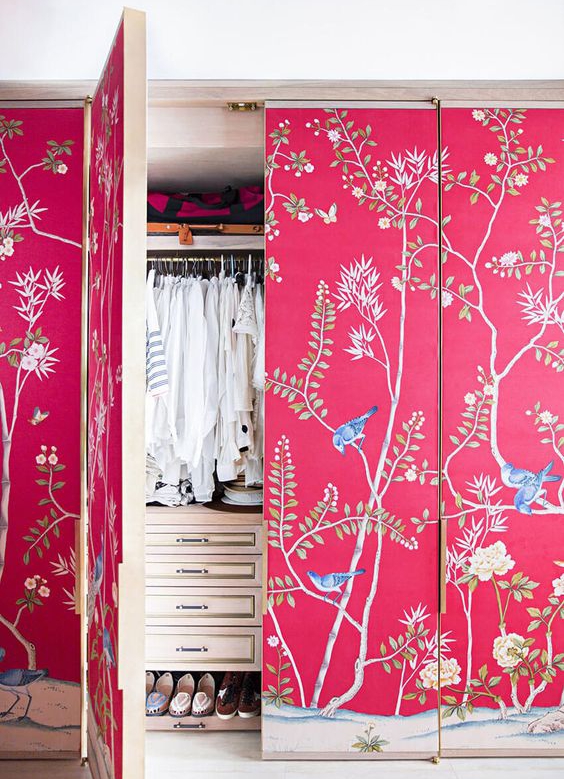 Image source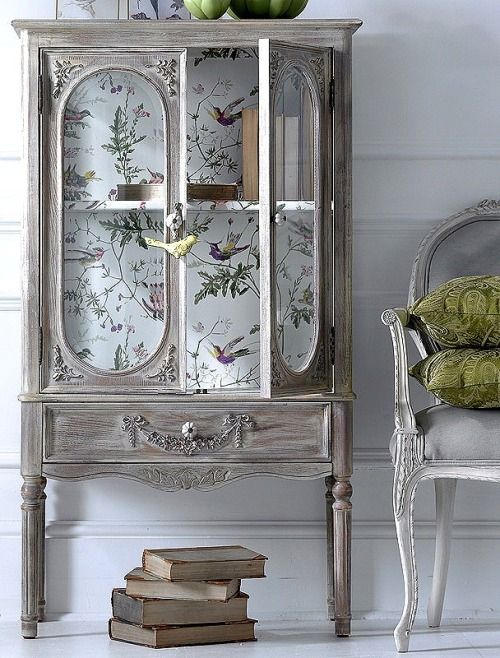 Image source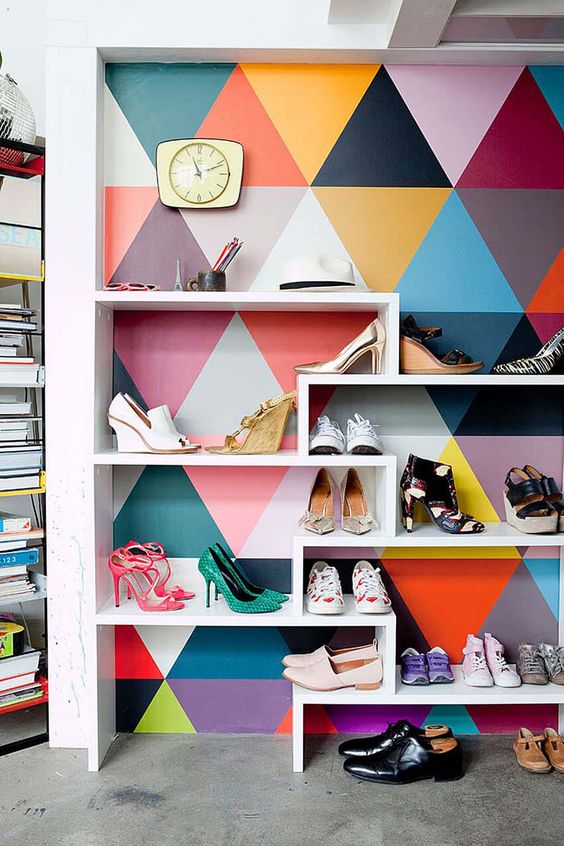 Image source