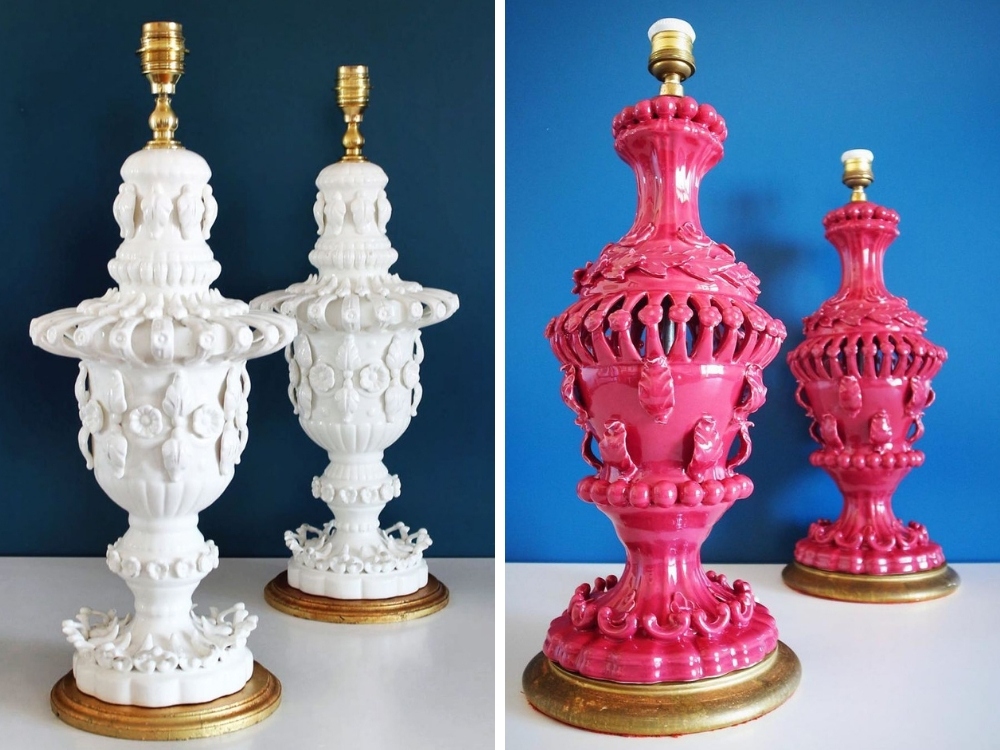 Are you a regular reader of Architectural Digest? Or maybe you simply enjoy popping into an antique shop every once in a while, and you live in Spain? Then you most likely have already come across these distinctive table lamps with floral or fruity patterns. Ever wondered where and when they are from? Make yourself comfortable, because today I'm going to tell you everything about them!
Commonly known as Manises ceramic lamps (lámparas de cerámica Manises), they were made in the middle of the 20th century in the Spanish town of Manises (Valencia), so they are not antiques, but definitely vintage. The pottery traditions in this region date back to at least the 3rd century B.C., and in the 14-15th centuries the pottery made by Manises artisans was exported to high-profile customers all around Europe, including the Vatican. In the 21st century, Manises is still an important center of pottery and ceramics, although the industry has significantly downsized from 1941, when it comprised 80 factories, employing around 5,000 workers.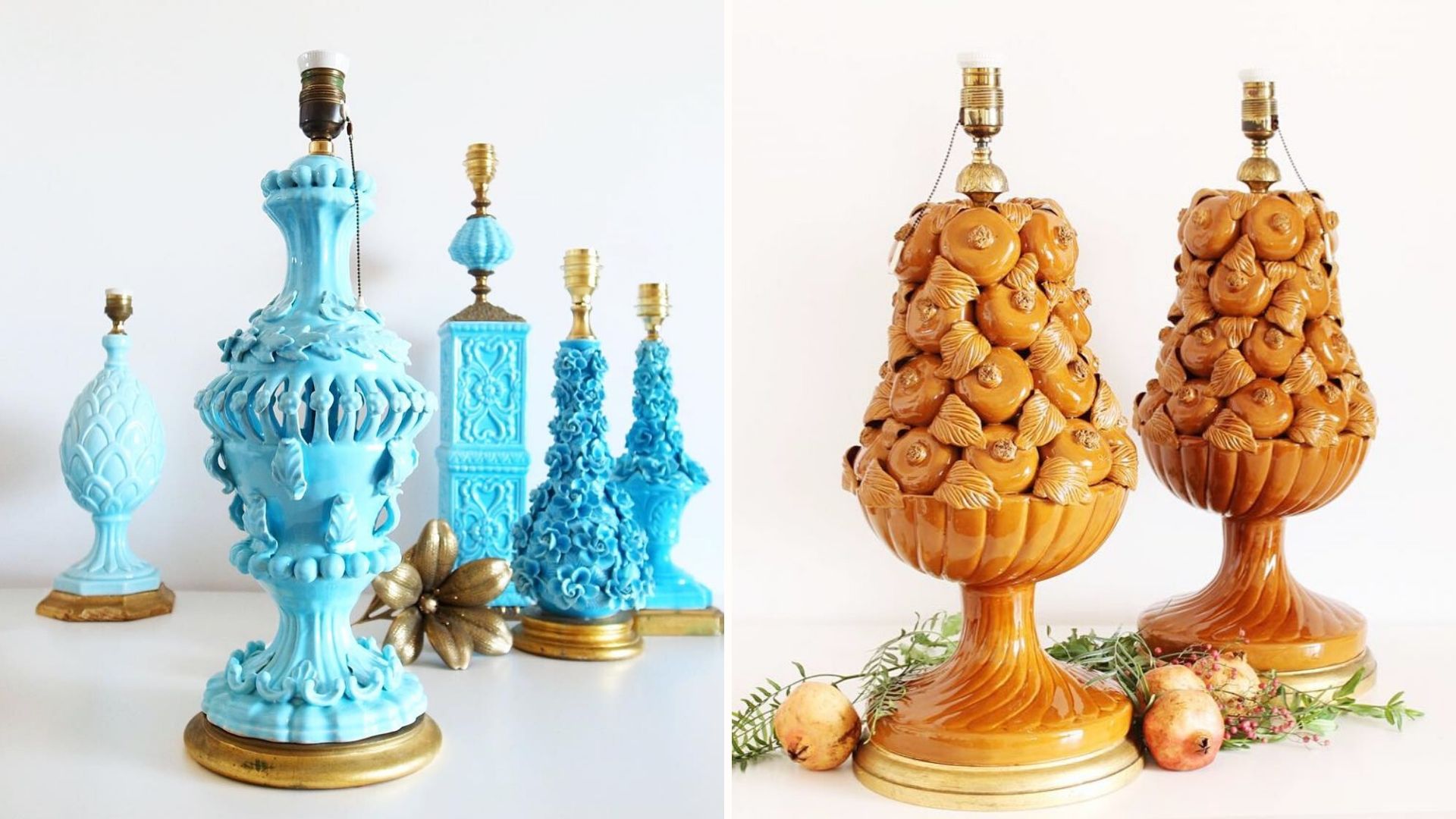 Photos of the lamps are courtesy of the online shop El Nido Singular.
But let's get back to the lamps. They come in different sizes and colours – white, pink, raspberry, different shades of blue, green, yellow, brown, and draw inspiration from different fruits and flowers – apples, pomegranates, peonies, roses, or calla lilies. Prices for a Manises lamp vary roughly from 150 to 400€ – not exactly cheap. Because even though they may seem too ostentatious for the age of IKEA that we live in, but they have proven themselves a great fit for eclectic spaces, hence their popularity with designers, who are not afraid of mixing styles and really shaking things up in their interiors.
A few interiors incorporating a Manises lamp…
It just seems appropriate to start with a less sophisticated and more colourful interior, so here is an image of my living room. I bought my Manises lamp off Wallapop (albeit from a local vintage decor shop), and for a year or so I had it stashed, even considered selling it, because originally, pink wasn't one of the colours I had picked for this space, as you can see from the home tour I posted shortly after starting this blog. But there came a time when I needed a change, and I realized that pink could and should be that change. So I bought a pink rug and finally was able to bring my Manises lamp into the spotlight it deserves. To be completely honest, this is not a very fresh image, I have replaced some of the decor, which I'm yet to show you, but the lamp is still there!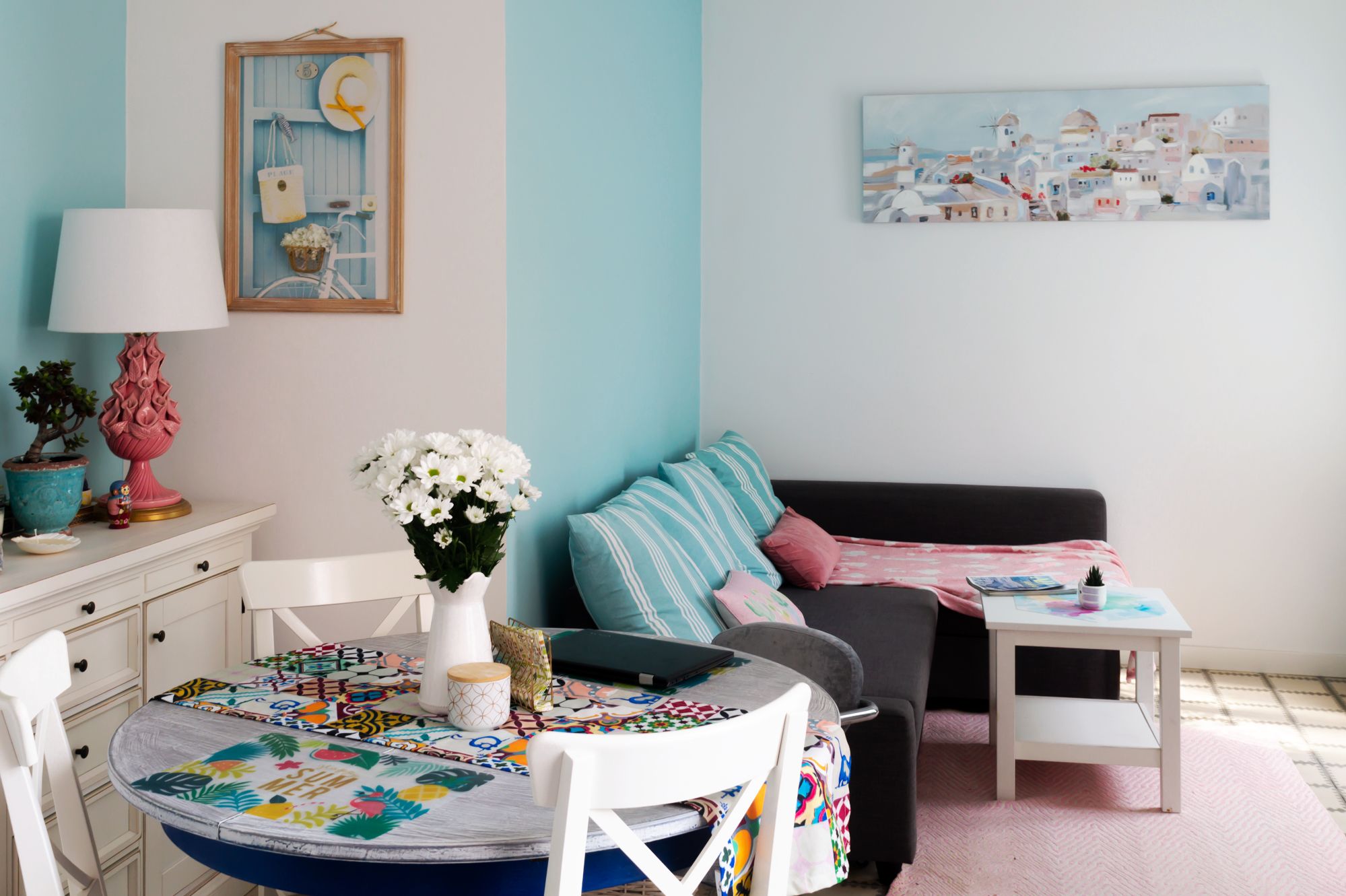 I also looked up a few other apartments, featuring a Manises lamp. Normally, such spaces are very eclectic and all around gorgeous, if you ask me.
Subtle blue lamp paired with a darker tone of blue chest of drawers in a bedroom taylored by Madrid-based designer Carmen Rebuelta.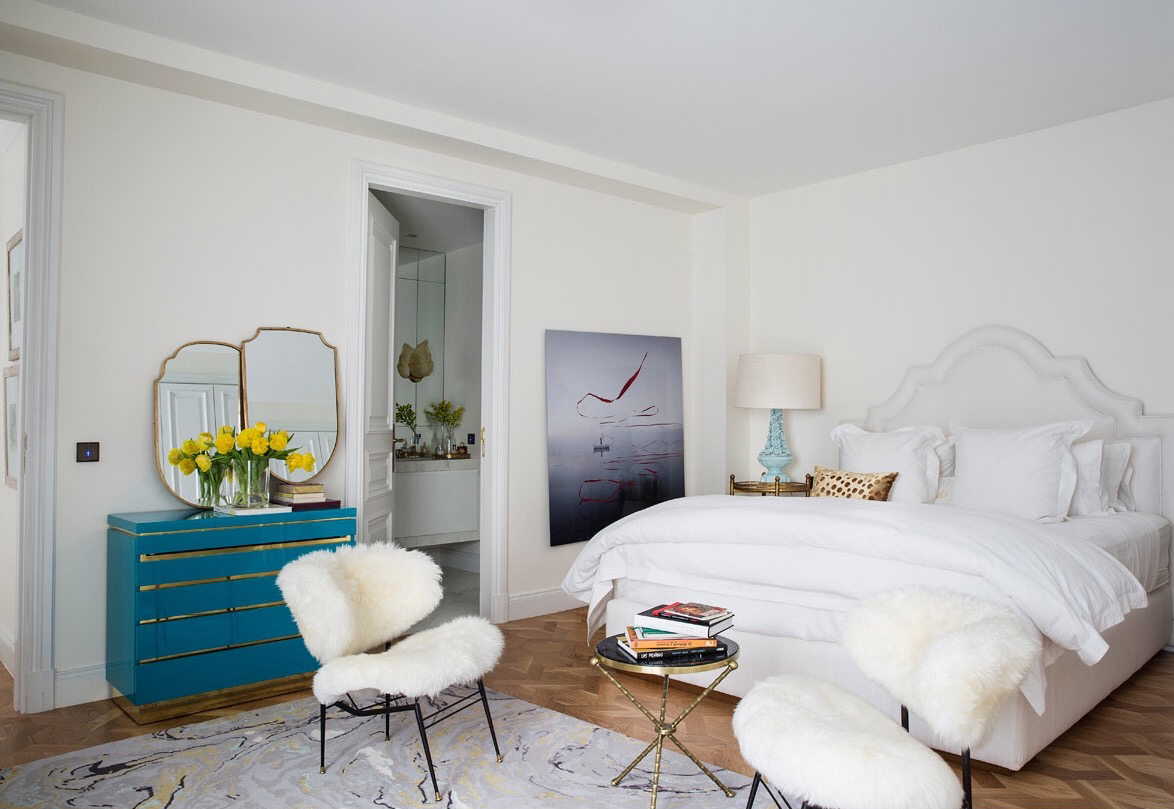 * * * * * * * * * *
Drama with a touch of glam: Classic white Manises lamp with a black shade in an eclectic Barcelona apartment featured on Apartment Therapy.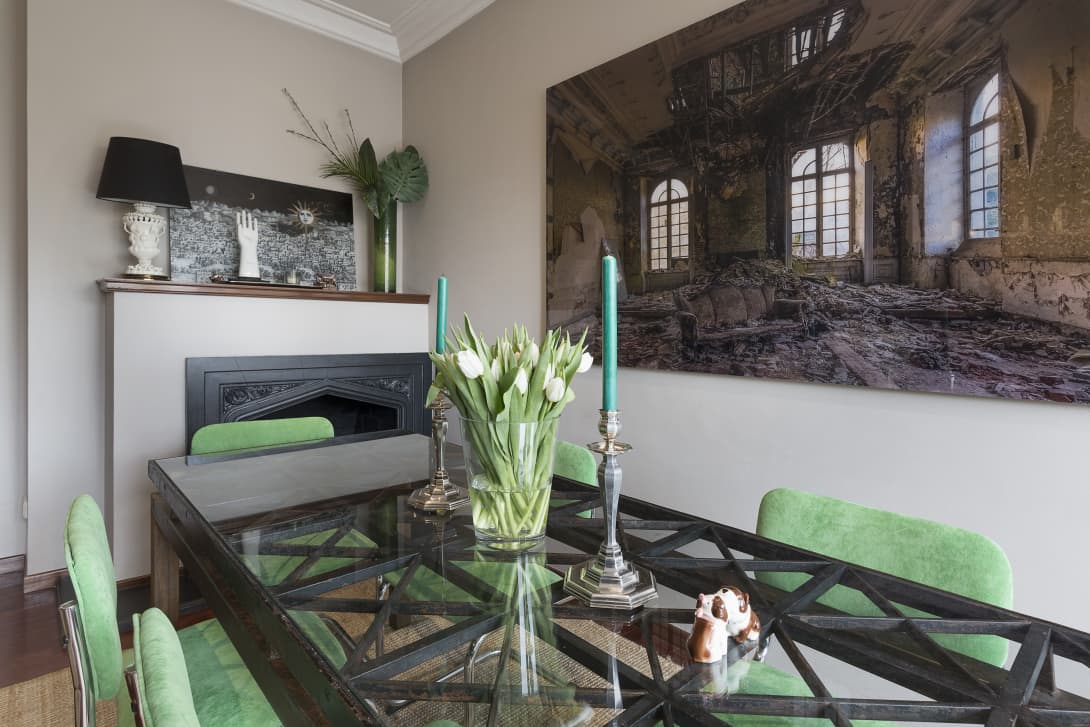 * * * * * * * * * *
Big white Manises lamp from Casa Decor 2018, part of a project designed by Virginia Sánchez and Moisés García.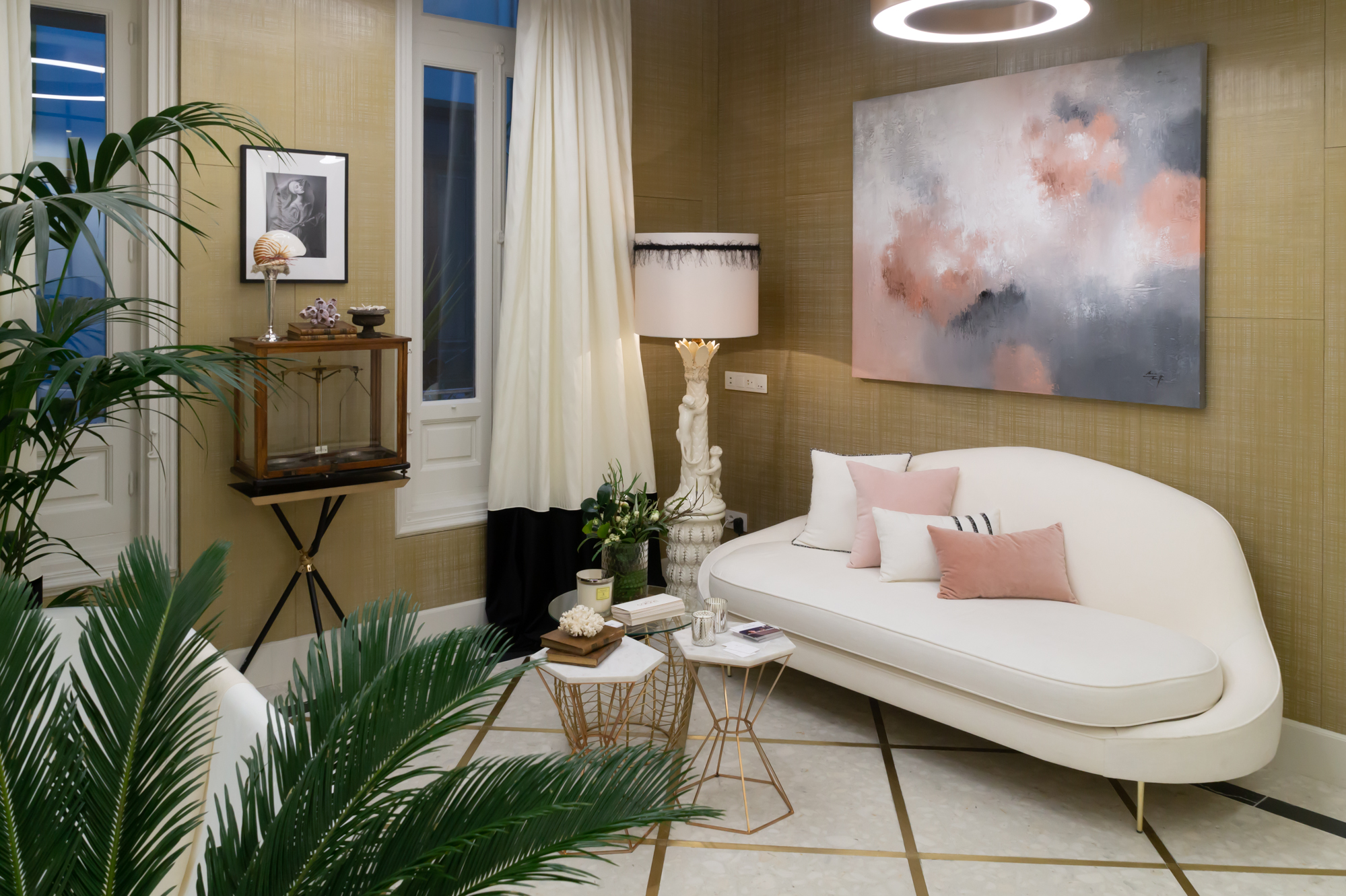 * * * * * * * * * *
Caniche lamp in a mind-blowingly eclectic apartment in Barcelona featured on AD Spain. But where are the flowers and leaves, you wonder? Well, not in this case, but this is Mid-Century Manises lamp too! And there's a matching one shaped as a cat.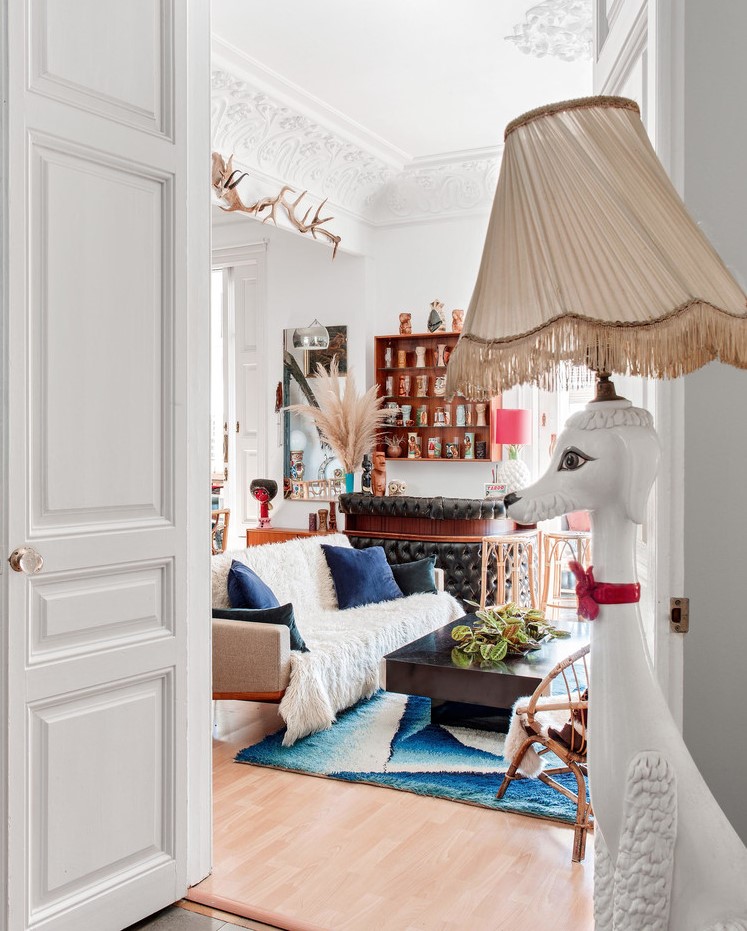 * * * * * * * * * *
Small azure blue Manises lamp with contrasting red shade from a Valencia home blending Russian and Spanish cultures.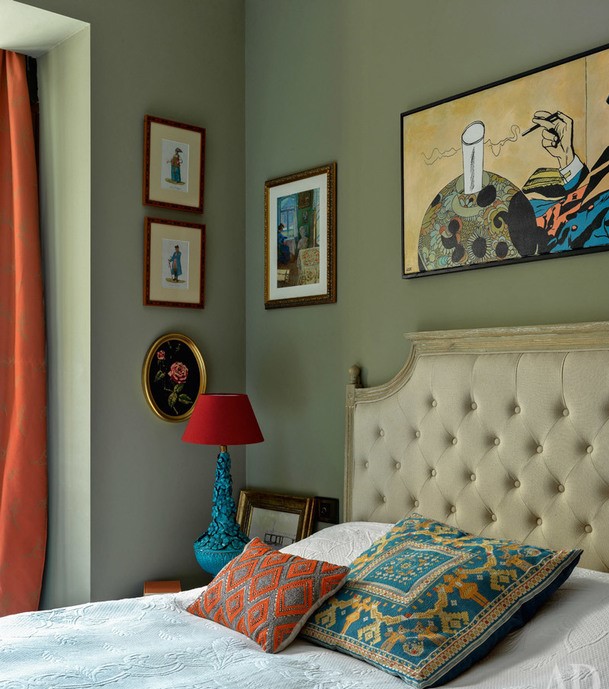 * * * * * * * * * *
For more Manises inspo, follow @mikasitavintage on Instagram, a proud owner of a huge collection of Manises lamps, including these two beauties: