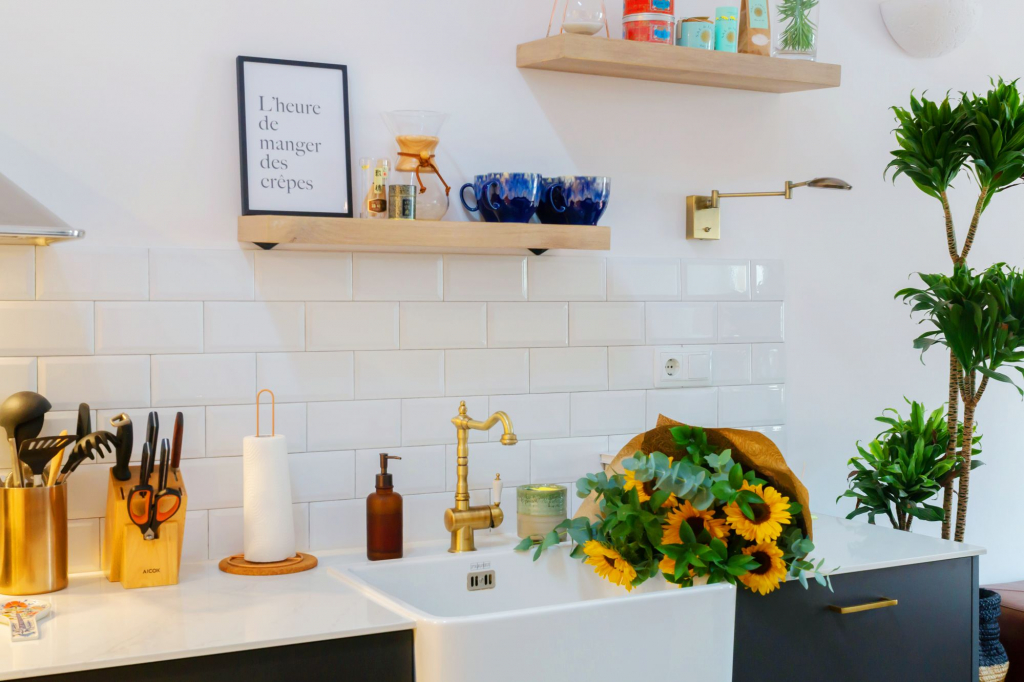 A couple of digital nomads – Jordanna from Canada and JC, from France, met in Toronto, then moved to London, and finally settled down in Barcelona, where they bought their first home together. Their duplex apartment in Barcelona's trendy Gràcia neighborhood can boast an attic and a rooftop terrace, which was one of the positive deal breakers for the couple, in addition to the calming energy of the flat and that it clearly had potential.
The couple have a dog called Lomu, a mix of a Labrador, Staffie and Rottweiler, who they brought along from Toronto. Interestingly, Jordana works for Rover, a dog walking and boarding social network.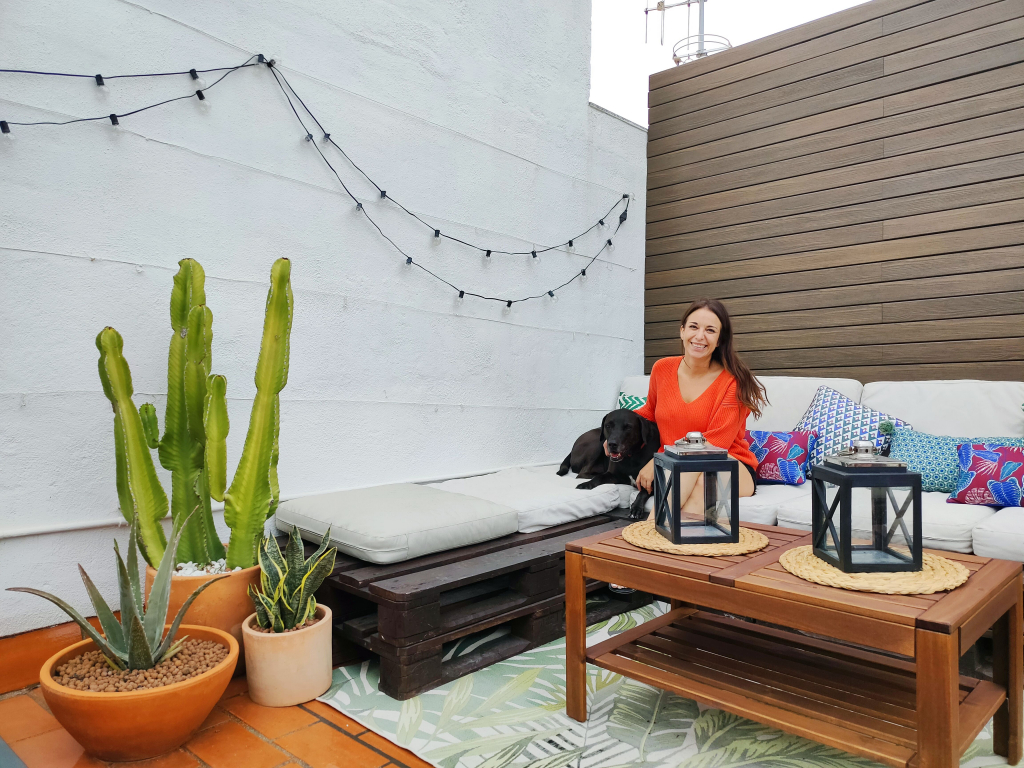 A retreat in the center of bustling Barcelona
Author of some very colourful artwork of her own, Jordanna chose to keep the colour palette low-key for a more relaxing feel. She wanted their new home to feel like a retreat, where they can escape the hustle and bustle of living smack in the center of one of the most densely populated cities in Europe and their busy jobs. Both Jordanna and JC are drawn to materials and items that bring a sense of calm and balance – wood, stone, clay and lots of plant. However, Jordanna believes at some point she will dedicate an entire wall to her vibrant art. But the general idea was to create a gender-neutral space with an urban hotel vibe, but very cosy.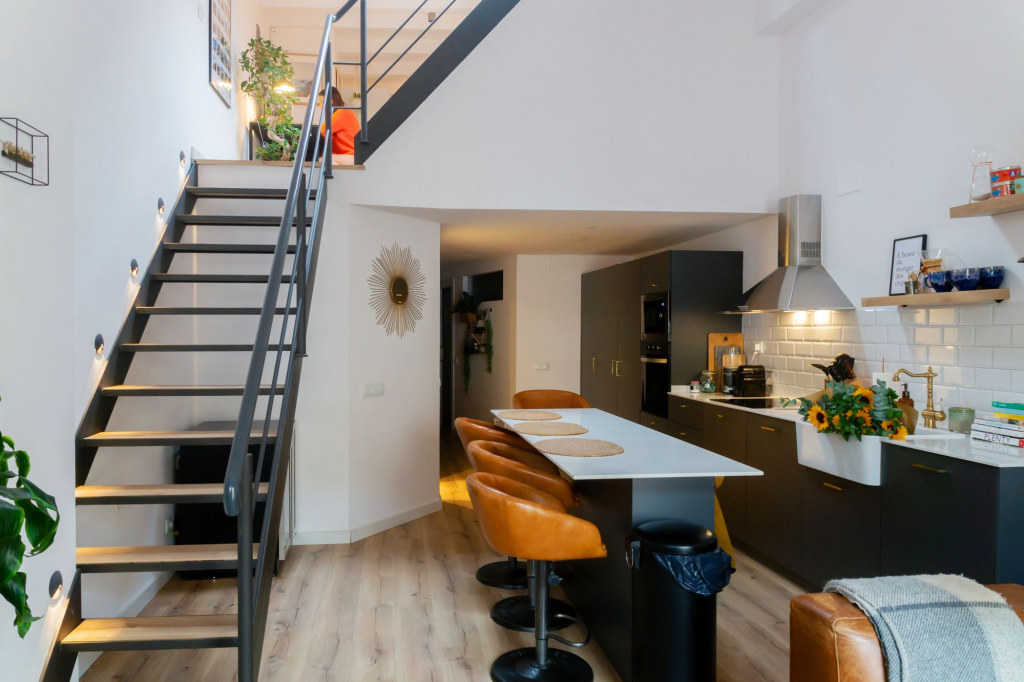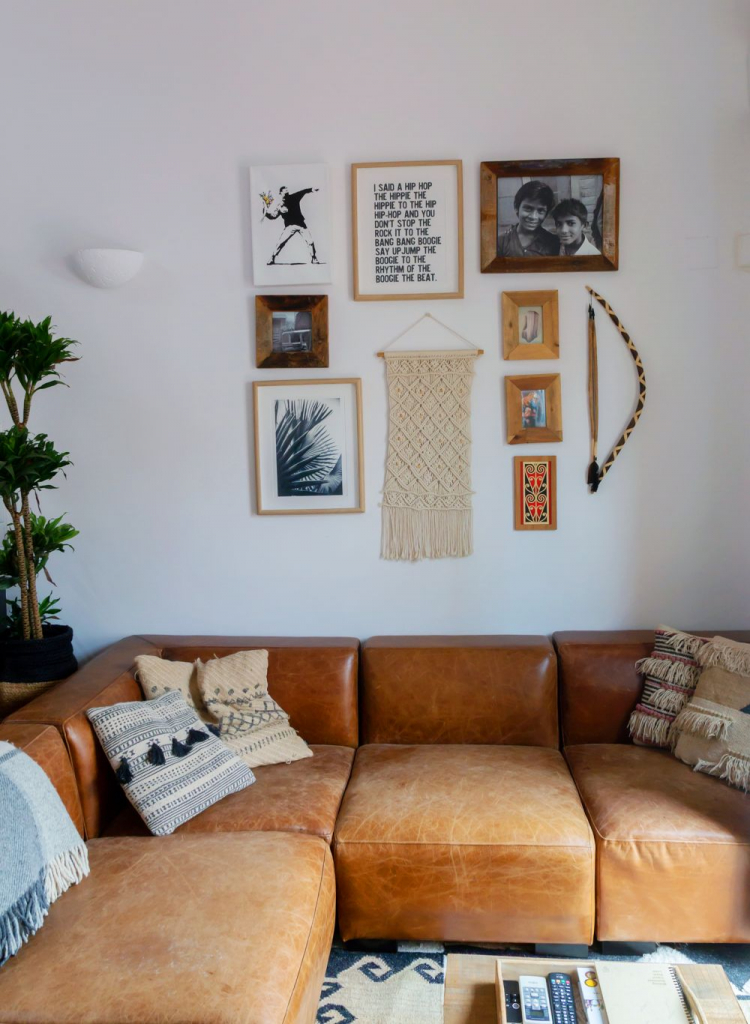 Open kitchen and open shower
The first floor of the apartment accommodates an open kitchen-dining-living space, and master bedroom. As both Jordanna and JC work from home, they each needed a home office of their own. JC's is in the bedroom, and Jordanna set up her work-lair in the attic, in front of the open shower. Jordanna says she initially was hesitant to have the open shower upstairs with no door or curtain, but being able to tile the entire wall across without breaking the flow by a door or curtain really looks beautiful. I'd also add that it's sexy, this is the word that came to mind when I first saw it.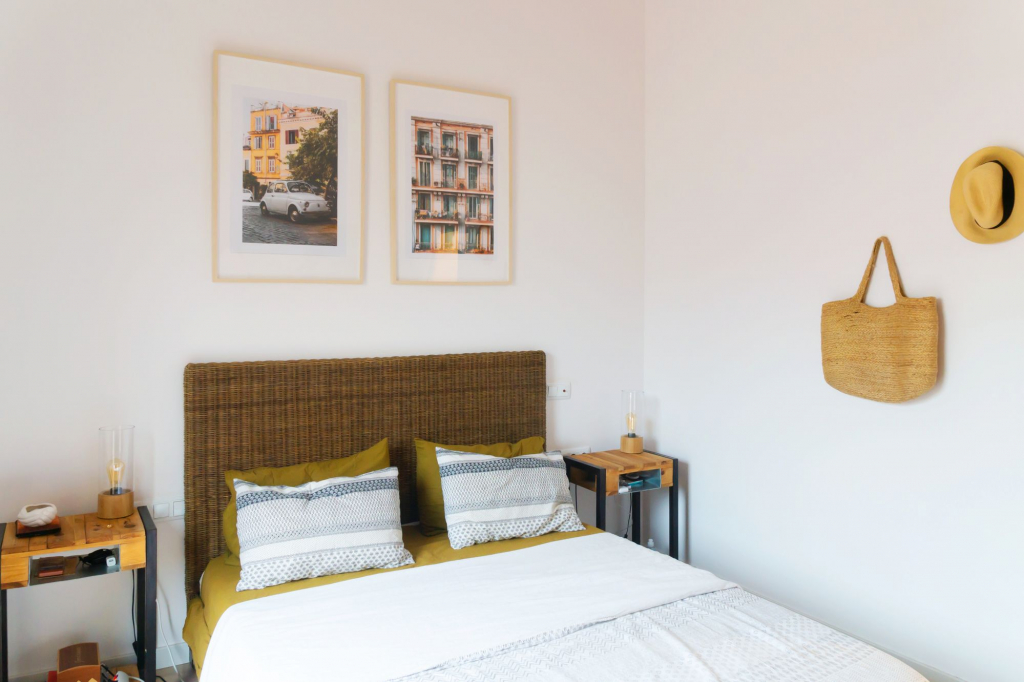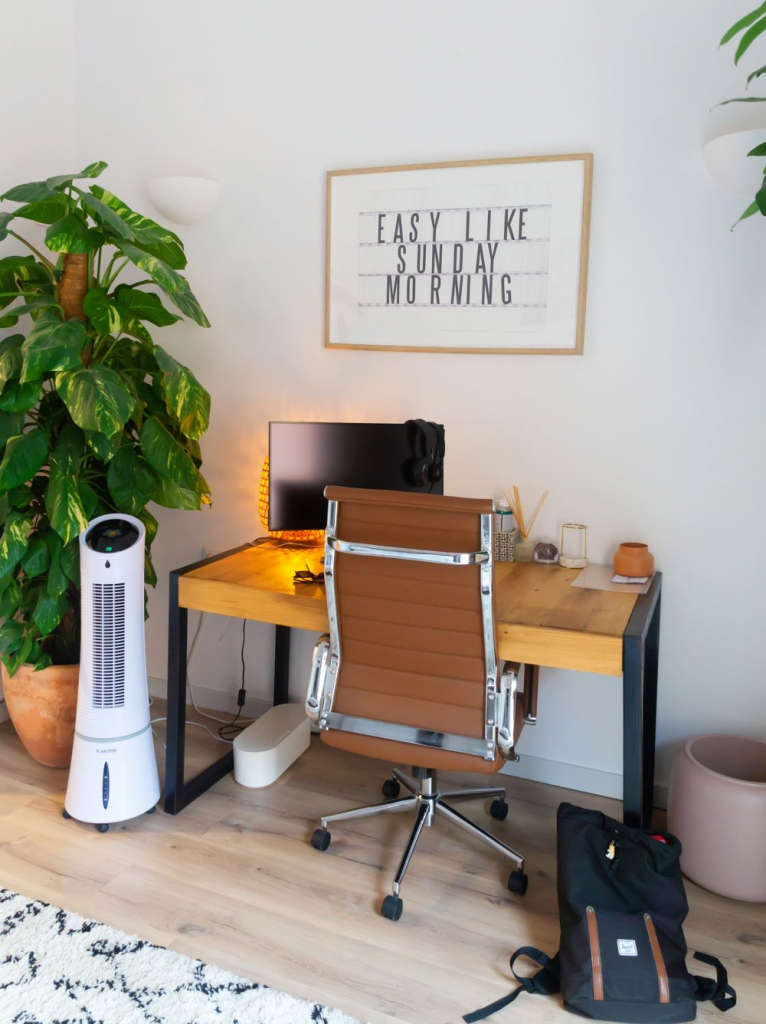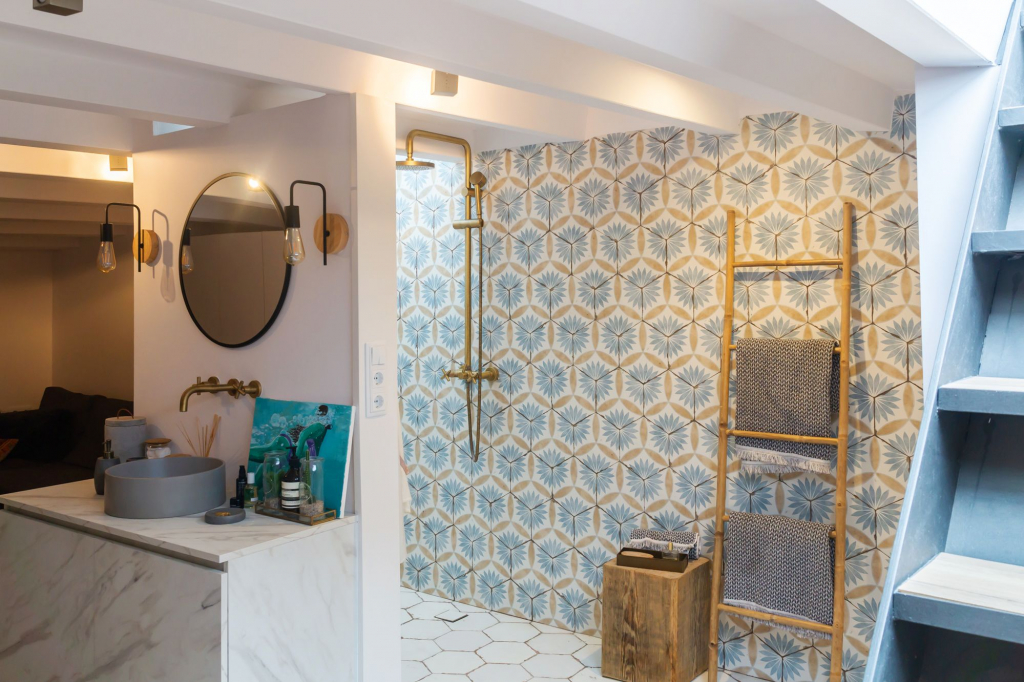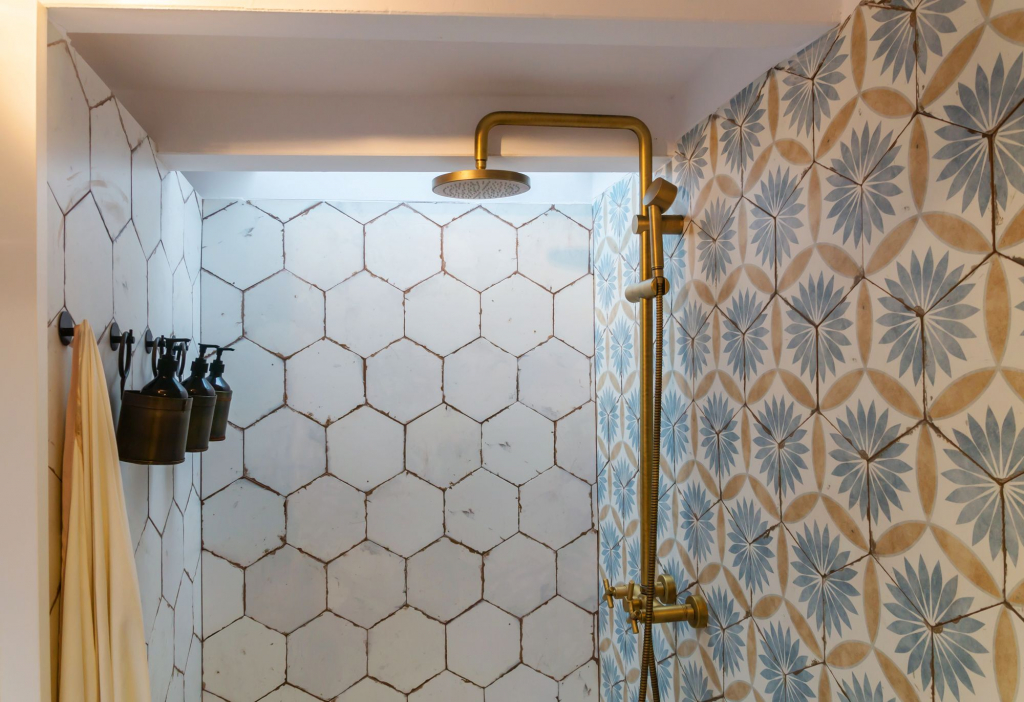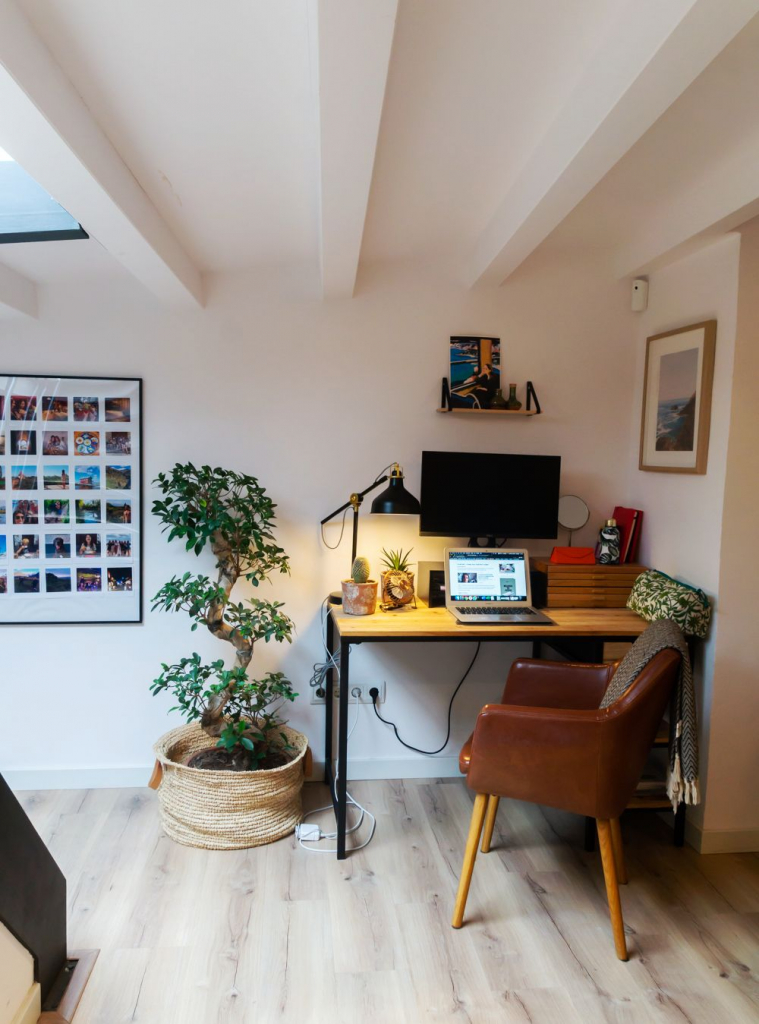 The biggest challenge
When Jordanna and JC bought the flat, it was a bit worn down from being used as an AirBnb and required more than a facelift. The biggest challenge was making the access to the terrace, as the L-shape staircase wasn't there initially. Trying to match materials and make it look as though it was always there was a fun challenge and turned out way better than the couple could have imagined!
The sloped terrace is fun to walk on, but most importantly, it is big and absolutely gorgeous. The decorating process was a joint effort: while Jordanna picked the furnishings, JC filled the place with plants.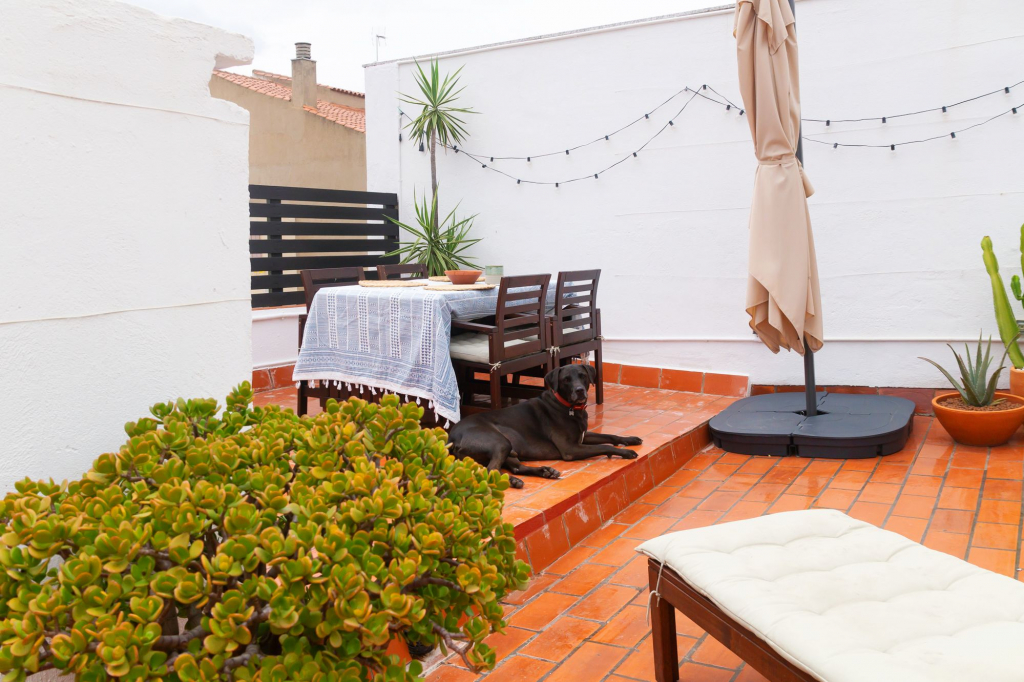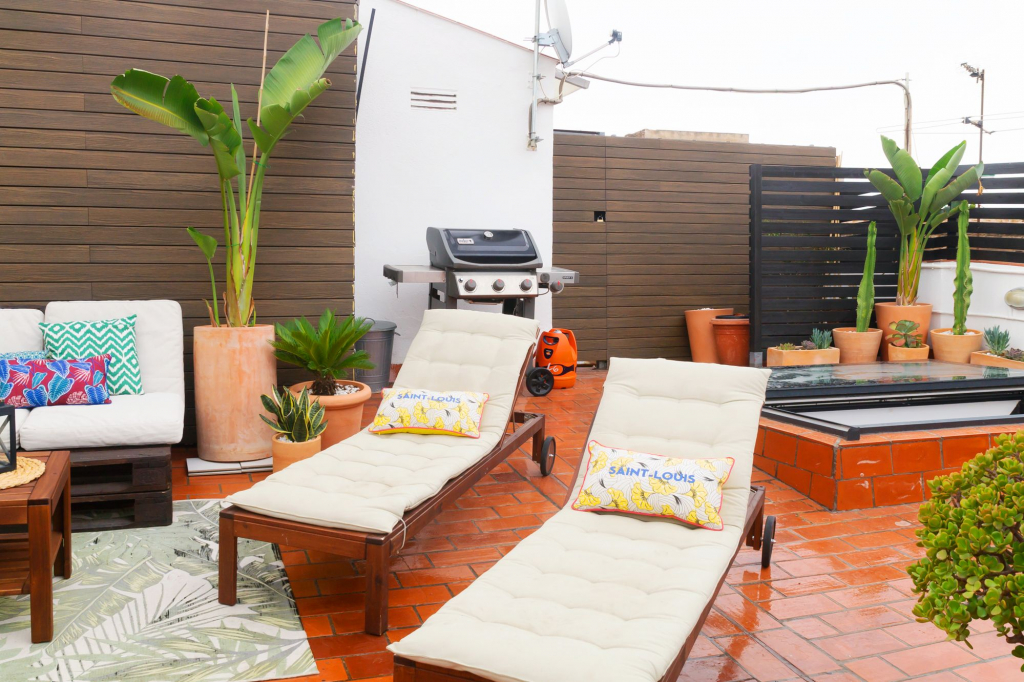 When You Got an Empty Flat to Furnish…
Coming from across the ocean, they chose not to bring anything big, except for artwork, such as the two Banksy canvasses in the living room or the black sculpture JC bought while living in New Zealand.
Jordanna says her favorite place for homewares shopping is Maisons du Monde, but she is fortunate to live close to a bunch of the coolest furniture and home decor shops in Gracia, where she is also a regular.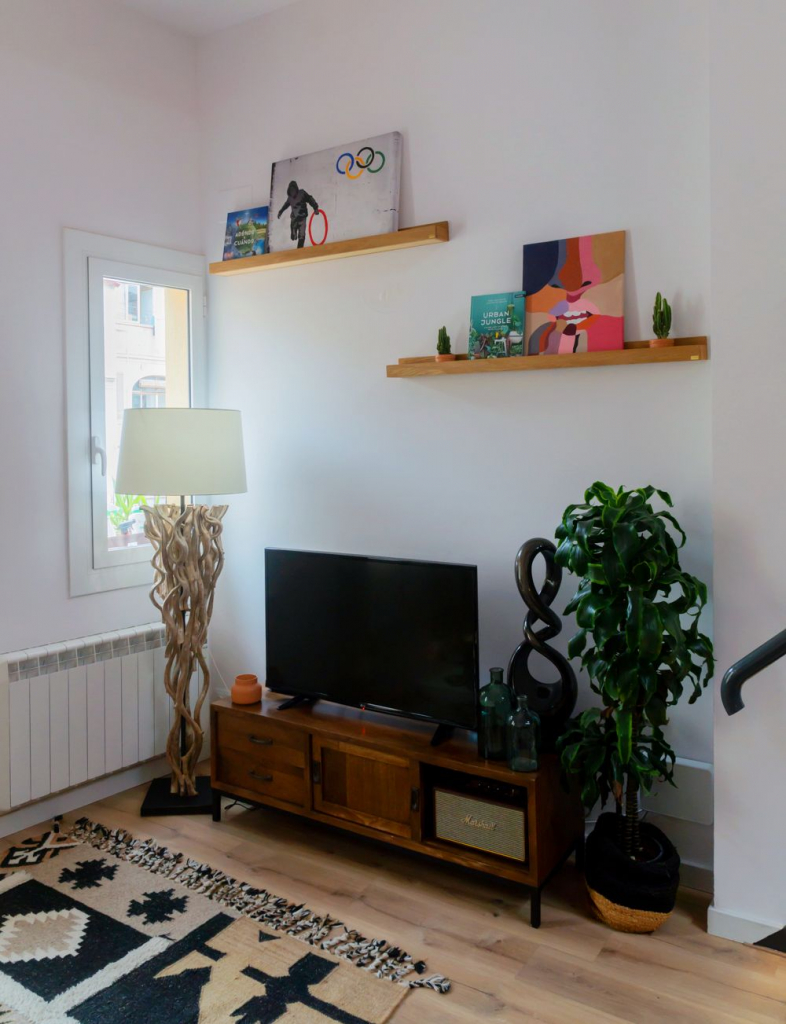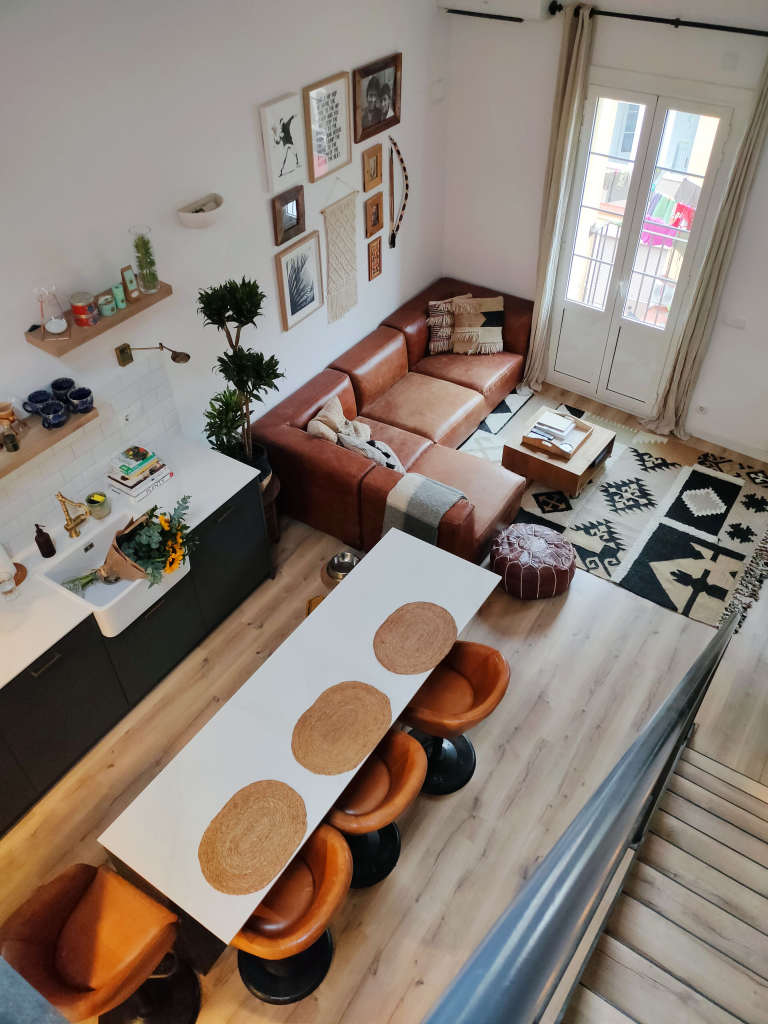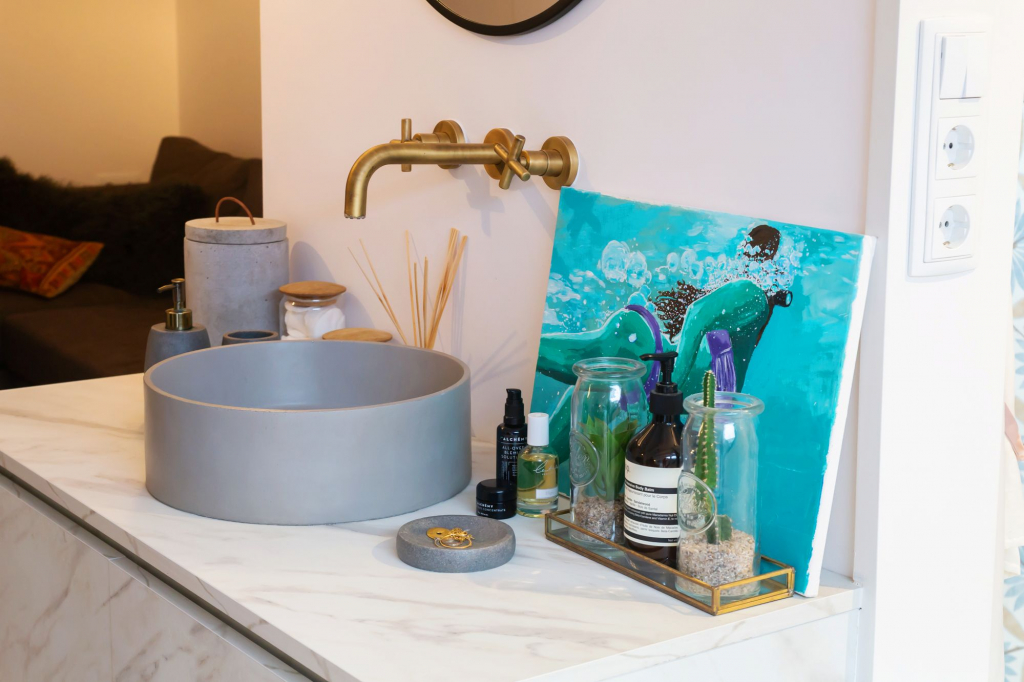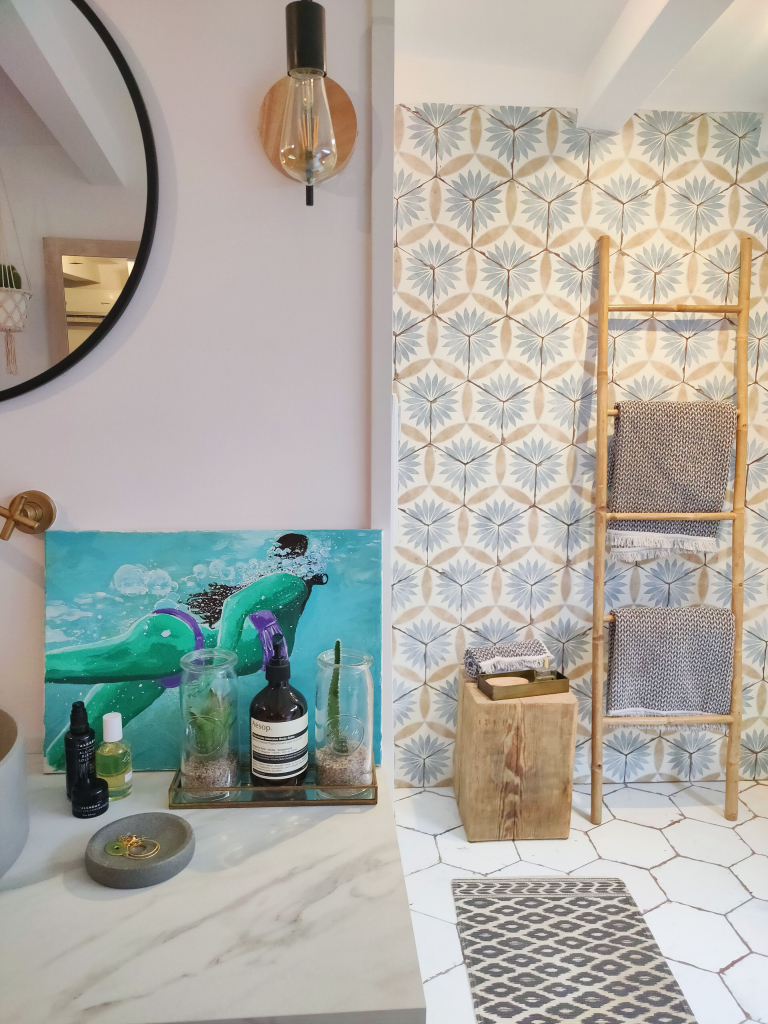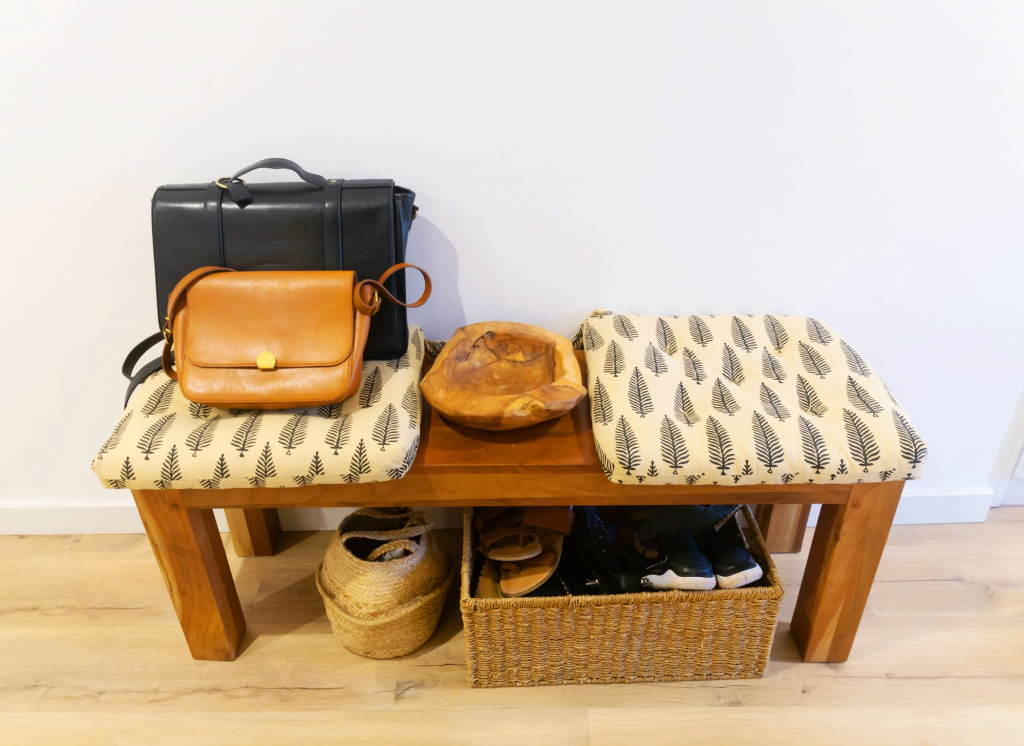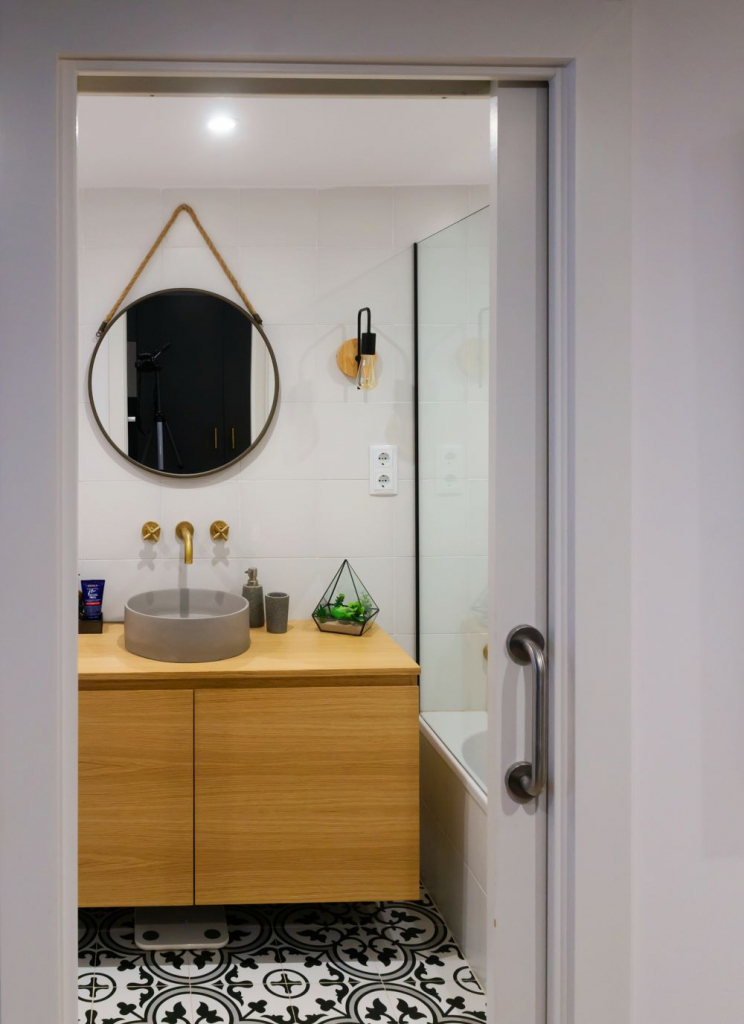 P.S.
It was a pleasure to meet Jordanna, JC and Lomu. I'm very happy they let me make an exclusive home tour of their Barcelona apartment. It is indeed very cosy, and despite a neutral colour palette, their cosmopolitan and fun personalities absolutely shine through. I hope you like this home as much as I did. Let me know in the comment section!